budget-friendly philly cheesesteaks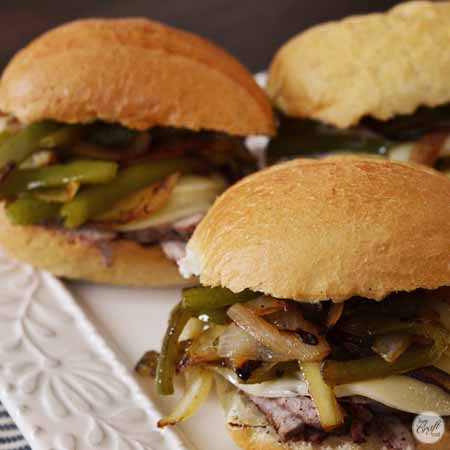 1 lb boneless new york strip steak
2 green peppers, seeded and sliced
2 onions, cut in half and sliced
1 lb mushrooms (optional)
8 slices provolone cheese
4 rolls
salt, pepper, oil
season steaks by brushing both sides with oil and seasoning with salt and pepper. grill for a minute or two on each side. slice thinly.
heat 1 tablespoon of oil in a skillet on medium heat. sautee onions and peppers until softened, about 5 minutes. add mushrooms and continue to cook for a couple minutes more, until all the vegetables are soft and starting to turn brown.
toast rolls and layer with steak, provolone, and vegetables. enjoy!
Recipe by
Live Craft Eat
at https://www.livecrafteat.com/eat/budget-friendly-philly-cheese-steak-sandwiches/