southwestern couscous salad :: with homemade dressing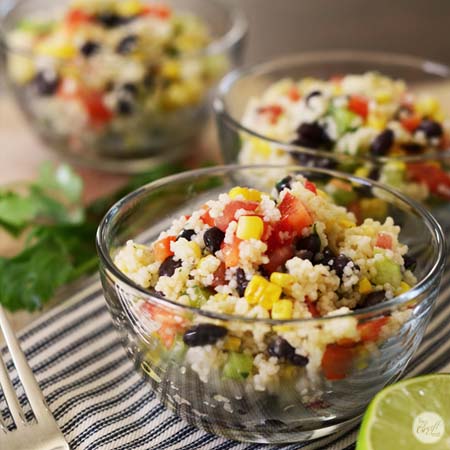 for the salad:
1½ cups water
1 cup uncooked couscous
1 cup grilled corn kernels, cut from the cob OR 1 can corn
1 (15oz) can black beans, drained and rinsed
¼ cup chopped seeded tomato
¼ cup chopped green bell pepper
¼ cup chopped red bell pepper
2 tablespoons sliced green onions
2 tablespoons chopped cilantro
for the dressing:
⅓ cup vegetable oil
⅓ cup lime juice
¼ teaspoon salt
¼ teaspoon garlic powder
¼ teaspoon cumin
⅛ teaspoon cayenne
to prepare the couscous, boil water in a saucepan then remove from heat. immediately stir in the couscous, cover, and let stand for 5 minutes. fluff with a fork and let cool completely.
combine the couscous and the remaining salad ingredients in a large bowl and toss to combine.
in a small jar with a lid, combine all the dressing ingredients and shake well. pour the dressing over the salad and toss to coat. cover, and chill for at least one hour before serving. enjoy!
Recipe by
Live Craft Eat
at https://www.livecrafteat.com/eat/southwestern-couscous-salad-homemade-dressing/