apple cranberry salad with feta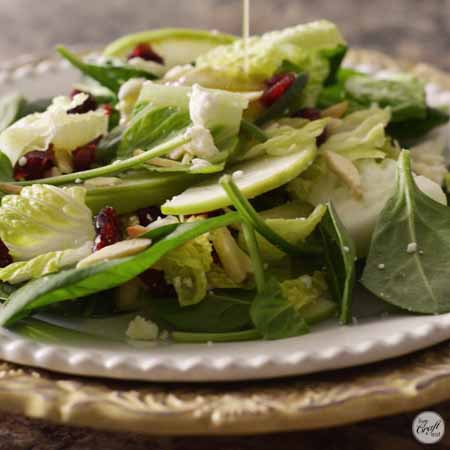 Serves:
approx 10-12 servings
1 granny smith apple, cored and thinly sliced
½-1 block of feta cheese, crumbled
½ cup slivered almonds, toasted
½-1 cup dried cranberries (craisins)
1 head romaine lettuce, washed and chopped into bite size pieces
a few handfuls of baby spinach
dressing:
1 packet dry zesty italian dressing mix - prepare according to the instructions on the back of the packet, adding 4 tablespoons sugar (you'll need the italian dressing mix + olive oil + vinegar + sugar)
combine all the salad ingredients in a big bowl and serve! add dressing to individual servings (it doesn't keep very well once the dressing has been added). enjoy and repeat.
note: add as much or as little of the salad ingredients as you'd like! the recipe shows general amounts that i like using. please also note that the "yield" amount varies depending on how much or little of the ingredients you use.
Recipe by
Live Craft Eat
at https://www.livecrafteat.com/eat/apple-cranberry-salad/