marbled chocolate cream cheese cake bars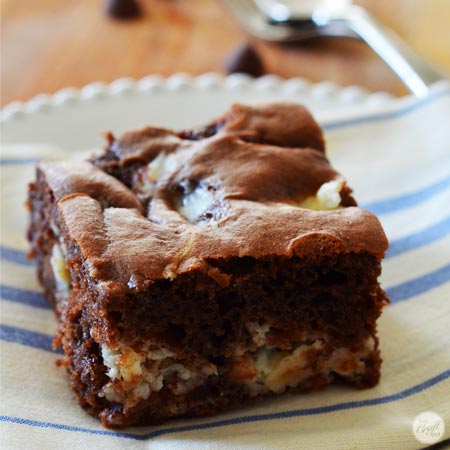 1 package chocolate cake mix (german chocolate cake mix is my favorite for these bars) + eggs, oil, etc that you will need to make the cake mix
1 package (8oz) cream cheese, softened
½ cup sugar
¾ cup milk chocolate chips, divided
prepare the chocolate cake mix according to the package directions. pour the cake batter into a buttered 9"x13" baking pan.
beat the cream cheese and sugar together until light and fluffy. by hand, stir in ¼ cup of the chocolate chips. drop cream cheese mixture by the teaspoonful over the batter. cut through the cream cheese dollops with the tip of a sharp knife or a toothpick to swirl the mixture into the cake batter. sprinkle the remaining chocolate chips over the top of the marbled cake batter.
bake at 350 for 35-38 minutes or until a toothpick inserted near the center comes out clean. let cool completely and cut into bars.
Recipe by
Live Craft Eat
at https://www.livecrafteat.com/eat/chocolate-cream-cheese-cake-bars/