As we (Katie and Dustin) continue to grow Live Craft Eat we wanted to put together a page of resources we use to do this. These range from hosting services, WordPress themes, plugins and more. We'll be upfront and note that many of the links on this page are affiliate links. (boring disclosure page) This means that if you click on them and end up making a purchase we get some kind of compensation. We're not asking you to do so but want to be 100% transparent nonetheless.
While this is a compilation of blog resources and tools, if you read it from top to bottom you can easily launch your own blog (check out a 3 step tutorial on how to start a food blog here) and have the tools needed to grow it!
Our email is at the bottom of this page. We're happy to help whenever we can. Happy blogging!
---
— Blogging Platform —
One of the first decisions you'll need to make as a blogger is what platform you want to use for blogging. While Blogger and WordPress.com are free options, choosing either one will ultimately limit you if you're at all serious about blogging for the long term. We'd recommend you use the Genesis framework and WordPress.org because of the virtually unlimited options of plugins and functionality. Choosing WordPress.org will mean you need both a domain name and a hosting plan. Domain names can be purchased from companies like Bluehost and GoDaddy.
---
 — Hosting —
Bluehost (hosting starts at $3.95/month for a 36 mos. plan) and GoDaddy (hosting options here) also offering hosting services for your self-hosted blog if you choose to use WordPress.org. The main advantage of these hosting providers is that they are cheap.
Bluehost also offers a free domain name, 1-click WordPress installation, 24/7 technical support and a 30-day money back guarantee. That's pretty hard to beat for $3.95 a month!
GoDaddy hosting is likewise an excellent option as a cheaper host. It currently offers a promotion for $3.99/month. Their plan includes unlimited bandwidth, solid support, and a free domain.
A word of warning: you often get what you pay for. We used Bluehost hosting for the first 3.5 years of Live Craft Eat. For the vast majority of that time, the hosting was more than adequate to meet our needs. There were a few times where hosting issues caused Live Craft Eat to be unavailable but these were always measured in minutes of downtime rather than hours or days. So while I angrily tweeted at them and vented of their sometimes slow customer service, when you're paying $3.95 a month it's not much to complain about! I'd recommend Bluehost (and GoDaddy) for any first time blogger that wants to see if they are serious about blogging.
We would say that 99% of small blogs would do just fine using a Bluehost or GoDaddy type hosting service as a provider.  Other hosting options should be considered when your blog starts to get more traffic – greater than 100,000 pageviews on a monthly basis.
We eventually switched to the more expensive paid hosting option of Synthesis (they are the same people who do StudioPress as noted below).  WP Engine hosting plans also fall into this more premium category and has been a hosting service I've only heard good things about but never actually used.
Nonetheless, as noted above, I wouldn't hesitate to recommend Bluehost or GoDaddy as a hosting service if you are just starting out as a blogger on a self-hosted platform.
---
— WordPress Themes —
We would highly recommend using WordPress not just for the platform itself but also the plugins and themes that are available for it. A WordPress theme is just another way to describe what makes up the design and to a certain extent the functionality of your website. Premium themes can be purchased from several popular companies including Theme Forest and StudioPress. Most of them are simple enough for you to purchase and install/customize yourself. Though many of the most popular blogs have a web designer customize a premium theme exactly to their liking. Premium themes almost always have a live demo that you can test out before purchasing. Here is a screenshot of just a few of the Theme Forest themes:
We've always used StudioPress personally. While both of these major providers are comparable in price, we love having our blog on the Genesis framework and the lifetime support of StudioPress themes. Many, many times we've posted in the community for help and had members point us in the right direction or help us with customizing our themes. Live Craft Eat currently uses the Foodie Pro theme. It's fully responsive and an upgrade from our previous theme, which was also great, Pretty Young Thing. Check out StudioPress' themes below!
---
— Plugins —
Plugins are files that add functionality to your site. They are built by developers who either offer them free of charge or some kind of premium version with additional features. We use A LOT of plugins on Live Craft Eat from Analytics to SEO to our email sign up form. Below are a few of the premium themes we're using and our experience with them.
— ithemes Backup Buddy —
Backup Buddy costs $80 for two licenses. It is a plugin that will allow you to create a backup of your site, restore your site in cases of crashes or even migrate to a new domain or server all in a very simple way. This plugin worked perfectly for us when we first started. It created a nice backup of our site that was an "extra" backup (your hosting provider usually does this as well) for peace of mind. I've only ever heard good things said about this plugin from all the other people I know who have used it. But to be completely transparent we have recently switched to a new backup plugin called VaultPress. We found that as the blog got bigger and bigger that trying to generate a backup with Backup Buddy would simply timeout and never complete the backup process. Thus, similar to hosting services I'd highly recommend this plugin as you're just beginning but as your blog gets bigger I'd recommend looking somewhere else.
— VaultPress —
VaultPress is the current backup plugin we use. We pay $15 a month to have the peace of mind knowing that the blog is backed up on a daily basis. This is done seamlessly in the background and something we simply never have to worry about. I'd highly recommend buying and using this premium backup plugin for your blog.
— UberMenu – Code Canyon —
We found UberMenu a few years ago and fell in love right away. It is a premium plugin from CodeCanyon (owned by Envato) that has a one time cost of $19. The menu itself is super easy to use and is almost limitless in its abilities. Further, we received tremendous support in getting it configured and implemented on Live Craft Eat. We would highly recommend this flexible (and responsive!) menu plugin. Here is an example of Uber Menu and then what we did on Live Craft Eat.
Feb 2017 Update: While we still have the UberMenu plugin and menu configured on our back end our new theme offers a very simple and clean menu that we love. Thus, we're not currently using the UberMenu menu for Live Craft Eat. Nonetheless, our recommendation of this plugin hasn't changed. It's simply the most versatile and powerful menu plugin we've found.
---
— HootSuite —
We've tried out several different social media management tools and have decided HootSuite is the best option for simple and regular/scheduled posting to Twitter, Facebook, and Instagram. It's easy to use and allows you to manage effectively your blog's social presence across different platforms in a very efficient way. We love being able to schedule posts, interact with our community and share awesome posts we see around the web so easily. At $9.99/month HootSuite (you can even try a 30-day trial for free!) is well worth your money as you build and engage your social audience!
---
— DSLR Camera —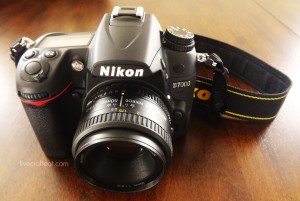 As Katie outlined recently, for the first year and half of Live Craft Eat she used our old point and click camera. Katie does a great job of taking pictures and most people couldn't tell the difference on our better posts. But as the blog continues to grow Katie has recently moved up to a DSLR. She purchased a Nikon D7000 with a 18-105mm lens and is quickly learning how to use a DSLR – much more complicated than a point and click! We also spend a ton of time studying food photography eBooks to improve Katie's food pictures.
We have to admit that we bought the D7000 at our local Best Buy and were instantly disappointed. The Auto Focus wasn't working properly with the camera focusing on the background rather than what the focus box on the screen indicated should be the focus. All we were getting were blurry pictures. After reading online that others were having the same problem and taking it to an experienced photographer in the neighborhood, we decided to take it back and that it was the camera and not Katie's inexperience that was causing the blurry images. We swapped it for another D7000 and this one works like a charm!!
The camera itself came with a 18-105mm lens but Katie has since purchased a 50mm lens as well. From her research and talking to others it was highly recommended that she buy a 50mm for stationary food shots – since that is the majority of the pictures she'll be taking.
Overall Katie is super happy with the D7000 she has now and would highly recommend it. In doing our research many people also spoke highly of Canon DSLRs and specifically the Canon Rebel XTi if for some reason you wanted to go away from Nikon.
---
— Food Resources —
There are a ton of awesome resources out there on starting to blog. In particular, we have found two to be helpful. These are from Bjork and Lindsay Ostrom of Pinch of Yum. They do a fantastic job food blogging and just as well in educating other food bloggers.
— Tasty Food Photography —
As mentioned above Katie has had a steep learning curve jumping from a point and click camera to a DSLR. Lindsay from POY has put together an awesome ebook about taking better food pictures. Katie bought this book and learned a ton! She did some searching around for free videos and tutorials on DSLR but found this one to be just as helpful as any out there. Here are three things Katie loved about Tasty Food Photography. (You can also jump over here for a review of additional food photography eBooks to help you take better food pictures!)
It's Written By A Blogger
Lindsay says it best in her own words but sufficient to say she had no background in photography. She was an "amateur cook and photographer" that became an awesome photographer. Because of this Lindsay is able to teach and speak in a way that the average blogger or newbie DSLR user can understand and relate to!
The Whole Process
Rather than just explain how to use a DSLR camera (which is a huge task in and of itself) Lindsay also walks you through other photography basics and essentials. From lighting to composition to photo editing she covers the entire process of not just taking but publishing awesome pictures!
Sooooooo cheap!
Lots of photography courses and books are, well, spendy. Lindsay's ebook is only $29. Almost everyone can justify a one-time $29 purchase. We did and haven't regretted it for one second! The value it returns to us is far more than the cost of the ebook.
If you haven't already jump over and check it out!
— Food Blogger Pro —
Bjork and Lindsay (quite the accomplished couple right?) have also created another fantastic resource called "Food Blogger Pro." Food Blogger Pro is their effort to help other food bloggers start and run a successful food blog. It has a couple of main areas.
One of these is a community of food bloggers sharing tips and resources with each other. With an active forum, this is a great place to ask your questions about blogging and get help from others who have probably solved the problem previously.
The other great part of FBP is the paid membership portion.  This gives you access to over 300 videos on topics ranging from Getting Started to Building Traffic to Generating Income. The videos are done by both Bjork and Lindsay and are very well done. We've consumed a lot of the videos in an effort to grow Live Craft Eat. We would highly recommend checking out and signing up for this great resource.
---
We hope you found this guide to be helpful! We'll continue to update it as we change and update Live Craft Eat. We'd love to hear what resources you're using and answer any questions you may have before you take the plunge on any of these blogging essentials. Just drop us a line at [email protected].
– Katie and Dustin