Amanda B.! congratulations, Amanda! we're so happy for you! we'll be sending you an email soon to get your info.
thanks to everyone who entered! there is still 01 day left to win something!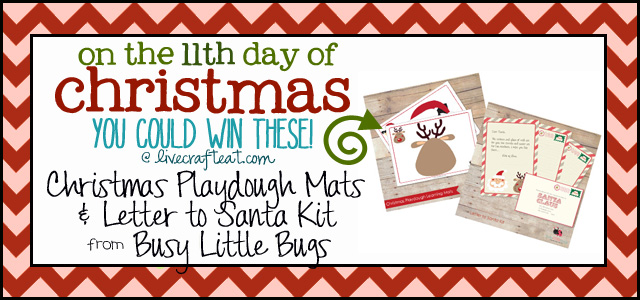 on the 11th day of christmas, we are giving away these adorable, printable christmas items from Busy Little Bugs! the playdough mats are just the thing to keep all our young ones happily entertained during the holidays, and the letter to santa kit is sure to be a huge hit in any household with kids!! keep reading to learn more about Busy Little Bugs and how you could win these two fabulous printables: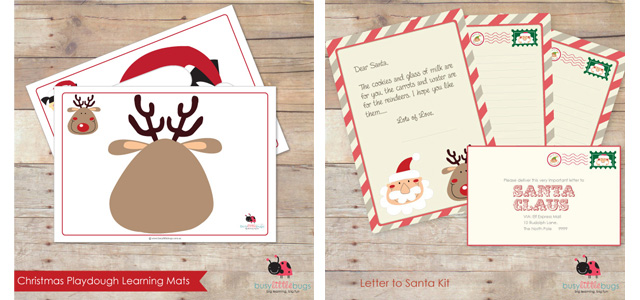 About Busy Little Bugs 
Busy Little Bugs is the place to go for great quality and a fantastic range of printable educational products for your little ones! They provide a great range of super cute educational printable games, playdough learning mats, flash cards, pom pom learning mats and dominoes for children, curriculum plans for childcare educators, family organisation, Christmas organisation and their very popular "Letter to Santa Kit ", and "Personalised Letter from Santa". Pop on over and take a peep at their awesome products or just to say hi to Beck, the owner and face behind all things Busy Little Bugs!

Beck has been kind enough to give away some christmas playdough mats AND a letter to santa kit, as pictured above, and found here: playdough mats, and letter to santa kit.
Entries
here's what you need to do to win (the more things you do, the better your chances are of winning! each item listed below is worth 1 entry which would make a maximum of 7 entries per person).:
note: if you already have done the below items please note them in your blog comment.
1. head on over to Busy Little Bugs, find something you like, then come back here and tell me what it is you like from their shop in a comment.
2. subscribe to live craft eat (you can do this from our side bar)
3. "like" us on facebook OR if you've liked us on facebook share this post from our facebook page
4. follow us on pinterest
5. repin the contest image above (the first image in this post)
6. follow us on twitter OR if you already follow us on twitter, tweet this post
7. plus 1 us on google plus OR add us in your circles on Google Plus
comment on this post telling me which ones you completed to make your entries eligible.
RULES:
all entries must be submitted before midnight mst today, december 11th. one winner will be randomly selected and announced on this post tomorrow at 8pm MST.  you must be a resident of U.S. or Canada to be eligible.
good luck!