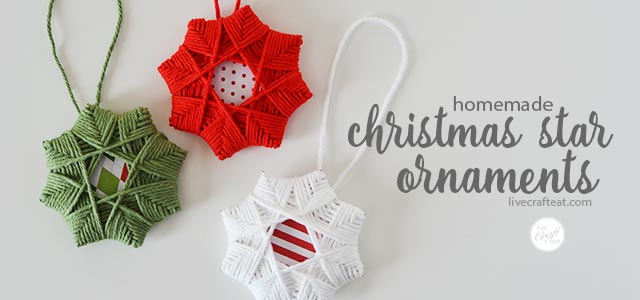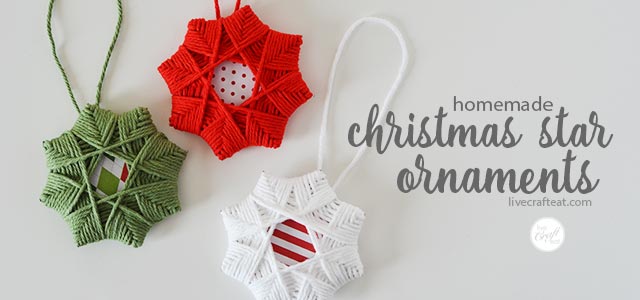 every year we put a little 4′ christmas tree in my kids' room so they can decorate it with all the christmas decorations they make at home or at school. it's "their" tree under which our elf likes to leave little gifts (check out these free printable christmas gift tags for those little gifts!) throughout the christmas season including new christmas pajamas and a movie on christmas eve.
it seems that as they exit that preschool/kindergarten stage, however, they tend to make less and less of these cute little ornaments at school, so i've had to try to come up with ideas of things i can make with them at home. (in addition to ones like this diy candy wreath which are more complex and suited for adults.) this project for homemade woven star ornaments is perfect for them because a) they're a little bit older so they can handle the little bit of coordination it takes to make these stars, b) they're able to be around pins without injuring themselves or anyone else (i would not recommend this as an activity for toddlers for obvious reasons), c) i used to make these myself as a little girl. my mom always called them the star of david, and we actually used little pieces of tinfoil instead of patterned paper in the middle, but even so they make me feel all nostalgic and everything, and d) they are super inexpensive to make…i already had everything i needed at home to make these and even at that, these items cost very little money so even if i ran out of something it would cost almost nothing to go out and get more.
here's what you need to make these adorable christmas tree ornaments:
corrugated cardboard…like the boxes of the thousands of diapers i have to buy, or what all your amazon orders come in. you know, the boxes you were just going to recycle anyway.
tape…just regular old scotch tape. or glue.
yarn or string…in whatever colors you like!
pins…plain old strait metal pins.
scraps of patterned paper or cardstock…with small christmas patterns/colors preferably, but use whatever you have on hand and whatever matches your yarn.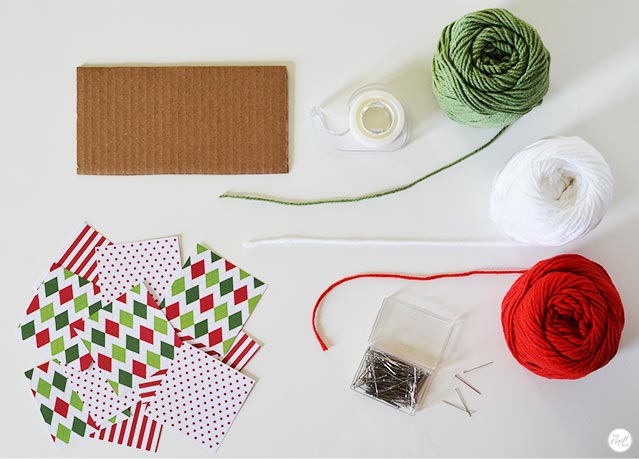 the first step is to cut out two squares of the corrugated cardboard. you can make them whatever size you want, but i made ours approximately 2″x2″.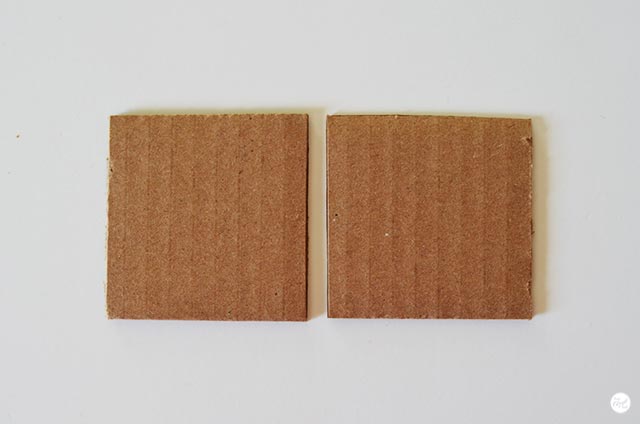 take a strip of tape and loop it around so you can stick one square onto the other in a square-diamond fashion, like pictured below…. you could also use glue if you wanted.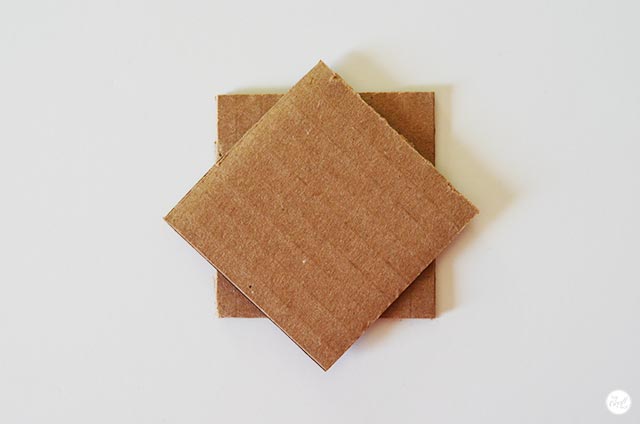 next, take one of those scraps of paper and cut it just slightly smaller than your cardboard squares and use glue or tape to adhere.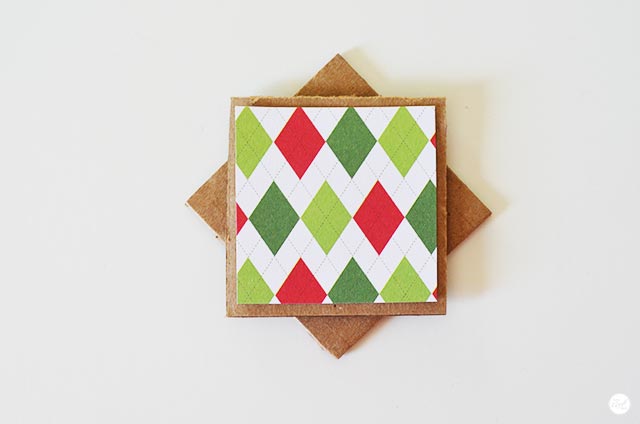 then take 8 of the pins and push one gently into each corner you see. you want them to be sticking out slightly because they're going to catch the yarn as you weave. this is also why you need to use corrugated cardboard instead of the thin stuff – you want to push the pins into the corrugated part in between the 2 outer layers (the small fluting as it's called) so they're snugly sandwiched in between and won't poke out anywhere.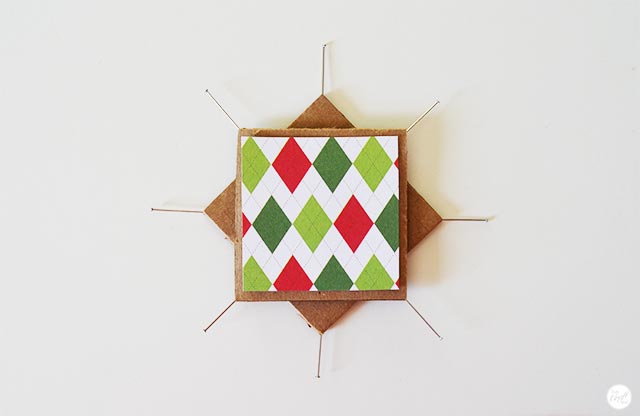 now we move on to the yarn. flip over your cardboard shape, take a piece of tape and fasten the end of your yarn to the back of the star.
if you're okay with a plain cardboard back to your star, then move on to the next step. if you want the back of the star to look nice (there's a picture at the end of the post of what it would look like), you can take a second scrap paper square and tape or glue it overtop of where you just fastened your yarn on the back.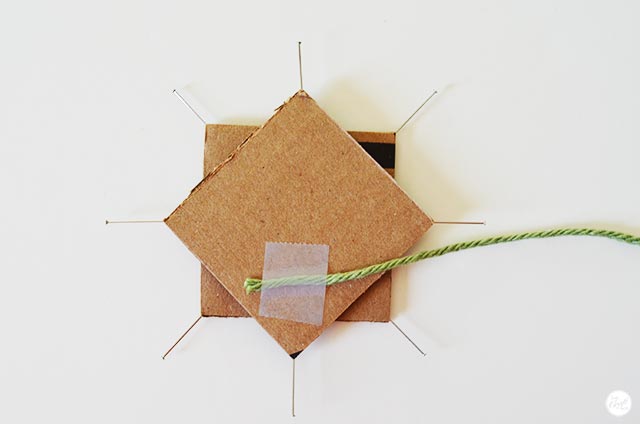 this is where the fun begins. it really is just a pattern of "2 down, 1 up" referring to the pins. you start by taking the yarn from behind the star, going overtop of one pin, going down 2 pins (following the edge of the square) and going around that pin…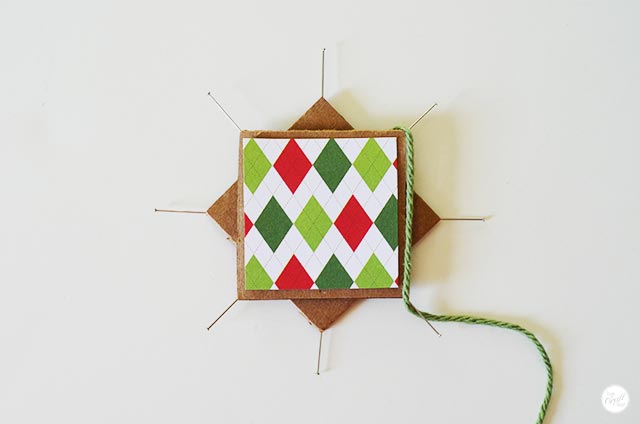 …then coming up behind the pin that is 1 pin up from where you just were and looping the yarn over the top.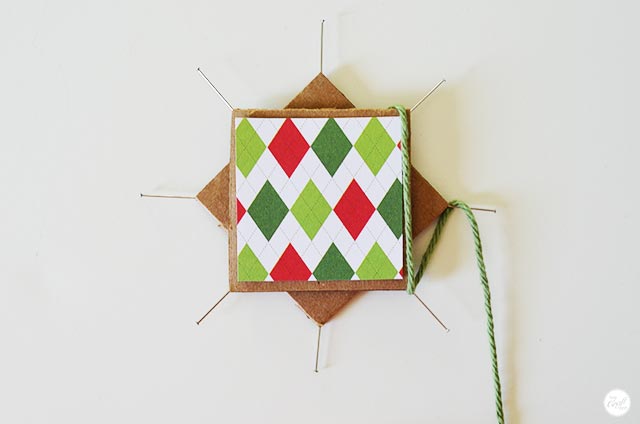 now you just repeat the pattern by taking the yarn down 2 pins from where you just were…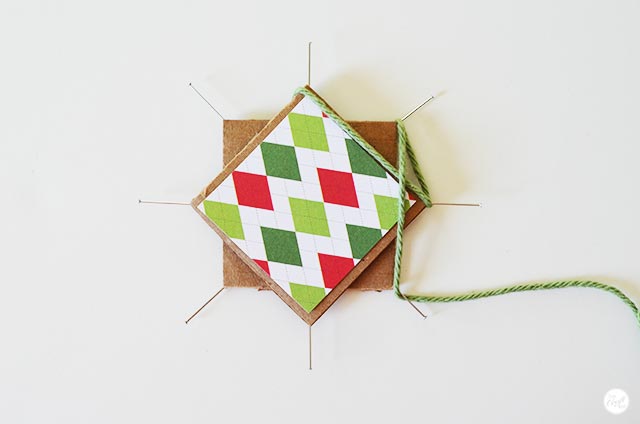 …and the looping it around one pin above.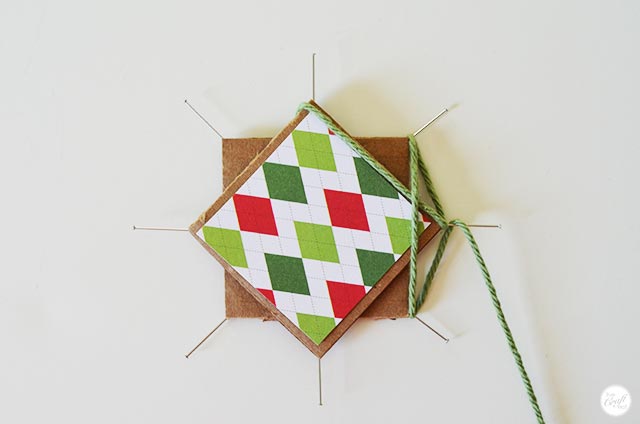 repeat after me: "2 pins down, 1 pin up. 2 pins down, 1 pin up. 2 pins down, 1 pin up."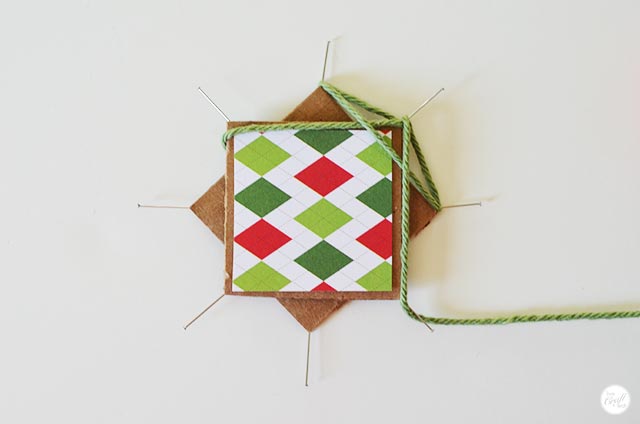 just keep doing that until you've done one round. it will look like this: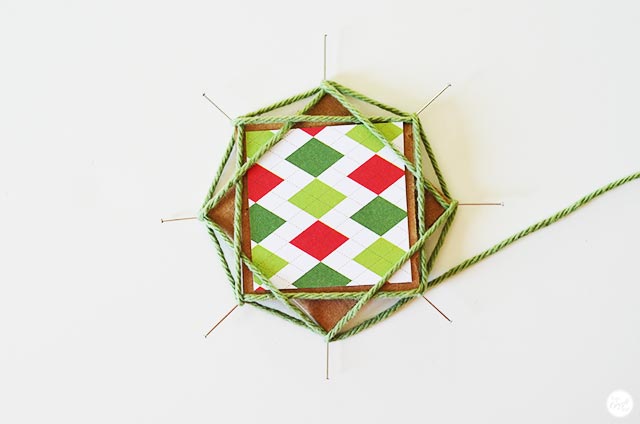 continue to do the same pattern, moving the yarn to the left ever so slightly – right next to the yarn in the same place from the previous round – so that you are moving towards the middle of the star more and more with each round.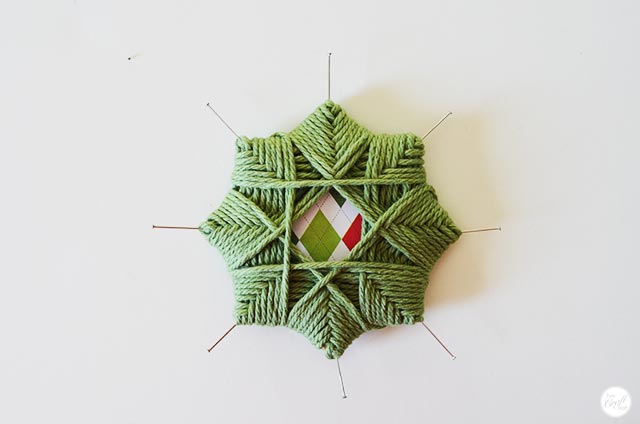 you are all done when there is no more space in between the points of the star to move toward the center of the star anymore while moving to the left of the previous round. cut the yarn with an extra inch or two to work with and weave the end into the yarn on the back of the star and tie a knot, or if you don't care about what the back looks like, just use another piece of tape to keep the end in place.
the pins will help to keep the star's corners in place, but we don't want them sticking out anymore. after this step they won't be in the way at all because we used the corrugated cardboard to protect them from poking out anywhere…just as long as you push them straight through the space in between the outer cardboard pieces and not at an angle. you just need to gently push the pins all the way into the cardboard and you can hardly tell they're even there.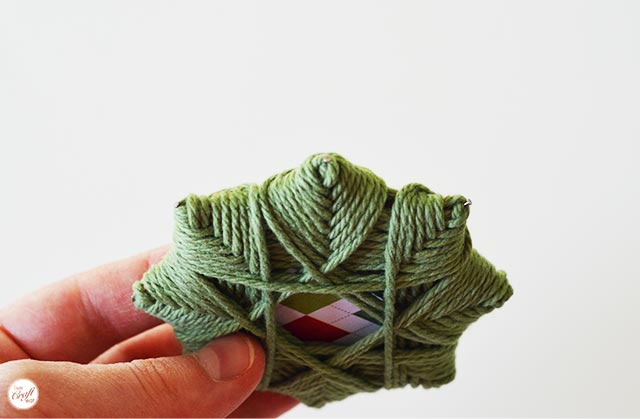 here is a closer look, if you need one, of what i mean when i said to work towards the middle of the ornament with each round. i'm just about the finish off the 3rd round here on this star and if you look closely, you can see with each round i moved the yarn to the left of the round before it. it looks like there are a lot of gaps and there isn't even a real star shape yet, but trust me, as you keep repeating that pattern and moving toward the center each time, those gaps will fill in and the yarn will eventually go over the straight edges enough to make them look like a star shape. also, as you keep going, the yard will eventually meet in between the points of the star and that's when you know you're done.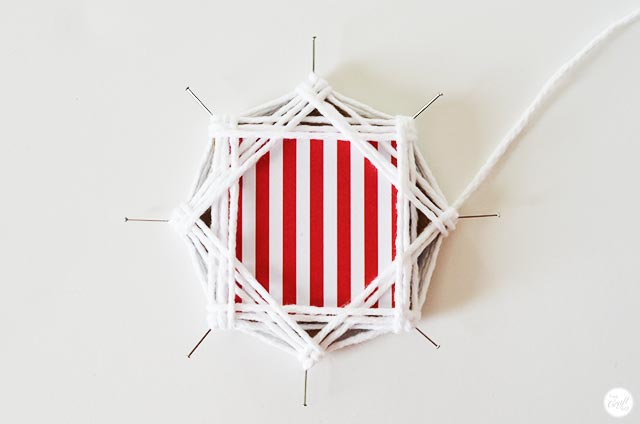 and this is what the backs will look like if you decide to add an extra piece of scrap paper. or, like i said, you can just leave them as is and it will be cardboard. up to you.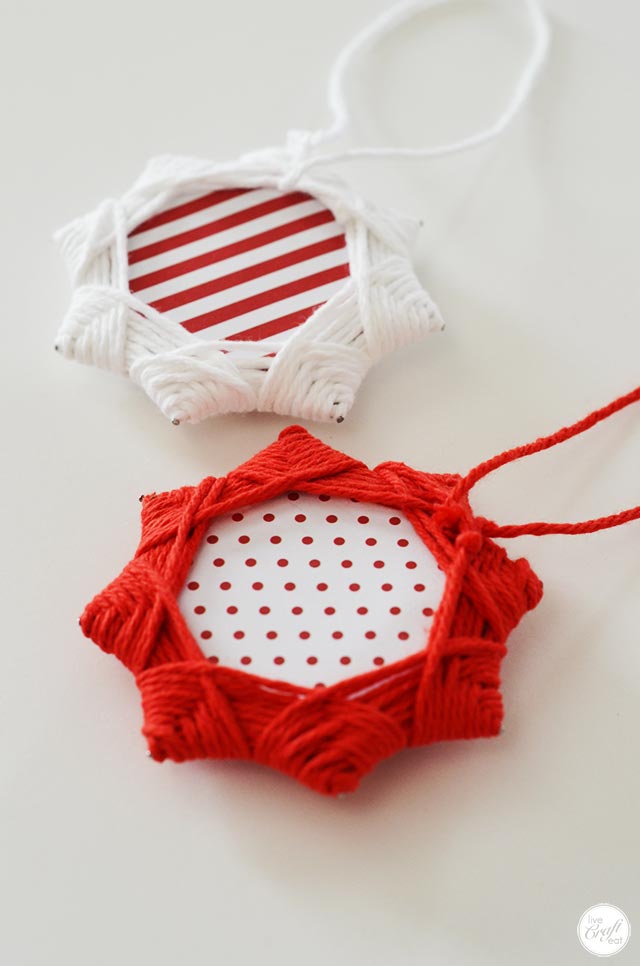 all you have left to do is cut an extra 4-5″ piece of yarn and tie it to the yarn on the back to make a loop with which to hang your star. these are so pretty and impressive looking, i just can't wait to have them hanging on both of our christmas trees this year!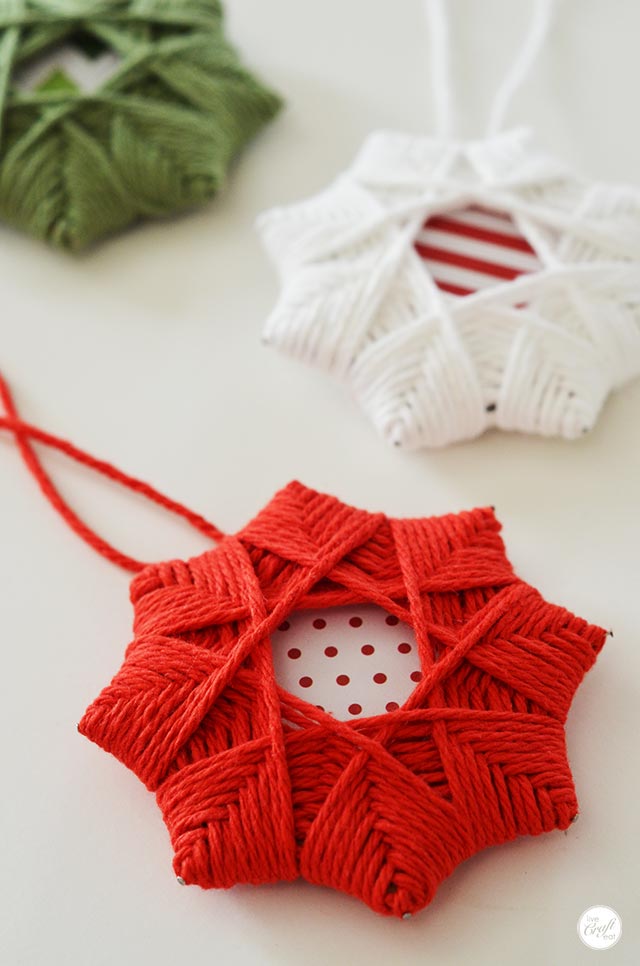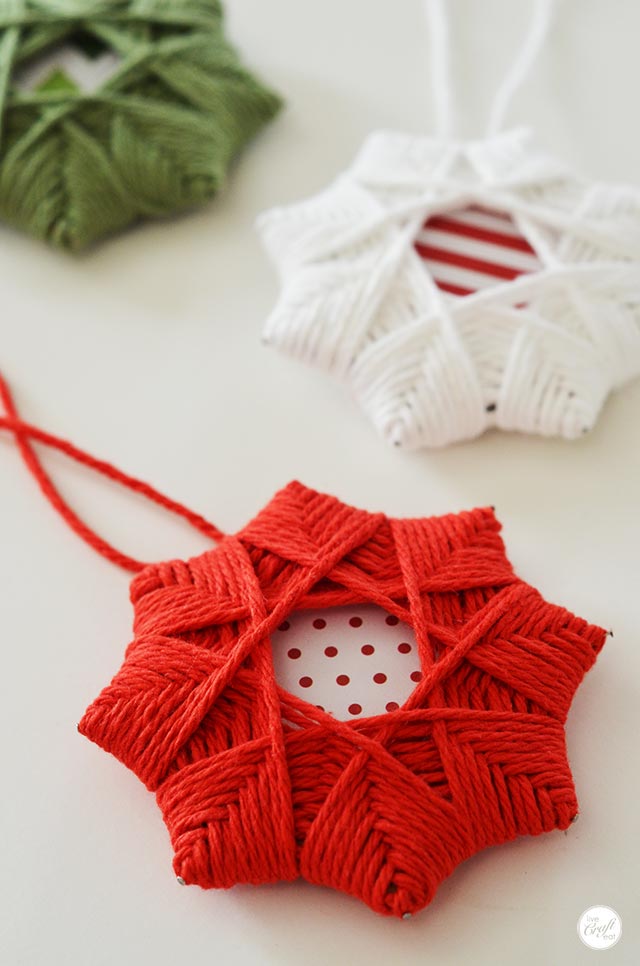 if you like this post, make sure you share it will all your friends by pinning it!

Preparing For Christmas?
Check out the Christmas planners below in my Etsy shop to have a super organized and stress-free Christmas this year! Click the images below to jump over to my shop and have a look. 🙂