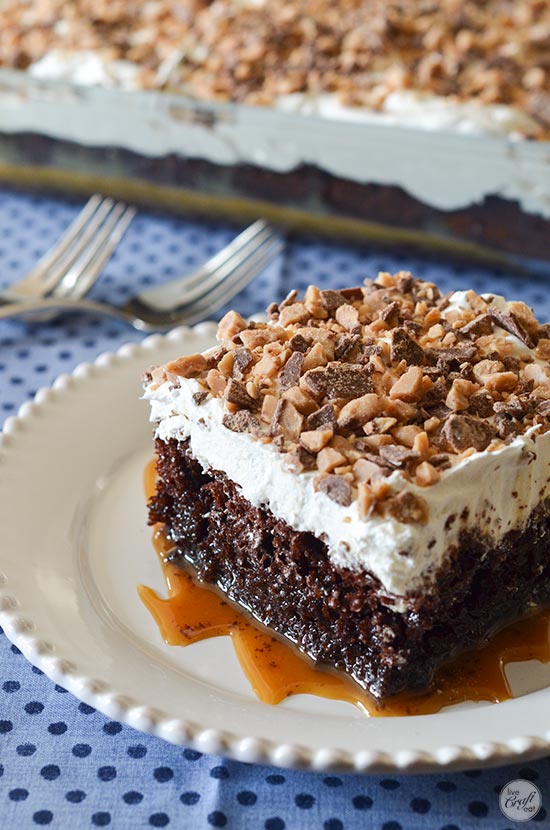 ok, friends. i'm going to share with you the eeeeeeasiest, most delicious cake in all the world. well, actually, there are other delicious cakes like oreo ice cream cake, death by chocolate bundt cake, and of course german chocolate cake, but this one, because it's so easy and only uses 4 ingredients, i'm deeming it the best of all!
seriously. look at these ingredients and step-by-step instructions and you'll see just what i'm talking about:
cake mix (i like devil's food cake for this), cool whip, broken up heath or skor bars, and jarred caramel topping. for the cool whip, heath bits, and caramel sauce, you can use as much or as little as you like. i use as much as i can!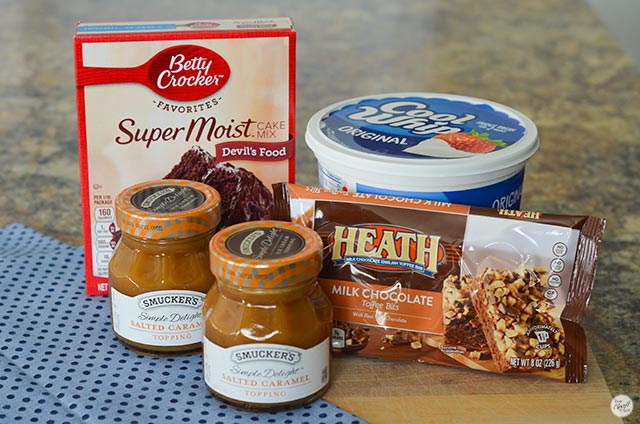 and now for the easy steps. all you need to do is bake the cake mix according to the package directions and then let the cake cool. that's the hardest part!
then just use the end of a wooden spoon, or a chopstick, or whatever you want to use to poke holes all over the cake. why poke the cake?? well, it allows for the caramel to really get distributed through the whole. entire. thing. so when you take a bite into it you can't tell when the chocolate starts and the caramel ends. it's scrumptious.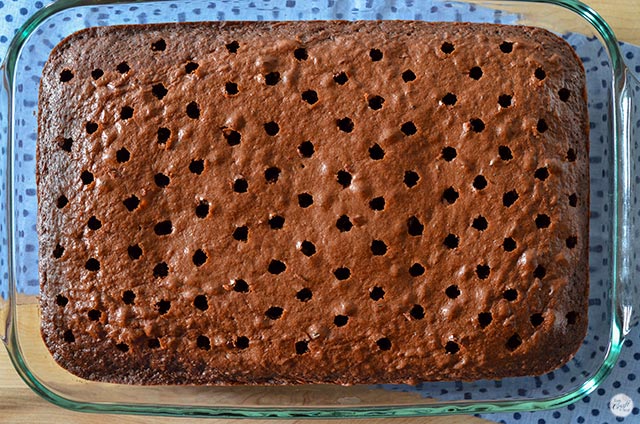 crack open the 2 jars of caramel topping and pour them all over the cake.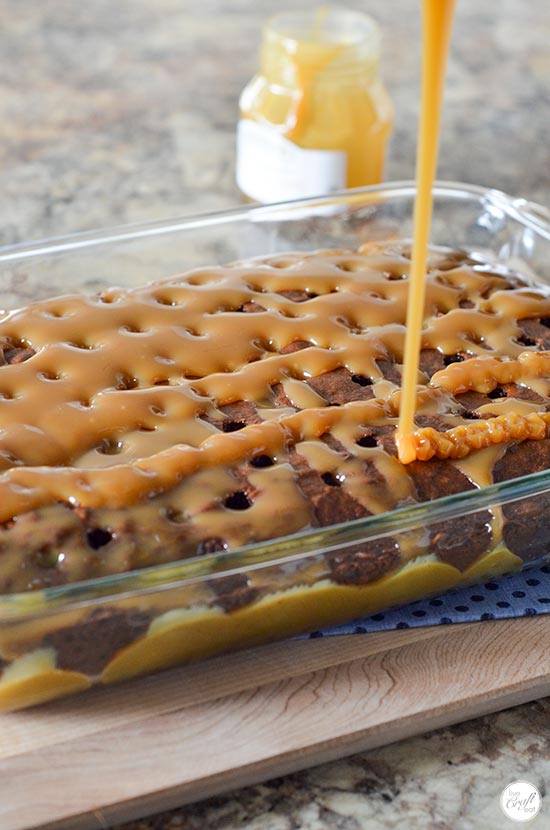 now just dollop the cool whip on the top and spread it all over the caramel. you can see in the picture below that the caramel has sunk to the bottom of the pan. once you're done making the cake, if you can restrain yourself from eating it right then and there and let the assembled cake cool for a few hours in the fridge, you'll notice that all that caramel actually gets soaked back up by the cake. that equals deliciousness right there!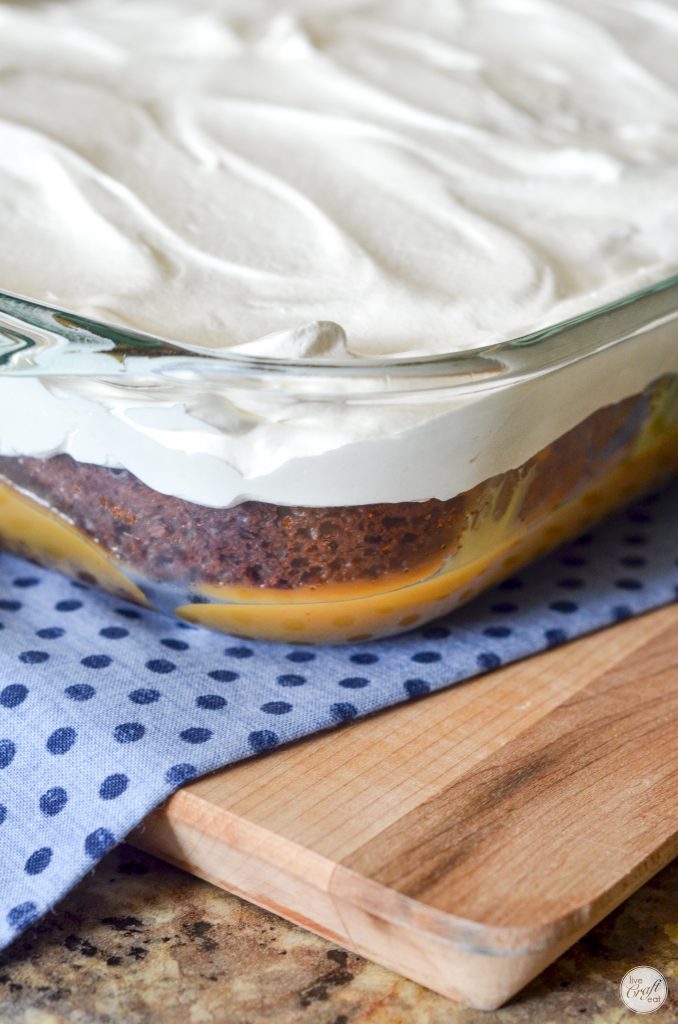 and then, you guessed it, sprinkle on the broken up heath or skor bits all over the top of the cake.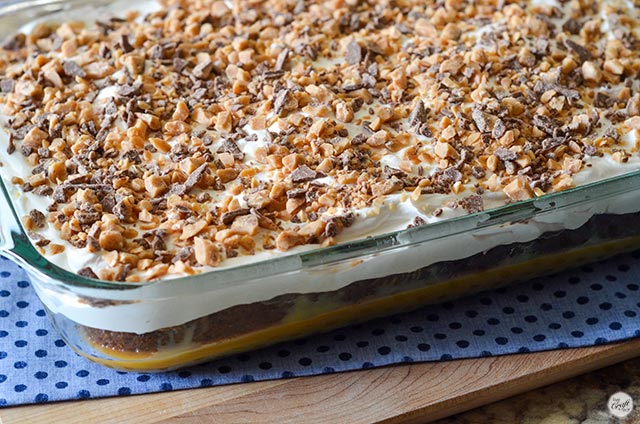 i obviously can't wait to dig into something like this, so i went right ahead and cut myself a big ol' piece and boy, oh boy, is it yummy! i don't know if it's because of all the chocolatey, caramely goodness or if it's because it only took 5 minutes of my time to put together (or maybe a combination of both!) but it is one of my favorite cakes to make, and based off all the chocolate-covered little mouths in my house, i'd say i'm not the only one who declares this cake their favorite!!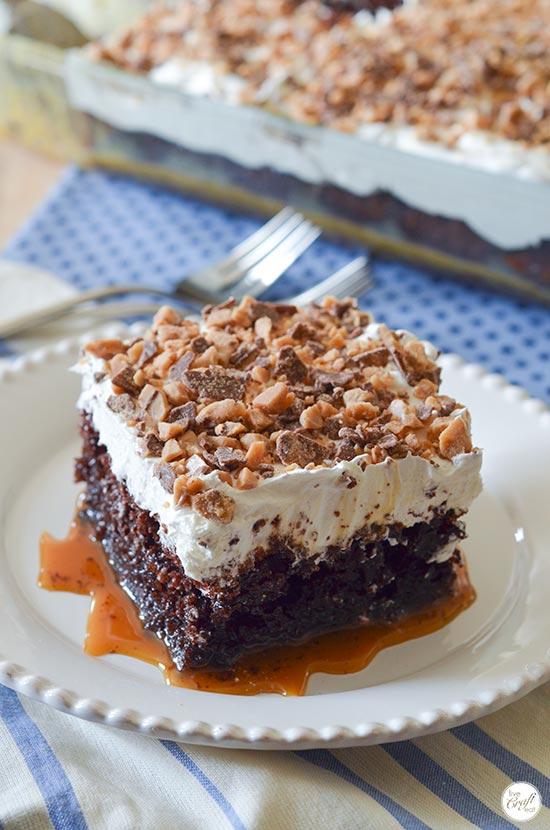 i don't know if you really need a recipe for this cake, but just in case you can download it/print it below! enjoy this best poke cake ever!!!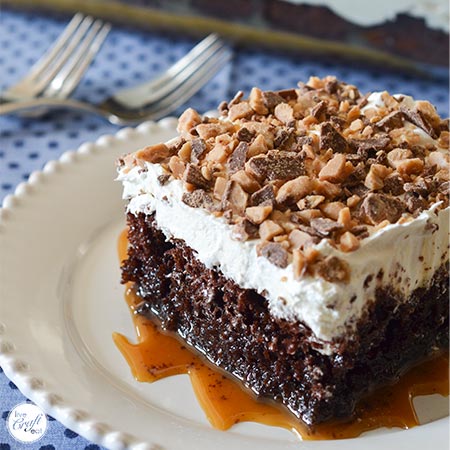 Print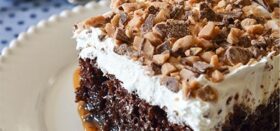 chocolate caramel poke cake :: only 4 ingredients!
---
Author:

Total Time:

35 mins

Yield:

8

-

1

0

1

x
1

devil's food cake box cake mix (+ ingredients to make the cake, according to package directions)

2

small jars caramel topping

1

tub cool whip

1

bag heath bits
---
Instructions
bake chocolate cake according to package directions in a 9×13 pan. allow to cool.
once cooled, poke cake all over with the bottom end of a wooden spoon or chopstick, etc.
drizzle caramel topping over top of the whole cake.
spread cool whip over the cake.
sprinkle heath bits.
refrigerate for a couple hours to allow the flavors to blend and for the caramel topping to absorb into the chocolate cake.
serve and enjoy!
Prep Time:

5 mins

Cook Time:

30 mins

Category:

dessert
Other Posts You May Like: