in my quest to get everything (including our meals) organized and simplified for the upcoming school year, i am prepping some freezer meals to have ready to go for the busy days ahead. aside from some of my other favorite freezer meals (cinnamon rolls for breakfast, and chicken enchiladas, and beef lasagna for dinners) these stuffed shells are one of my family's most requested. i sometimes make this in a three-cheese stuffed pasta shells version, but this time i'm adding in a few extra things to make it a little bit meatier – something the boys in my family will appreciate.
it's so easy to put together, and you could certainly double the recipe to get several frozen dinners out of it, depending on the size of your family.
using jarred marinara sauce makes this dish a cinch. once you've got that out from your pantry, you'll need to boil your jumbo pasta shells in salted water, according to the package directions.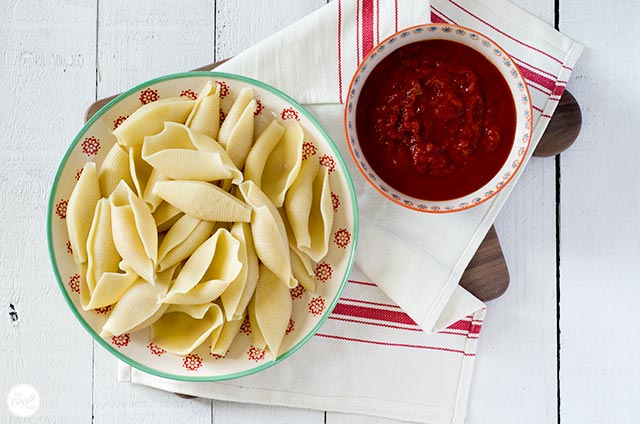 now for the filling. i used "hot" italian sausage and it really gives it a nice kick, but if your family is not into the spicy scene,  you can certainly use the mild italian sausage. or you could use ground beef. but the ground beef wouldn't have all the "italian" flavor. it's up to you and what you have on hand. also, you can wilt some spinach in a skillet with about a tablespoon of olive oil over medium heat and add that in too. my kids detect it, so even though it's something i looooove, i left it out this time for them.
the ingredients you need for the filling are :: 1 pound italian sausage, mozzarella cheese, ricotta cheese, parmesan cheese, fresh parsley, fresh basil, 2 eggs, and ground nutmeg. and spinach…if you're using it as per the note above.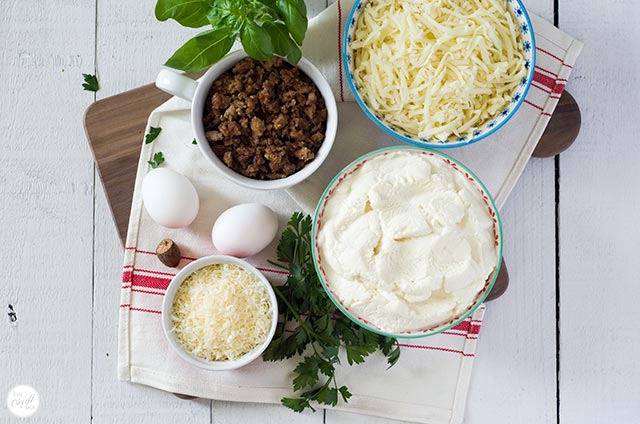 place everything into a large bowl…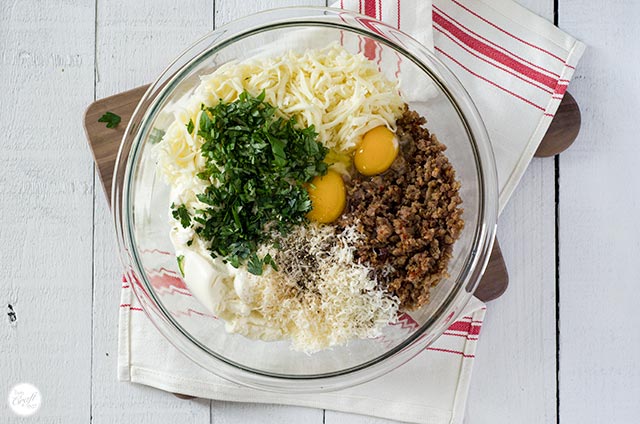 …and stir it all together really well until it's all combined.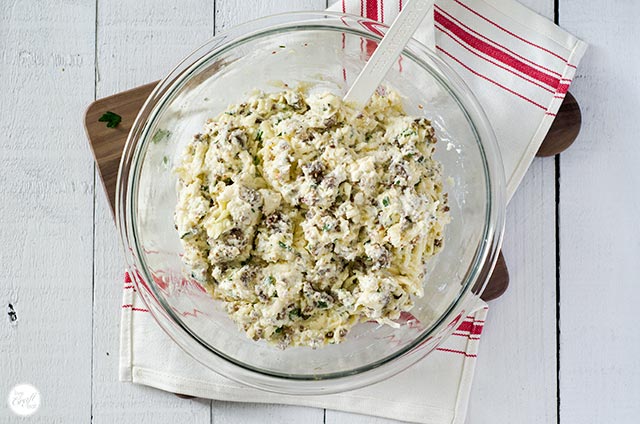 now you're ready to assemble! my kids got me this 9″x13″ freezer-to-oven baking dish (aff link), and it's perfect for freezer meals because a) it comes with a lid, so they're easily stackable and don't tear like the aluminum foil coverings sometimes do, and b) when we didn't realize we needed a freezer meal but we ended up needing a freezer meal (you know those days), we were able to take this straight out of the freezer and put it into a preheated oven without defrosting in the fridge overnight, and with NO cracking of the glass! it's made of borosilicate glass which means it can go from freezing temperatures all the way up to 450 degrees without cracking or breaking. so nice.
anyway, whatever dish you decide to use, start with a thin layer of marinara sauce across the bottom as a bed for the pasta shells.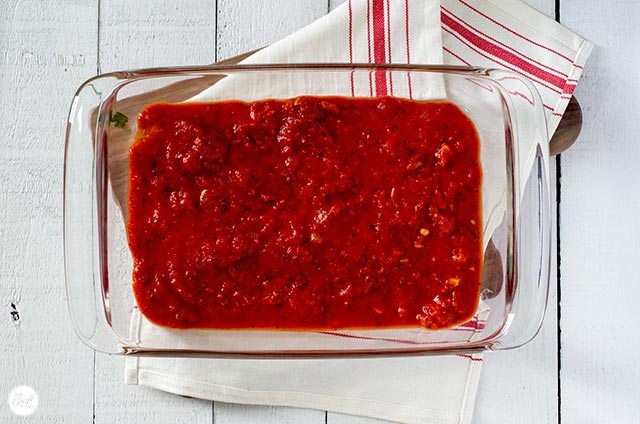 then, using a regular spoon (like a soup spoon or cereal spoon), hold the shell open with one hand, scoop the filling into each shell, and then place opening side down (or opening side up! whatever you like. it depends on the day for me) into the baking dish.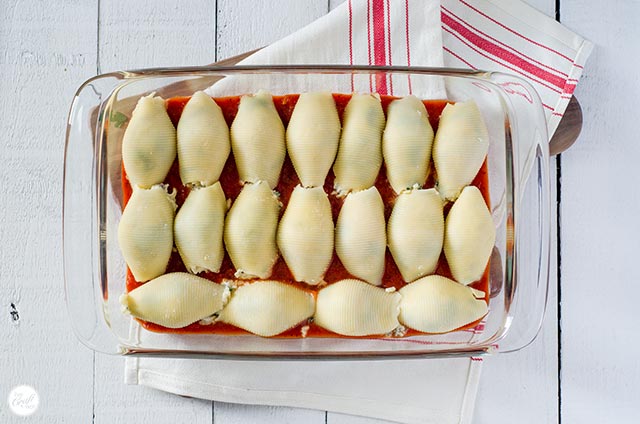 when it's full, pour over a little more marinara sauce…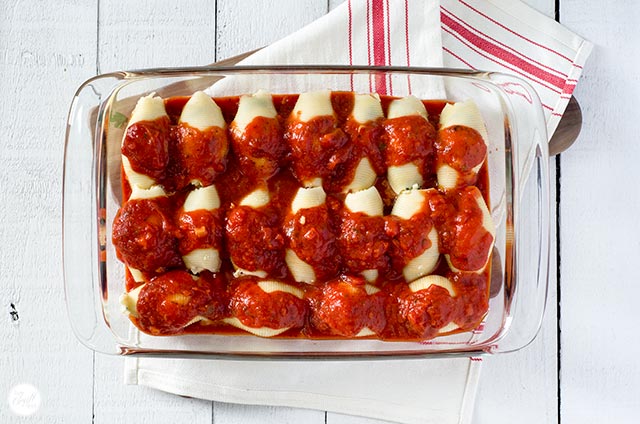 …and then sprinkle some mozzarella and parmesan cheeses over the top.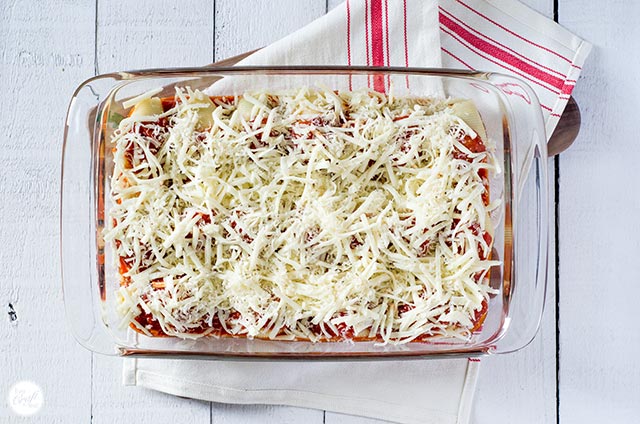 you can bake it right now for a nice cheesy, meaty dinner tonight (see the recipe instructions below), but since i'm freezing this one for after school (and sports, and clubs, and homework, and, and, and…) starts, i'm just going to pop the lid on and get it into the freezer.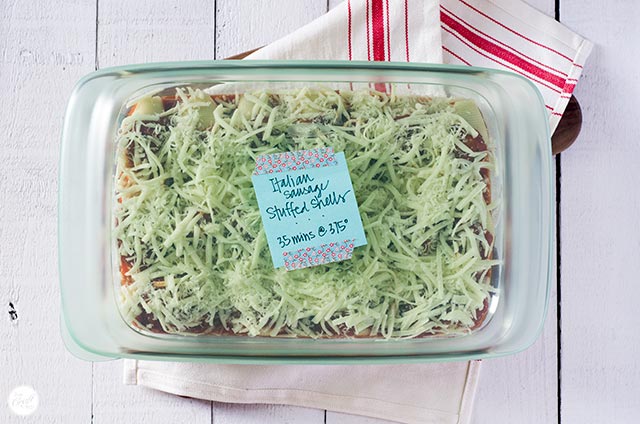 mmm, this is going to be so good…in a few weeks! i love freezer meals. i will thank myself later for the (very little) work i put in today.
scroll down to get the recipe!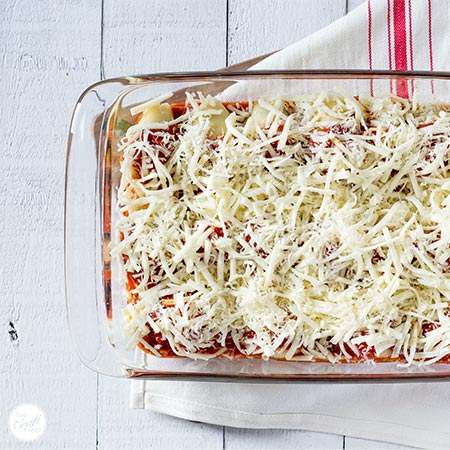 Print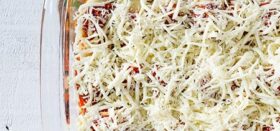 italian sausage stuffed pasta shells
---
Author:

Total Time:

55 mins

Yield:

8

-

1

0

1

x
1

package (12oz) jumbo pasta shells, uncooked

1

pound bulk italian sausage (hot or mild), browned

2

lbs (4 cups) ricotta cheese

2 cups

mozzarella cheese, shredded + more for topping

½ cup

parmesan cheese, grated + more for topping

2

eggs

1 tablespoon

fresh parsley, chopped

2 tablespoons

fresh basil, chopped

½ teaspoon

salt

¼ teaspoon

pepper

⅛ teaspoon

nutmeg

1

jar marinara sauce
optional :: 1 tablespoon olive oil + 3-4 cups fresh spinach
---
Instructions
cook pasta for only 10 minutes. drain and lay out to cool slightly.
meanwhile, in a large skillet set over medium heat, brown italian sausage, breaking it up into small pieces as you go. set aside.
if using spinach, drizzle olive oil into a large skillet (if you want, you can use the same skillet as the sausage – just remove the sausage before continuing), and add spinach. cook over medium-low heat for 2-3 minutes until spinach it wilted. set aside.
in a medium bowl, combine the italian sausage, spinach (if using), cheeses (ricotta, mozzarella, parmesan), eggs, parsley, basil, salt, pepper, and nutmeg. spread ½-1 cup of marinara sauce on the bottom of a 9″x13″ pan. fill each pasta shell with about 2 tablespoons of the cheese filling and layer them in the pan, making two layers, if needed. spread remaining marinara sauce over the top of the shells and sprinkle with mozzarella and parmesan cheeses. cover with foil and bake at 375 for 35 minutes.
if freezing, cover baking dish and freeze before baking. to bake, place baking dish in fridge the night before you plan on eating to thaw it out and then bake according to the regular directions. if you need to bake from frozen, bake for approx twice the amount of time it calls for in the regular instructions, or until heated through.
Prep Time:

20 mins

Cook Time:

35 mins

Category:

dinner / freezer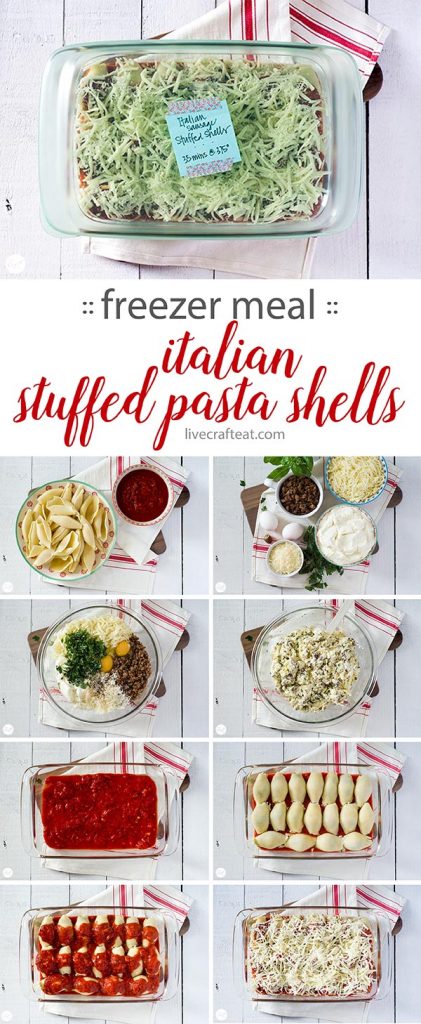 Other Posts You May Like: