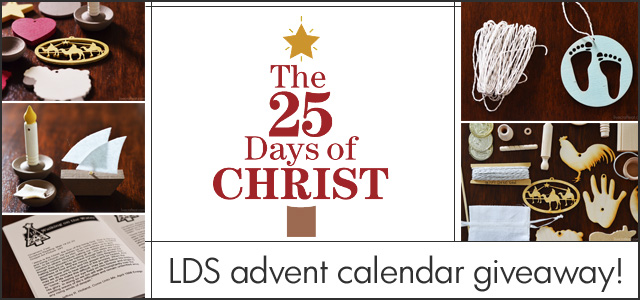 We're always looking for ways to make the Christmas holiday more Christ-centered in our home. With young kids it's so easy to get caught up in the elves, jingle bells and bright, shiny toys that typically represent this holiday. So when I came across this 25 Days of Christ LDS Advent Calendar kit, I knew it would be a perfect way for our family to center on the life of Christ during this time of year.
When I received the kit in the mail it had everything I needed to get going – the wood pieces were all cut and sanded, twine was provided for hanging the ornaments, and any fabric I needed was neatly folded and ready for me to cut. The only things I needed to provide were the paint, paintbrushes, sandpaper for antiquing, a glue gun, and a thin black marker for adding eyes to the people – all of which I already had at home.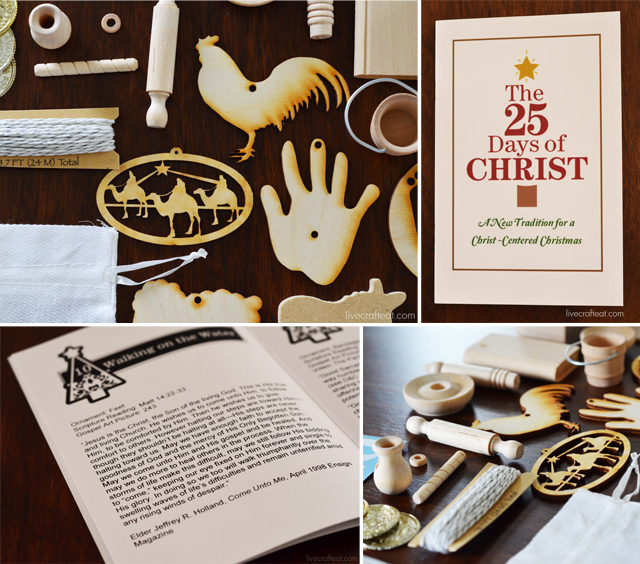 It also comes with a drawstring bag to hold all the ornaments for safe keeping. To go along with each ornament, there is is a book full of stories about Christ – one for each of the 25 days.
This is a picture of all the ornaments/pieces included in the kit. If you want to see each individual ornament and it's accompanying story, visit the 25 Days of Christ site to see all 25 days.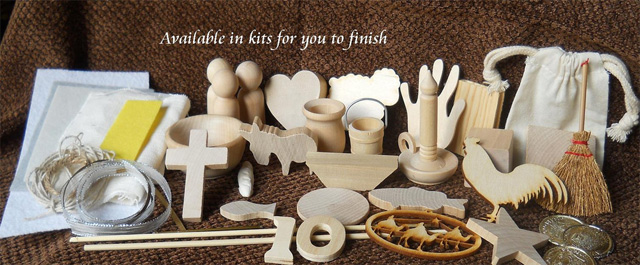 Though it takes a few hours to put together, it is really quite easy. They've done such a great job of getting everything just right and there is such attention to detail that you don't even need to sand anything before painting. So you can get right started into the painting…

…and assembling. A glue gun is all that's required. And there are only a few ornaments that need to be assembled at all. Every ornament is pictured on the 25 Days of Christ website, so it's easy to look it up and reference what you're doing. It's really straightforward and is so rewarding when you've finished!

When you're all done, you'll have a collection of adorable ornaments that look like this: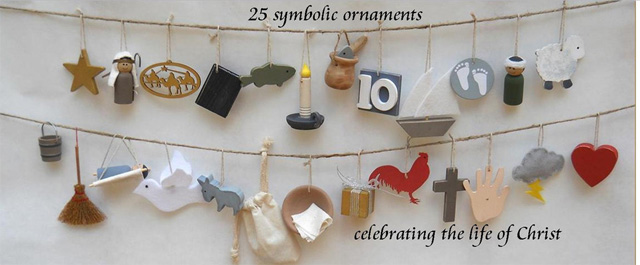 Starting December 1st, we read one story from the booklet provided with the kit (there are also talks from General Authorities, scriptures, and other resources listed that can be found at lds.org), and then hang the accompanying ornament on our tree (or on a line, like in the picture above). By Christmas Day, we'll have read and learned about 25 different stories of Christ's life, and will have 25 "made by us" ornaments hanging on our Christmas tree reminding us of those events…and the real reason for the Christmas season.
These kits are already sold out this year – that's just how popular they are! BUT we've saved one for a lucky Live Craft Eat reader to enjoy this December. To enter the giveaway, follow the prompts at the bottom of this post – the more things you do, the better your chances are of winning!
Can't get one this year? Don't worry! There's a waiting list for next year! And believe me, it is definitely worth the wait! You can find more information on the waiting list by clicking on this link to 25 Days of Christ – waitlist 2014. I was given a free 25 Days of Christ kit/calendar to facilitate this review/giveaway. Nonetheless, all opinions are 100% my own. 
Here are the contest rules: Contest will end at midnight on Thursday, November 14th, 2013. This contest is open to residents of U.S. AND Canada! Winner will be contacted by email. Because of the tight schedule (we want to get this to the winner before December 1st!), if the winner doesn't respond by email within 24 hours, a new winner will be selected. Good luck!