Jenn W.! congratulations, Jenn! we're so happy for you! we'll be sending you an email soon to get your info.
thanks to everyone who entered! there are still 08 days left to win something!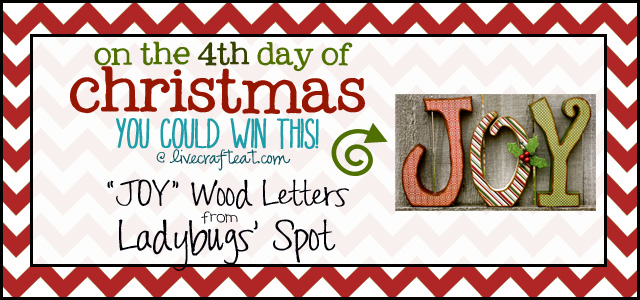 on the 4th day of christmas, we are pleased to be giving away these beautiful "JOY" wooden letters from Amy at Ladybugs' Spot! these chunky wooden letters would look perfect on your mantel or in any christmas display. scroll down to learn more about this etsy shop and how you could win these "JOY" letters: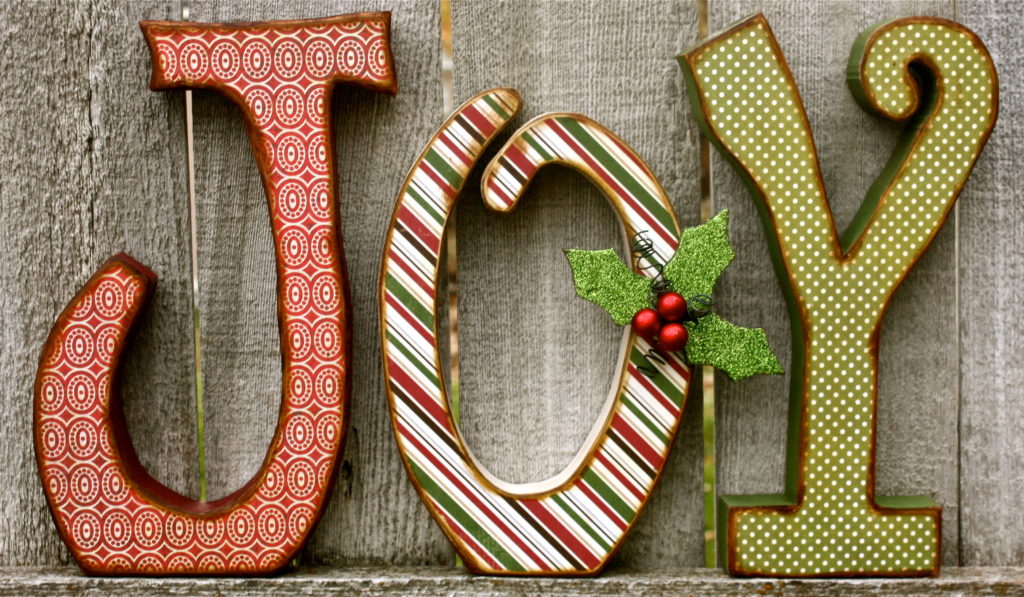 About Ladybug's Spot
Eleven years ago I bought a bandsaw thinking it would be a fun skill to learn and discovered my passion for designing wood crafts.  There is something immensely satisfying about taking an idea from your head and turning it into something tangible and lasting.  I love what I do and enjoy incorporating new materials into my work…..  anything and everything to do with design, pattern, color and sparkle!  My Etsy shop features some of my best selling and favorite original items.   Each piece is hand finished making it a unique work of art.  Hopefully, you will find something you like to brighten up your home and any holiday season!  I also specialize in creating custom items if you have a special request.  Follow me on Facebook https://www.facebook.com/ladybugsspot and Pinterest http://pinterest.com/ladybugsspot for lots of great ideas and everyday inspiration….

Amy has been kind of enough to give away a handmade 'JOY' christmas letter set as pictured above. you can find it in her shop, here: Christmas "JOY"  chunky wood letters
Entries
here's what you need to do to win (the more things you do, the better your chances are of winning! each item listed below is worth 1 entry which would make a maximum of 7 entries per person).:
note: if you already have done the below items please note them in your blog comment. 
1. head on over to Ladybugs' Spot, find something you like, then come back here and tell me what it is you like from their shop in a comment.
2. subscribe to live craft eat (you can do this from our side bar)
3. "like" us on facebook OR if you've liked us on facebook share this post from our facebook page
4. follow us on pinterest
5. repin the contest image above (the first image in this post)
6. follow us on twitter OR if you already follow us on twitter, tweet this post
7. plus 1 us on google plus OR add us in your circles on Google Plus
comment on this post telling me which ones you completed to make your entries eligible.
RULES:
all entries must be submitted before midnight mst today, December 4th. one winner will be randomly selected and announced on this post tomorrow at 8pm MST.  you must be a resident of U.S. or Canada to be eligible.
good luck!