Michelle! congratulations, Michelle! we're so happy for you! we'll be sending you an email soon to get your info.
thanks to everyone who entered! there are still 07 days left to win something!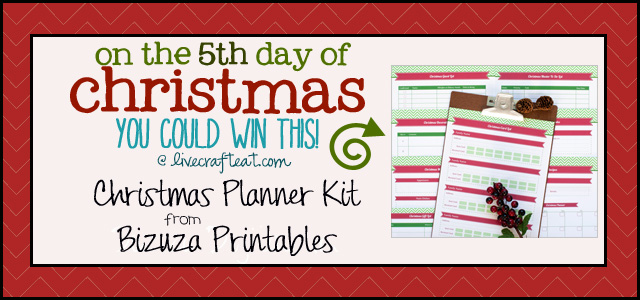 on this, the 5th day of christmas, i am pleased to present this Christmas Planner Kit (PDF) from Bizuza Printables! i love her printables! i feel organized just looking at them. the colors are great, the designs are so fun, and the layouts make it so effortless to be as organized as you'd like to be. keep reading to learn more about Bizuza Printables and how you could win this downloadable/printable Christmas Planner Kit: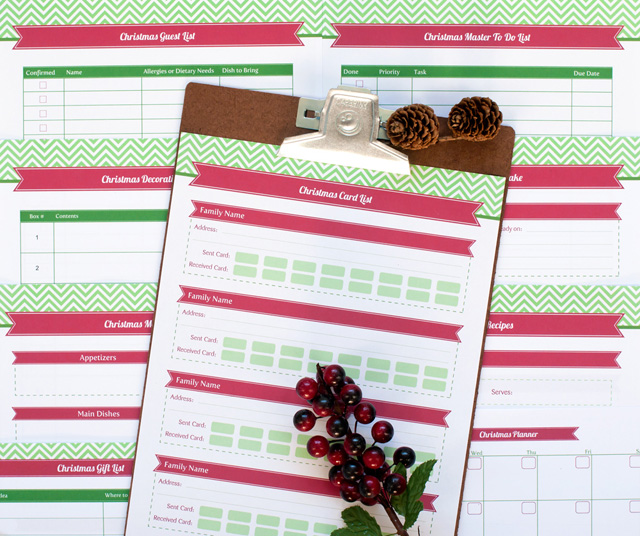 About Bizuza Printables
My name is Sylvia and I'm the creator behind Bizuza Printables. I'm a planner, an organizer, and love to help others getting organized. I started creating templates from my personal experience to organize my own life. Using these planners has helped me to streamline my routines putting me on top of my workload.
I believe that every bit of time we invest in getting organized, the more efficient we are and the more time we have to do what we truly enjoy. Whether you want to plan your family's meals in advance or keep track of your finances, I've got a printable organizer for you. All of my printables are 100% editable so that you can customize them with your own information to fit your personal needs. Let me help you to keep order in every corner of your life!
Social media links:

Sylvia has been kind enough to give away the printable christmas planner as pictured above and found here: Printable Christmas Planner Kit
Entries
here's what you need to do to win (the more things you do, the better your chances are of winning! each item listed below is worth 1 entry which would make a maximum of 7 entries per person).:
note: if you already have done the below items please note them in your blog comment.
1. head on over to Bizuza Printables, find something you like, then come back here and tell me what it is you like from their shop in a comment.
2. subscribe to live craft eat (you can do this from our side bar)
3. "like" us on facebook OR if you've liked us on facebook share this post from our facebook page
4. follow us on pinterest
5. repin the contest image above (the first image in this post)
6. follow us on twitter OR if you already follow us on twitter, tweet this post
7. plus 1 us on google plus OR add us in your circles on Google Plus
comment on this post telling me which ones you completed to make your entries eligible.
RULES:
all entries must be submitted before midnight mst today, december 5th. one winner will be randomly selected and announced on this post tomorrow at 8pm MST.  you must be a resident of U.S. or Canada to be eligible.
good luck!