Kimberlee! congratulations, Kimberlee! we're so happy for you! we'll be sending you an email soon to get your info.
thanks to everyone who entered! there are still 06 days left to win something!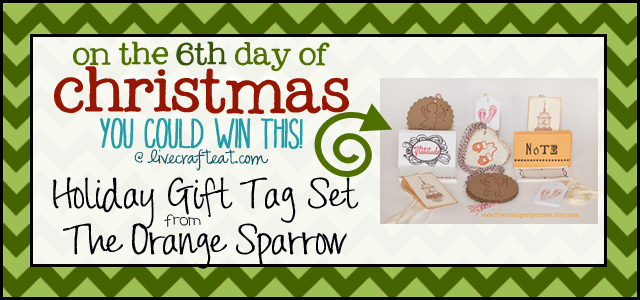 i am so happy to have The Orange Sparrow here today for our 6th day of christmas giveaways! Lisa is giving away this set of gift tags and they are so pretty, i want to put them on everything! it is so fun to look through her shop – i think anyone would love to receive a gift or a little note with one of these tags on it! keep reading to learn more about The Orange Sparrow and how you could win everything in this gift tag set: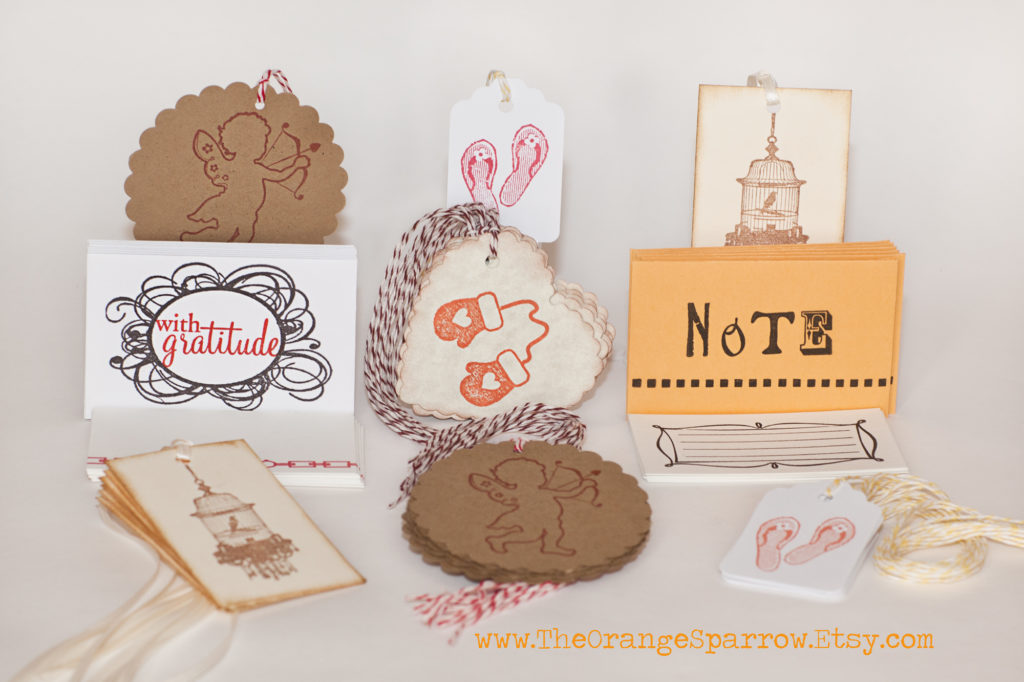 About The Orange Sparrow 
Hi!  My name is Lisa and I am the owner of The Orange Sparrow on Etsy.  I adore all-things-handmade and have been crafting for years.  In a past life, I was a computer programmer on Wall Street and needed a way to balance all of that left-brain activity.  Pretty paper, stamps and twine was the answer!   I have hundreds of stamps and more twine than anyone can use in a lifetime but I accept that as a challenge!  I truly love creating cards and tags for people to add a special, loving touch to the everyday.  Who doesn't love to receive a handmade card in the mail?  And I especially love creating items for weddings, baby showers and parties.  Allowing me to play a small part in such a special occasion is touching and makes my heart happy!  I love to create custom orders so anything you see in my shop can be tailored to your needs.  I also, more than likely, can create exactly what you're looking for and some items in the shop were born from a customer's request.  My 'Love Jar' is one of them!  I've created jars for children with coupons for staying up late, getting out of chores or spending extra time with mom;  I've also created jars for hubby that have included 'nagging free' days (who nags? ;D), night out with the guys and back rubs.  My shop can be found here: 
http://www.etsy.com/shop/theorangesparrow
 and you can 'like' me on Facebook for sneak peeks of new products and sales: 
https://www.facebook.com/pages/The-Orange-Sparrow/464775726876343
I will be offering up a special just for Life Craft Eat readers to thank Katie for running this giveaway!  Use coupon code livecrafteat to receive 10% off your entire order today!  Also, don't forget to enter today to win the awesome prize package I have put together!

Lisa has been kind of enough to give away the entire set of gift tags as pictured above.
Entries
here's what you need to do to win (the more things you do, the better your chances are of winning! each item listed below is worth 1 entry which would make a maximum of 7 entries per person):
note: if you already have done the below items please note them in your blog comment.
1. head on over to The Orange Sparrow, find something you like, then come back here and tell me what it is you like from their shop in a comment.
2. subscribe to live craft eat (you can do this from our side bar)
3. "like" us on facebook OR if you've liked us on facebook share this post from our facebook page
4. follow us on pinterest
5. repin the contest image above
6. follow us on twitter OR if you already follow us on twitter, tweet this post
7. plus 1 us on google plus OR add us in your circles on Google Plus
comment on this post telling me which ones you completed to make your entries eligible.
RULES:
all entries must be submitted before midnight mst today, december 6th. one winner will be randomly selected and announced on this post tomorrow at 8pm MST.  you must be a resident of U.S. or Canada to be eligible.
good luck!