Kari! congratulations, Kari! we're so happy for you! we'll be sending you an email soon to get your info.
thanks to everyone who entered! there are still 05 days left to win something!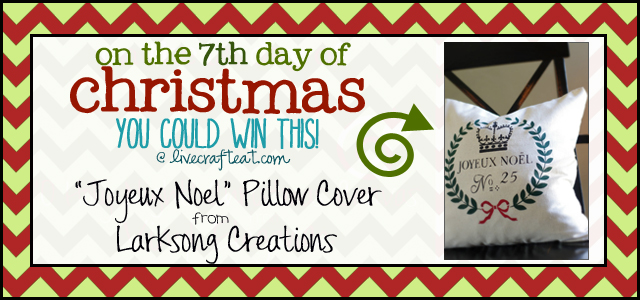 on the 7th day of christmas, we are giving away this beautiful, hand-stenciled Joyeux Noel pillow cover from Lisa at Larksong Creations! i just love everything about this pillow! the design and colors are simply gorgeous. what a welcome addition this would make to any christmas decor! keep reading to learn more about Lisa and her shop and how you could win this joyeux noel pillow cover: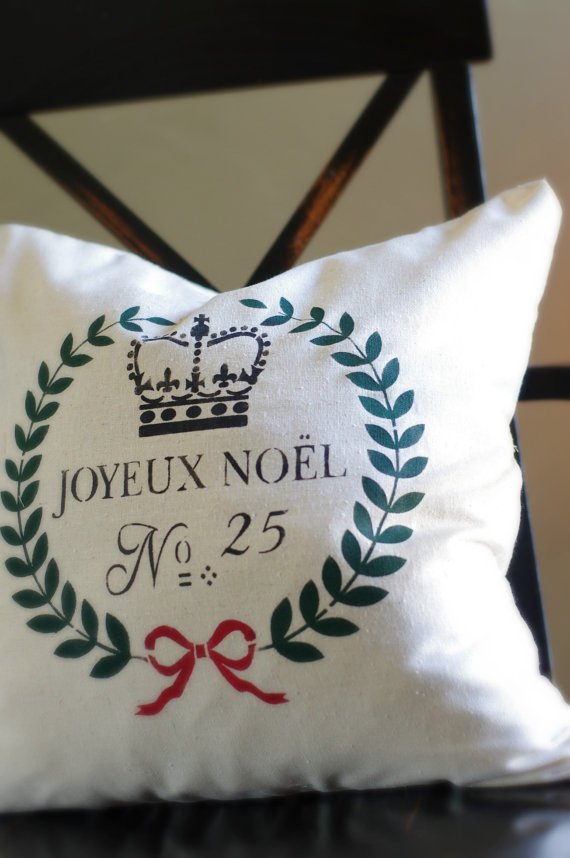 About Larksong Creations
I am a wife and mother of five sons whom I adore! I have a passion for fabric and all things feminine, so Etsy is the perfect outlet to share my feminine side with those who may appreciate it a little more than my household of boys. 🙂 Etsy is also a great way to turn a hobby into a business.  Like many moms, after my youngest entered Elementary school, I was looking to do something part-time, but was reluctant to give up the flexibility and creativity that I valued so much as a stay-at-home mom.  I have just passed the 1 year anniversary of opening my shop and have learned so much from the experience so far and absolutely love it.
I chose to focus on pillows after reading something that a decorator wrote about decorative pillows having the ability to create high impact with low investment.  I totally agreed!  My eye had always been drawn instantly to the pillows in a well-decorated room in a home or magazine.  It also gave me license to purchase all of the fabrics I LOVE and have a place to put them -in other people's homes! 🙂 My shop contains an eclectic mix of pillow covers: everything from basic covers made from designer fabrics to novelty items,  where I love to use words, quotes and images that strike my fancy using a variety of methods such as stenciling, applique and screenprinting.  Some of my favorite fabric styles at the moment are anything damask, ikat,  or geometric, and suzani prints.    My favorite fabric to work with, however, is natural muslin.  For me, it is like a blank canvas just full of possibilities   I just have to find the right design, color or trend that I feel will be perfect for someone out their to express their personality and style.  I LOVE creating holiday items – especially Christmas! I am already  looking forward to next year so I can use the ideas I didn't have time to implement this year.
I am excited to share my shop with Katie's readers!

Lisa has been kind of enough to give away the Joyeux Noel pillow cover as pictured above and found here: Joyeux Noel Pillow Cover
Entries
here's what you need to do to win (the more things you do, the better your chances are of winning! each item listed below is worth 1 entry which would make a maximum of 7 entries per person).:
note: if you already have done the below items please note them in your blog comment. 
1. head on over to Larksong Creations, find something you like, then come back here and tell me what it is you like from their shop in a comment.
2. subscribe to live craft eat (you can do this from our side bar)
3. "like" us on facebook OR if you've liked us on facebook share this post from our facebook page
4. follow us on pinterest
5. repin the contest image above (the first image in this post)
6. follow us on twitter OR if you already follow us on twitter, tweet this post
7. plus 1 us on google plus OR add us in your circles on Google Plus
comment on this post telling me which ones you completed to make your entries eligible.
RULES:
all entries must be submitted before midnight mst today, december 7th. one winner will be randomly selected and announced on this post tomorrow at 8pm MST.  you must be a resident of U.S. or Canada to be eligible.
good luck!