i was so excited when i heard that the girls over at six sisters' stuff (say that 10 times fast) were publishing their very first cookbook! they've got such great ideas not only for food, but also for crafting, decorating, managing a family & fun ideas for spending time with them. i received a copy of their new book a couple of weeks ago and couldn't wait to get started trying out all of their fun "stuff"!
the first thing i can tell you about their cookbook is that it's pretty. it's very cute and has pictures for every recipe and craft project. i hope i'm not the only one who will only look at and try a cookbook or crafting book if it looks nice and has lots of pictures throughout….
the second thing is that i love how focused they are on families! you can tell that in everything they do (and cook), they are trying to create more time to spend with their families. they've even extended a challenge to everyone called the 4×4 family dinner challenge – the goal is to eat dinner with your family 4 times a week for 4 weeks. with dinnertime being a busy time for a lot of families (between sports practices and games, school and church commitments, etc) they've included recipes in their cookbook to make it easy to eat dinner together!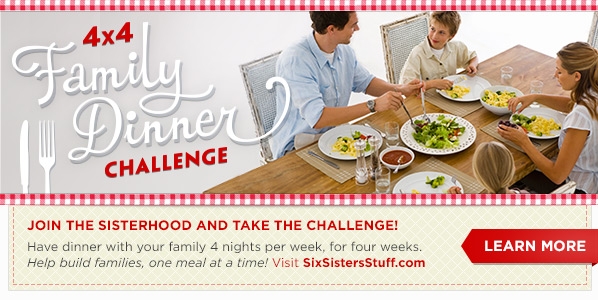 i tried their challenge this week and made 4 recipes from their cookbook – 3 dinners + 1 dessert (it's actually under categorized under "salads" but we  ate it as a dessert…you'll see why!).

the first one i tried was their 20-minute skillet lasagna. they weren't kidding – it really did only take 20 minutes to make! and it had a creamy sauce that i loved – just by adding a little sour cream! so if you're in a hurry to get dinner on the table, this one is a great option!
the second one i made was their slow cooker garlic & brown sugar chicken. i like this recipe a whole lot, and not just because i threw it all together early in the morning when i had a little bit of time and let it cook itself in the slow cooker all day! the taste was really good and i love how it made it's own glaze in the crockpot.
the third recipe of theirs that i tried was their baked ziti. this one is great because it makes a double batch without any extra effort and you freeze half of it for another night! what a great way to save time on nights when you don't have a lot – make it once, eat it twice!!
and last, but certainly not least, i made their snickers apple pudding salad. yes, it's under the salad category in their cookbook, and you could use it as such i suppose, but it's a lot more like a dessert – with the snickers, pudding, and dessert topping! however and whenever you want to eat it – it's so super good! i'm actually eating a big bowl of it right now and i just can't get enough! definitely a new family favorite!
i'm incredibly happy to have these easy recipes that will help me and my family eat together more often – and all together in 1 book! from 20-minute dinners, to slow cooker meals, to freezer-friendly entrees, i'm sure my family will be able to meet the 4×4 family dinner challenge with ease!
would you like to win a copy of this six sisters' stuff cookbook?! 1 lucky live craft eat reader will be able to do just that! here are the rules and entry options: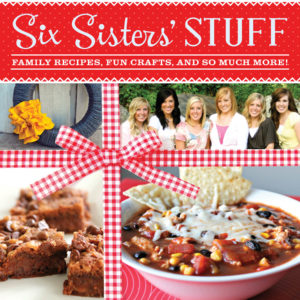 contest begins friday, march 8th at midnight & closes friday, march 15th at midnight. it is open to residents of the united states only.