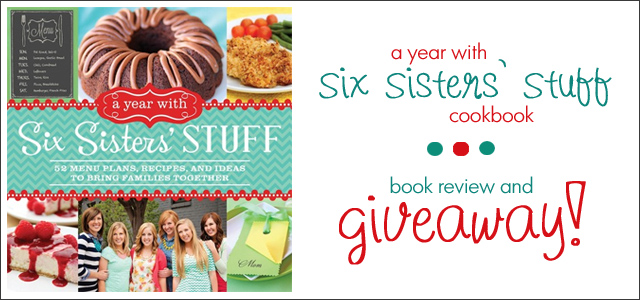 i'm so happy to offer you a book review & giveaway for the new "a year with six sisters' stuff" cookbook! you might remember i did a post on their first book (which you can find here), and i totally loved it. this new one is just as great.
it's a little bit different from their first book in terms of the organization of their recipes – here's how it works:
there are 52 "menus" – enough for you to try a new menu every week of the year. each one consists of an entree and includes some kind of side, drink, and/or dessert. so when you're wondering what to have for dinner, it's all laid out for you from start to finish.
it was hard to decide which menu to try out first – all the pictures in the book look delicious. and equally as important for someone like me who is constantly needing a relatively quick meal to make on weeknights, it made the decision that much more difficult because they all fill that need!
the menu i finally settled on was #30: 5-star grilled chicken teriyaki, fresh vegetables with vegetable dill dip, and raspberry lemonade cupcakes.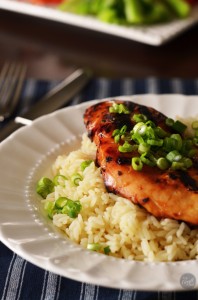 5-star grilled chicken teriyaki
in the book, Camille says that this chicken got it's name from her husband, who "took a bite and said, 'five stars. this chicken deserves five stars.' "
after my own husband took a bite, he agreed! it was a really easy main dish that marinated in the fridge all day and then took very little time to barbecue. it's the perfect "make-ahead" sort of meal that i can put together earlier in the day and then forget about until it's time to cook it. we served it on a bed of rice and topped it with sliced green onion. it looked great and tasted even better! a hit in our household, for sure.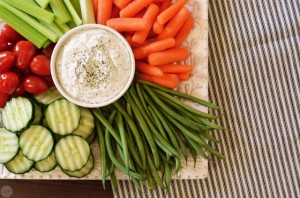 vegetable dill dip
this is another great recipe to be able to assemble ahead of time and forget about until dinnertime (or snack time, or party time, or whenever!). it was really quick and easy to mix together the ingredients for this dill dip and refrigerate for use later in the day. and with so many vegetables that are low maintenance (ie. no prep involved) such as beans, grape tomatoes, and baby carrots, it took maybe 5 minutes to have every single thing ready to throw on a platter.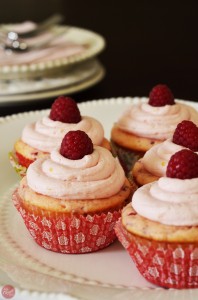 raspberry lemonade cupcakes
this is the recipe that won me over. these cupcakes look so darn pretty with the pink icing and little bits of raspberry strewn throughout. but let me tell you – the taste of these cupcakes is even better than their appearance! the lemon zest and raspberry lemonade concentrate brightened the flavor to the point where i imagined it was summer outside even though it was the middle of february.
the best part is that it felt like i was making them from scratch with all the add-ins and the unique flavor, even though the base was a box of white cake mix. (we won't tell my neighbor, whom we shared them with, they were only semi-homemade! it will be our little secret!)
based on the great experience i've had with only this one menu so far, i'm sure to be trying out more of their menus and recipes in this book. i'm sure my family will enjoy them all as much as they have this one!
speaking of trying more of their recipes…this just might be my next one to try….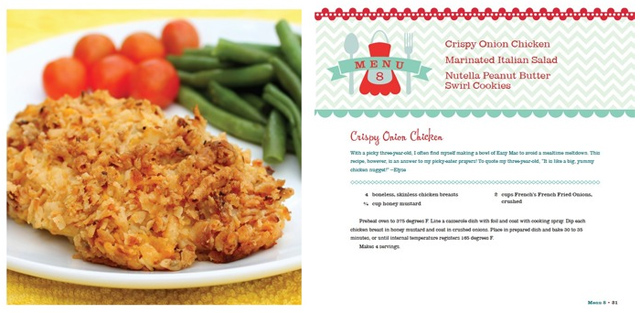 page layout photo courtesy deseretbook.com

would you like to enter to win a copy of this fabulous cookbook? silly question, i know! all you need to do is enter (below) for your chance to win! pretty easy, right? good luck to everyone! and happy (easy) menu planning!
(contest rules: contest begins tuesday, march 25th @ 12:00 am and ends monday, march 31st @ 11:59pm. all times are MST. you must be a resident of the united states to enter. winner will be contacted via email. failure to respond within 72 hours will forfeit your prize and it will be awarded to another winner. good luck, everyone!)