i have to say, my decorations for holidays (ALL holidays!) at the moment are pretty sparse. i can't quite pin down why…though it could be due to the fact that since our married days began we've either been in school with no money for such things, or with young children who kept me so busy i couldn't find any time or energy to clean the house let alone attempt to make something, or maybe because the motivation wasn't there for me knowing that a 1- and 3-year old probably wouldn't appreciate anything cute or fun i made and would most likely end up grabbing hold of it and rip it or teethe on it anyway (hey, it happens!).
but seeing as my kids are getting much older and i'm finding more time to do some of the things i like, i've decided that i'm going to try and make my house pretty and festive for the holidays!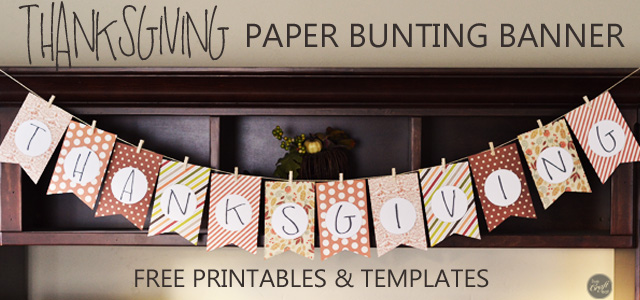 i recently made some fabric bunting for halloween that turned out amazing (and you could totally make it with some thanksgiving fabric!) and i wanted to make another banner for thanksgiving. after seeing all the cute scrap-booking paper in fall hues and patterns at the store, i decided to make a paper one and do something that would gets my kids involved.
here's all i needed to make this fast, easy, yet gorgeous banner:
– scrapbook paper. the stiffer the better. i bought 6 double-sided 12″x12″ cardstock with fun fall patterns on both sides (i trimmed them down to 8.5″x11″ before printing the template onto them). you could also use plain-colored cardstock in fall colors (aff link)…that would look pretty, too! what you want to spell out will depend on how many pieces of paper you'll need. my printable template will give you 2 bunting shapes per 8.5″x11″ sheet.
– scissors & tape or glue. it doesn't get less complicated than this, folks.
– string of some kind, or twine. fall colors would be great.
– mini clothespins, or a clip of some kind. just to finish it off and hold everything together.
– printables. i've got a few freebie printables and patterns for you…they make this project way easy, and there's even a way to get your kids involved!
1. thanksgiving paper bunting template. this is what you print directly onto your patterned or colored paper/cardstock. makes life so easy.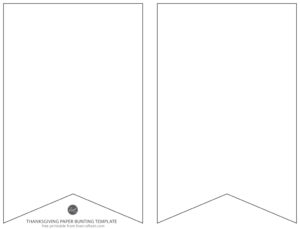 2. blank circles. you can spell out anything you want with these.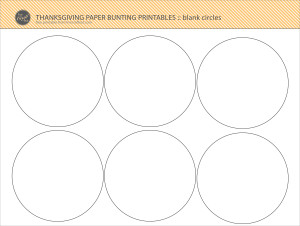 3. stitched circles. the same as the "blank circles" but a little bit more fun 🙂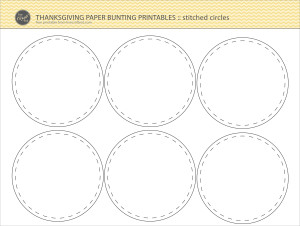 4. "gratitude" word circles. these have little "gratitude" and other "thanks" words going around the perimeter. these, or the stitched, or blank circles are fun for kids to fill out too, either with their own words, or pictures of things their thankful for. we'll get to that in a second….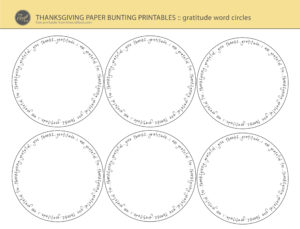 5. "give thanks!" circles…page 1 & page 2.  if you want to spell this out, these are ready for you to print and cut out!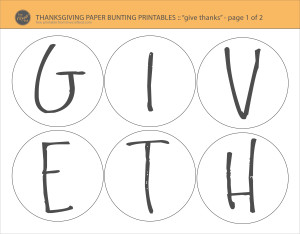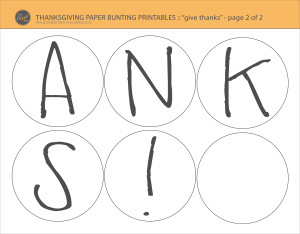 6. "thanksgiving" circles…page 1 & page 2. it you want to spell this word, just print and cut! easy peasy.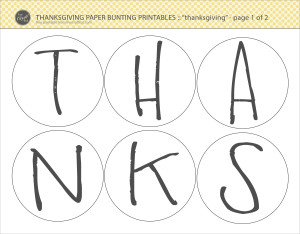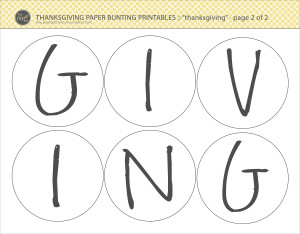 phew! those are all the printables. now, here's how we put it all together.
first, print out whatever templates and printables you'd like to use!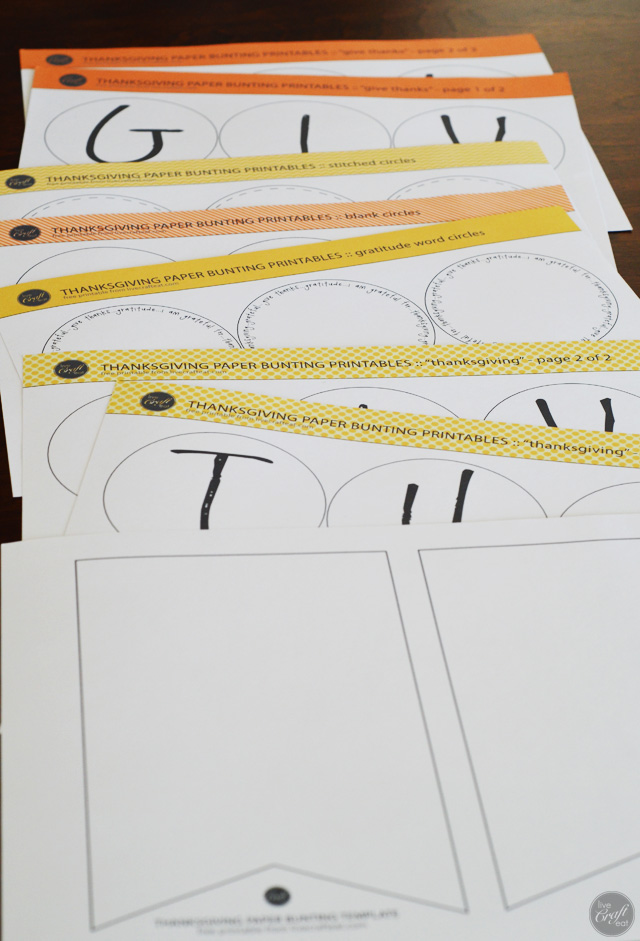 or, if you're using the bunting shape template, print those right onto colored or patterned cardstock. the printable fits an 8.5″x11″ sheet, so if you have 12″x12″ paper, make sure you trim it down to size before printing.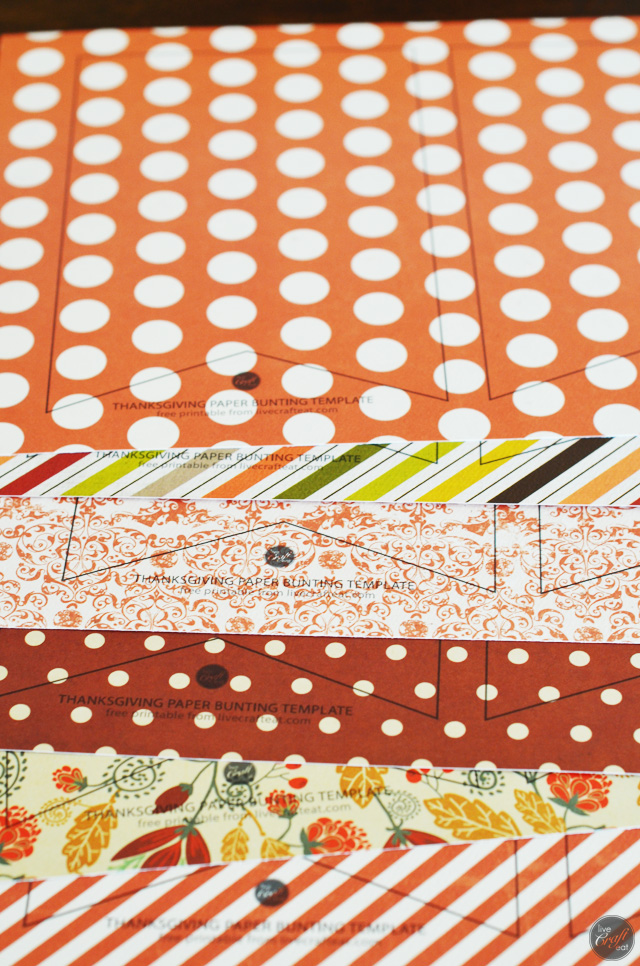 then, if this is a craft for your kids, cut out some of the "blank circle", "stitched circles" or "gratitude word circles" and let them color or write all the things their thankful for.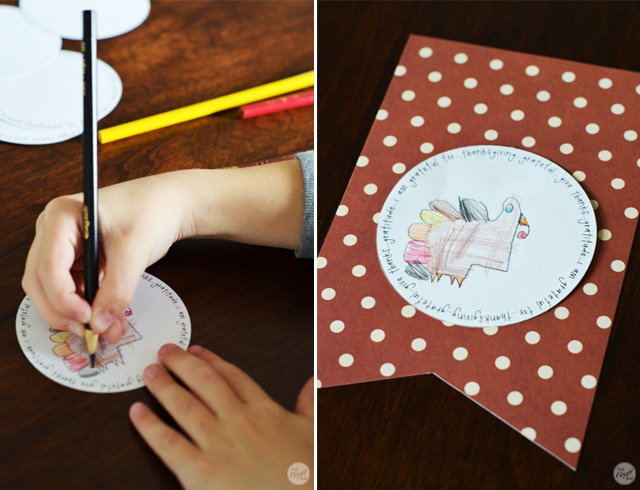 we're thankful for turkeys, family, the united states, and trains around here…. this makes a SUPER CUTE banner, by the way!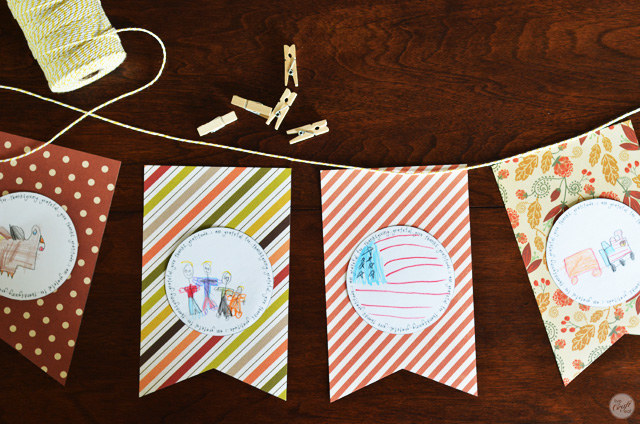 or, if you're looking to just display some kind of thanksgiving word, you can write in your own using the "blank circle" or "stitched circle" template, or the words that i've already got ready for you to print and use.
all you have to do is cut out the circles and tape or glue them onto your bunting pieces. easy as pumpkin pie! (btw, if you just tape them, then you can probably remove them and add something new next year!)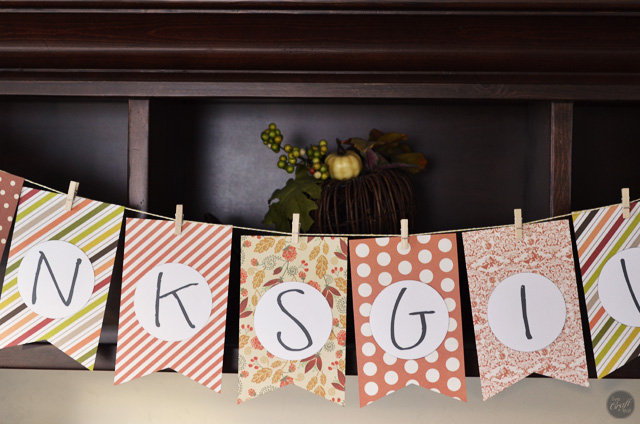 then just arrange them, hang some string or twine and attach the bunting using the mini clothespins or other clips.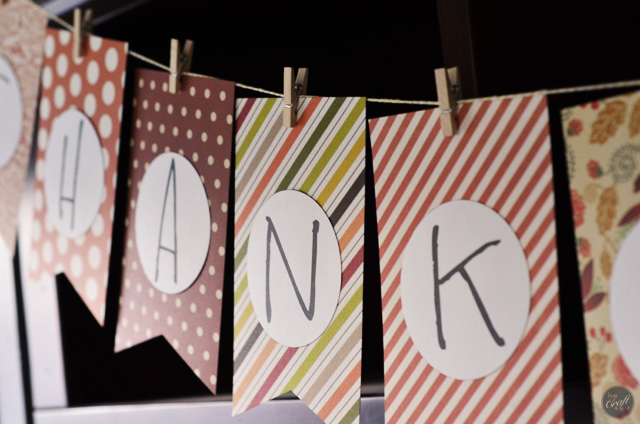 this is a really simple and inexpensive project that will make such a fun fall decoration in your house that you can use year after year. and if you use your kids drawings, it makes for a great family keepsake.
enjoy your thanksgiving!
– – – – – – – – – – – – –
check out some of our other thanksgiving-related posts here. you're sure to find some great recipes and ideas for your kids!