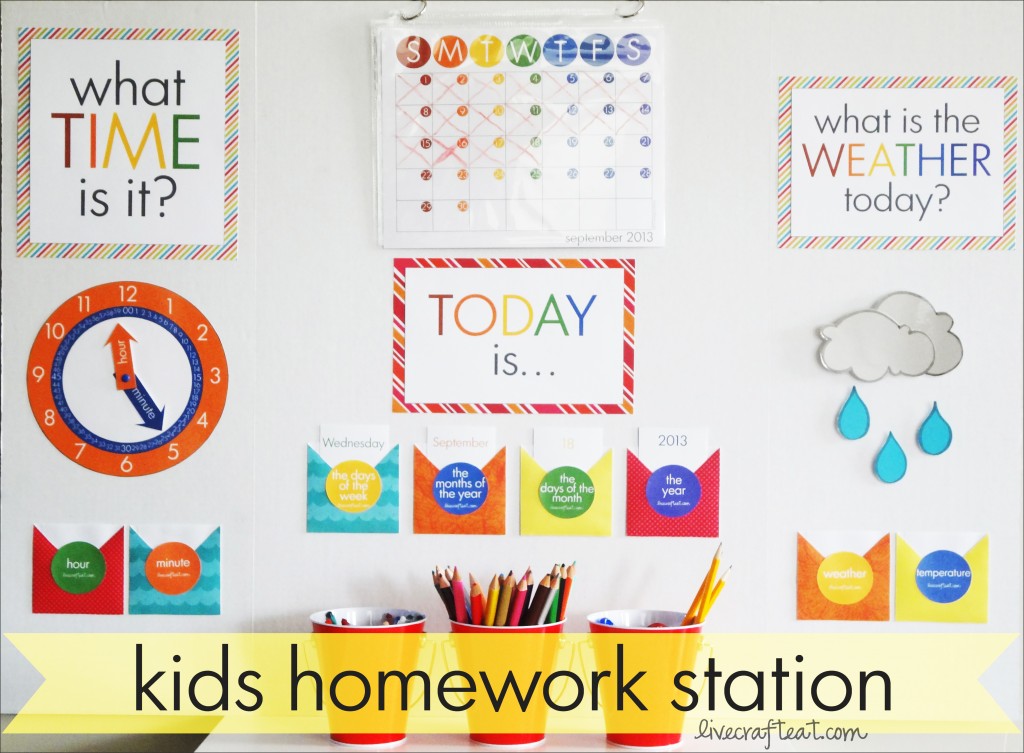 this is my first time having a kid in school – and i'm learning a lot!
i'm learning how to get organized in the morning so we can all get out the door on time with smiles on our faces!
i'm learning that there's a lot paperwork going back and forth between the school and home. (how do you keep track of it all?!)
i'm also learning that homework time can be difficult, especially if there are other things going on in the house that might be distracting – the tv might be on, i might be making noise in the kitchen, brother might be playing with toys upstairs, etc. who wants to do homework when there are so many other things going on around you?
so, we tried out this homework station to see if it would help with the disaster that is homework time.
the first thing i did was buy a tri-fold display board (aff link – that's a pack of 12 but i'm sure amazon has a single one somewhere, but i couldn't find it!). there are different sizes, and i used one of the smaller ones: 40″ x 28″ total. and they're not too expensive either at just a few dollars. the tri-fold is great because i wanted to divide it into 3 sections anyway: a calendar section where he can practice the days of the week, months, year, etc.; a weather section where he can practice identifying the different types of weather; and a time section where he can learn about telling time. here's how i made each section:
1. calendar section:
last week i posted these colorful free printable calendars for kids. i printed out each month onto white cardstock, put them each in their own page protector and attached them to the display board using 3 book rings. we use dry-erase crayons, the same ones we use for his dry-erase activity book, and each day he gets to cross of the current date on the calendar after he's done his homework and 20 minutes of reading.
i printed out a title (you can print the "today is…" title here), and mounted it onto patterned cardstock and used double sided tape to attach it to the board.
you'll also need to download the following cards to make this section (after printing, just cut them out – they're ready to use!):
the days of the week & year cards
the days of the month cards 1 & the days of the month cards 2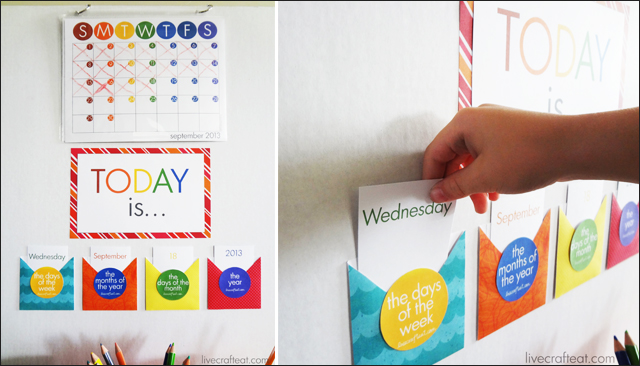 to make the sleeves to put all the cards into, i just took an envelope, sealed it, and cut it across the middle just shorter than the cards themselves. next, i cut the front side of the envelop with a "V", glued scrapbooking paper onto it, then cut the "V" shape out again – after doing a few of them i realized that i could just glue the scrapbook paper on before cutting the "V" in the front and then i wouldn't have to do it twice. duh. please learn from my mistakes.
print out these circle labels to attach to each one so you can remember what's supposed to go in it.

2. weather section: for this section, i printed a title (you can print the "what is the weather today" title here), and made the envelopes (see instructions above). for the weather symbols, i just drew some clouds, raindrops, lightning, sun, & snowflake with a grey marker onto the appropriate colored cardstock. after laminating them so they would last longer, i put velcro dots on the back of the weather symbols and also onto the board so they could be added/removed – depending on the weather.
you'll also need to print these weather & temperature cards.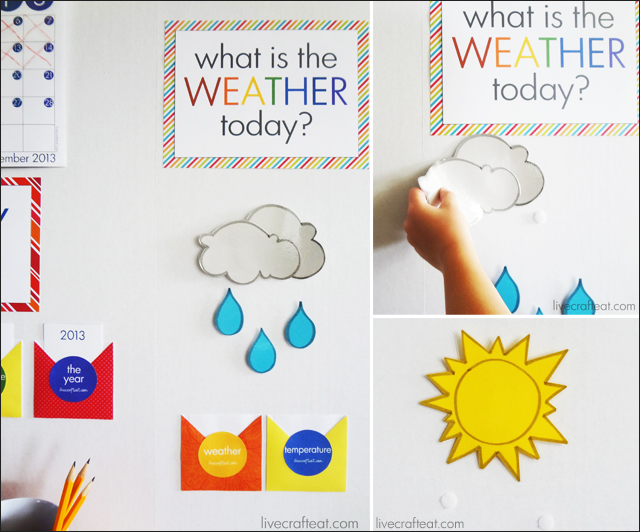 3. time section: i posted a free printable clock last week that we're using to help him learn to tell time. the orange arrow corresponds with the orange numbers (hours). the blue arrow corresponds with the blue numbers (minutes). also, the number "60" is replaced by "00", so that he can learn to write time as  "6:00" and not "6:60". so whenever he starts his homework, he changes the clock to that time. when he finishes, he does the same. how long did he work for? let him tell you!
after that, you just need the title (you can print the "what time is it?" title here), and the envelopes (see instructions above).
you'll also need to print the following:
time cards (minutes – 1) & time cards (minutes – 2) & time cards (minutes – 3) & time cards (minutes – 4)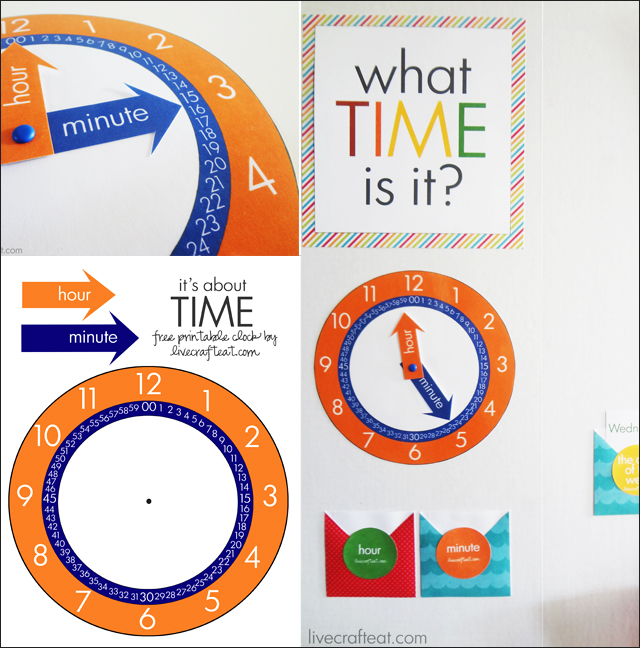 now all you need to do it get a couple buckets to put in the essential school supplies – kid-friendly scissors (we like these ones – aff link), pencils, erasers, colored pencils, & crayons. (aff links)
we started this new homework station about a week ago, and let me tell you – it's been glorious! he's totally into it and loves having his own space for doing his work. right now we have it propped up on a little table against the wall, but when we get a bigger kitchen table, he'll have it up there as a sort of "shield" against whatever else is going on in the house. he's super excited about it and looks forward to doing the activities in the 3 different sections every day, in addition to his homework! high 5 for mom!!! 🙂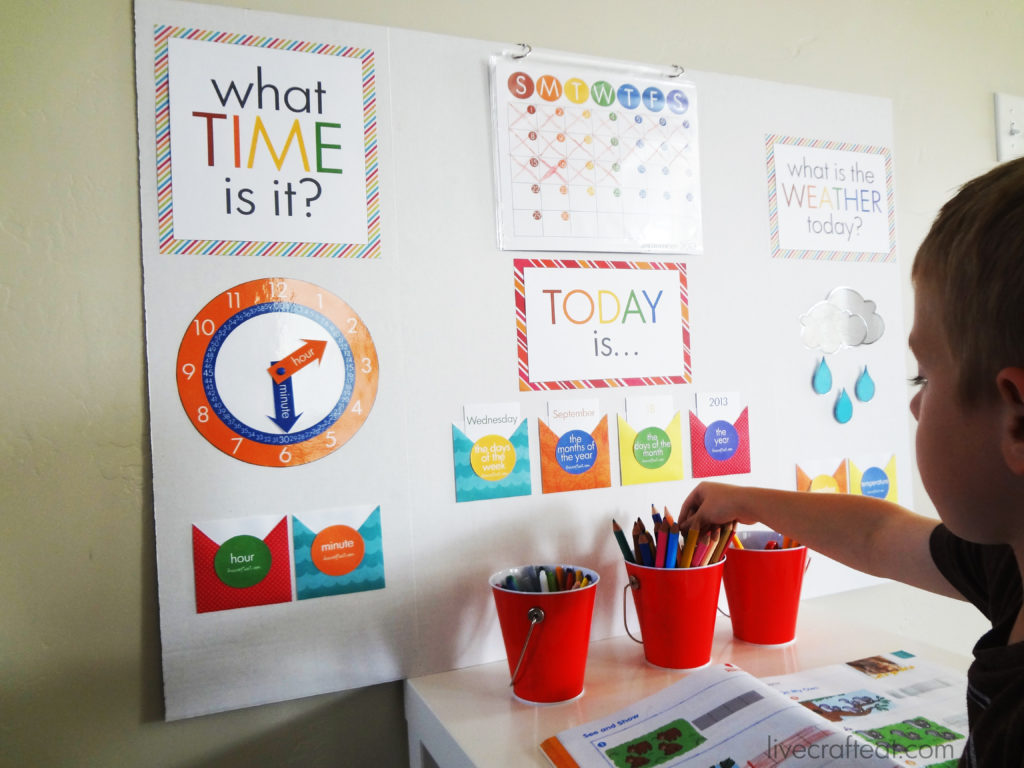 it will be easy for you to make your own, too. just get your hands on a tri-fold display board (i've even seen some at dollar stores!) download all the printables above along with the ones in the printable calendar post and clock post, make the envelope sleeves, and you're good to go!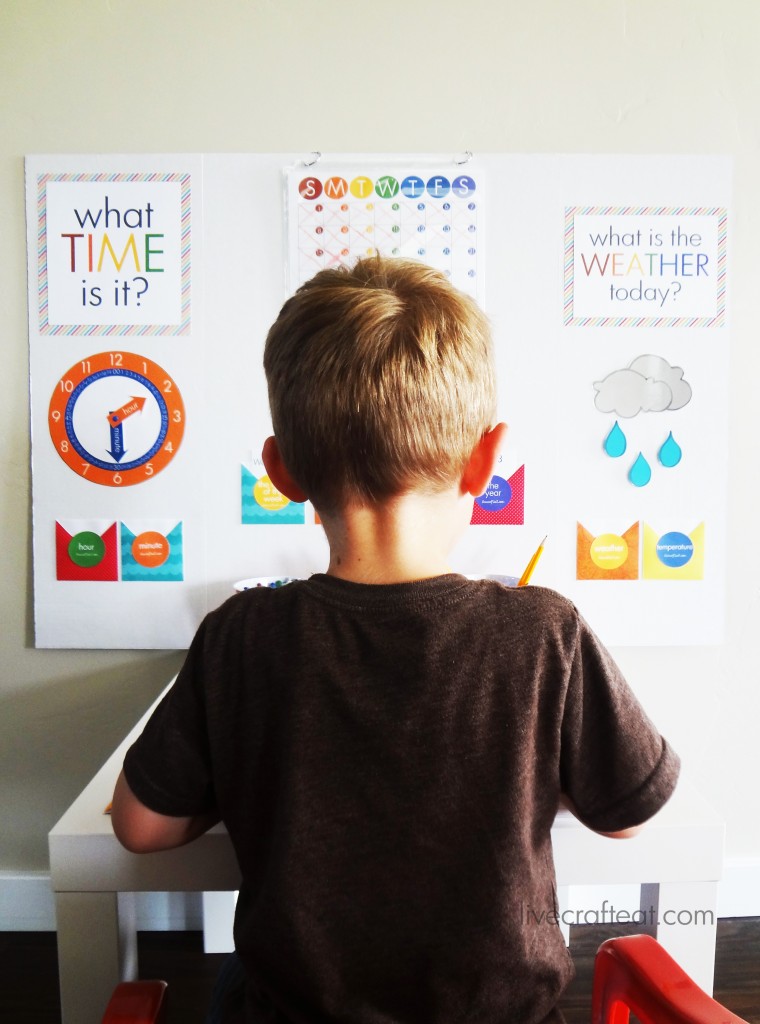 NOW we can ALL enjoy homework time! 🙂