we happened to have a sunday a few weeks ago where we had the entire afternoon at home. so what did i do? i spent my time making a big sunday dinner, of course! and my favorite kind of food – pasta. i flipped through my family's cookbook and found a recipe that my sister had put in for chicken tetrazzini. if i'm at a restaurant and the menu options are either a burger and fries, a big taco salad, or chicken tetrazzini, i'll always go for the latter.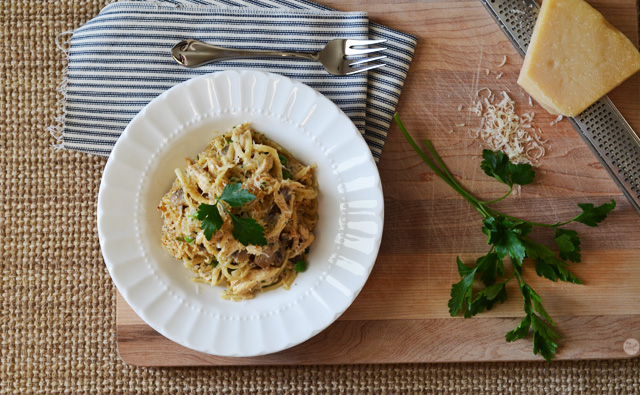 i was so excited to make it, and while it took a bit of time, it was well worth the wait! see what i mean: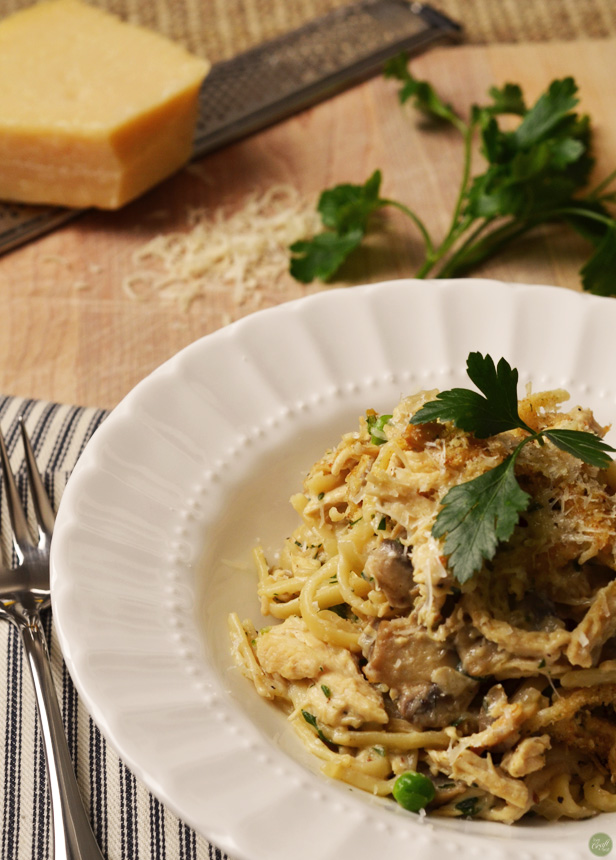 it was so hearty and flavorful (not to mention it made A LOT! – great for leftovers for lunch the next day!), i could make this every single sunday for the rest of my life! it's definitely being added to the dinner rotation in our house!
it looks like there are a lot of ingredients, but i can assure you, most of them really are staple pantry items. here is the cast of characters: chicken stock, mushrooms, onion, grated parmesan cheese, peas, chicken breasts, parsley, flour, nutmeg, oil, italian breadcrumbs, butter, garlic, salt & pepper, and linguine.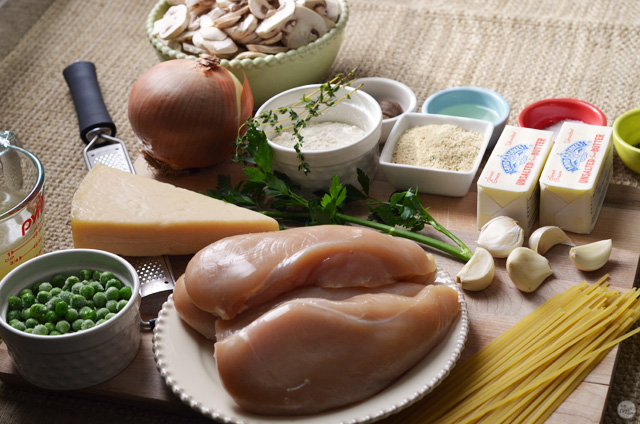 to make this delicious dinner, it mainly takes 3 steps in a skillet. the first step is to cook the chicken. so, oil the pan, and add the chicken breasts and cook through. tip: cutting the chicken in half to make them thinner will help them cook much, much faster! once the chicken is done, remove it from the pan to make room for the next step.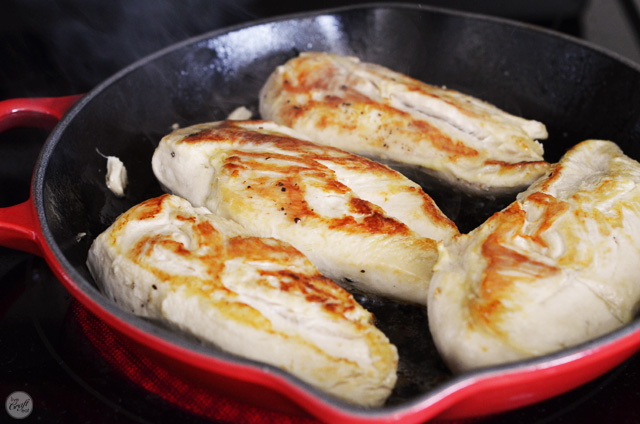 the next step is to cook the mushrooms…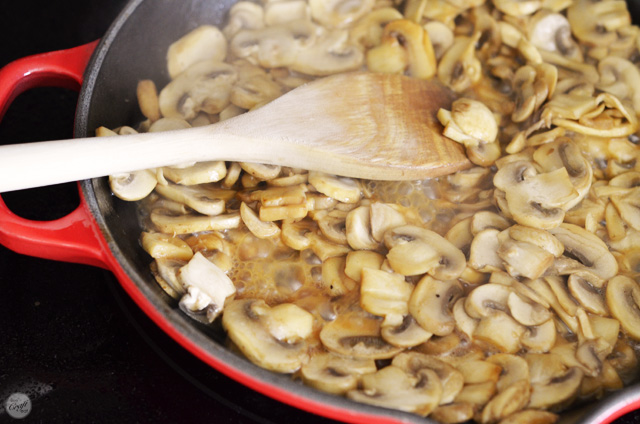 and the onions & thyme.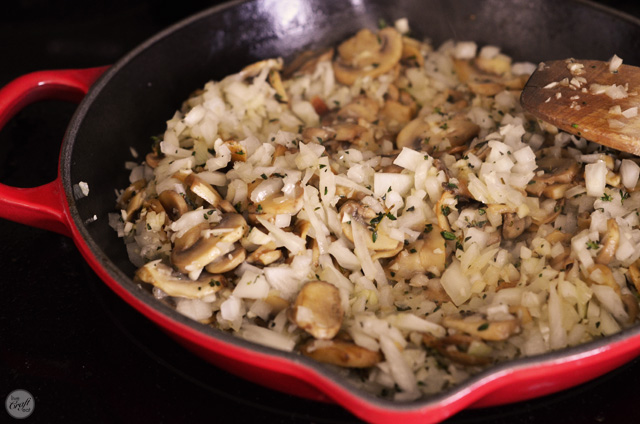 and the final step is to cook the white sauce until it is nice, thick, and bubbly.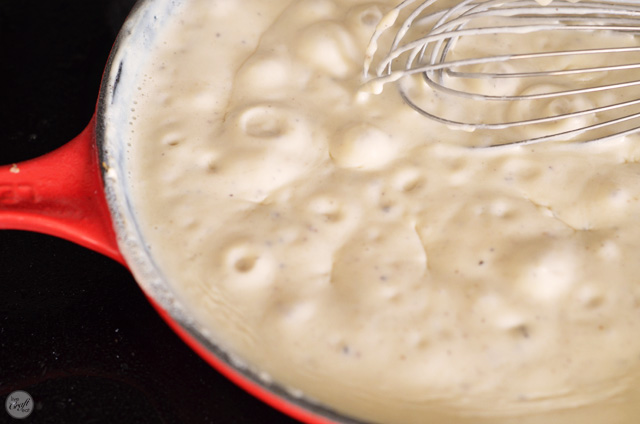 combine everything in a bowl and then transfer to a 9″x13″ baking pan. top with the breadcrumbs and parmesan cheese and dot with butter. this is the best part!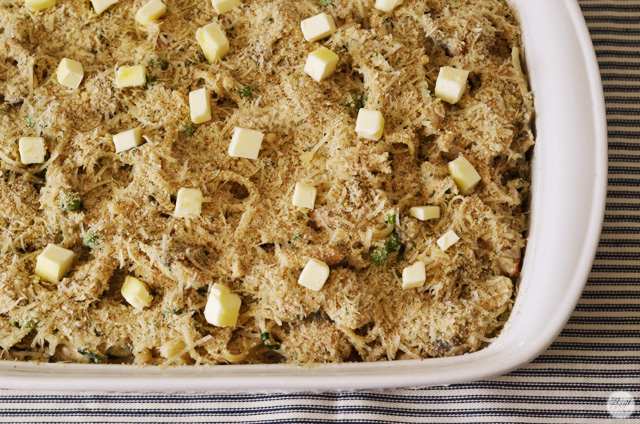 when it's done baking, you'll have a lovely, golden crust atop some serious creaminess. i'm about ready to dig in right now!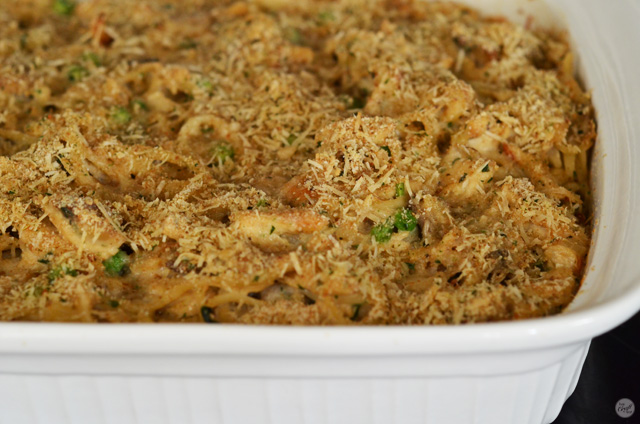 hello lovely.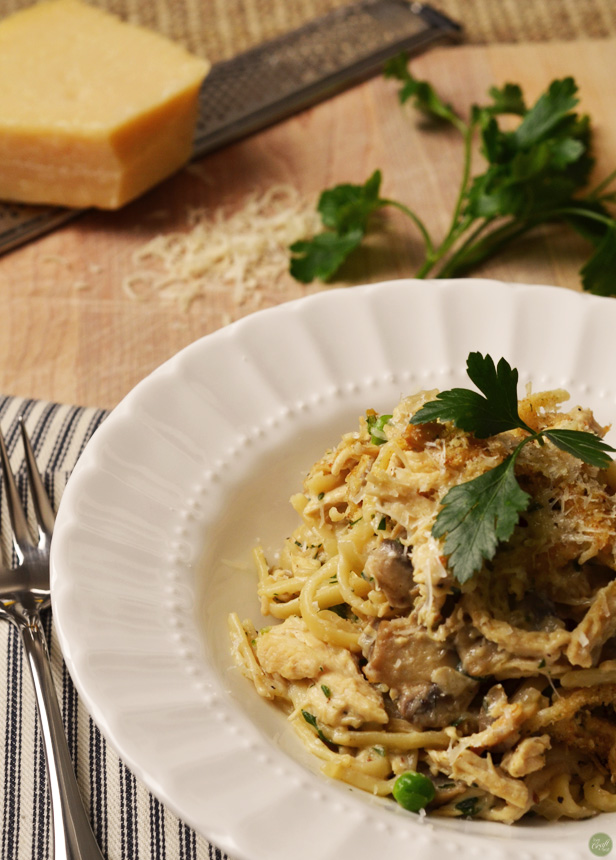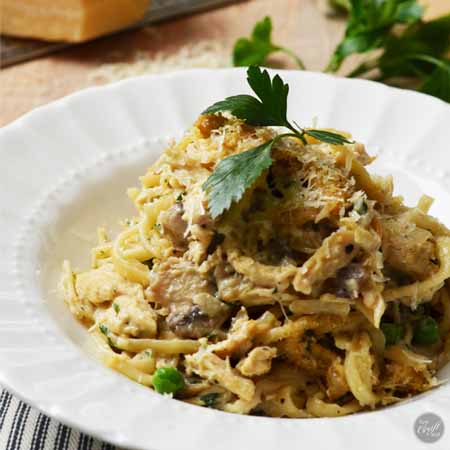 do you love pasta as much as i do? try out this recipe, and then go see
some of my other favorite pasta recipes!
enjoy!
Print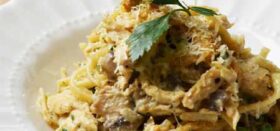 easy peasy chicken tetrazzini
---
Author:

Total Time:

1 hour 10 mins

Yield:

8

1

x
1

stick +

1 tablespoon

butter

2 tablespoons

olive oil

2

–

4

chicken breasts

1/2

–

1

lb button mushrooms, sliced

1

onion, finely chopped

5

cloves garlic, minced

1 tablespoon

chopped thyme leaves

1 1/2 cups

chicken broth, divided

1/3 cup

flour

4 cups

whole milk

1/8 teaspoon

nutmeg

12 oz

. linguine

3/4 cup

frozen peas

1/4 cup

chopped parsley leaves

1 cup

grated Parmesan

1/4 cup

Italian bread crumbs
---
Instructions
prepare a 9″x13″ pan by spreading 1 tablespoon of butter over the entire inside surface.
melt 1 tablespoon each of butter and olive oil in a large frying pan over medium heat. season chicken with salt and pepper and cook in pan until cooked through. transfer to a large bowl and shred.
add 1 tablespoon each butter and olive oil to the same pan. add the mushrooms and saute for about 10 minutes. add the onion, garlic, and thyme and saute until onion is translucent. add 1/3-1/2 cup chicken broth and simmer for a few minutes. add to the chicken.
for the white sauce: melt 3 tablespoons butter in the same pan. add the flour and whisk. whisk in the milk, nutmeg, 1 3/4 teaspoons salt and 3/4 teaspoon pepper. increase heat and bring to a boil. reduce heat and simmer until sauce thickens slightly, making sure to whisk often.
cook the linguine until al dente; drain. add the linguine, sauce, peas, and parsley to the chicken mixture. toss until the sauce coats the pasta and the mixture is well blended.
transfer the pasta mixture to the prepared baking dish. in a small bowl, combine the cheese and breadcrumbs. sprinkle over the pasta. dot with remaining 3 tablespoons butter. bake, uncovered, at 350 degrees until golden brown on top and the sauce is bubbly, about 25 minutes.
Prep Time:

45 mins

Cook Time:

25 mins