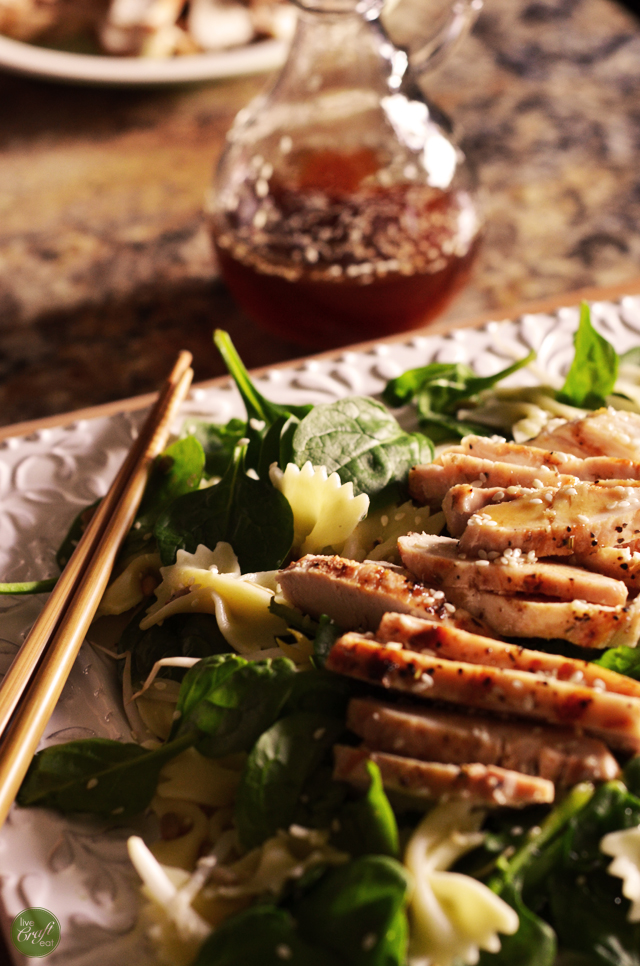 i grew up in a pretty multi-cultural area. there were lots of different ethnic restaurants around…egyptian, korean, greek, italian, indian, you name it. there was a particular chinese restaurant that my family really liked and we'd frequently go there for lunch or order take-out for dinner and i always, always ate seconds…and thirds. i just love asian flavors. so it's no wonder that this is one of my favorite salads of all-time.
with the main salad ingredients being spinach, pasta, sesame seeds, sunflower seeds, grilled chicken, bean sprouts, and lemon pepper seasoning…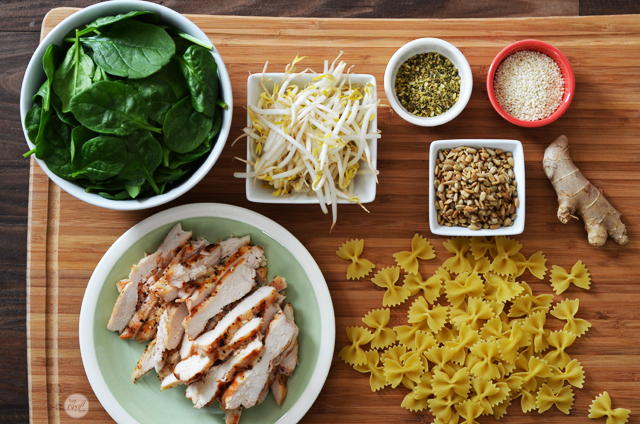 …and the amazing dressing involving oil, sugar, salt, sesame seeds, soy sauce, seasoned rice vinegar, sesame seed oil, and fresh ginger…well, you really can't go wrong with this salad – there's so much great flavor going on!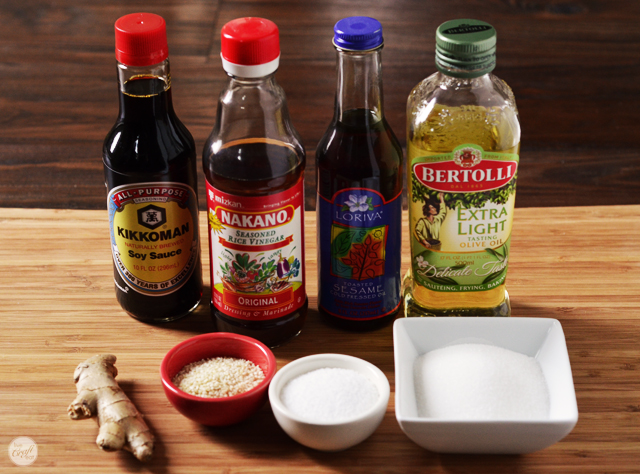 for the main salad part, all you need to do is boil pasta and grill some chicken. throw everything else into a bowl and then move on to the dressing. the dressing is as easy as mixing everything together, and then pouring it over the salad, like so: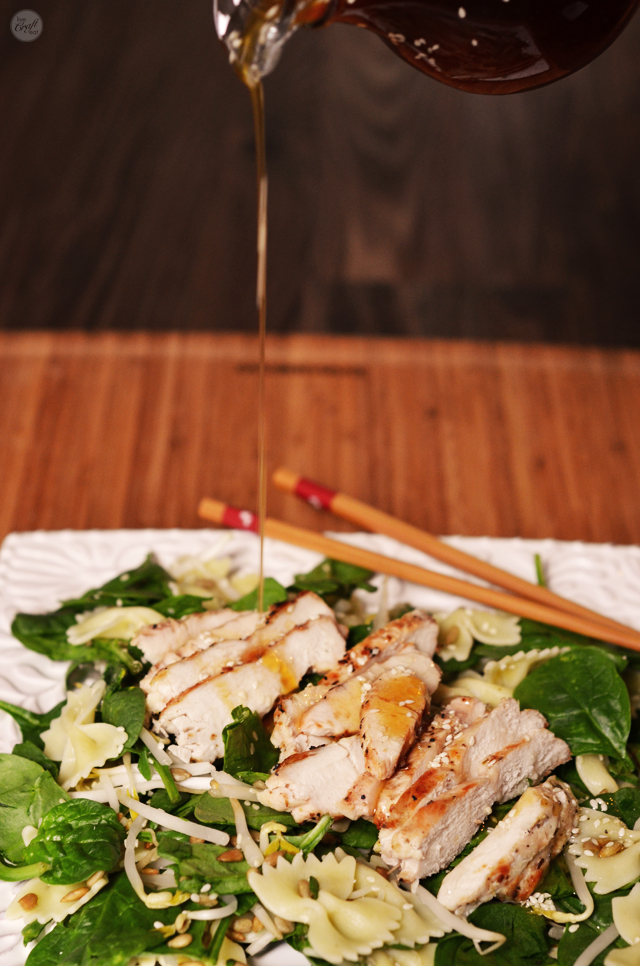 i had to laugh when my kids tried to use chopsticks to eat their food! but then i realized that my sister, who spent 1.5 years in south korea, would probably laugh even harder at my ability to use them. so we ended up using forks.
but whatever utensil you decide to use to eat this salad, you'll be loving it just the same. there is something about all the fresh ingredients and great flavors that make this salad something special.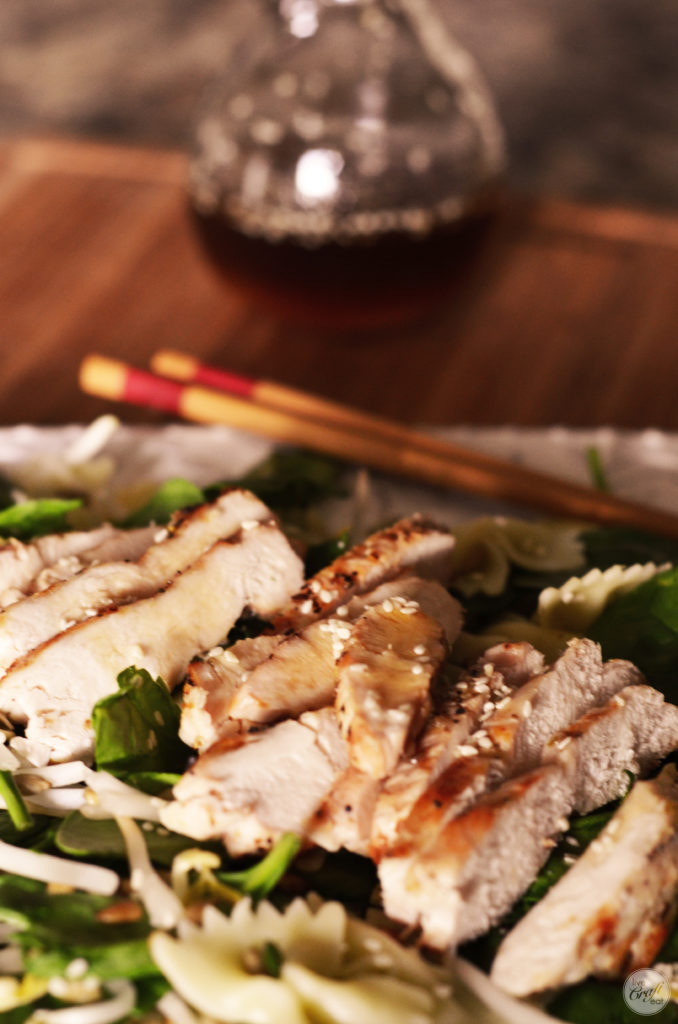 Print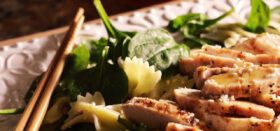 homemade asian chicken salad with sesame dressing
---
for the salad:

1

small package fresh spinach

1

(8oz) package bowtie pasta

2

–

4

tablespoons sesame seeds

1/2 cup

sunflower seeds

1 cup

bean sprouts

3

boneless, skinless chicken breasts
lemon pepper seasoning
for dressing:

1/2 cup

oil

1/2 cup

sugar

1 teaspoon

salt

1 teaspoon

sesame seeds

3 tablespoons

soy sauce

2 tablespoons

seasoned rice vinegar

1/2 teaspoon

sesame seed oil

1 teaspoon

freshly grated ginger
---
Instructions
for the salad:
cook the pasta according to package directions; drain and rinse with cold water.
season the chicken breasts heavily with lemon pepper seasoning. grill until cooked through and cut into bite-sized pieces (or strips, if you want to serve them on top of the salad). toss all ingredients together with dressing just before serving.
for the dressing:
stir ingredients well to dissolve sugar. store in the refrigerator. let dressing warm to room temperature before tossing into salad.