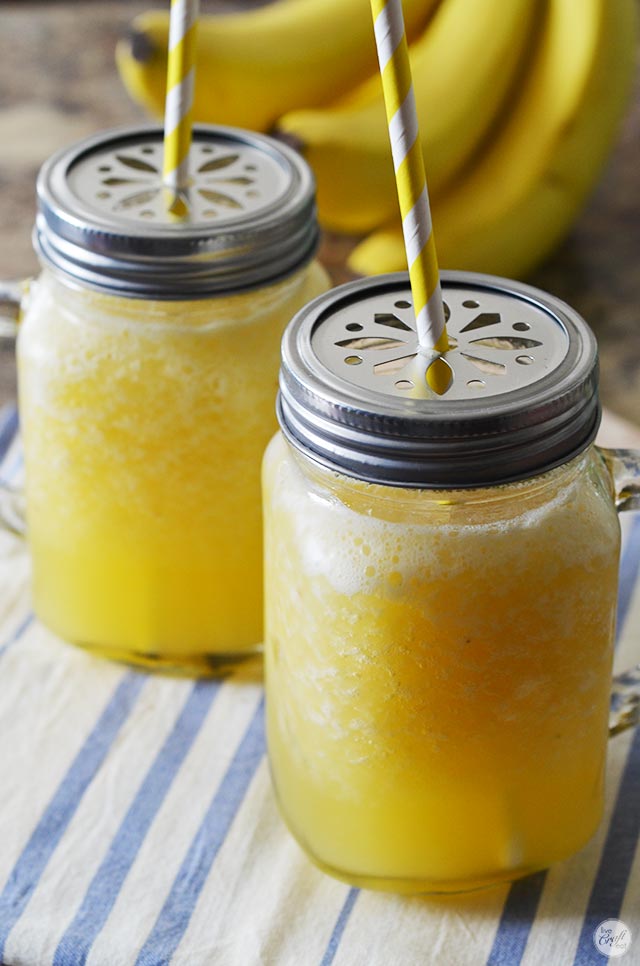 this is one of those recipes that is great to have ready and waiting in the freezer – for holidays and get togethers and other special occasions, or just for no reason at all except to sweeten and brighten up your day (for me those days are usually the winter months when i need a little sunshine and am longing to be sitting on a beach somewhere!). along with her mini cheesecakes, my mom has been asked to make this banana slush (some people call it banana slush punch) for years and years for everything from open houses, christmas and new year's gatherings, church dances…you name it. everyone absolutely loves it, and it's always gone fast! and i know exactly why – it is so refreshingly sweet…just look at the ingredients below and you can see why is disappears! (and you can also see how little it takes to make something so delicious!):
only 5 ingredients! before i list them off, make sure you've also got 2 gallon-sized freezer-safe containers to put this all in to freeze. you'll also need a couple of 2-liter bottles of gingerale/7-up/or sprite to serve with when you're ready. but for the slush itself that sits in your freezer, all you need is sugar, pineapple juice, lemonade concentrate, orange juice concentrate, and bananas. that's it! and i love each and every one of these ingredients. put them all together, and magic happens….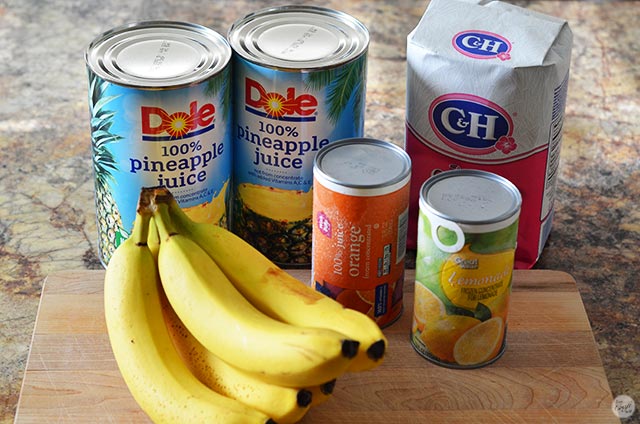 there are a few steps, but none of them are complicated and it all comes together really easily. the first thing you need to do is simmer together the water and sugar, until it looks like…well, water. you just want all the sugar to be dissolved so you've got yourself a simple syrup.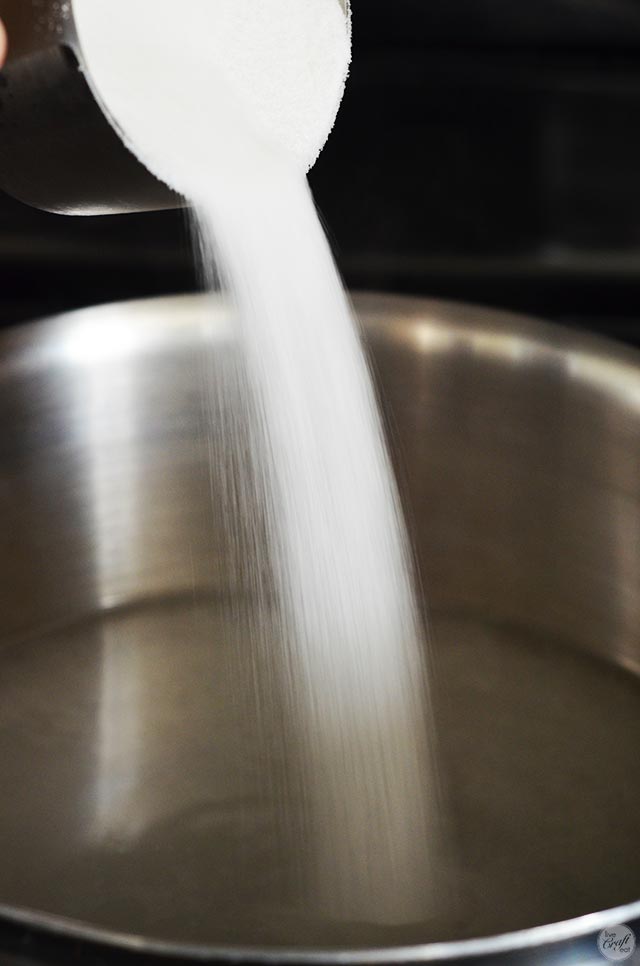 take the pan off the heat (it is plenty warm enough for this next step). to the simple syrup you add the frozen juices. no preparation required, just add the concentrate straight from the frozen state and stir until it is all melted and you have one sweet-smelling orange concoction.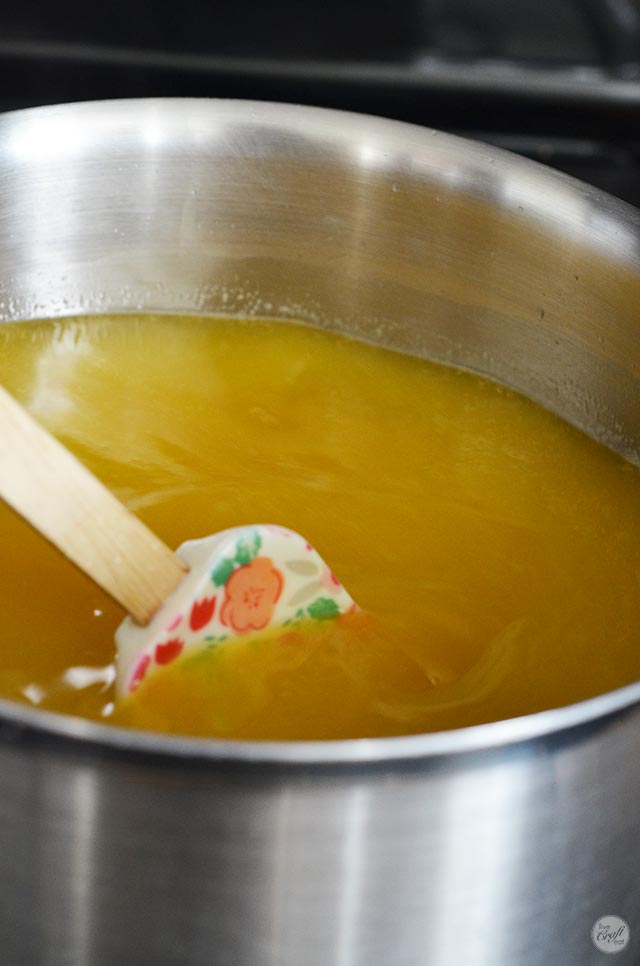 set the simple syrup/juice concentrate mixture aside to cool a bit while you make this other part:
blend together a little bit of pineapple juice from 1 of the cans with 2 1/2 bananas.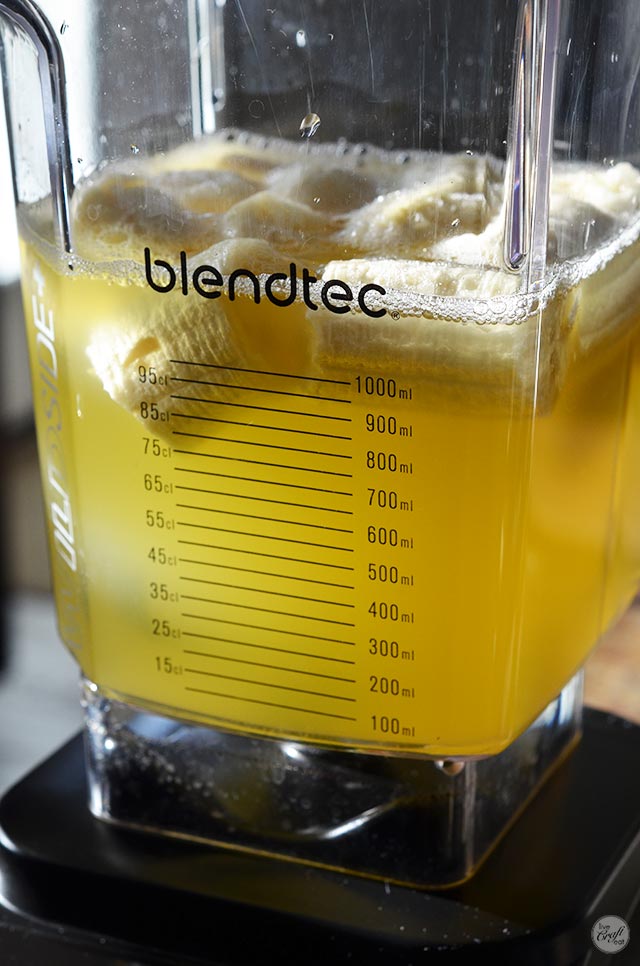 it will look nice and frothy, like this. i'm already feeling like i'm on a tropical island instead of covered in snow.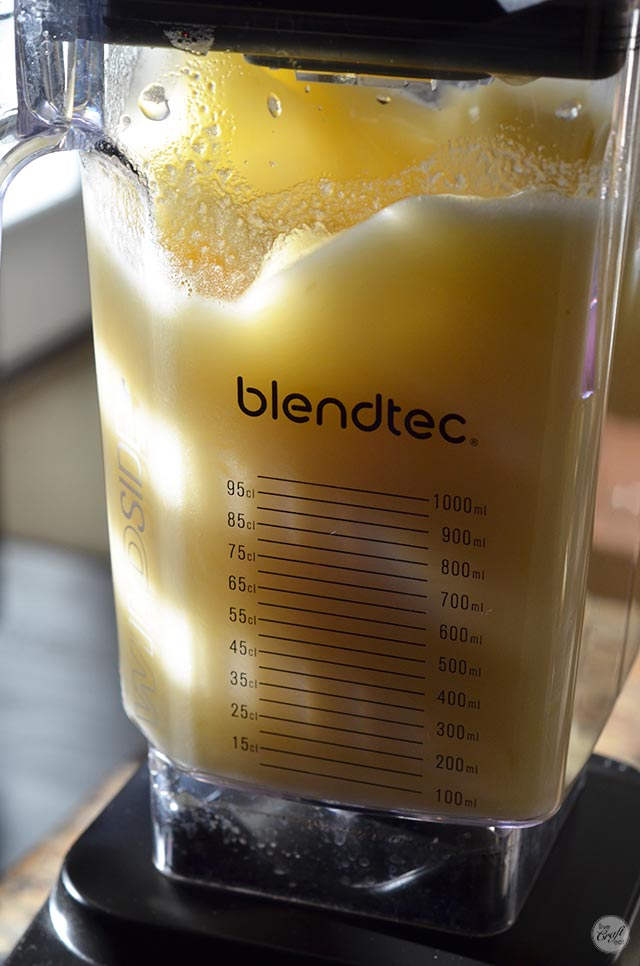 pour it straight from the blender into a gallon-sized freezer-safe container.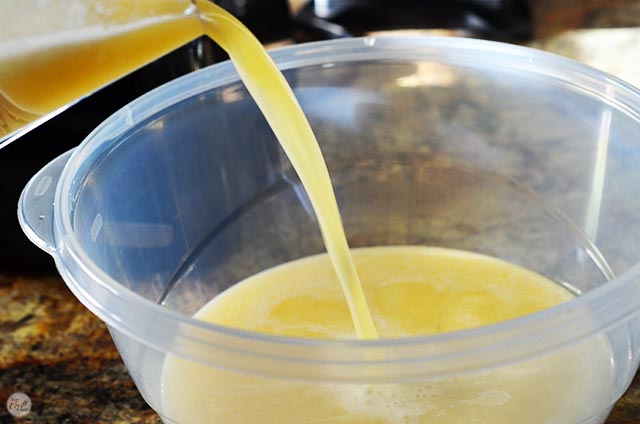 then add the remaining juice from the pineapple juice can that you opened.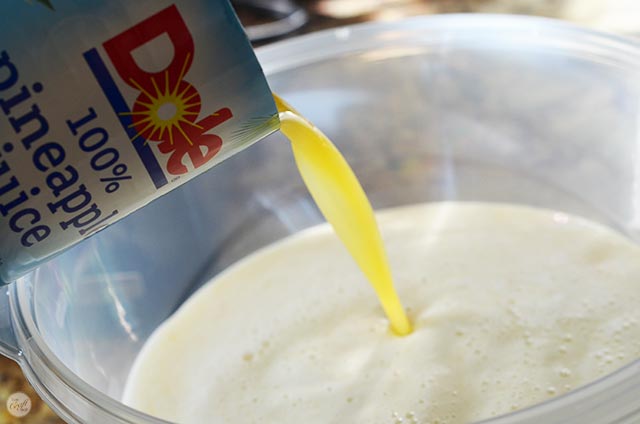 do the same thing with the other can of pineapple juice and the other 2.5 bananas and pour it all into a 2nd gallon-sized freezer-safe container.
now you have two freezer containers filled half way. it's time to grab the orange juice/lemonade/simple syrup that you made earlier and divide it evenly between the two containers.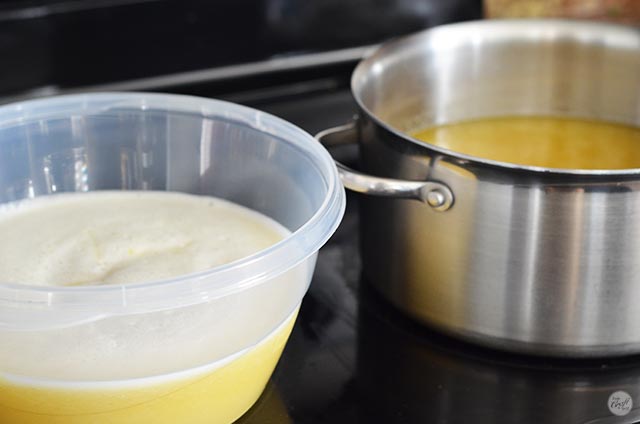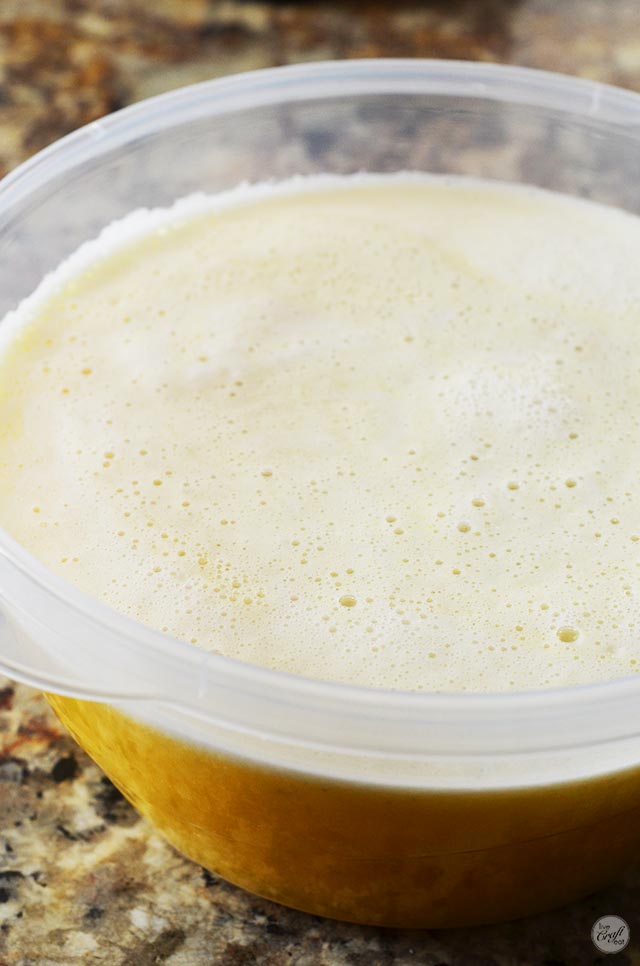 put the lids on and freeze for about 2 days, or until frozen through.
when you're ready to drink it, you can do it 2 ways:
1. if you're serving a crowd, get out a punch bowl. pull the container out of the freezer 1/2 hour before serving. scrape half of the container (pictured below) into a punch bowl and add a 2L bottle of pop (ginger ale, sprite, 7up). mix it all together until it's nice and slushy. done! (btw, this whole recipe will yield 4 punch bowls [1/2 container per punch bowl], so you will get a lot out of it. if you plan to serve it all at once for a crowd, plan on using about 4x2L pop bottles.)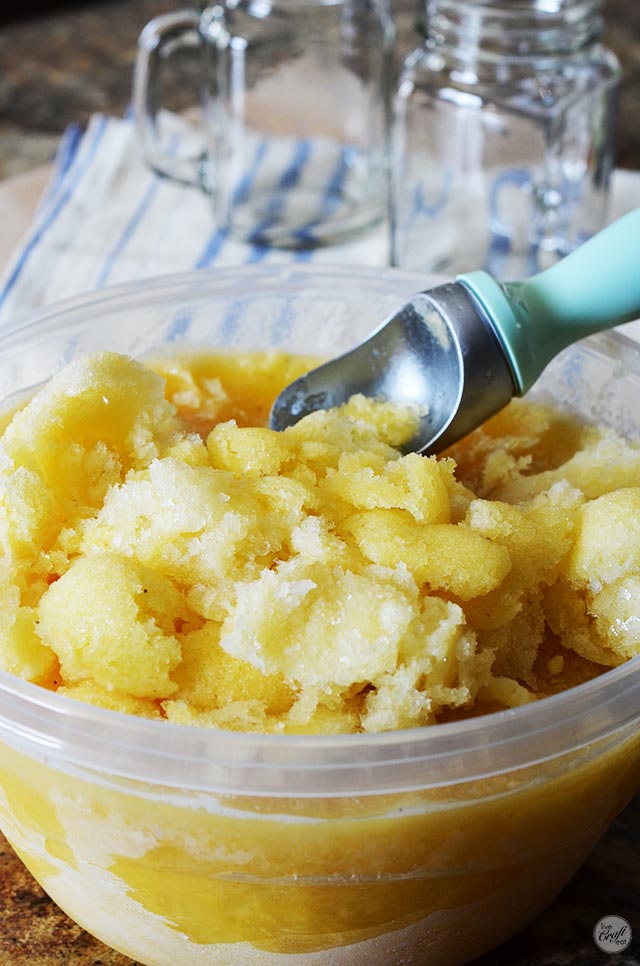 2. for individual servings, which is what i usually do, let it sit out for about 1/2 hour, then scrape out as much of the slush as you want into your cup.
side note: i remember my sister and i would always sneak down to the basement freezer with cups and spoons and sneak ourselves some of this stuff. it is sooo good!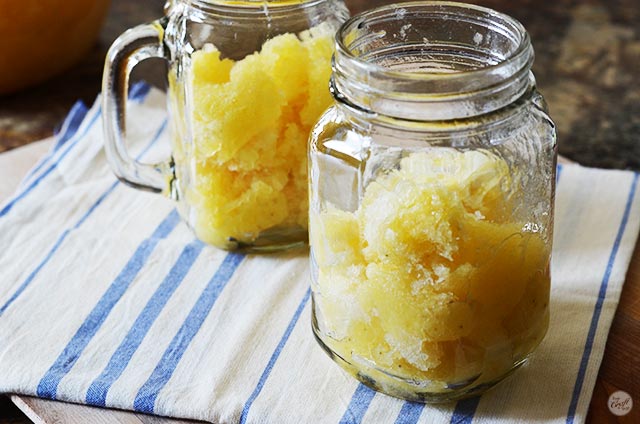 add enough pop (gingerale, sprite, 7up) and stir to make it nice and frothy.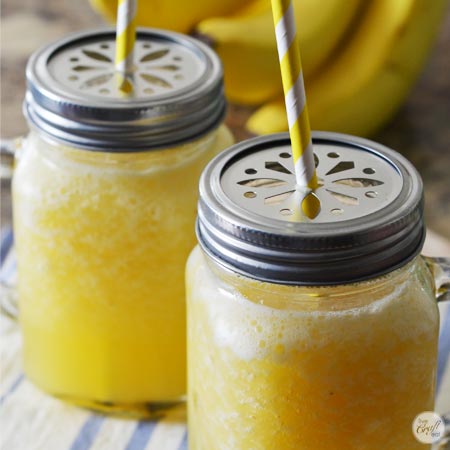 i wish i could give you all a taste through the computer. then you would know first hand just how refreshingly great this stuff is! until you try it (and you should!) i guess you'll just have to take my (and many other people's) word for it!
Print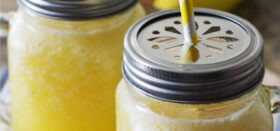 banana slush
---
Author:

Total Time:

48 hours 15 mins

Yield:

4

punch bowls

1

x
2

48-oz cans pineapple juice

1

12-oz can frozen lemonade concentrate

1

12-oz can frozen orange juice concentrate

5

ripe bananas

4 cups

sugar

4

x2L bottles of pop (gingerale, sprite, 7-up) *note: this slush punch recipe makes enough for 4 punch bowls, and you need 2L of pop to make 1 punch bowl.

2

1-gallon freezer-safe containers with lids
---
Instructions
simmer together 6 cups water and 4 cups of sugar until sugar is dissolved to make a simple syrup. remove from heat and let cool slightly. add the frozen juice concentrates and mix until all is melted together. set aside.
in a blender, blend part of 1 can pineapple juice with 2 1/2 bananas. pour into a 1-gallon freezer-safe container. add the rest of the open can of pineapple juice. repeat with the other can of pineapple juice and the remaining 2 1/2 bananas.
divide the simple syrup/juice concentrates mixture between the 2 containers. freeze for approximately 2 days, or until frozen through.
let thaw 1/2 hour before serving. scrape half of a container into a punch bowl and add a 2L bottle of pop. OR scrape into individual glasses and add pop. stir to get a frothy, slushy texture.
makes 4 punch bowls full.
Prep Time:

15 mins

Cook Time:

48 hours

Category:

beverage
Other Posts You May Like: