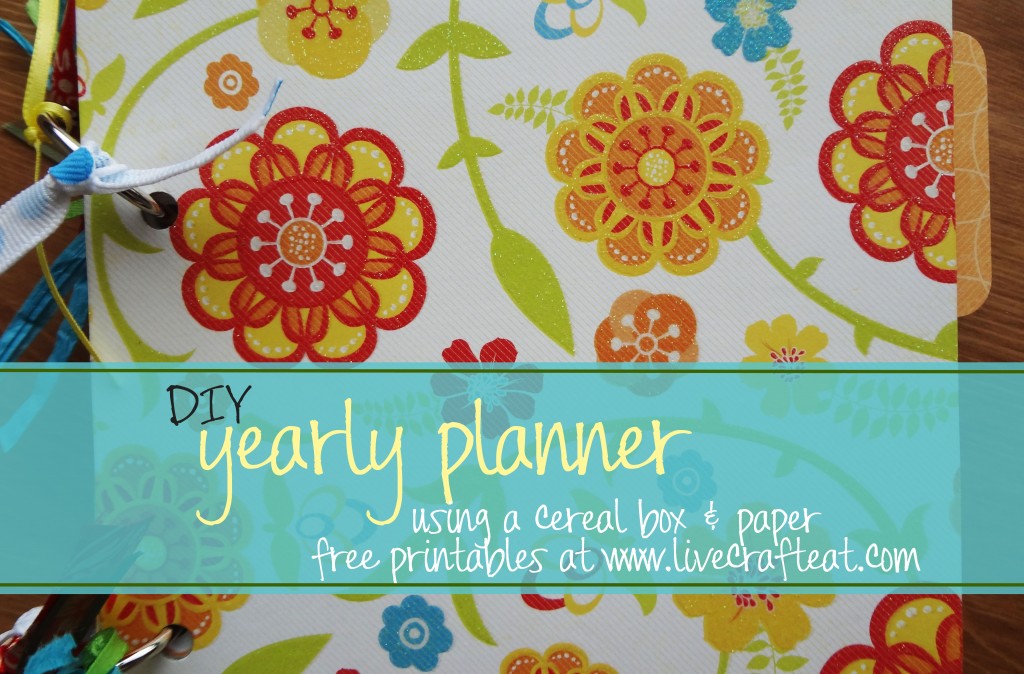 i love planners! i have a weakness for them. but i have also become something of a thrifty/frugal person. so while i see all these yearly planners in the stores, ones that i used to buy, i think to myself that i could probably make one myself and have it be just as cute while costing almost nothing. so with that in mind, i introduce to you my 2013 diy planner: it is made out of a cereal box and paper. and if you think it looks familiar, well, it is! i made this exact "journal" a few months ago and figured i could add in some calendars and have an all purpose planner – a journal and calendar in one. so if you need to make the covers, head on over to my post here for the tutorial. then hop on back for the rest of this good stuff….
for the inside of the planner, print out my template below (i've divided the year into 3 zip files):
*I caught an error for July and August. If you downloaded the erroneous version within the first 5 mins of me posting this you may need to download the new version above. Sorry. 😐
*please keep in mind that i am not even close to a guru when it comes to computer things, so i did what i could and it works for me! it may be simplistic, but i love it. and as another note, in looking for digital washi tape, i came across this etsy shop and love, love, love it! and so i bought her digital tape because it is so darn cute.*
once you have a calendar printed out, cut it right in half – at the 5.5″ mark. (it's formatted to print onto 11″x8.5″ paper and should cut right in half, with room on the inside for punching holes.)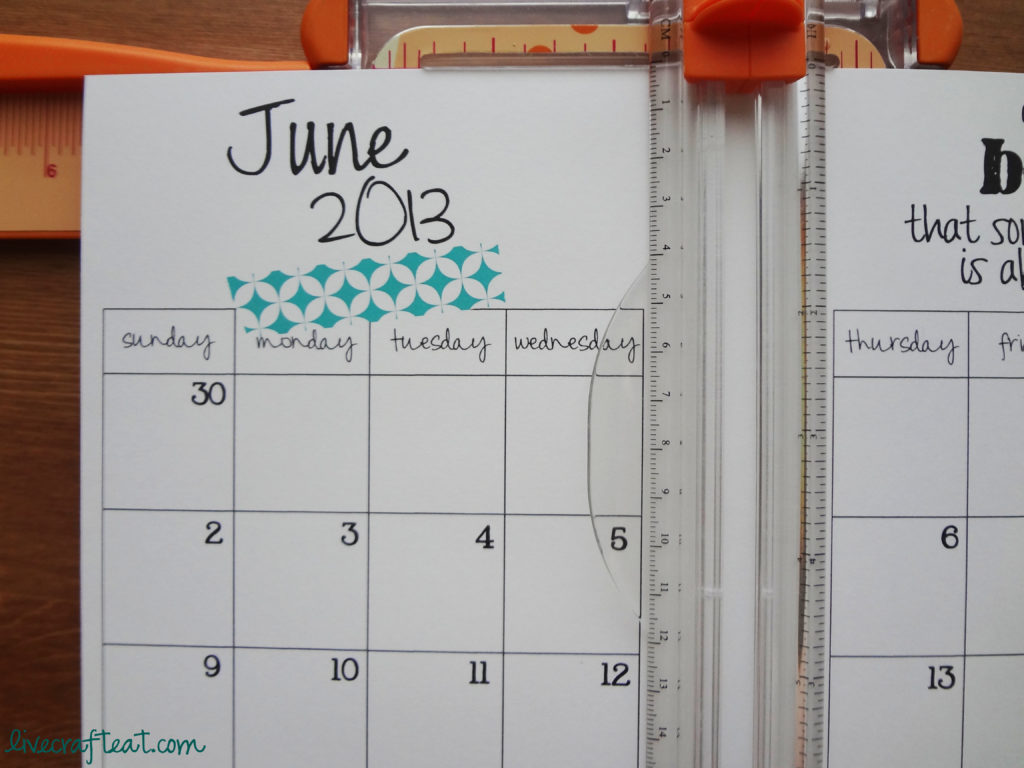 follow that same step for all 12 months. then if you're feeling up to it, cut some plain 8.5″x11″ paper in half for your "journal" or note paper. this is a great place to jot down those great ideas, write the cute things your kids say, and even for writing down your goals for the year so you can see them often.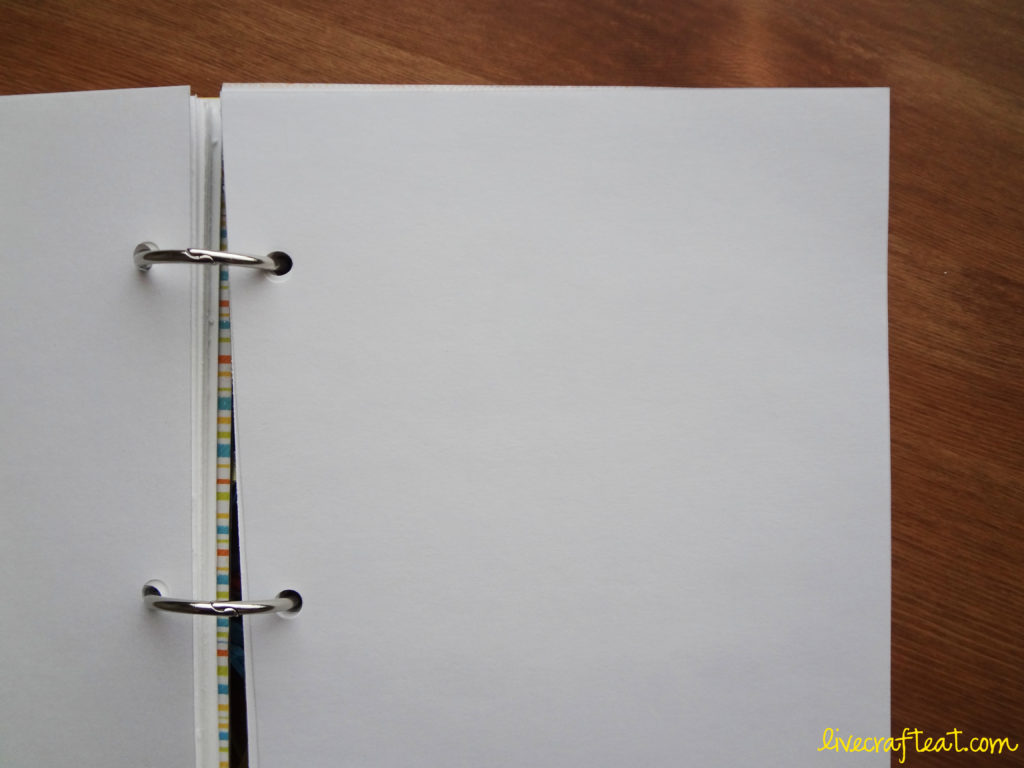 with all that paper in there you'll probably want tabs so you can open right where you want to. there are a lot of different ways to add tabs to this, but the one i'm going to show you right now it super simple.
take one of your calendar halves and trace it onto the back of a piece of cardstock. (double-sided cardstock would be even better!) don't forget to mark where you want the holes to be punched. also, be sure to leave a space on the left hand side…that's where you're going to add your tab.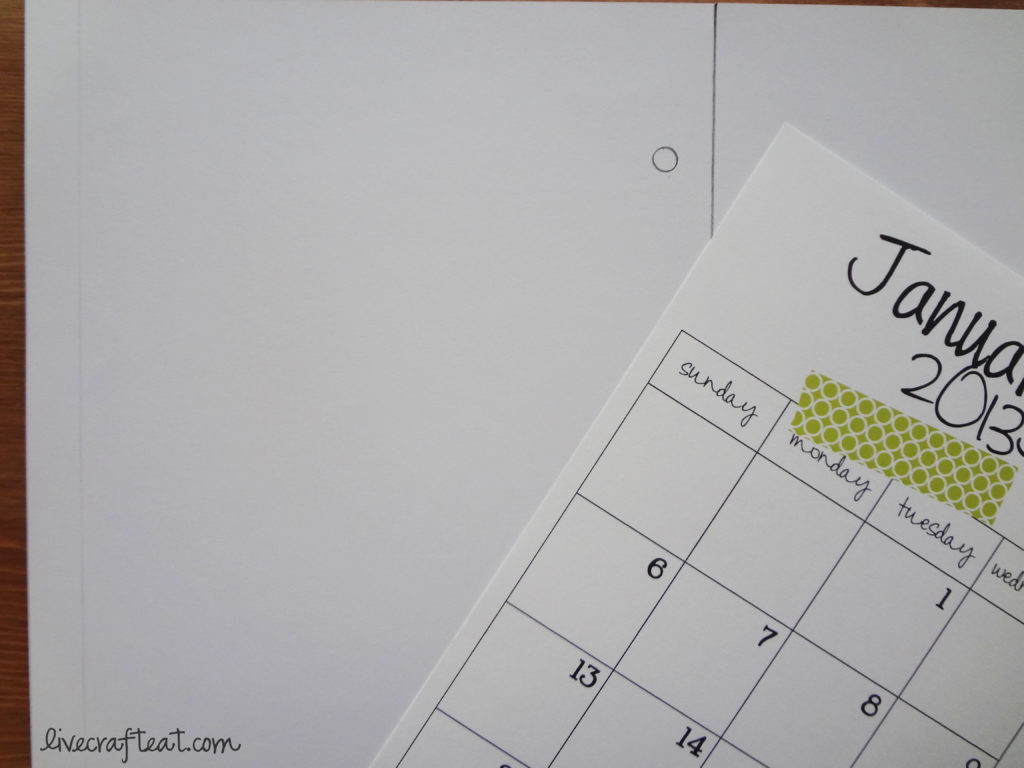 cut out the shape, leaving a tab sticking out the side. make it as tall or short as you want.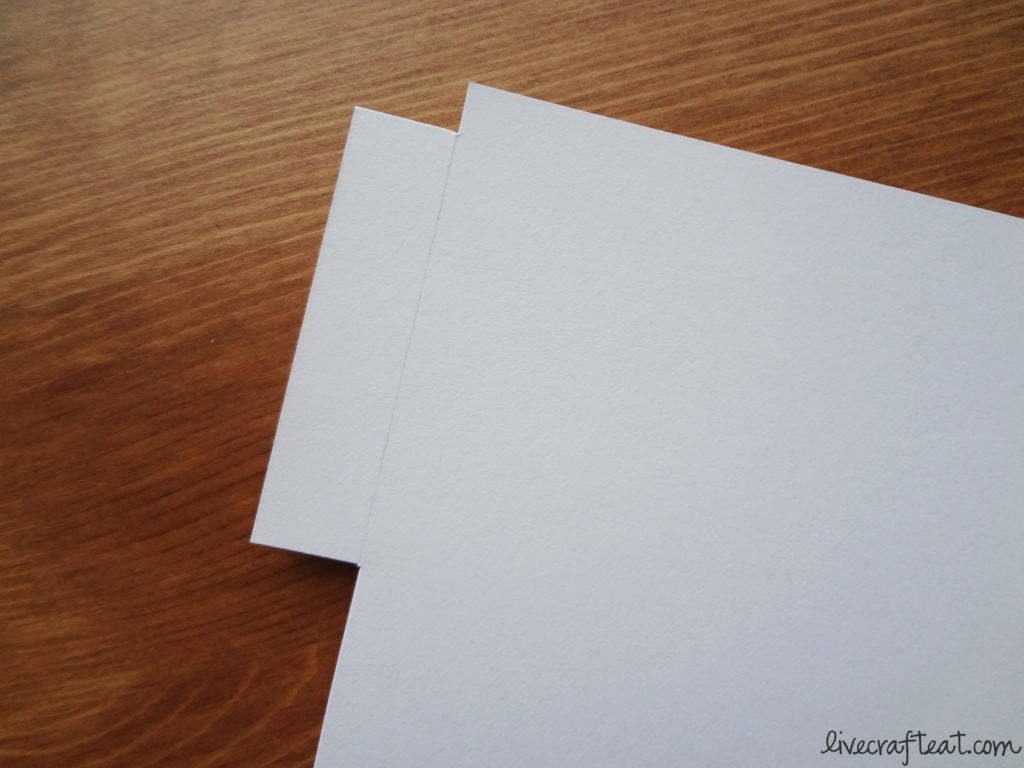 and then, if you want to, round the edges out a little bit.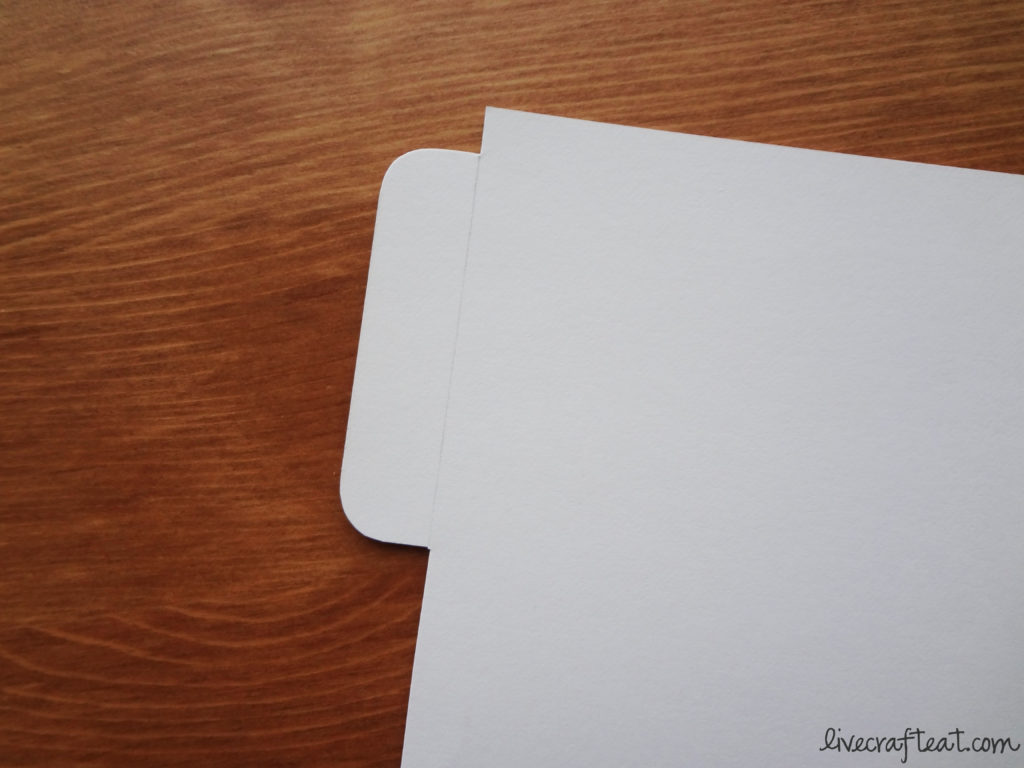 punch the holes, and insert it where you want it in your planner. when you flip it over it will look awesome, like this: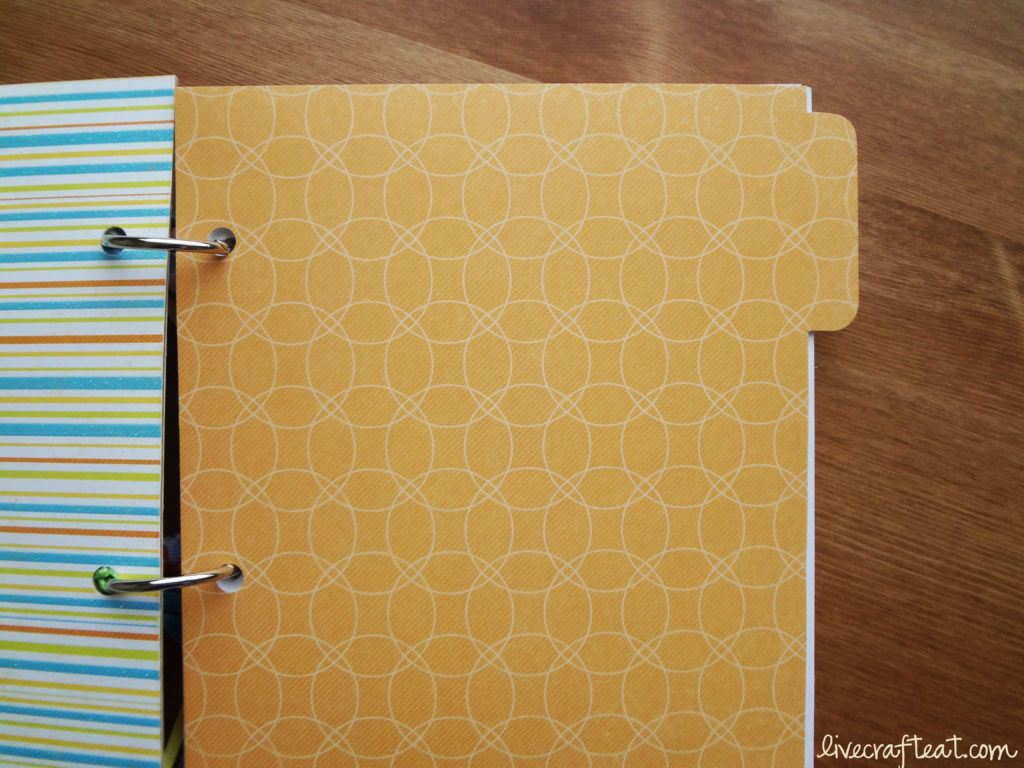 and there you have it! a money-saving way of making a cute and functional diy planner for your new year.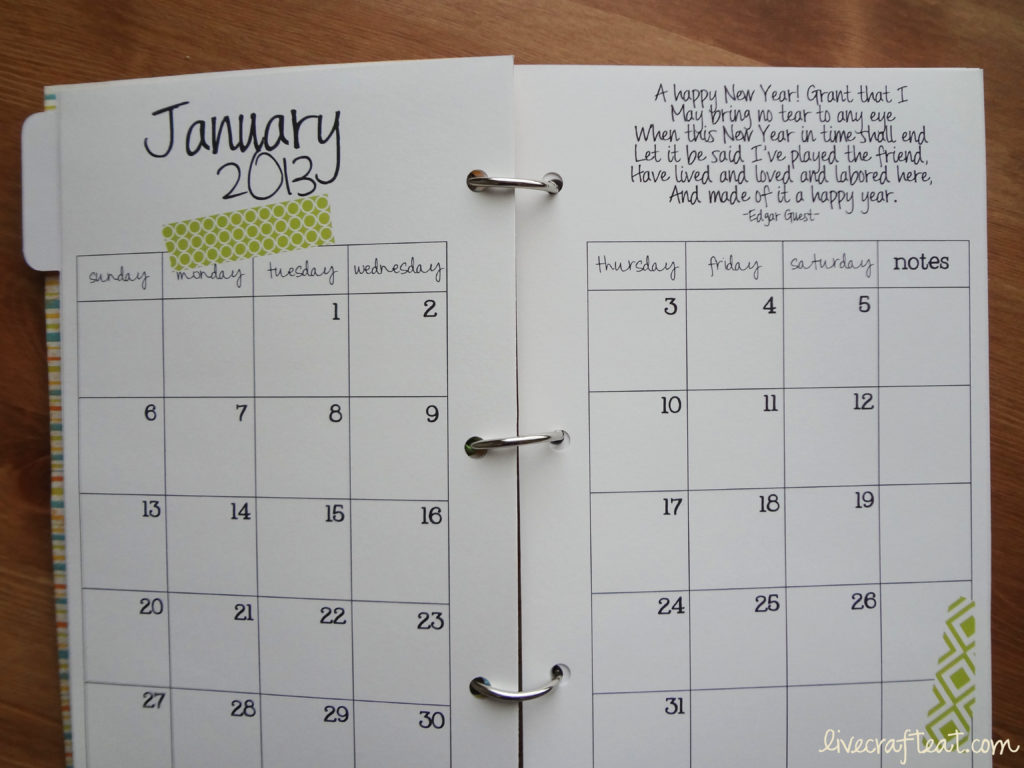 and for each month, i put in a quote. i took most of them from my pinterest board. good thing i pinned them so i had them when i needed them! thanks heavens for pinterest.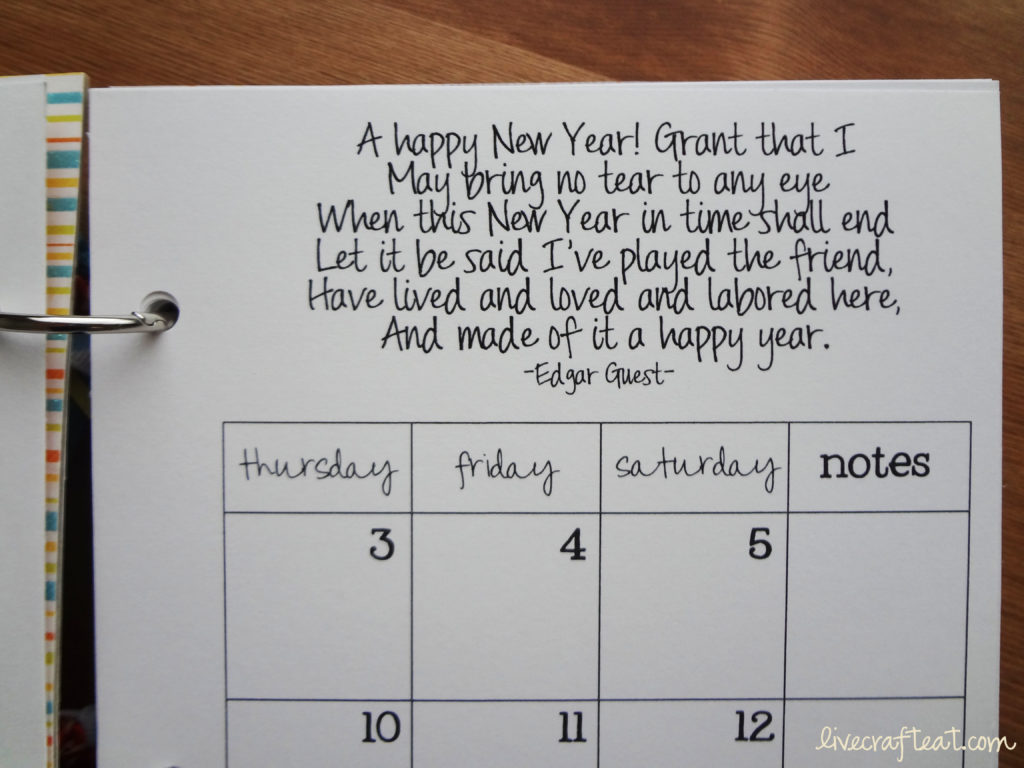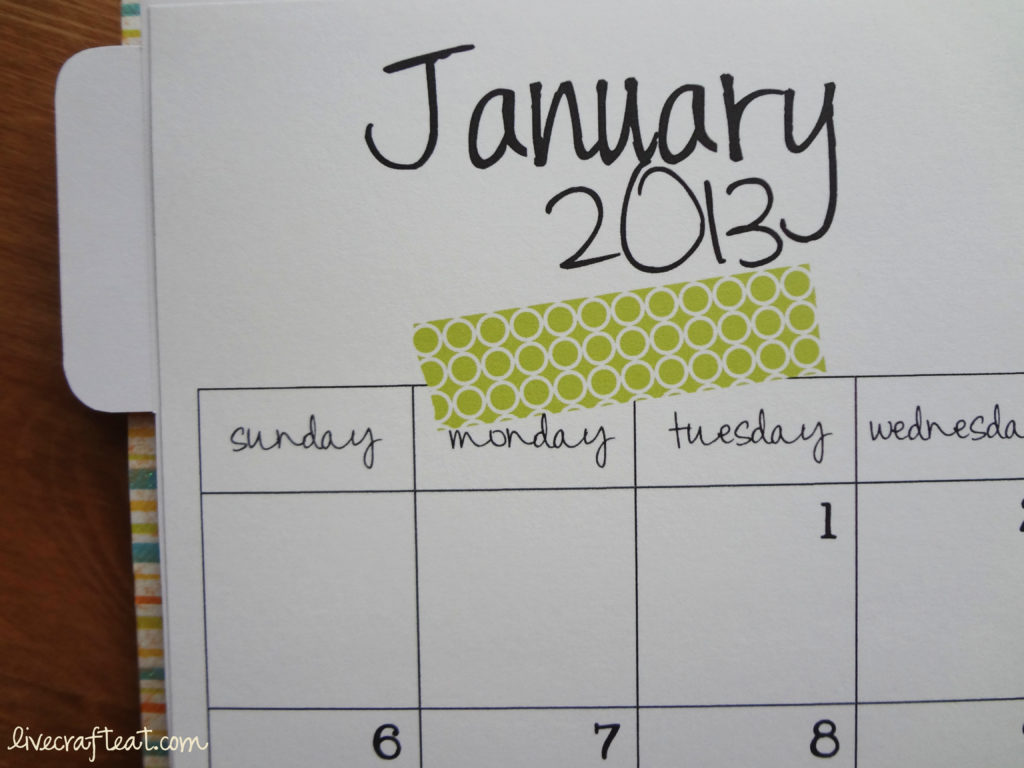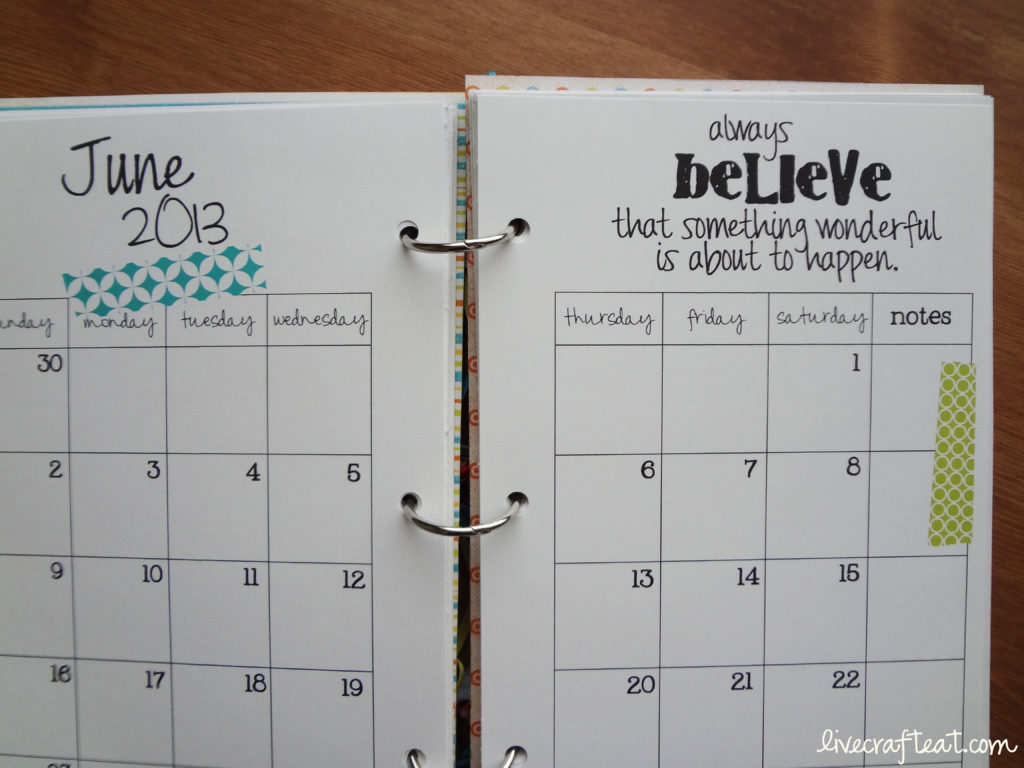 enjoy your new year! good things are in store.
update: after several requests for a WEEKLY PLANNER template, i've made one!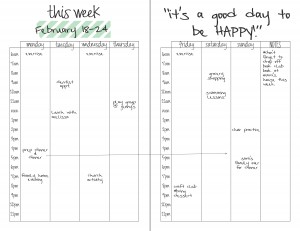 the washi tape is where you write in your dates, and the space at the top right is for you to write in your own "good thought" or motivational quote to get you through the week! you can download 4 different colors, here.
OR…
*NEW!!* if you'd rather begin your week with SUNDAY instead of monday, download one of these weekly calendars here (they're the same as above, just start the week on a different day):
green, grey-green, pink, or teal.
happy organizing!
***for anyone who is having problems printing the calendar from their computer, try this tip from audrey, who commented below: "IF YOU HAVE PROBLEMS PRINTING THE CALENDAR…here's what I just figured out after Katie so kindly sent files by email. In the Advanced Print Properties (visible on my machine once I clicked on "print" and had the option of multiple pages, etc), you have to click the "Print as Image" checkbox and it should print fine." thank you, audrey!!***
*** 2014 calendar here ***