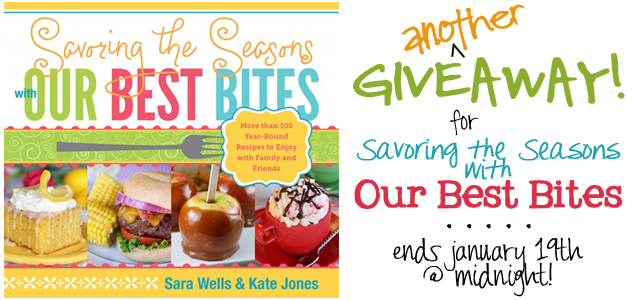 do you remember a few months ago we did a giveaway for Savoring the Seasons with Our Best Bites?? i'm sure there were a lot of entrants who would've loved a second chance to win…and now it's here!! if you like to cook and you like Our Best Bites read on!
Sara & Kate from Our Best Bites have been kind enough to give us a copy of their latest book to give away to one lucky winner!!!
i do own this cookbook myself, a christmas present from my husband, and i have to tell you – it's fabulous! i've tried several recipes and love them all! let me count the ways…
1. the look of it. it's beautiful. it's bright and cheery with awesome pictures for every recipe! i want to have it on display in my kitchen….
2. the bookmark with measurement equivalents. having recently moved to the states after living in canada for my entire life, i get so confused between ounces and quarts, etc. they're not the milliliters and grams that i'm used to. so having this conversion chart has been a lifesaver for me!
3. the recipes generally use ingredients i either always have on hand, or buy at the store every week anyway. though, having said that, there are a couple of things called for in a few recipes that i never knew existed and i'm so glad they've enlightened me! (eg. cinnamon chocolate chips?! for real?! they're awesome!)
4. my kids love eating their food! they even look through all the pictures in the book and tell me what things they want to make next. and then they want to help me make it because it looks so good and they're so excited about it!
5. they have step-by-step tutorials and crafty ideas sprinkled throughout the book. i love reading these and finding tips and tricks that i can use!
6. they have all their recipes separated by season (as you probably guessed by the title of their book…) and i love this because i can look through "winter" and find all the recipes that are classic winter fare and are sure to fit the bill in this cold weather.
7. there are many recipes in here that are classic comfort food, but with a twist. sara & kate have a way of making you feel like a kitchen pro preparing gourmet food, even if it's tuna casserole.
so, this book needs to be yours. in your kitchen, well-used & dog-eared, and beautiful. making your home smell great with each recipe that you make. your husband will thank you. your kids will thank you. and here's your chance to win it! enter below!
you must be a resident of the United States to enter.