Theresa J.! congratulations, Theresa! We're so happy for you! We'll be sending you an email soon to get your info.
Thanks to everyone who entered! There are still 11 days left to win something!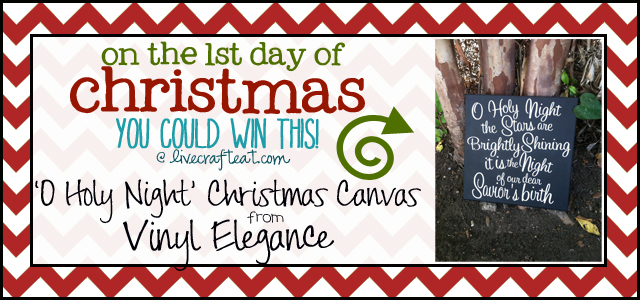 i'm so excited to be kicking off our 12 days of christmas giveaways with Vinyl Elegance! i love the products in this shop – each one would make such a beautiful and welcome addition to any home. keep reading to learn more about Vinyl Elegance and how to win this 12″x12″ 'O Holy Night' christmas canvas: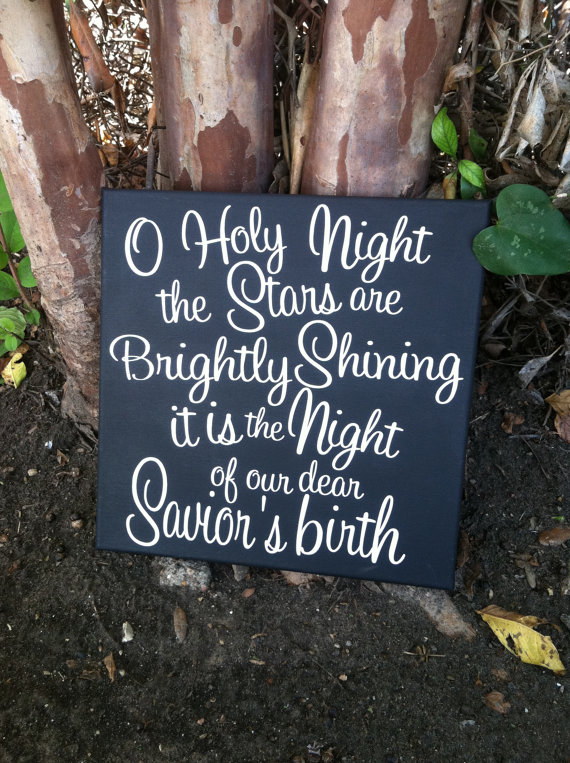 About Vinyl Elegance
As a wife for 12 years and mom of 2 little boys, I know how fun it is to have personalized, unique things for your family. I love creating new things and making them available to you. Vinyl Elegance started after a conversation I had with my sister-in-law. She was telling me about all of these unique things that could be done with vinyl and I realized I really wanted to try it. I fell in love the minute I started. I cannot find enough things to put vinyl on! Everything looks better with vinyl. Whether you use chalkboard labels to organize your pantry, name decals to label your child's water bottle at school or daycare, a beautiful family monogram canvas, or just have a "Welcome" sign on your front door, we can make your space personal and beautiful.
I love creating new things. Every time I receive a request for a custom order, my creativity is sparked and 3 new items come out of it. I can't wait to create something special just for you.  Please go and "like" my Facebook page to stay up to date with all of my new items and current promotions. http://www.facebook.com/vinylelegance  
For today (December 1st) only, use coupon code LIVECRAFTEAT to receive 10% off your order in my etsy shop. www.vinylelegance.etsy.com.

Jennifer has been kind of enough to give away the 'o holy night' christmas canvas as pictured above. you can find it in her shop, with more pictures, here: 12″x12″ 'o holy night' christmas canvas
Entries
here's what you need to do to win (the more things you do, the better your chances are of winning! each item listed below is worth 1 entry which would make a maximum of 7 entries per person):
note: if you have already completed the items below (that don't have an alternative entry option), please note them in your blog comment. I've left an example comment below of what this might look like.
1. head over to Vinyl Elegance, find something you like, then come back here and tell me what it is you like from their shop in a comment.
2. subscribe to live craft eat (you can do this from our side bar)
3. "like" us on facebook OR if you've liked us on facebook already, share this post from our facebook page
4. follow us on pinterest
5. repin the contest image above (the first image in this post)
6. follow us on twitter OR if you already follow us on twitter, tweet this post
7. plus 1 us on google plus OR add us in your circles on Google Plus
comment on this post telling me which ones you completed to make your entries eligible.
RULES:
all entries must be submitted before midnight mst today, December 1st. one winner will be randomly selected and announced on this post tomorrow at 8pm MST.  you must be a resident of U.S. or Canada to be eligible.
Good luck!