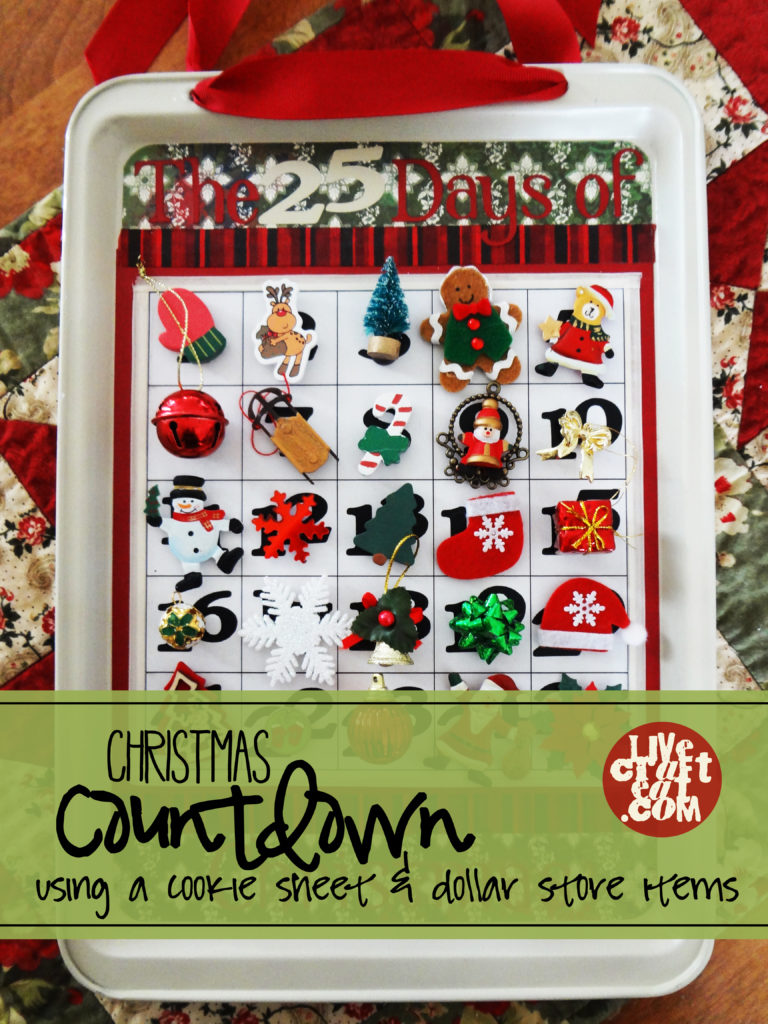 my son asks me a hundred times a day, "how many more days until christmas?!" i tell him that it's getting closer, but that it's not even december yet. so now "when will it be december?!" also gets asked many times a day.
it appears we need a countdown to december.
needless to say, i am so excited to start this countdown to christmas (starting december 1)! my kids will have so much fun putting up a trinket-a-day and seeing for themselves just how close christmas is getting! not to mention it just looks so darn cute as a christmas decoration!
since i made this a few years ago, i don't have a step-by-step tutorial, but it is just so darling, i'll attempt to show you just how easy and inexpensive it is to make. it really doesn't take that long (mostly just drying time), and most of the items needed can be purchased at dollar stores.
what you need:
-a small cookie sheet  (i purchased mine at a dollar store)
-something to drill a hole through the cookie sheet
-spray paint
-christmas-patterned paper (1 sheet)
-coordinating cardstock (1 sheet)
-number board (you can download my printable further down in the post)
-ribbon (dollar store)
-mod podge and sponge brush (sponge brush from dollar store)
-mini magnets (dollar store)
-assorted christmas trickets (dollar store)
-glue gun
-small storage box (dollar store)
*note: a friend of mine gave me vinyl lettering for both the title and the numbers. i personally don't think the title is necessary, but if you have a cricut or know someone who has one, feel free to cut yourself some letters/numbers in vinyl or cardstock and attach them. as for the numbers, if you don't have a cricut, my printable includes a board with numbers – this can be mod podged straight on as long as you're not too heavy with the mod podge. (i've tried it this way and it works! it did not smear the ink.)
1. the first thing you'll need to do it punch 2 holes in the top of your cookie sheet. this is where you will thread some wide ribbon to hang it. if you don't plan on hanging it and would rather glue a huge magnet on the back and stick it on your fridge, if it's magnetic (i've done this before – it's cute!) then you don't need to punch any holes – you can just glue a bow right onto the top of the cookie sheet.
2. spray paint your cookie sheet. use whatever color you think would look best with your papers. let dry.
3. cut your paper. looking at the picture below, you can see just how to cut and where to place your papers and ribbons. don't forget to round the corners. no measurements are given because the size and type of cookie sheet you get may differ from my own. but the concept will work with any size of cookie sheet, so long as it is magnetic.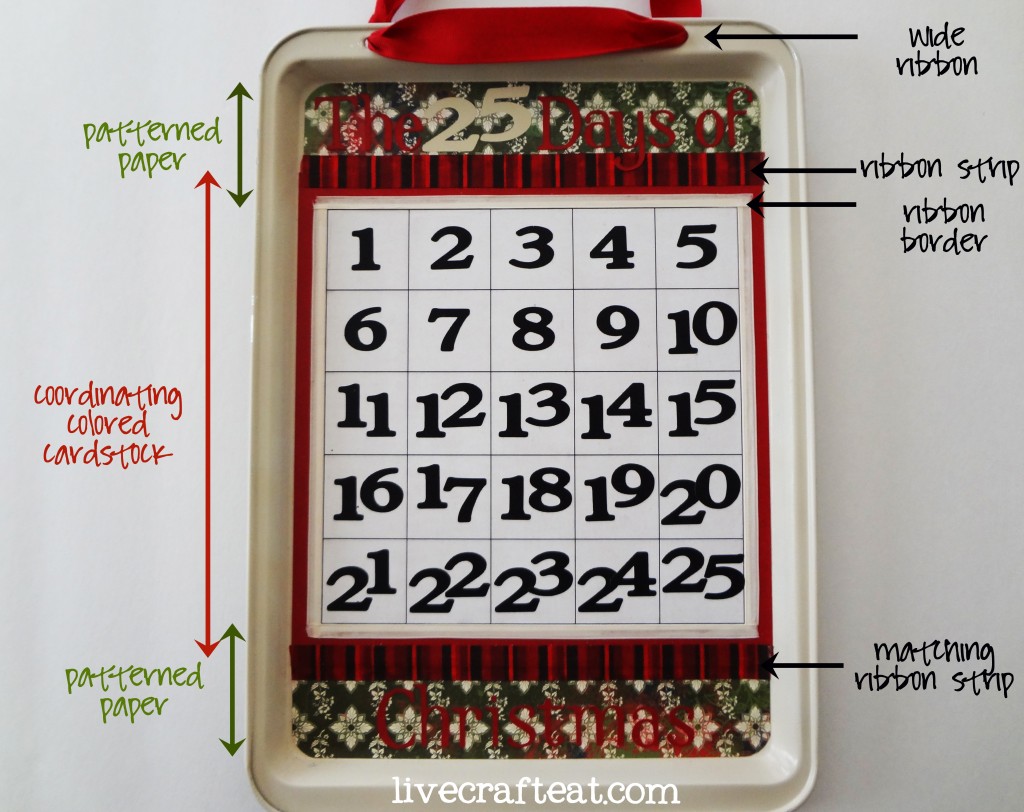 4. adhere the papers to the cookie sheet using either mod podge or your favorite adhesive. start with the patterned paper at the top and bottom. then layer the cardstock over top. cut out the number board and attach. now glue on all of your ribbons, and then a title/numbers (if using).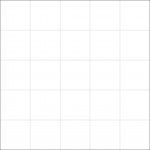 download blank number board here.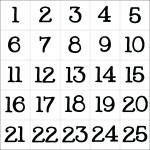 download numbered board here.
5. mod podge over the entire thing! make sure to not go over it to thick. you can always add more glue, but you can't take it off once it's on. start with a thin layer and then add more if you think you need them. allow mod podge to dry.
6. using a hot glue gun, attach mini magnets to the backs of small christmas decorations. i got all my trinkets at a dollar store – they came in packages of about 12 or so of each item. so i ended up making some of these calendars for my sisters and sisters in-law!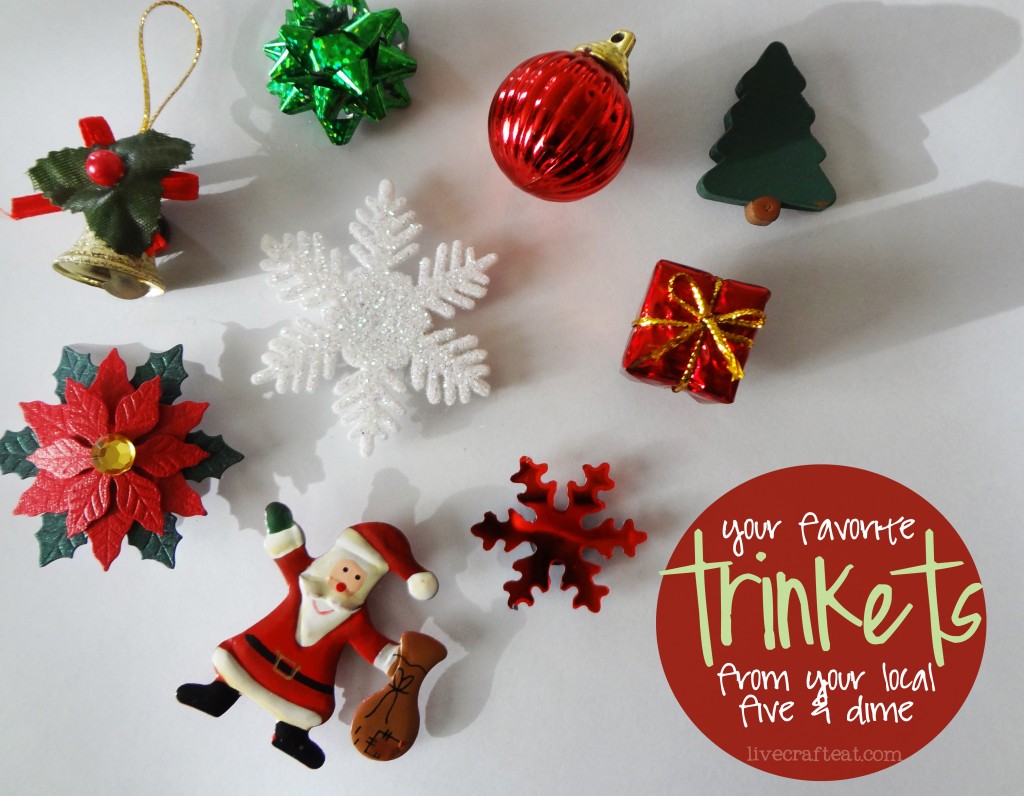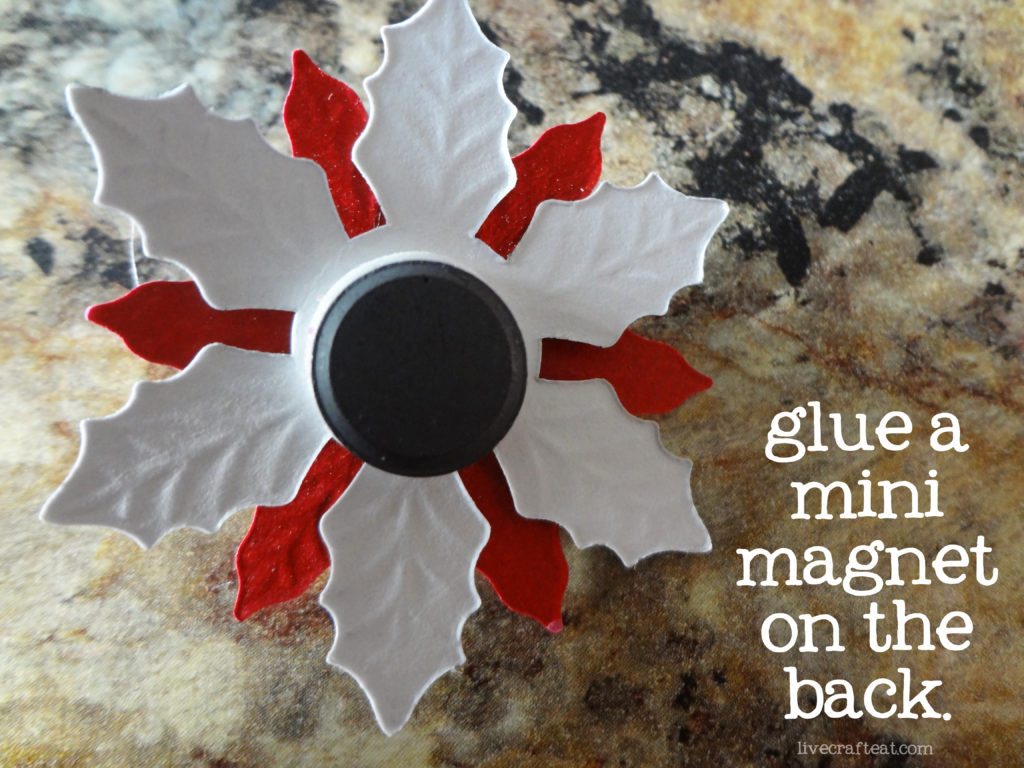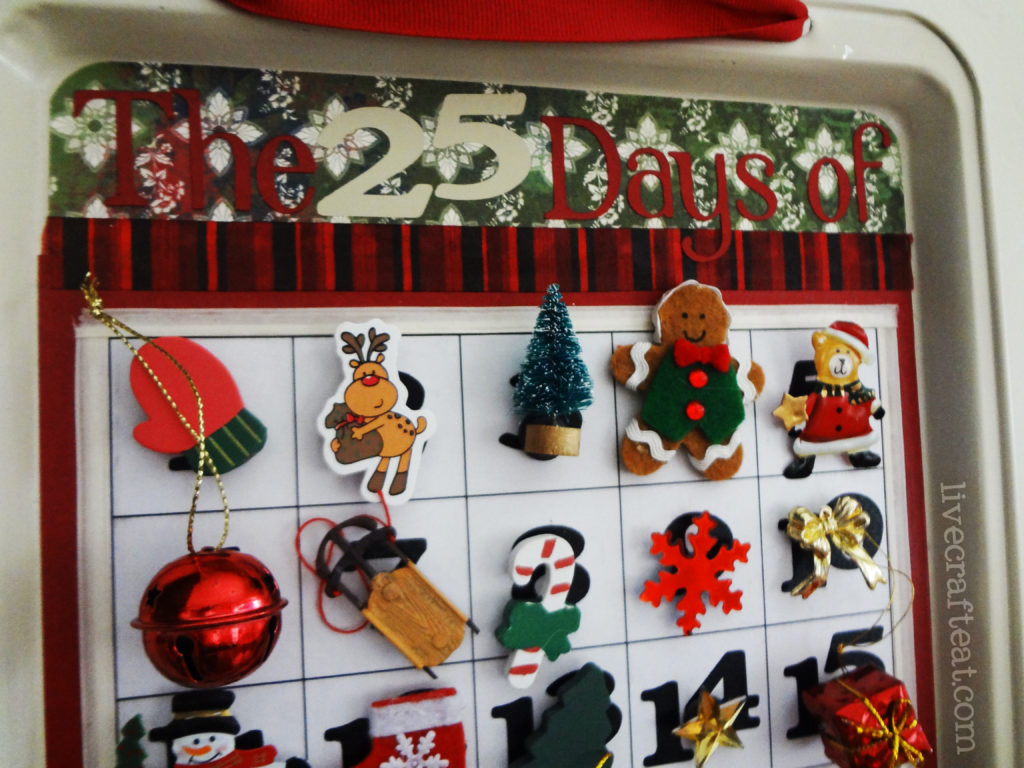 7. the last thing you need to do is find an itsy-bitsy storage box, just big enough to store all your trinkets. again, mine was purchased at a dollar store. when you store all your christmas things away in the new year, this is all you'll have to find room for: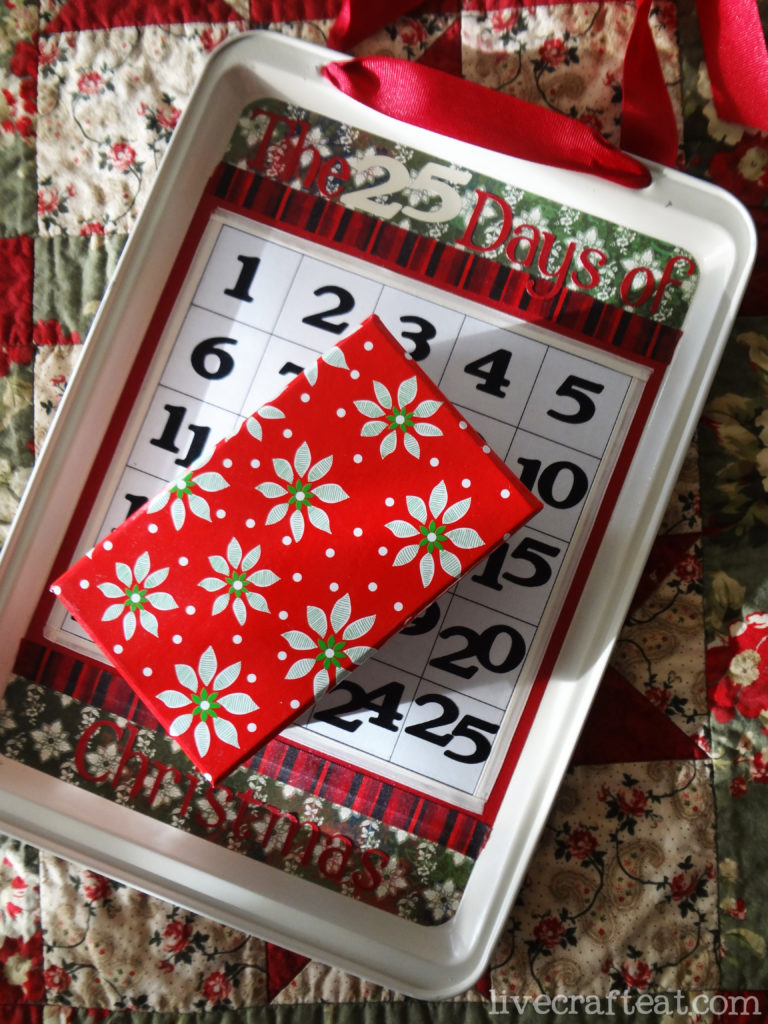 aaaand, that's it! hang up your christmas countdown calendar, place the box near to it, and each day let your little ones pick their favorite trinket for that day and mark it off. they will love it. and you'll love it too!