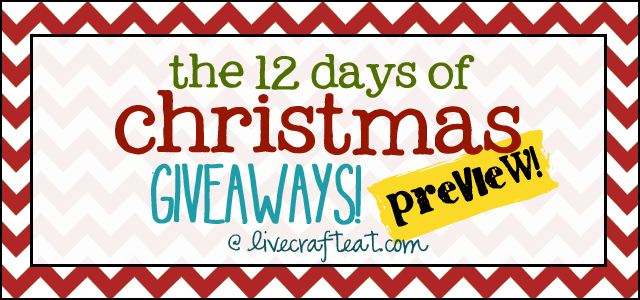 only 3 more days before our giveaways! i am a huge fan of the arts & craft movement – i love all things handmade.  there are so many talented people out there and i am lucky to be highlighting 12 of them & their etsy stores in our upcoming 12 DAYS OF CHRISTMAS GIVEAWAYS series.
it starts december 1st and goes through to december 12th. we will be featuring 12 etsy shops as well as their giveaway items and there will be a new giveaway each and every day!
to whet your curiosity, and to give you an idea of what is to come, i'd like to list the participating etsy shops (in alphabetical order…this is not the order in which we will be doing the giveaways):
these printables are fabulous! she's got everything from calendars and organizing printables to printable labels. check out her etsy shop to see what else she's got over there!
this shop is great for printing out cute, cute things for your kids! children's games, flash cards, curriculum plans…oh my! if you have kids, you need to go look at her shop!
if you're into digital scrapbooking, boy, this is a store for you! she's got tons of digital scrapbook papers, but that's not all – clip art, bottle cap images, and even a section devoted to christmas! click on over to her shop and have a look around!
this shop is so pretty to look at! it features wooden decorations for holidays throughout the year. go take a look! i bet you wouldn't be able to pick just one favorite!
featuring custom pillow covers, this etsy shop has something for everyone to make their home beautiful! the color and fabric choices would fit any decor and style. i would love to have these pillows all over my own home! hop on over to her shop and find a favorite!
ok, there are a ton of printables in this shop! i'm pretty sure you could find something here for whatever it is you are looking for! her 1- and 4-inch circles could be used for anything, and she's got lunchbox notes for your kids, wall prints, photo booth props…you name it. go to her shop and see what else she's got. you may be there a while!
there are some really gorgeous handmade cards and tags over here! i love the detail, and they are so creative and fun! i would love to own everything in this shop. the items are so elegant – it really is all in the details! head on over to her shop to see all of the beautiful things she has over there.
i don't have a little girl of my own, but if i did i would love for her to be wearing all of these headbands and rompers! they are all so adorable and pretty, i know i couldn't pick just one thing. and there are so many different styles to choose from! check out her shop to see all the options!
these prints and digital files are so, so pretty! i love the styles and colors and the fact that a lot of them can be customized to fit your family and decor – like they were made just for you! the announcements are beautiful and i just love the quote prints. click through to her shop to see the other amazing things she has for you!
this is a fun store to look through! there is everything from electronic covers/cases (ipad, macbooks) to christmas stockings to hand-stamped silver (so beautiful!) i know you will find something you love in this shop! head on over to see all the options!
i have been a fan of this shop for probably about as long as they've been open! this mother/daughter team have such great style and their letterpress art prints are simply gorgeous. i love the black and white. and the whimsical silhouettes and lettering are so charming! i'm sure you will fall in love with these prints! go check out their shop –  you'll be glad you did!
as stated in this shop's description, "everything looks better with vinyl!" i couldn't agree more! i have always loved the look and elegance of vinyl plaques and signs in addition to all the many things it can be used for to personalize your space. i love this shop's style – she uses great fonts and i love the layout of everything. click over to this shop to see the many ways you can use vinyl to beautify your home!
i cannot tell you how super excited i am that the talented people behind these 12 etsy shops will be giving away an item-a-day to 12 lucky live craft eat readers! mark your calendars – it's almost here!!!
see you every day starting saturday….