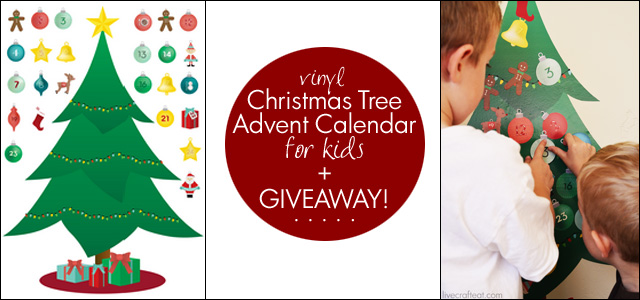 i have a super adorable vinyl christmas tree advent calendar to giveaway this week! it is so cute – my kids just love it and are counting down the days until they get to use it (funny, i know)!
this calendar comes from signs.com, a company that makes customizable signage. they do a lot of work for businesses big and small, but you might be surprised at all the things they can make for individuals like you and me…birthday invitation fridge magnets + signs, vinyl alphabet blocks for a kids room or playroom, window decals (like the popular "no soliciting" and patriotic-themed)…just to name a few.
they also make this vinyl advent calendar ($29.95 with the coupon code provided on the page!) that is really easy to use. your kids will know just what to do – it's just like using stickers! and you'll be happy, because these "stickers" will leave nothing on your wall after the holidays. they're incredibly easy to remove and leave no trace of having been there at all. and you can reuse them for christmases to come!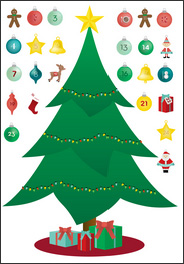 here's how it will come to you in the mail:
everything comes on a single page of vinyl sheeting, rolled up in a box. keep both of these things (the original sheet it came on as well as the box it was shipped in) to make for easy and convenient storage once you're finished using it for the year.
it includes the christmas tree and all 25 ornaments, which are darling, by the way!
our favorite ornament is for day 25 – it's a picture of santa holding up a "merry christmas" sign. how cute! my kids also love the elf and the reindeer.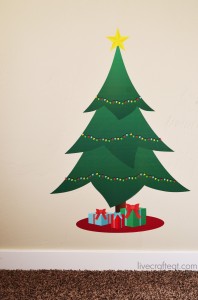 here's how easy it was for us to use:
we simply removed the whole tree from the paper and stuck it on our wall. as i mentioned above, it really is just like using a big sticker. it smoothed out really well with no air bubbles. i didn't even have to use any fancy tools – just the palm of my hand.
the first time i put it up on the wall i did it a little bit too crooked, but it took no effort to peel it back off the wall and apply it again.
fyi, my walls have a lot of texture on them, so in the following pictures, you may notice there are some bumps, but let me assure you that a) it is just the texture on my wall, and b) the pictures exaggerate it so it looks 100x more pronounced than it actually is. so keep that in mind – the tree itself is awesome and applies totally smooth and flat.
once we had the christmas tree nicely installed on our wall, i let my kids go to town sticking on all the days (just to show you what it would look like all done, and so i could tell you how much they loved doing it). my kids needed a little bit of help getting the ornaments off the paper, but once i got the edge up for them, they were pro at peeling it off the rest of the way and applying it to the tree.
they were even able to remove them and re-apply them if they changed their mind on where they wanted the ornament to go. totally kid-friendly!

all that's left is to let your kids get creative with their placements! every day leading up to christmas will bring them all the excitement of getting to decorate their own tree. you could even come up with an activity to go along with each day to make it that more thrilling!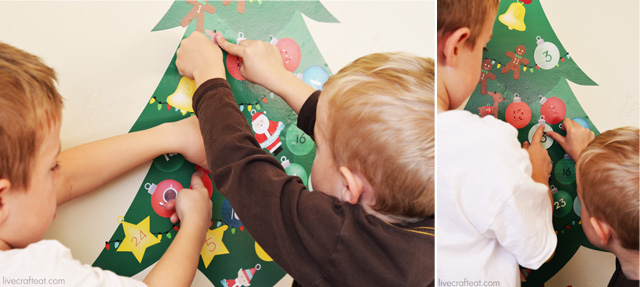 would you like to win one of these advent calendars for you and your kids to enjoy?
follow the prompts below (the more you do, the better your chances are of winning!)
contest rules: you must be a resident of the united states to enter. contest runs from saturday, november 15th and ends friday, november 22nd @ midnight. winner will be contacted via email. due to the tight timeline (we want to get this to the winner by december 1st!), if the winner does not respond within 24 hours another winner will be selected. good luck to all! i was provided a free calendar to keep and one to giveaway. nonetheless all opinions are 100% my own.
pin this!