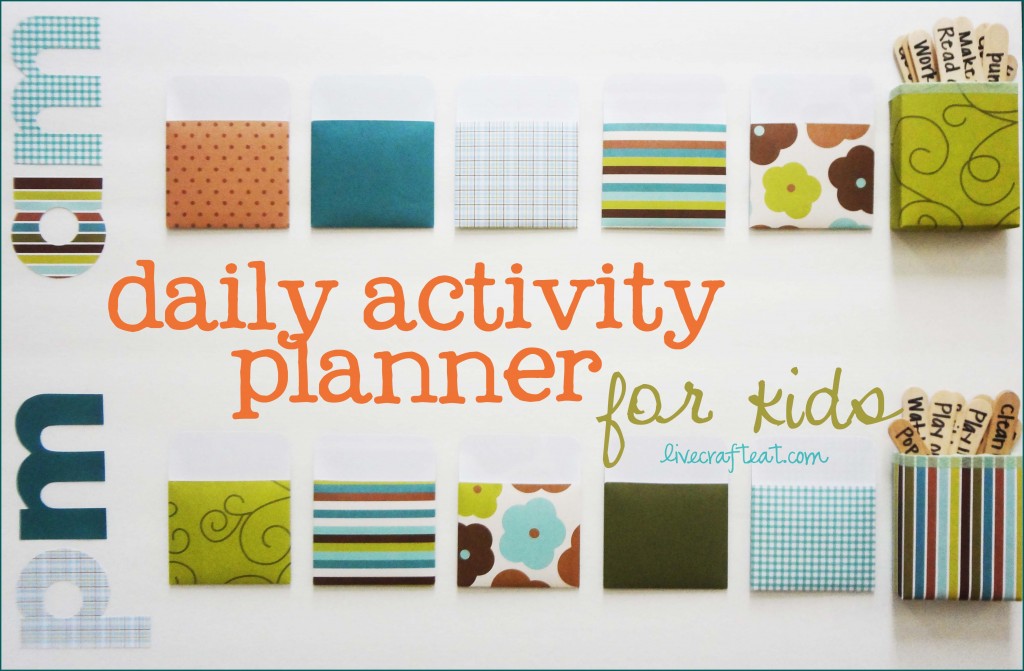 some days my kids and i are hopping around from one place to the next – school, doctor's office, grocery store, etc. and then other days we have absolutely nothing scheduled. on those days i've noticed we just kind of float around. i guess i'll play with puzzles. i suppose i'll play with my trains. maybe i'll read a book. and it really makes for a boring day. it also results in a lot of "stuff" being strewn about the house from figuring out what to do, and at the end of the day it seems the house is a mess and nothing ever gets done!
just like i have to plan out how i spend my time every day (laundry, cleaning, shopping, etc), i figured my kids could use the same sort of consistency! or at least some sort of idea of what they can expect out of the day.
so i made them this fun little daily planner – just for them!
how it works: on the right side, you'll see these large wooden popsicle sticks. there are lots of ways to make these cuter, but for now, they're just plain. on each stick is an activity my kids can do – some of them involve me (ie baking) and other they can do themselves (ie play with cars). but not all of them are "fun" things – there's also things like "make your bed" or "put away your laundry." so why would they ever pick those ones?!  well, it's simple. the night before, mom gets to pull out 5 activities for the morning and 5 for the afternoon. if she's got time to bake cookies tomorrow, she can include that. if she doesn't, well, she just won't include it. if she needs them to clean their room, then she puts that in as one of the activities they choose from. then the kids get to choose the order in which they do them! and since my kids haven't napped since they turned 1, i'm all for movie time and other activities they can do on their own in the afternoon – mom needs a break! so those activities will always be in the afternoon box.
we've loved it so far! want to make your own?? here's how:
1. type out the words "morning" and "afternoon" (or AM & PM) on your computer in whatever font you want. print out, cut out, trace onto patterned paper, and cut out again.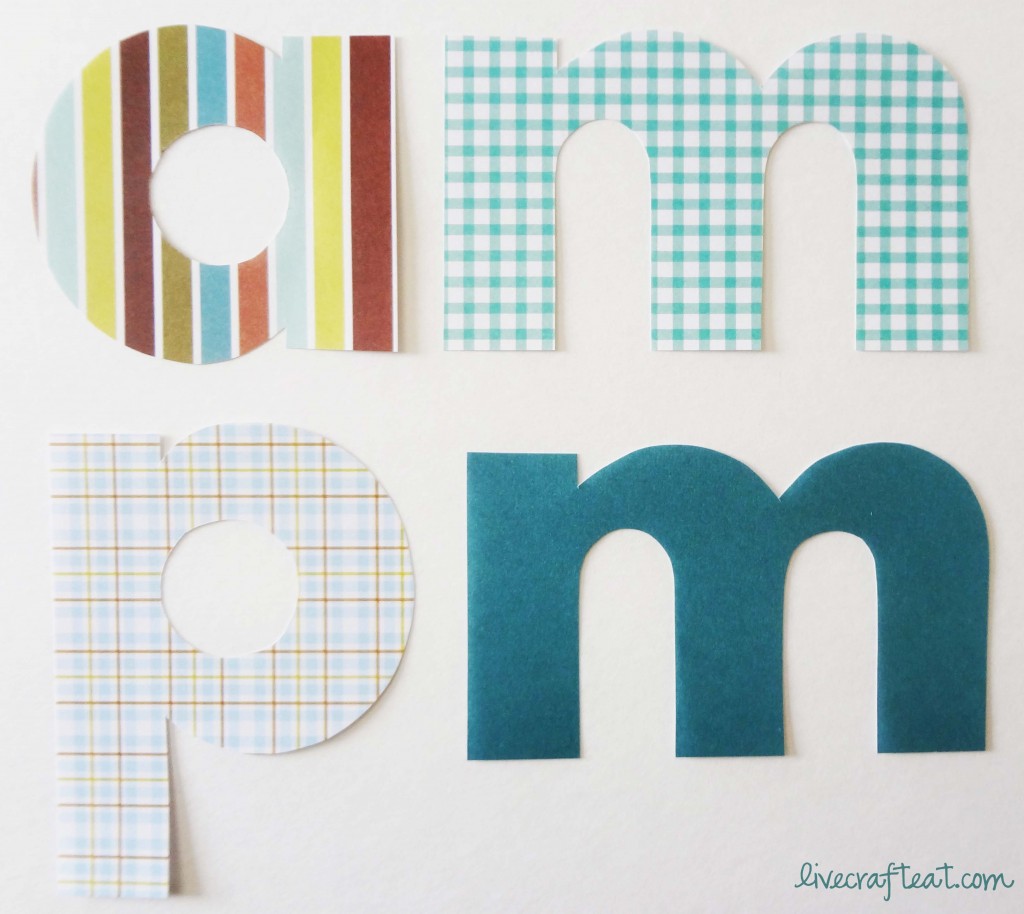 2. next, make as many of these library card envelopes as you'd like! i did 5 for the morning, and 5 for the afternoon. i figured that would fill up our day well enough.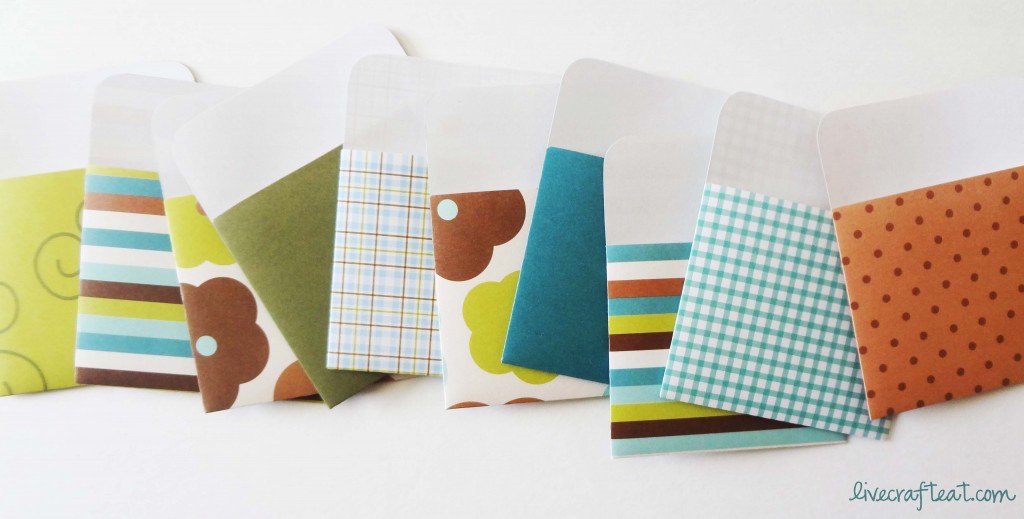 3.you can use this template i made to make your own. download it here.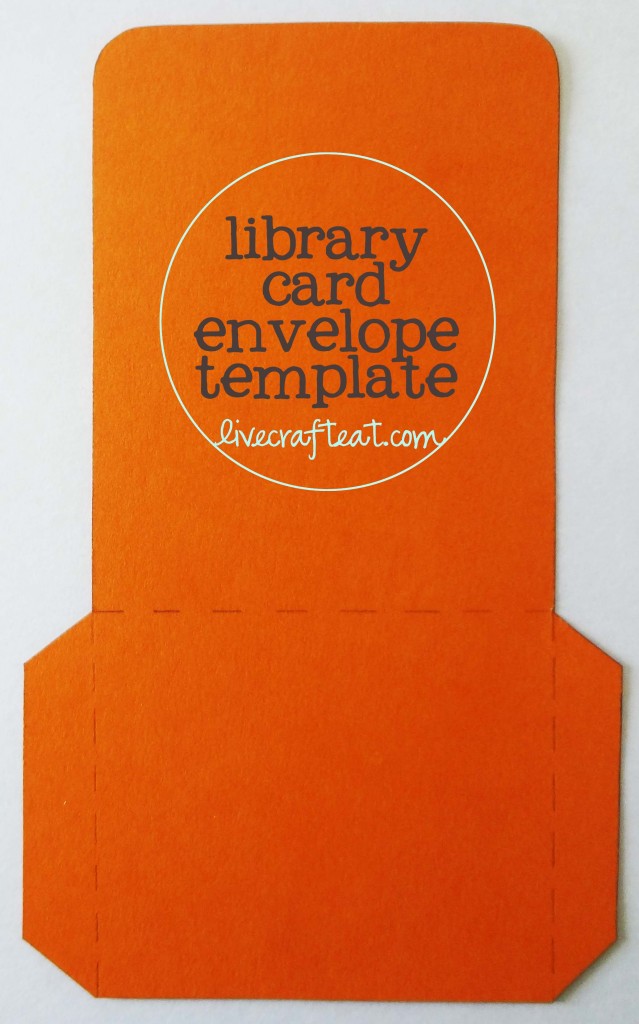 4.  to make these paper library card envelopes, just fold along the lines, and tape (or glue) the tabs to the back. easy peasy.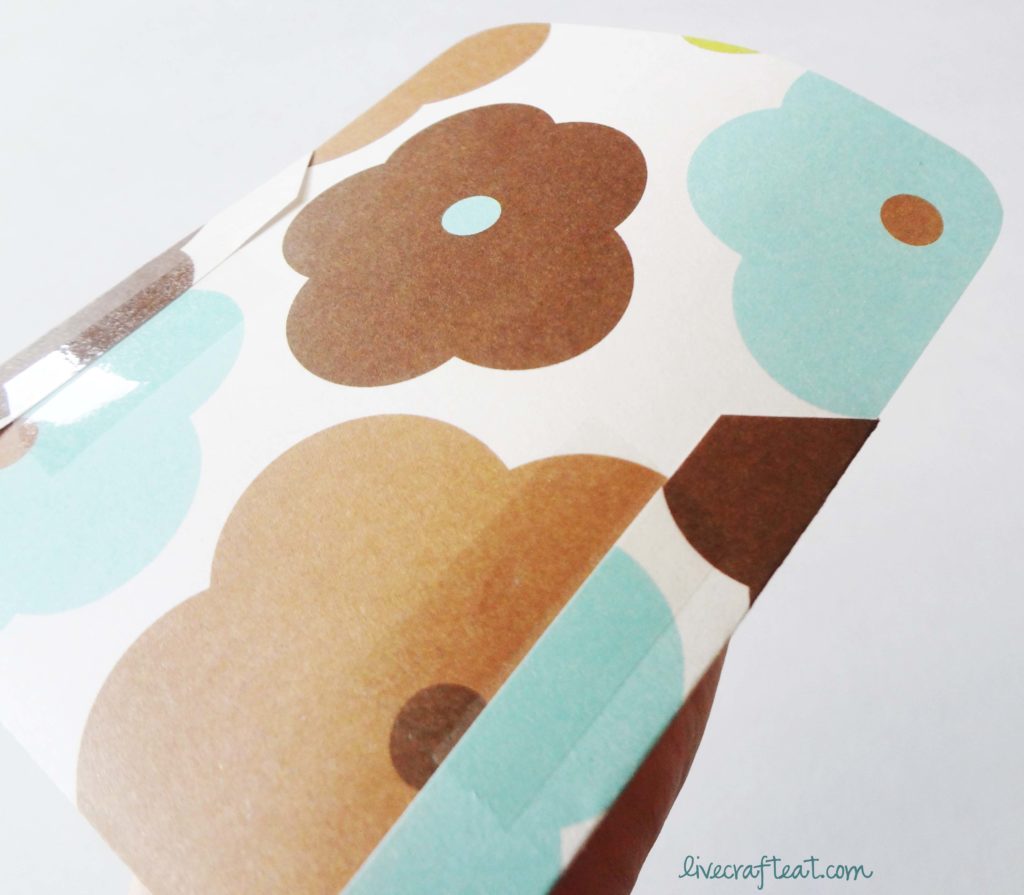 5. and voila! you have just made your own library card envelopes!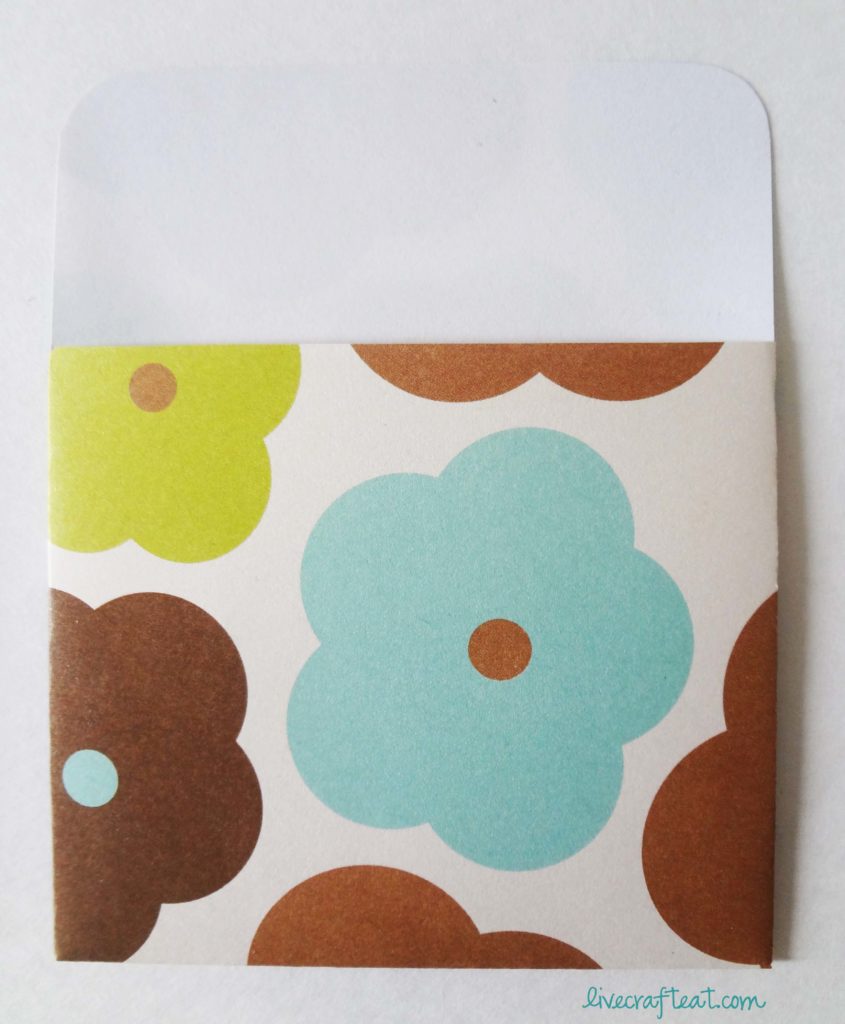 6. we're almost done! the next thing you'll need to make are the boxes to hold the activity sticks. don't worry, it's super easy. and you get candy out of it, too! just take a mike and ike box, or any other theater candy box that's approx the same size. mark 4″ from the bottom of the box, all the way around.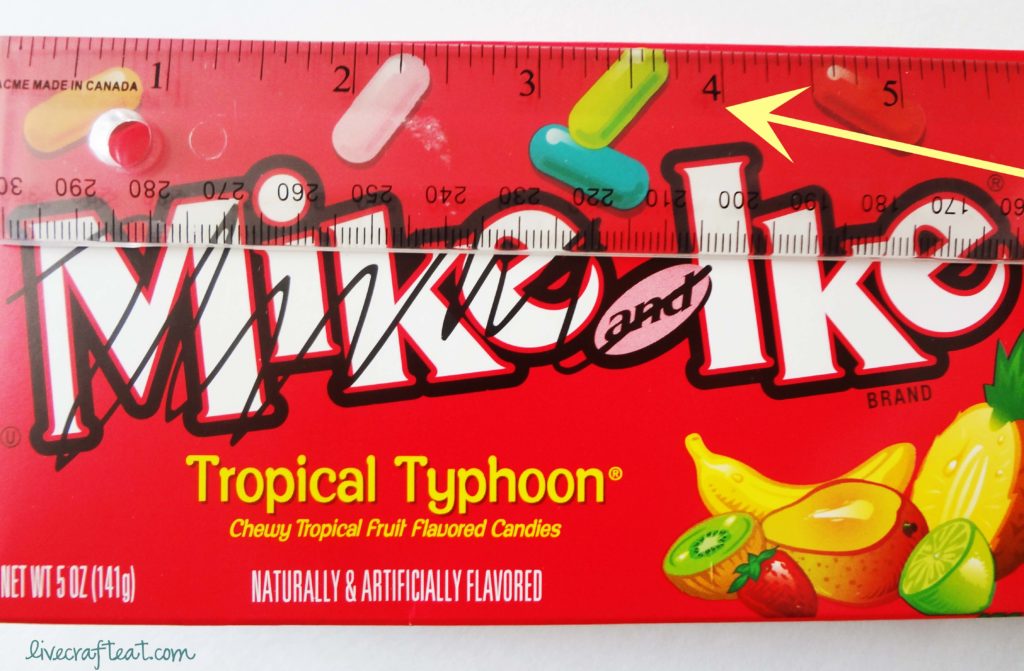 7. then use an exacto knife, and using the ruler as your guide, cut all the way around the box at the 4″ points that you marked…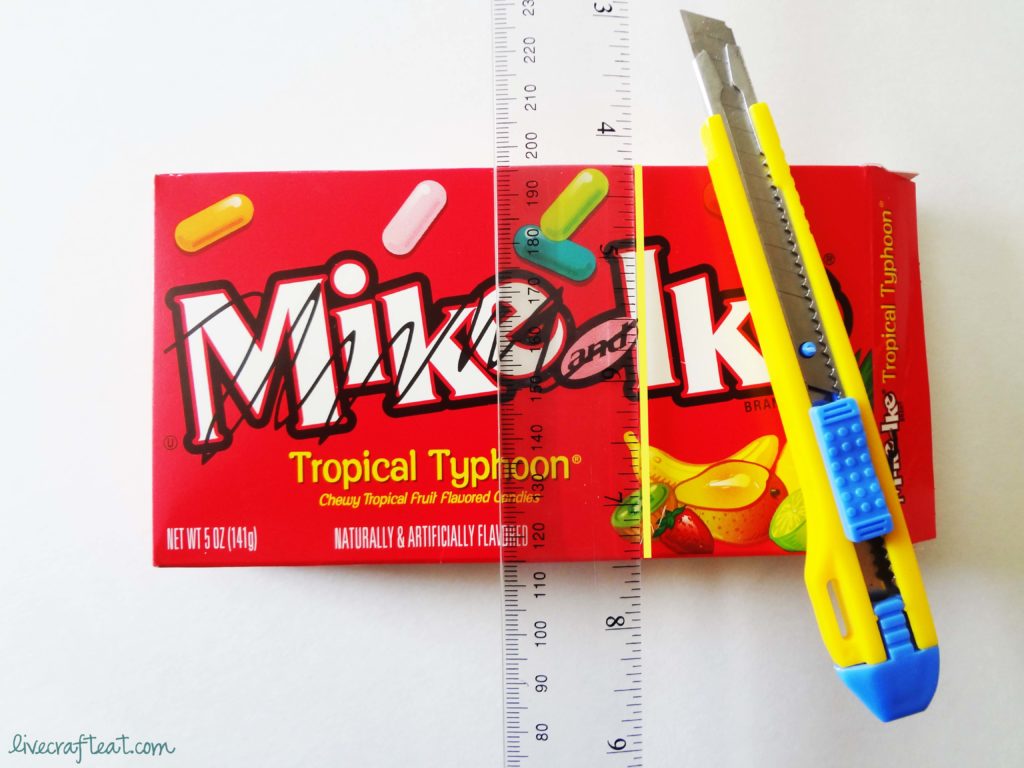 8. …until you're left with this: a 4″ tall box (still sealed at the bottom, and open at the top)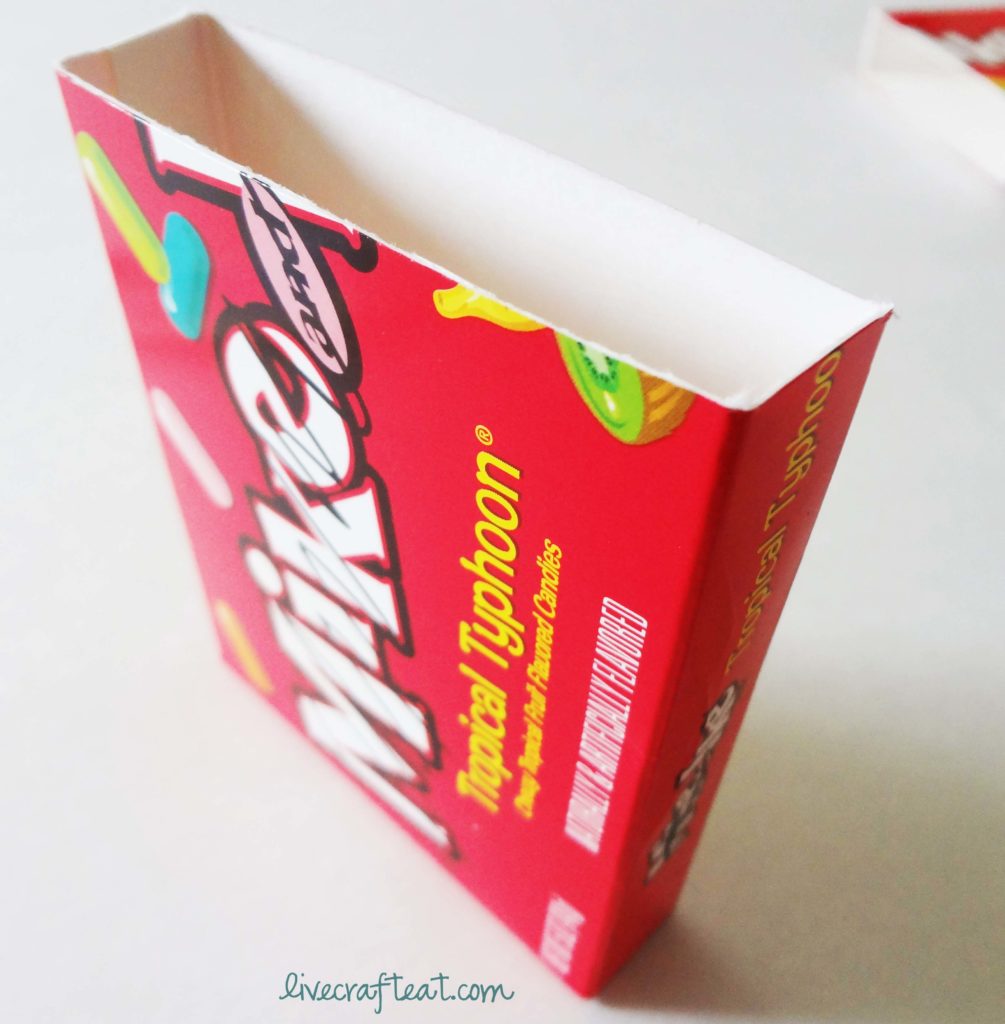 9. then all that's left is to wrap it like a present! (except for the open part at the top.)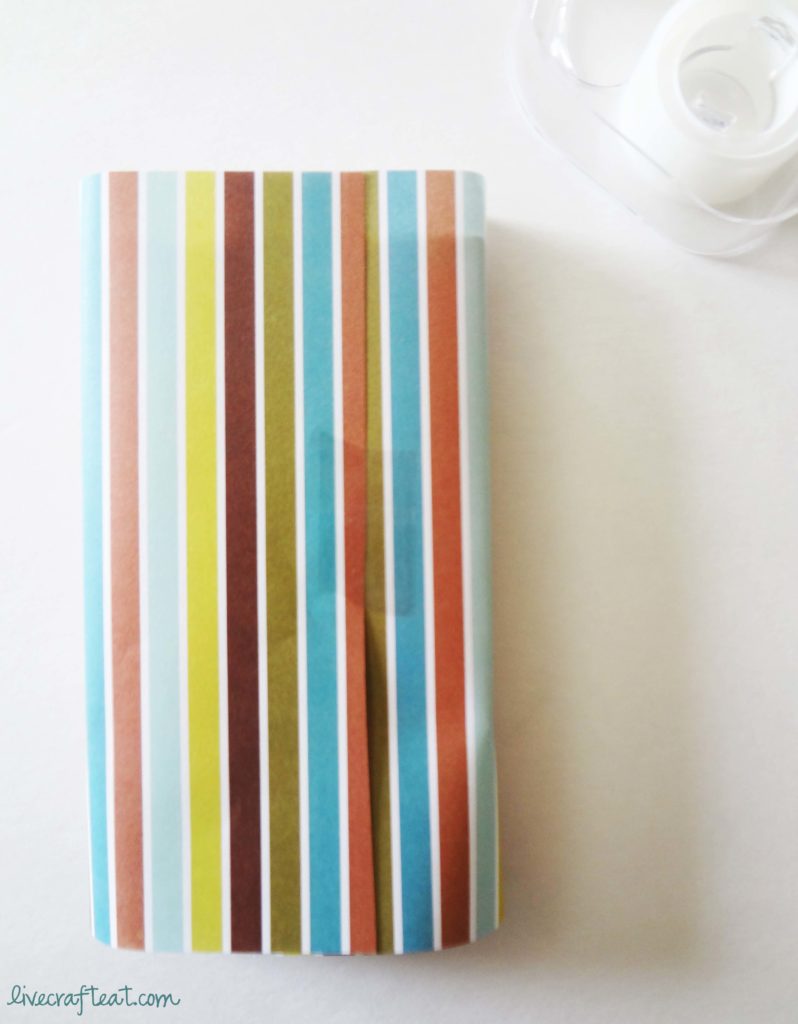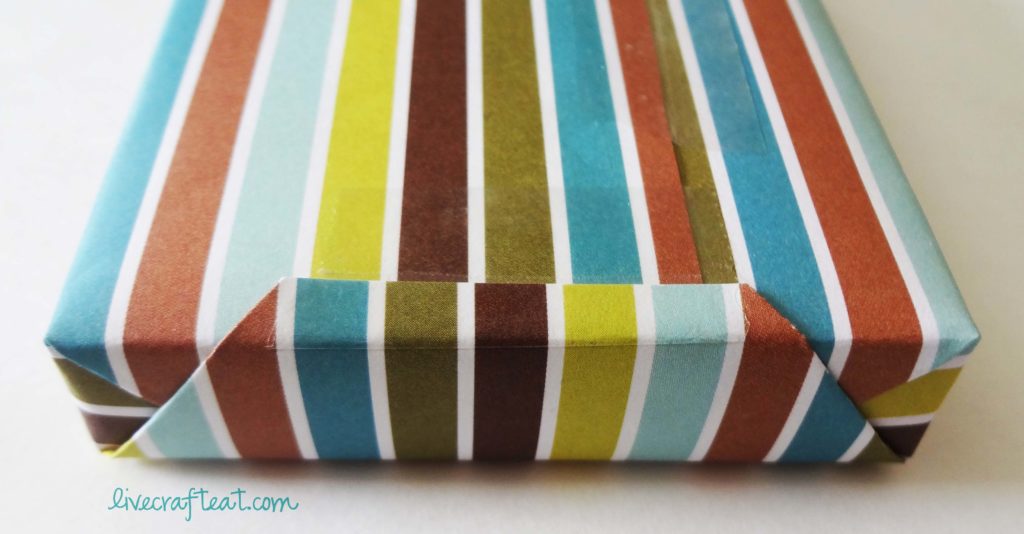 10. for the top of the box, you just need to trim the paper with scissors, and to keep it all together, use washi tape or masking tape, or scotch tape…whatever kind of tape you want!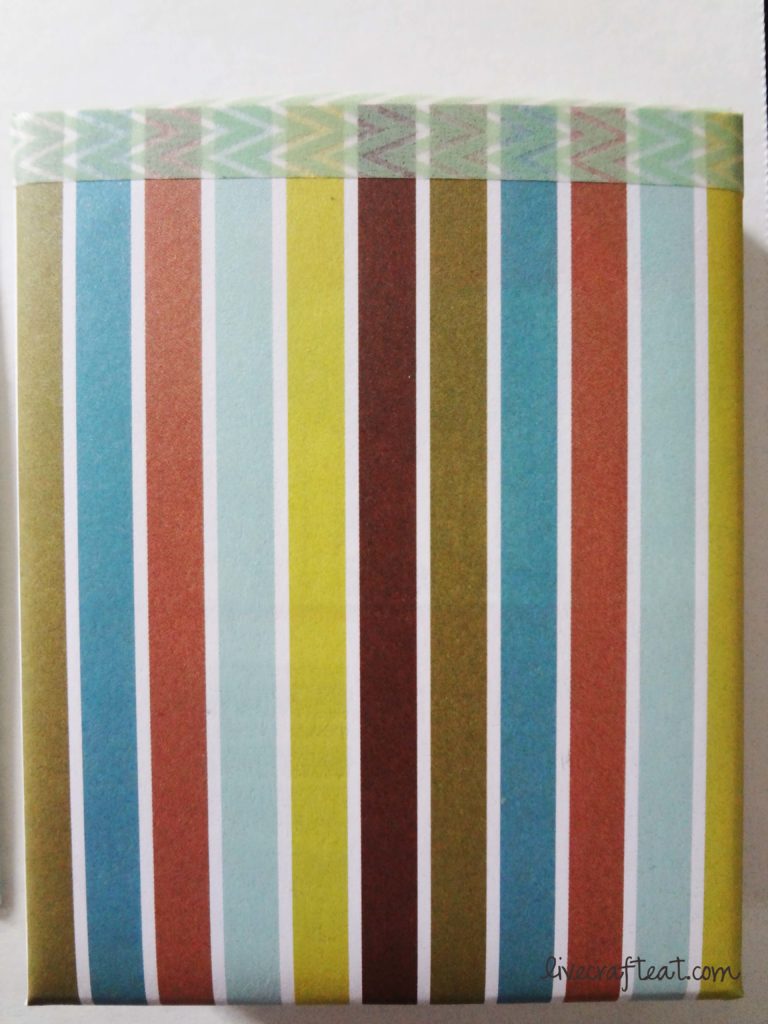 11. now you've got everything made that you need and it's just a matter of assembling! first, put your "am & pm" on the left side of a poster board or foam board. by the way, i used double-sided tape to attach everything to the foam board. nothing fancy, but it works great!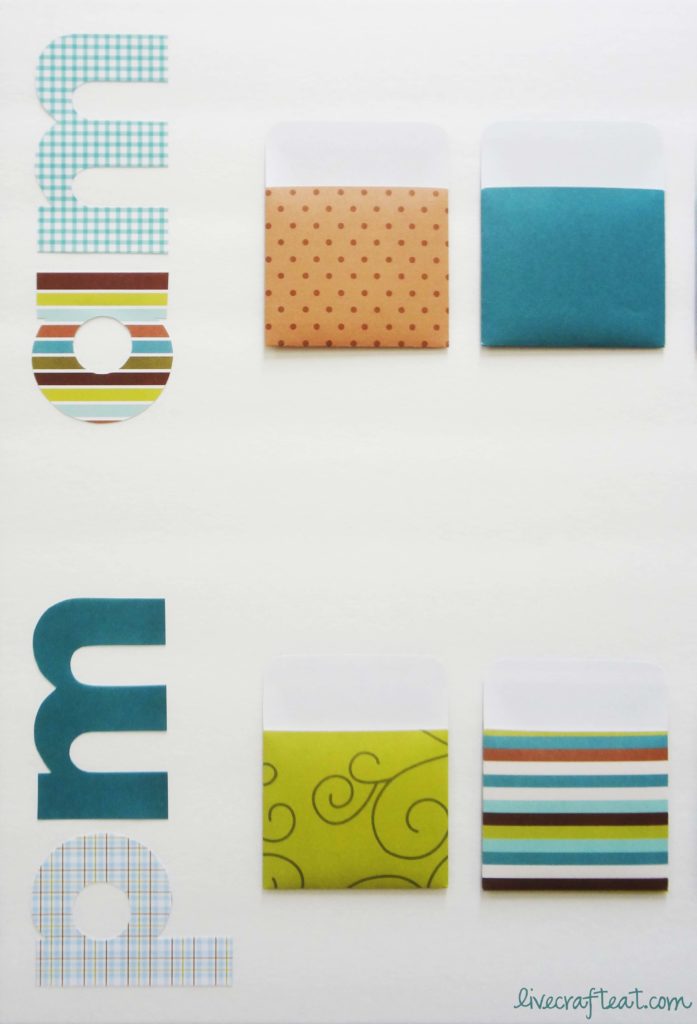 12. then arrange your cute library card envelopes how you want them and tape them to the board, too.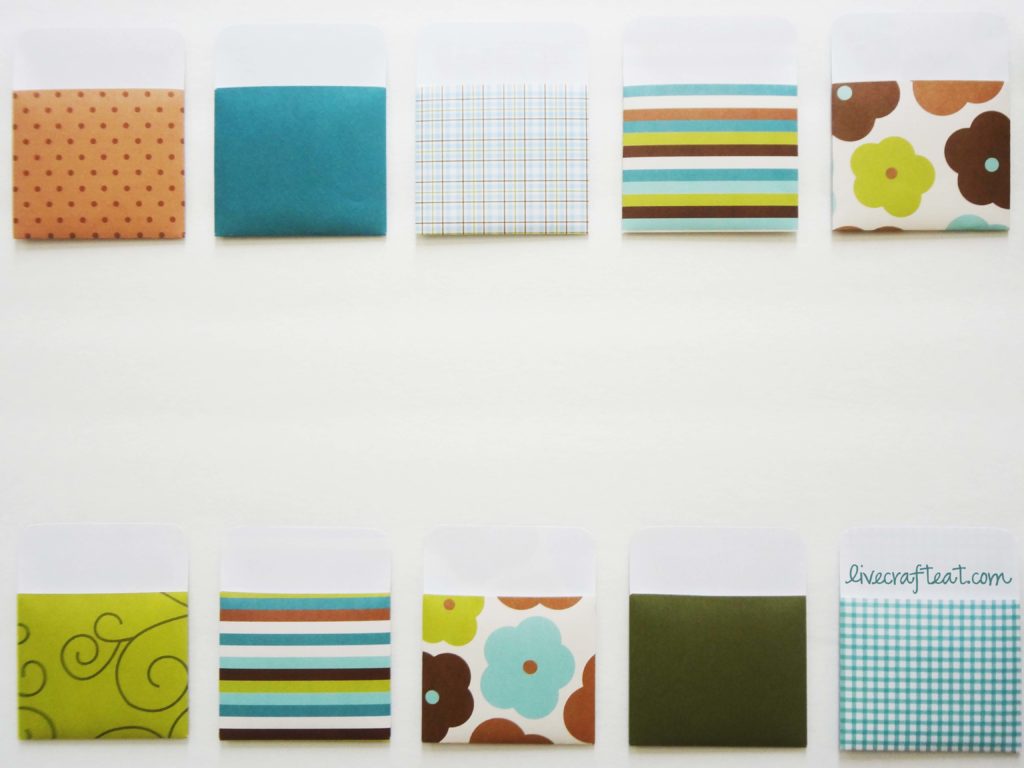 13. on the right side of the board, tape those fun boxes you just made.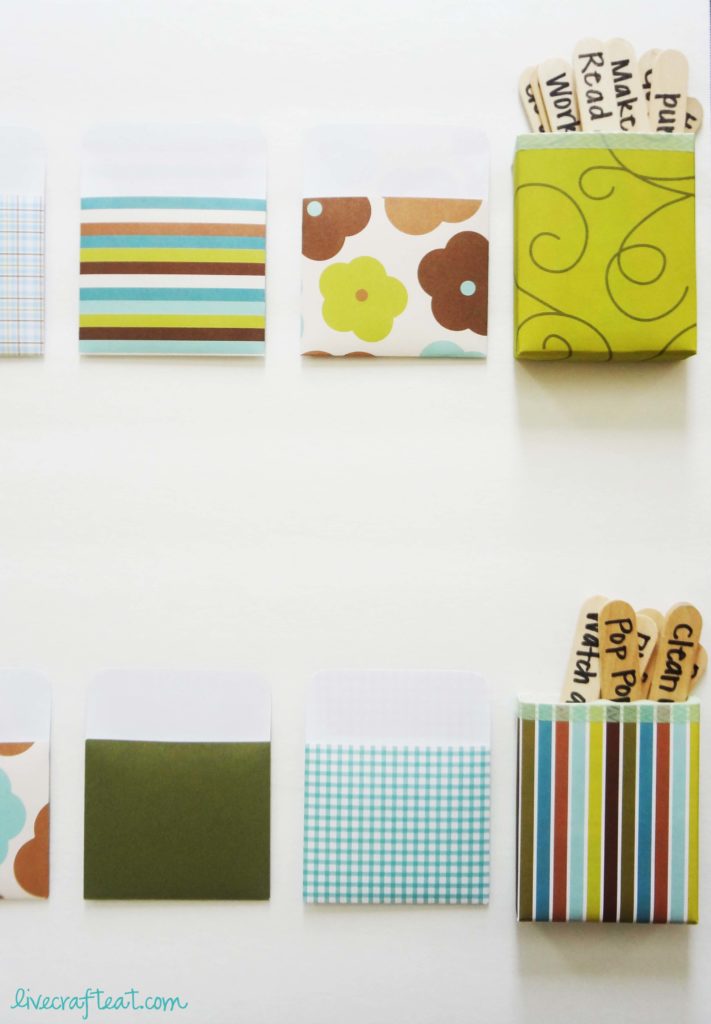 14. now the last step is to make up some fun activities to put in your boxes!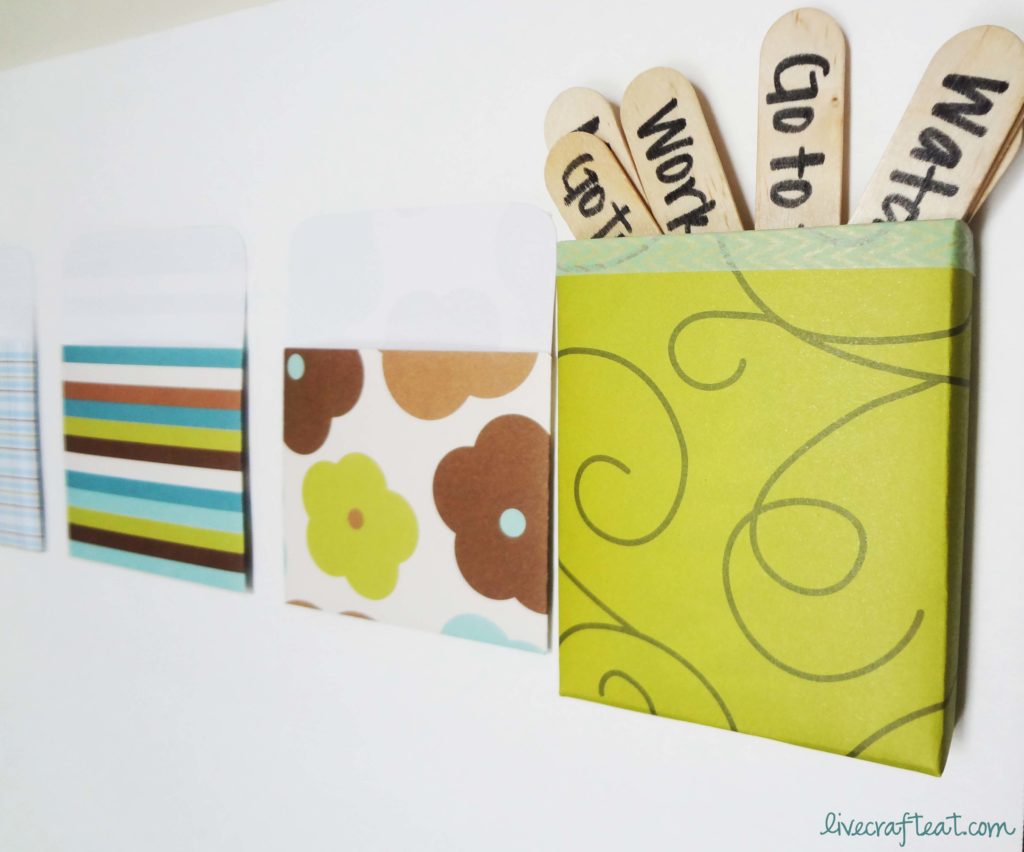 15. here are some of the things i did. i'm sure i'll be adding more in the future! (p.s. if you have any ideas, feel free to add them in the comments!)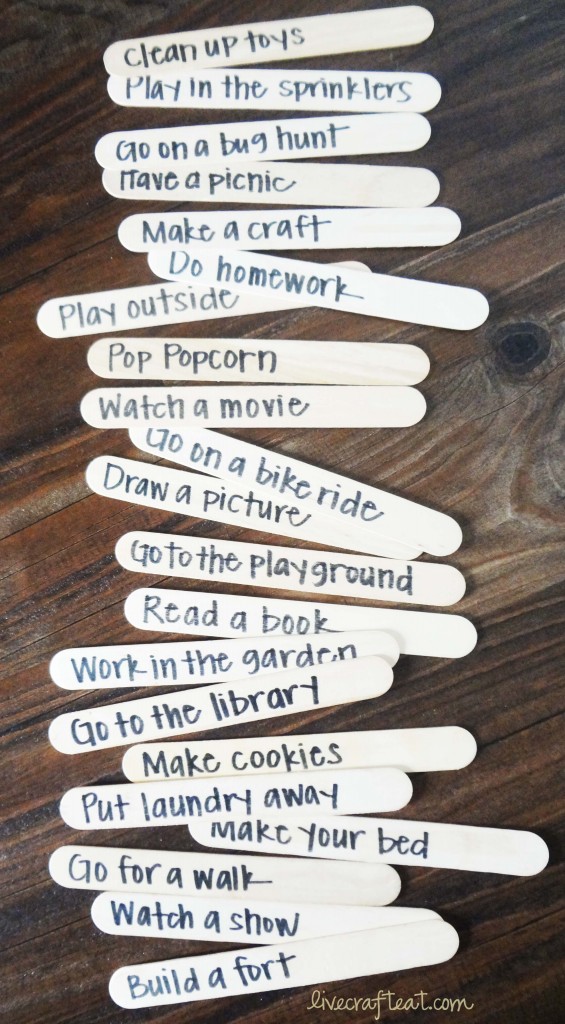 16. you can always put in more than one activity in each envelope. for example, the other day my kids wanted to eat popcorn in a fort while watching a movie. so those three all went in the same envelope. and don't forget, you can always throw in a few things that they need to "get done" too: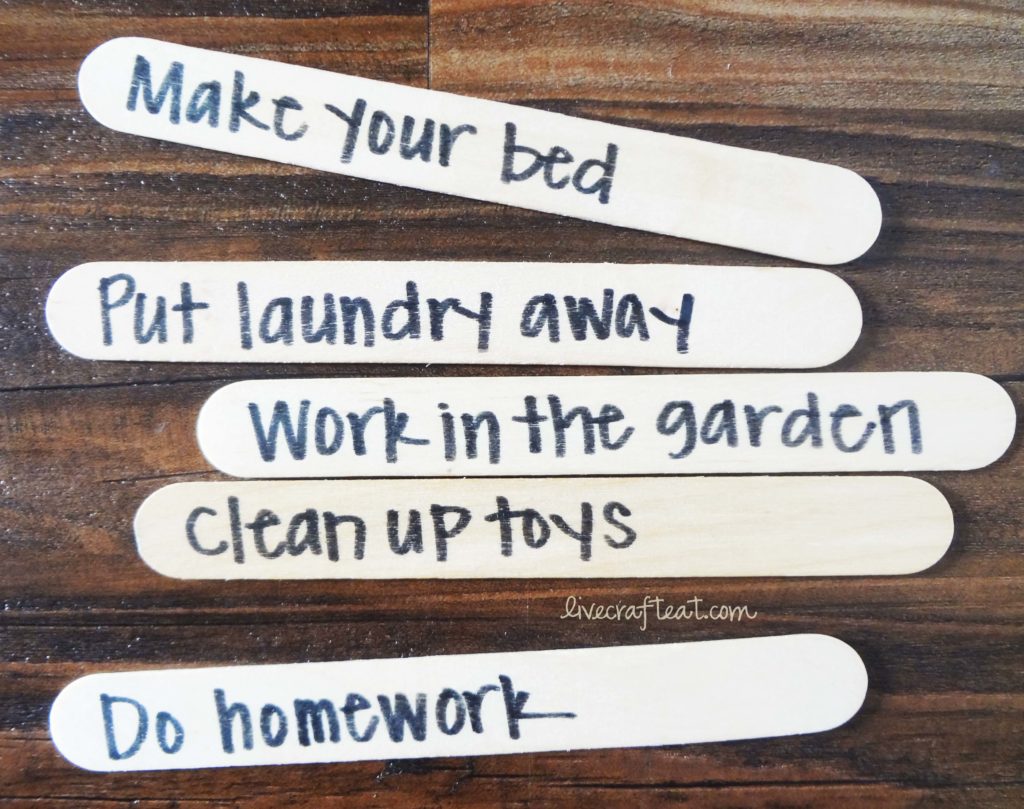 17. let them pick the order in which they'd like to do their activities. no more boredom!! and they know exactly what to look forward to in the day. and they'll probably do their chores. it's a win for everyone!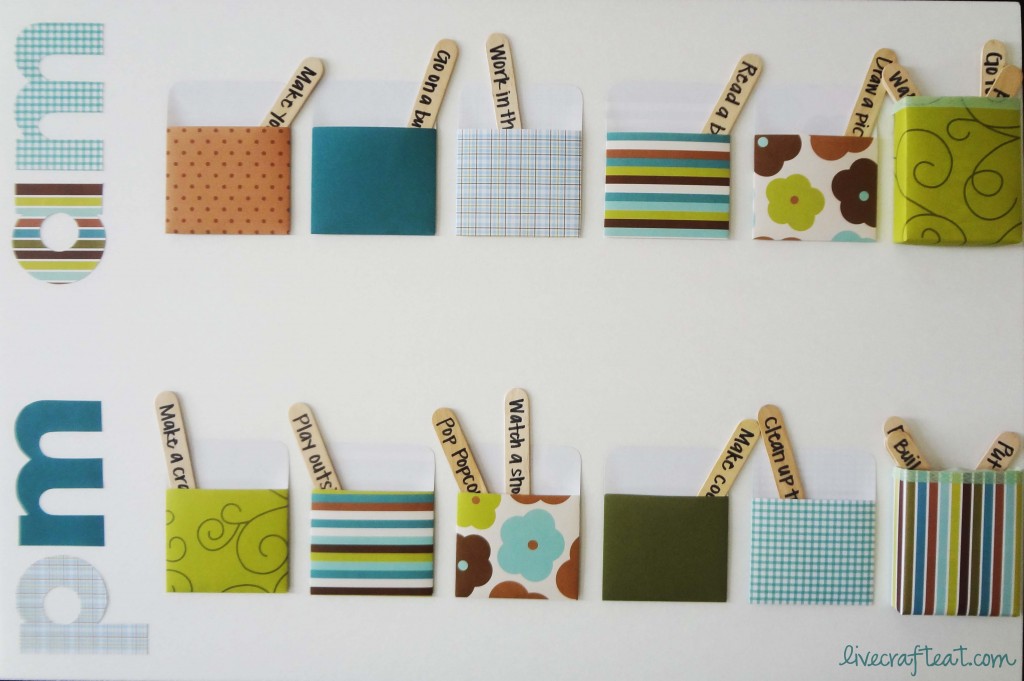 hope you enjoy!!