*if you are interested in 2015 planner/calendar bundles, including monthly, weekly, and daily calendars, budget trackers, menu planners, grocery shopping lists, to-do lists, and more, in both half sheet (A5) and full sheet (8.5″x11″) sizes, check out my etsy shop or see the bottom of this post for more details!*
since around summertime this past year i've received numerous emails and facebook messages from my awesome readers asking if i would be posting 2015 calendars for our popular diy planner post, made from a cereal box notebook. the answer was YES! but it was a matter of finding the time to get them all done 🙂
i am happy to say that they are FINALLY ready for you to download. here's what these 5.5″ x 8.5″ (approximately A5 size) mini calendars look like this year (pretty much the same as last year, but with new quotes and dates):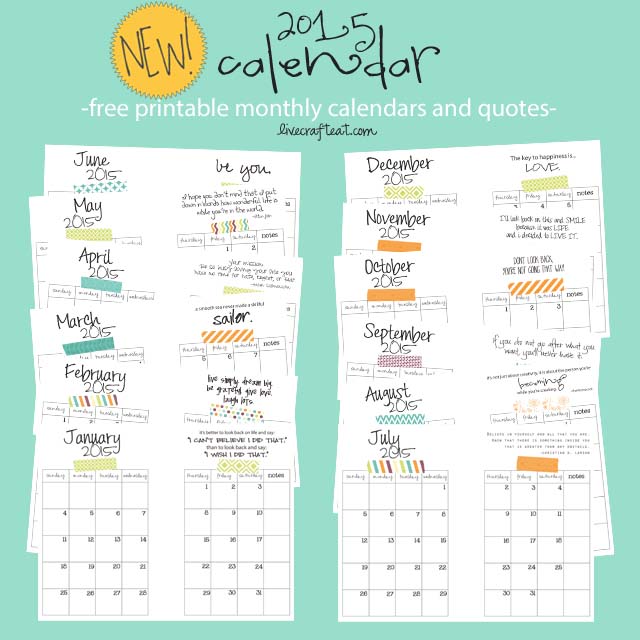 the diy cereal box notebook planner i made 2 years ago is still going strong and i've been using it all the time! and these freebie monthly calendars still look as cute as ever in it! all you need to do is print onto 8.5″ x 11″ paper or cardstock, cut the page in half, punch holes, and you're ready to organize!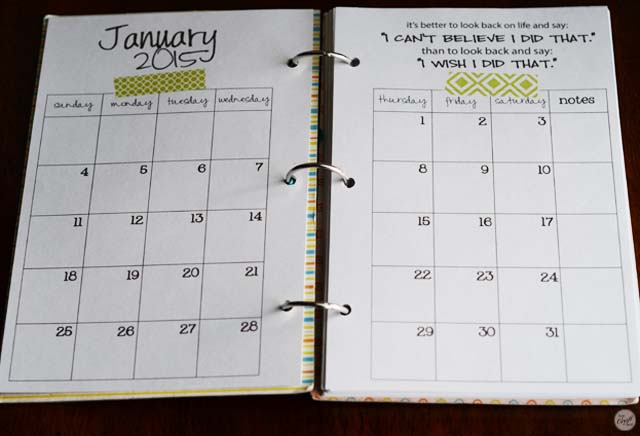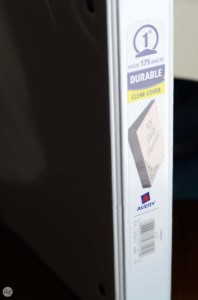 although, if you prefer to not have to make a cereal box planner just to use these monthly calendars, you can always get a mini binder like this one here (i got mine from walmart), and mini page protectors (i use them to hold receipts, or pages i'd like to use dry-erase markers on, etc). they are meant for this exact size of paper (5.5″ x 8.5″, or roughly A5 size).  all you need to do to make the binders personalized for you is cut some scrapbook paper and insert on the outside pockets, front and back, and the binding. the links for the binder and page protectors are affiliate links.
without further ado, here are the printables so you can make your own 2015 planner!
january 2015, february 2015, march 2015, april 2015, may 2015, june 2015, july 2015, august 2015, september 2015, october 2015, november 2015, december 2015
  have a happy new (and organized!) year!
. . . . . . . . . . . . . . . . . .
*if you are interested in 2015 planner/calendar bundles, including monthly, weekly, and daily calendars, budget trackers, menu planners, grocery shopping lists, to-do lists, and more, in both half sheet (A5) and full sheet (8.5″x11″) sizes, check out my etsy shop!
see examples below: