i'll be the first to admit that halloween is not my favorite holiday. i have absolutely no decorations (except these adorable pine cone spiders that we made last year), no pumpkin carving skills to speak of, and i can't stomach most of the garish costumes and decorations that come with halloween.
this was no problem until my kids started to grow up. maybe it's because all the kids talk about halloween at school or something, but for whatever reason this year my kids are ALL IN. so when my oldest begged and pleaded with me to decorate our house with halloween decorations, i decided to enlist the help of my sister to help me make some halloween bunting out of fabric. (halloween fabric can be very cute, by the way! i can totally handle it – it's not scary at all!)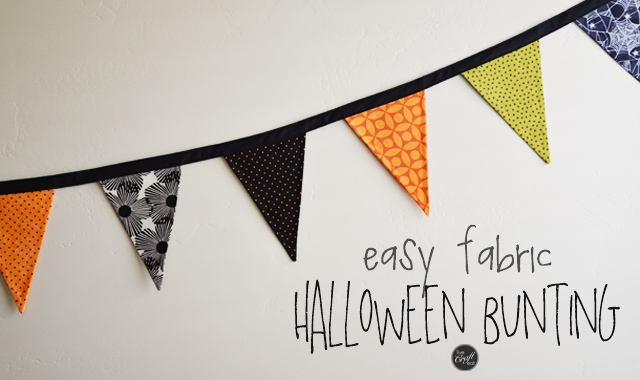 so here's what we did to make a super easy and durable halloween bunting that will last us years and years (though just by switching the fabric and colors out you could make this for any fun holiday or birthday!):
because you can make your bunting run as long as you'd like, this is just a general description of what we used, aside from normal sewing notions…
> fabric fat quarters (we got 2 finished triangles out of each fat quarter…4 cut triangles sewn back-to-back = 2 finished triangles)
> heat 'n bond – this is what makes the bunting extra sturdy. no flopping triangles here no matter the angle!
> coordinating seam binding
now for the easy step-by-step!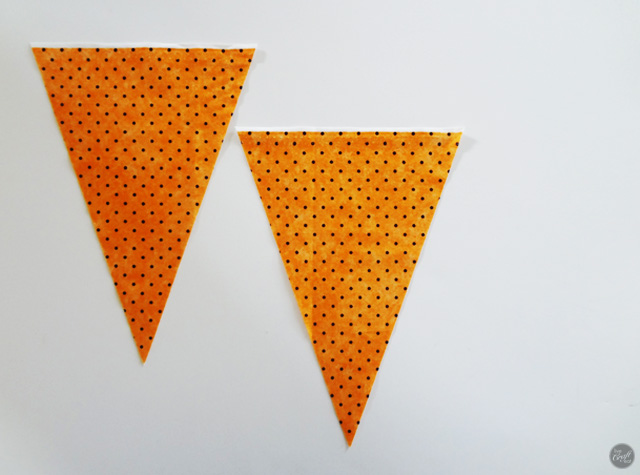 1. the very first thing you need to do is decide how you want your triangles to look. we made ours about 1.5x tall as they were wide. we were able to get 4 cut triangles out of each fat quarter. once you're happy with your triangle, make a pattern using a piece of paper and then use it to cut all your triangles.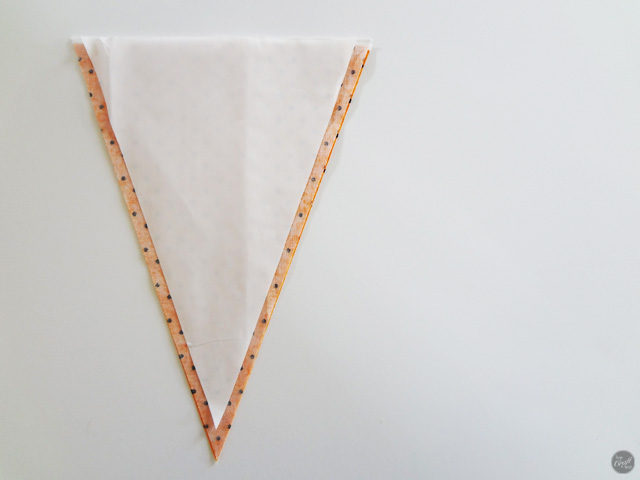 2. next, make another triangle paper template, making sure to cut it 1/4 inch smaller than your fabric triangles. (note: you don't have to make it 1/4 smaller at the time – we just made ours flush…it's all going to get covered by the seam binding when we put it all together anyway.)
use this smaller triangle template to cut out your heat n bond – 1 triangle per set of cut triangles.
take 2 fabric triangles and place them right sides together. place the heat n bond on top of the triangles with the rough side facing toward the fabric. iron.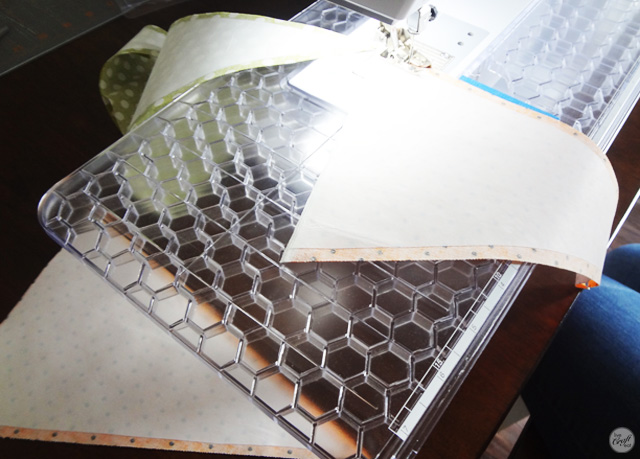 3. next, with the triangles still right sides facing and with the heat n bond now attached to the back of the top triangle, sew the triangles together on the left and right sides, down to the point. do not sew the top of the triangle closed.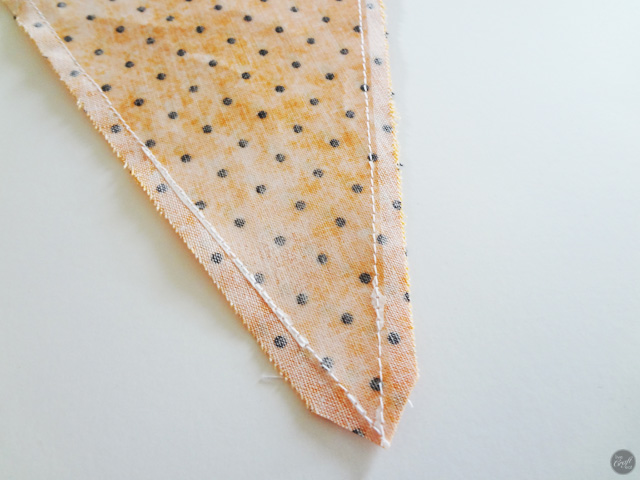 4. once they've been sewn, remove the paper backing of the heat n bond. it's okay if little bits get stuck under some of the stitches – nobody will see them. cut the bottom corner (as shown above) to prevent the corner from being to bulky when you turn them right side out.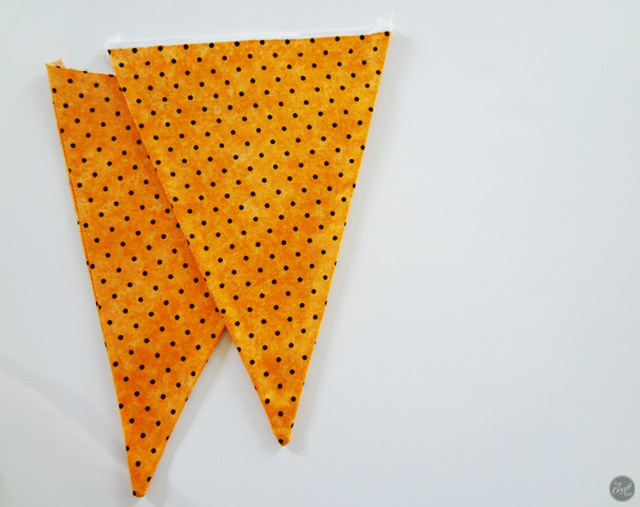 5. turn the triangles right side out using a bone folder or other tool (like a knitting needle, etc) to straighten the edges and to make a nice point at the bottom of the triangle. iron flat, activating the other side of the heat n bond and making the triangles as sturdy as can be.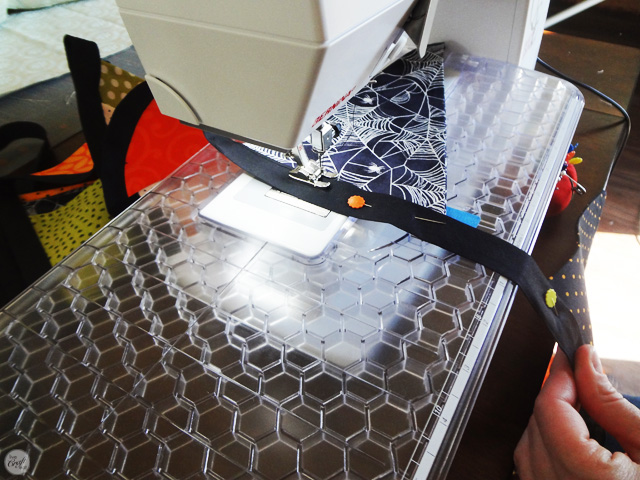 6. to put it all together, grab your seam binding (that's already pre-folded), place the top of the triangles inside the fold, making sure to spread them evenly across your chosen length, and pin them in place.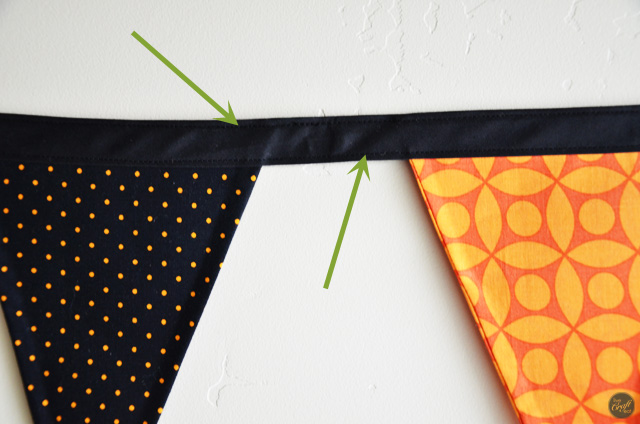 7. sew across the bottom of the seam binding, and then again across the top.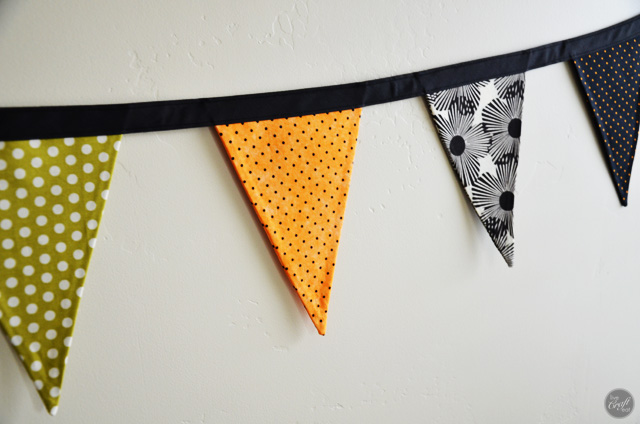 and there you have a super easy, crisp-looking fabric bunting to hang anywhere in your house! we hang ours on our staircase, but a mantel, entertainment center, or just on the wall look amazing, too!it's an easy way to add color and decorate your house for any holiday or occasion! you could also use the same fabrics you used in a child's blanket or quilt and make coordinating bunting to decorate their room – the possibilities are truly endless!
happy bunting 🙂