i am so excited to share this halloween craft with you from kirstylee over at moms have questions too! she makes the cutest pom pom spider, ghost, and pumpkin – and gives great instructions so we can make them too! i am definitely making these with my kids this week and we are going to have so much fun! thanks, kirstylee, for sharing these with us!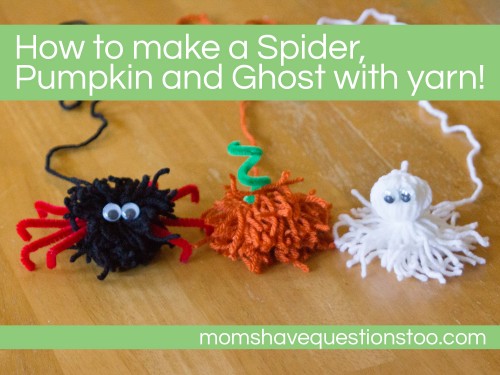 I got the idea for this craft from a project I did in college when I was working with a 2nd grade class (I majored in Elementary Education). I'm not very crafty so I definitely did not come up with this idea originally, but I did adapt it to make not only a spider, but also a pumpkin and a ghost. I did this Halloween craft with my son, Little Bear (4) and it has made our home feel much more Halloween-ish. It's fun to look up during dinner and see a cute pumpkin, ghost, and spider looking down on us.
Instructions:
(Step by step photo instructions below)
For each object, you will need to start with a pom pom. Make a pom pom by getting some yarn and wrapping it around a piece of cardboard or around four of your fingers. You'll want to wrap it around several times. When it is wrapped several times, cut the yarn at one end.
Next, carefully slide the yarn off of the cardboard or fingers and hold it tightly in the middle. If you are making the ghost, hold it tightly about 1/3 of the way down rather than in the middle. Now get a long piece of yarn and tie it in the spot that you were holding. Leave one end of the yarn extra long for hanging. Make sure you secure this knot as tightly as you can.
Once it is tied, get some scissors and cut the wrapped ends.
For the pumpkin and spider cut both sides. For the ghost, only cut the wrapped ends on the long side. Leave the short ends wrapped.
Fluff the cut ends out so that it forms a pom pom. You can fluff the yarn by using your fingers or just give it a good shake a couple of times.
Finishing:
Pumpkin
Cut a small piece green of pipe cleaner and twist it around your pinky finger so that it looks like a vine. Push it into the top of the pom pom. You can also add googly eyes with hot glue if desired.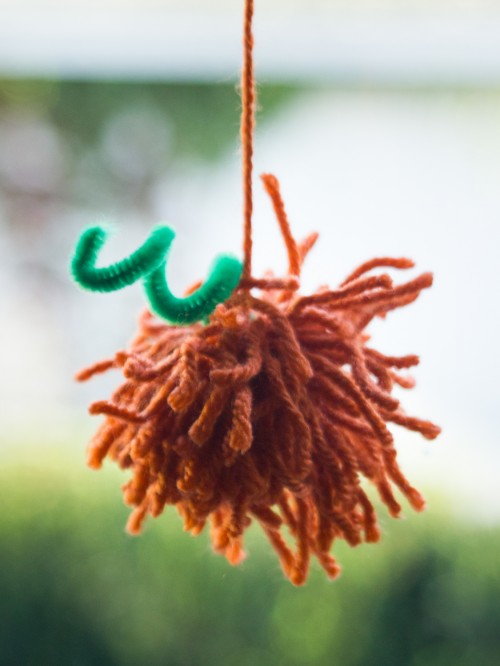 Spider
Push four pipe cleaners through the middle of the pom pom and bend them to look like spider legs. I actually only used 2 pipe cleaners and cut them in half. You can use black to match the spider, or you can use a fun color of pipe cleaners. Add some googly eyes with a hot glue gun. Do not let your child handle the hot glue gun! Instead of having Little Bear touch the eyes with hot glue on the back, I had him show me where to put the eyes and I put them on.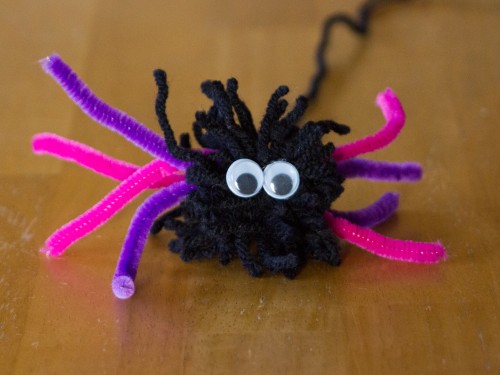 Ghost
Add googly eyes using hot glue gun and follow safety precautions from above.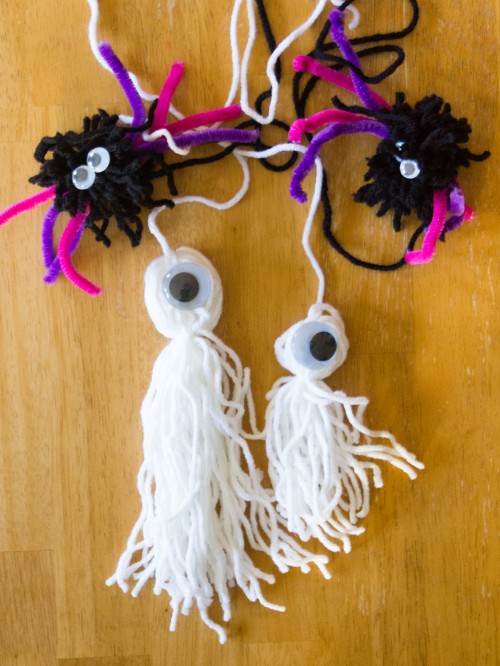 (for some of our ghosts we decided to add just one big eye to make them extra scary) Hang your creations from the ceiling or on the wall for a fun Halloween decoration! Little Bear had a blast with this craft, especially getting to cut the yarn. It was pretty easy and mess free for a non-crafting girl like me. If you are interested in more Halloween crafts to do with your kids, check out the Halloween Crafts post on my blog.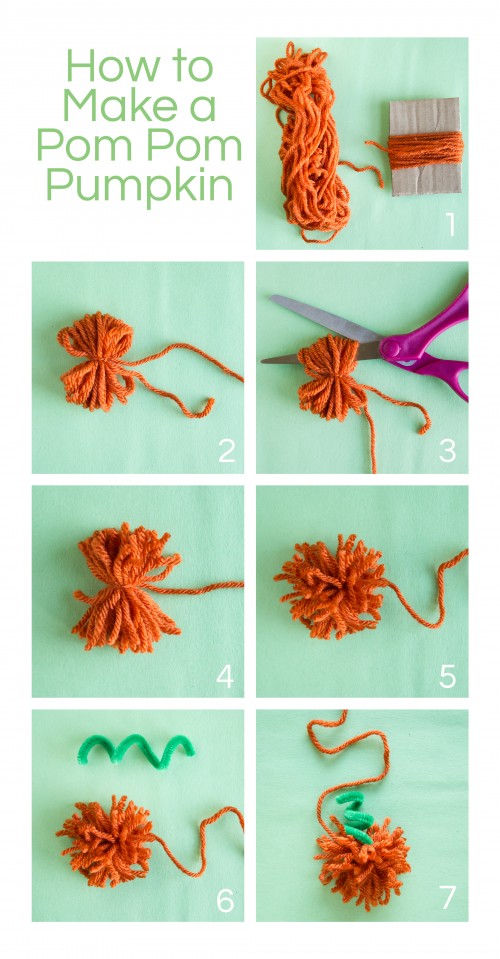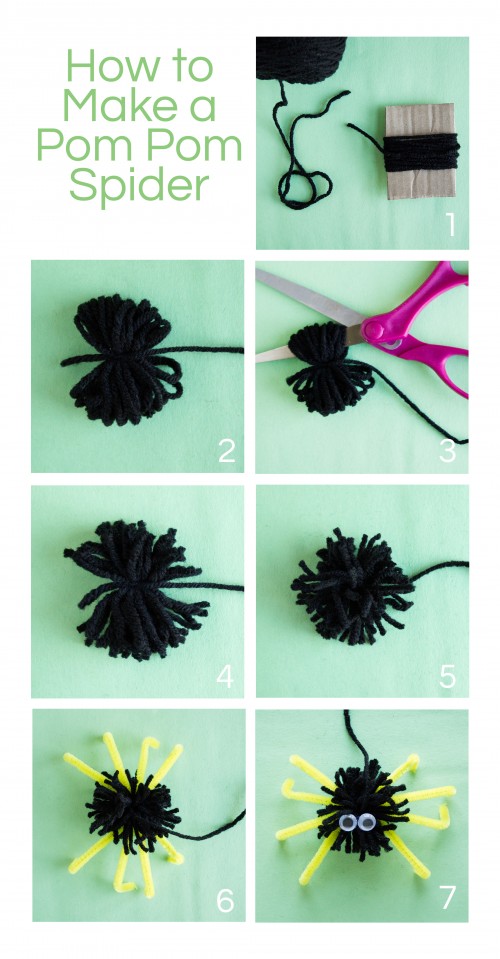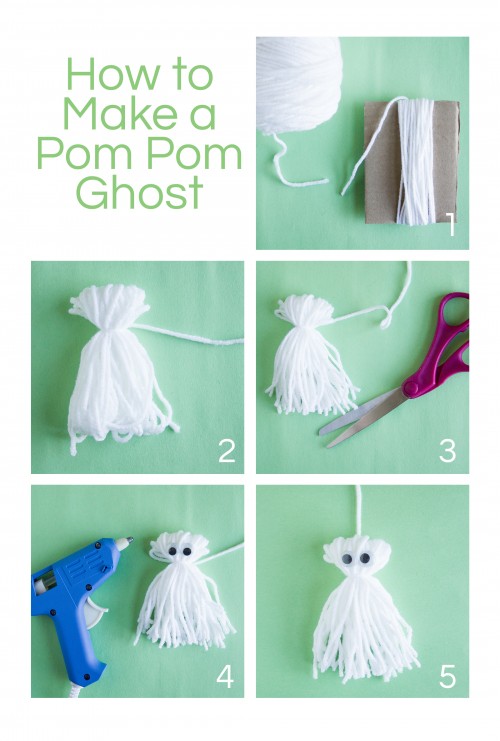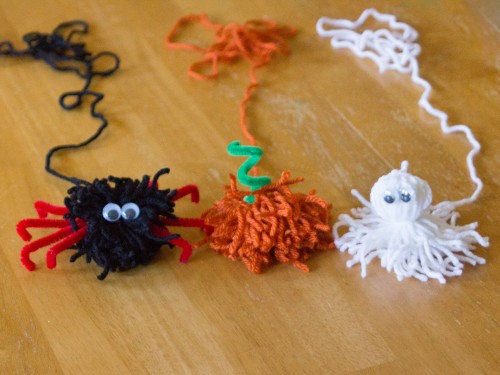 I'm Kirstylee, the writer for Moms Have Questions Too. I'm a preschool teacher, but my family always comes first. I'm married to Mr. Remarkable and my two sons are Little Bear (4) and Smiley Man (1).