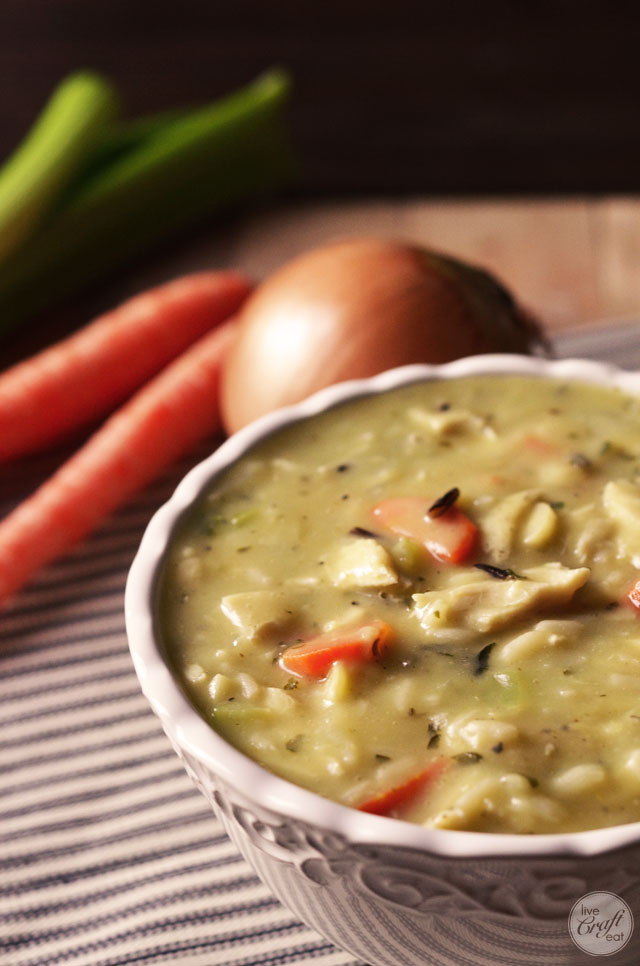 chicken and wild rice soup. this is one of my faves. it only has a few ingredients, but they're all so healthy (which is great for my new year's resolution…which i'm sure is the same as most other people's!) and even though those ingredients are pretty simple, they offer a huge depth of flavor.
i usually make this soup a day or two before (or after) making my favorite chicken & wild rice wraps…obviously because i can use the leftover chicken and rice! and that's what makes this recipe so quick and easy to put together – if you've already got cooked chicken and rice, everything else comes together in a snap!
all you need to make this delicious soup is: shredded chicken, wild rice (i make a box of Uncle Ben's long grain & wild rice and use what i need from that…just because i love it), chicken stock, slivered almonds, butter, flour, onion, celery, carrots, salt, pepper, parsley flakes, cumin, and ground mustard, mushrooms (optional – i really like mushrooms, but my kids always seem to find them when i add them to anything, even if they're chopped up into teensy pieces).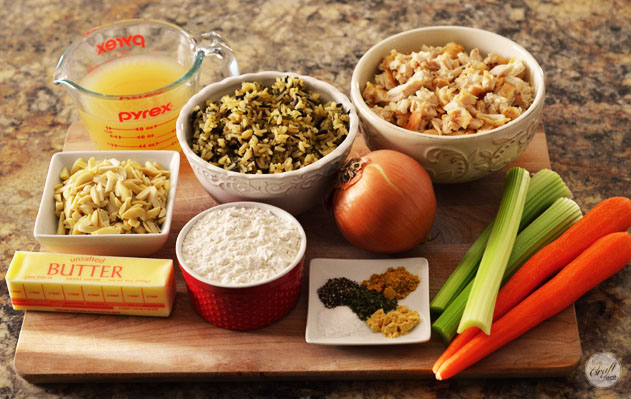 it's already a pretty thick soup using just those ingredients above, but you can always make it a "cream" of chicken and rice soup by adding whole milk, or you can thin it out using more chicken stock.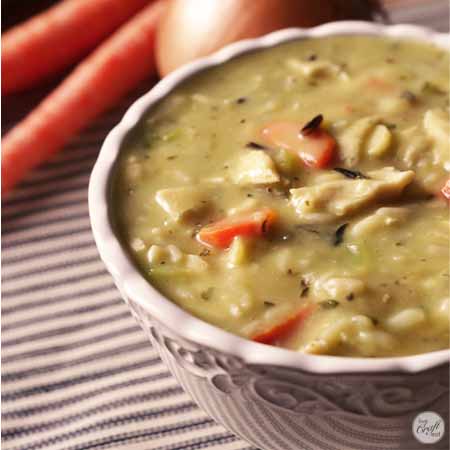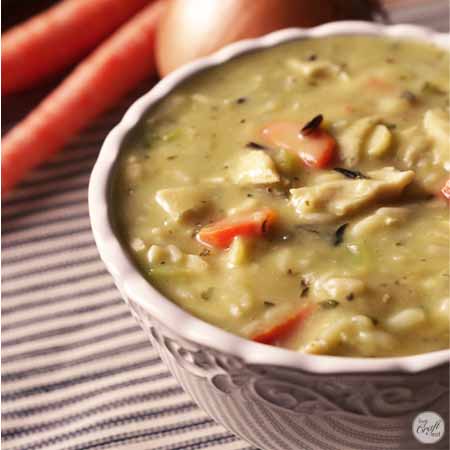 enjoy!!
Print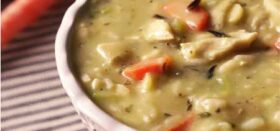 chicken & wild rice soup
---
1/2 cup

butter

1

onion, finely chopped

1 cup

celery, chopped

1 cup

carrots, sliced

1 cup

mushrooms, sliced

3/4 cup

flour

6 cups

chicken broth (+ more if you need to thin it out to your liking)

2 cups

cooked wild rice (147 gr-alert gr_tiny gr_spell undefined ContextualSpelling multiReplace" id="147″ data-gr-id="147″>i like to use uncle ben's long grain and wild rice)

1 1/2

–

2

cups chicken, shredded

1/2 teaspoon

salt

1/2 teaspoon

pepper

1/2 teaspoon

curry powder

1/2 teaspoon

mustard powder

1/2 teaspoon

dried parsley

1 cup

slivered almonds

2 cups

whole milk (optional)
---
Instructions
melt butter in a large pot over medium heat. sautee the onion, celery, and carrots for about 5 minutes. add in the mushrooms and sautee a couple minutes more. add the flour and stir well. slowly add the chicken stock. bring just to a boil, then reduce heat to a simmer. add the rice, chicken, salt, curry powder, mustard powder, parsley, black pepper, and almonds. allow to heat through before adding the whole milk (optional). add more chicken stock, if needed, if soup gets too thick. let simmer for a few minutes before serving.
Other Posts You May Like: