my kids love cereal. they always have and it seems as though they always will. but the thing that gets me is that within 1/2 hour of eating said cereal they are always, always, telling me that they're hungry again. it just doesn't seem to fill them up. so i've been trying to come up with healthier, more filling options in the morning. but my stipulations, aside from keeping my kids fuller longer, are: a. they have to be inexpensive, b. they have to be quick & easy, and c.  it has to taste awesome.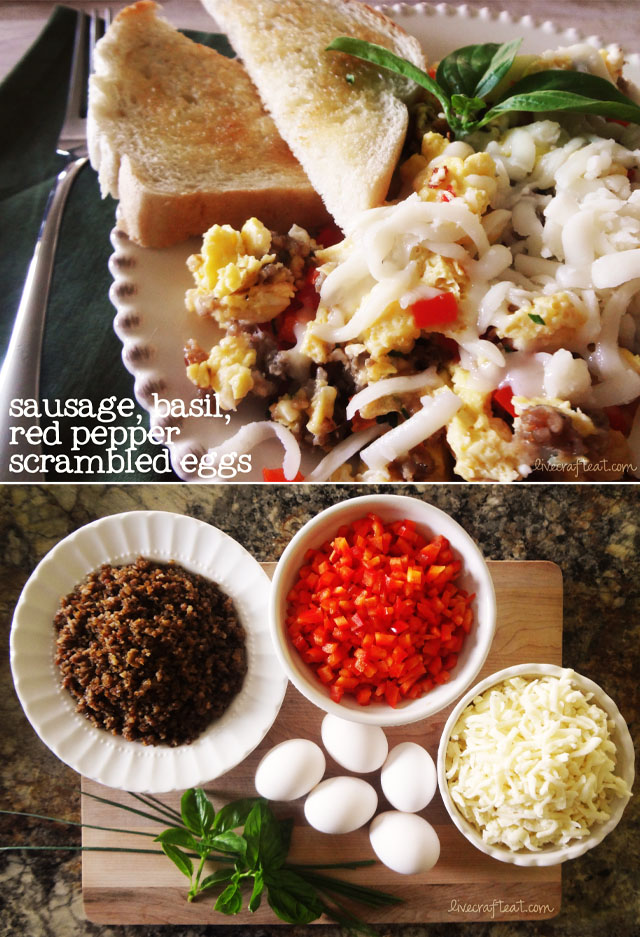 so i've been re-introducing some of our oldies but goodies: enter our favorite scrambled eggs, ever. they meet all my requirements – we cook/shred/chop all of the "toppings" in advance and keep it in the fridge. it lasts us a couple of days, so in effect, each serving is pretty inexpensive since we stretch it so far. you could also swap out anything you want to make them cheaper or to make them your own. in the past we've used leftover bacon, green onions, yellow onions, green pepper, cheddar cheese, etc. they are ridiculously easy to make…about as easy as scrambling eggs, in fact! with everything prepped in advance they take almost no time to make in the morning. and like i've already said, they taste great.
making these loaded scrambled eggs is as easy as 1-2-3:
1. prep your "toppings" in advance. we like to cook up some good ol' jimmy dean sausage, chop up a red or green pepper, grate mozzarella or cheddar cheese and add some fresh herbs from our garden – basil and/or chives.
2. scramble your eggs with a little milk and add your toppings before the eggs have set. cook & heat through. season with salt and pepper.
3. serve with toast and juice or milk for a fast, nutritious, and filling breakfast. enjoy!