while my husband was in canada for a wedding and it was just the boys and i at home, i thought it would be fun to surprise them with a "fancy" breakfast just for them. especially since it was the weekend. and it was general conference, and we like to do something a little special for breakfast that weekend anyway.
we usually end up making loaded scrambled eggs and fruit salad or something along those lines, but this time around i was feeling like some cinnamon french toast. there's a bakery/restaurant i've been to before that sells this amazing french toast and it's always been a favorite of mine. and since a friend told me what goes into the syrup for topping this amazing french toast i figured it would be the perfect opportunity to try it at home. and since i'd end up cutting everyone's food anyway, i though why not make it all into a few mini trifle bowls and my kids can serve themselves?
great idea.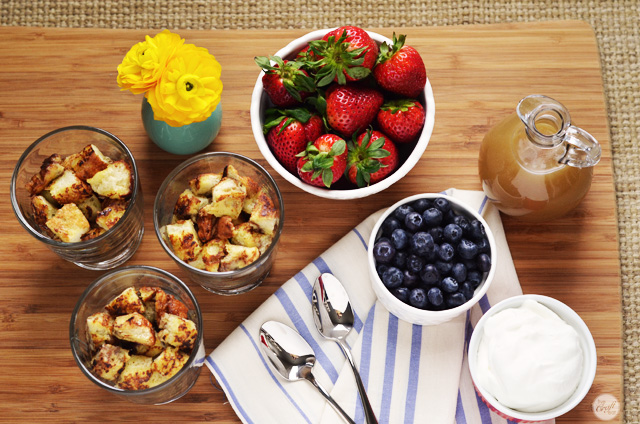 the whole thing is really easy and just involves making the french toast, the syrup, and then layering everything else.
to start, let's make the french toast. it's "cinnamon" french toast because i'm using cinnamon bread, and i'm going to cut it into really thick slices for this. if you can't find a good cinnamon bread that you like, use any other kind of bread that you like for french toast, and add cinnamon to taste to your egg batter.
all i used for my batter was 3 eggs, 3/4 cup milk, 1 tablespoon brown sugar, 1/4 teaspoon salt, and 1 tablespoon vanilla.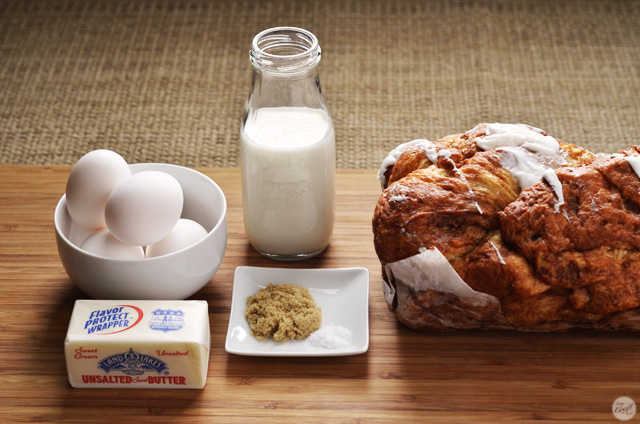 whisk it all together in a shallow dish (such as a pie plate).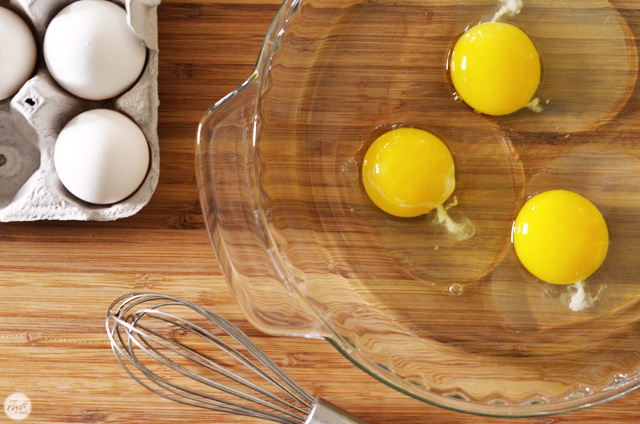 next, melt 2 tablespoons of butter in a large skillet and cook your french toast. set it aside to cool and then cut into 1-inch pieces.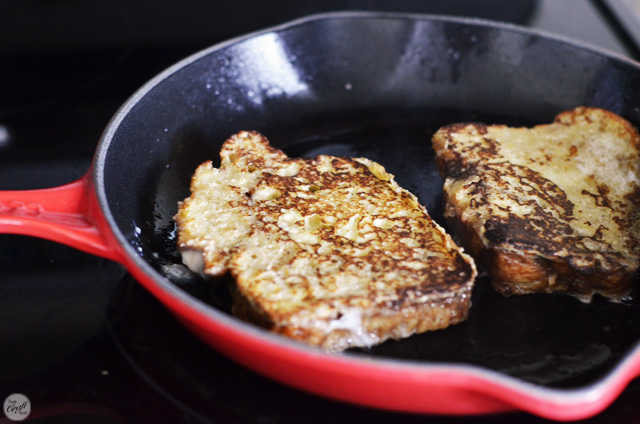 now, let's make the syrup. it's just equal parts brown sugar, heavy whipping cream, and karo syrup. not the healthiest thing ever, but oh my, does it ever taste gooood! definitely worth making for a weekend treat. all you need to do is combine the 3 ingredients together in a medium saucepan (i used 1/2 cup of each), and cook over medium heat, whisking until everything is well combined and is heated through.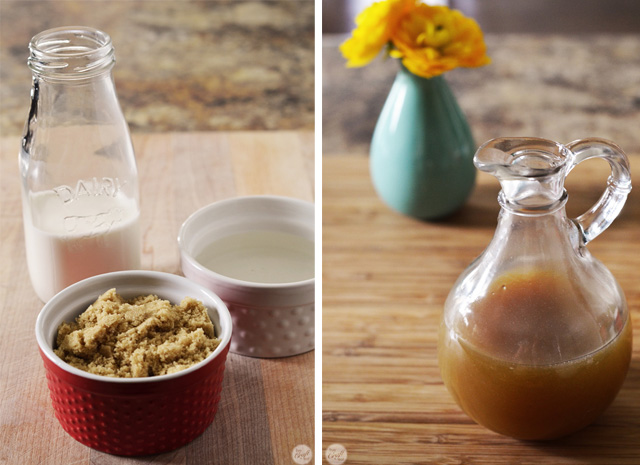 now that you've got the cinnamon french toast and the syrup ready, go ahead and place some of the french toast cubes in the bottom of your trifle bowls and drizzle with the syrup. i used these mini trifle bowls and they were the perfect serving size. (aff link)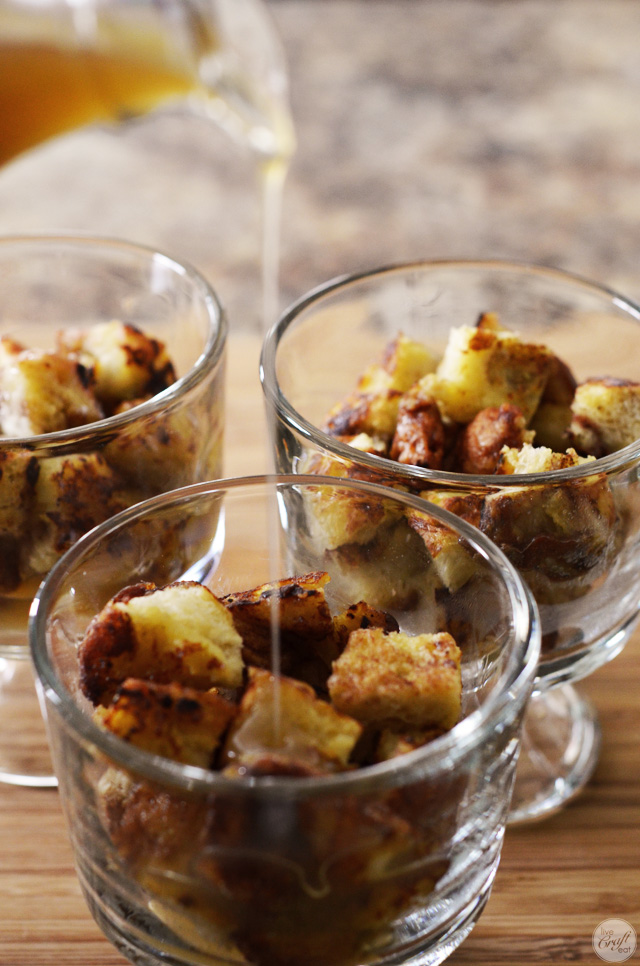 the rest is simple! add a layer of sliced strawberries,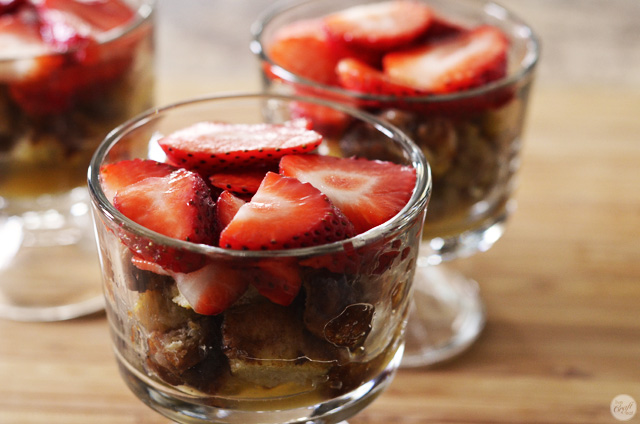 and some fresh whipped cream,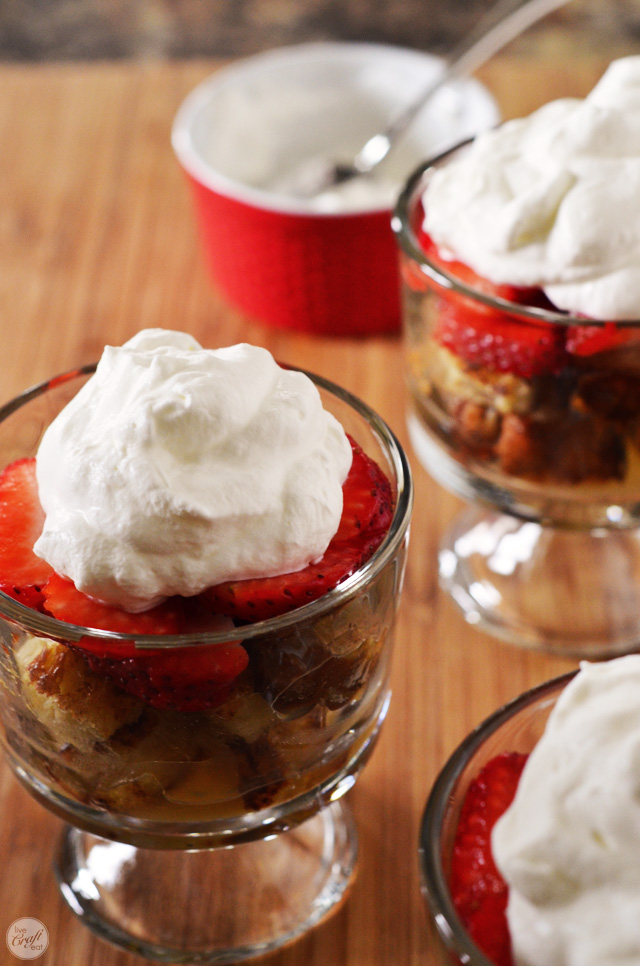 and blueberries or mint, or whatever suits your fancy. grab a spoon or a fork and dig in!
this would also look great in a bigger trifle bowl for a breakfast buffet or just served as french toast is usually served – on a plate. however you decide to enjoy it, you are definitely in for a treat.
happy breakfast!