for as long as i can remember, my husband's family has made cinnamon rolls. there's something sweet about watching his whole family make their way to the kitchen once the smell of these cinnamon rolls waft its way around the house. so since moving away, i've attempted to make them a few times and am always pleasantly surprised at just how easy they are to make! i used to be afraid of yeast because i'd heard it was so finicky, but as long as your water is not too hot (nor too cold) then it seems to work out just fine! i just a simple candy thermometer (aff link) to get this part right.

a few tips before you get started:
* you can use traditional dry yeast or instant yeast (aff links) – the only different is that the instant yeast, well, it rises a lot faster! so in the recipe when it tells you to knead the dough and then cover and let it rest for 20 minutes, the instant yeast may only need 10 minutes – you just want it to double in size, and the instant yeast gets to that point much faster than traditional yeast.
*as with any dry mix that will be beat using an electric mixer don't pour it all in at once! both from pouring and mixing you'll get flour everywhere if you do. rather pour in a little bit at a time and start the mixer on a low speed to work in the dry ingredients. once all of it is worked in you can turn it up. on that note, as can be seen in the picture i've had my kitchen aid and it's attachments (aff link) for over 10 years and it's still going strong. i love it and would recommend one to anyone!  though i've heard bosch mixers (aff link) are super nice as well! whether you use an electric one or a hand beater, pouring in your dry ingredients a little at the time will also reduce wear on the mixer's motor!
* when adding flour to finish making your dough, just remember that the amount may change each time you make it depending on humidity, etc. so just add enough to make a soft dough. even if it seems a little bit sticky still (see next tip)…
* when your dough is finished and you're ready to knead it, remember that the flour you place on your counter top will be absorbed into the dough as you're kneading it, so even if it's sticky to begin with, just keep kneading in that flour until the dough is smooth and elastic and is no longer sticky when you hold it.
* when rolling your dough, the thinner you roll it will dictate how many "swirls" you get in your roll. we like thinner dough with lots of filling so we tend to roll it thin, slather on the butter and cinnamon-brown sugar mixture and roll it as tight as we can!
* when cooking your cinnamon rolls, keep an eye on them. if they start to brown too quickly, simply place a sheet of tin foil loosely over top. they'll still continue to cook but won't get the direct heat from your oven that causes them to turn dark.
enjoy making these easy cinnamon rolls! & see just how fast your family flocks to the kitchen once these cinnamon rolls hit the oven!
:: freezer/make ahead instructions and faq ::
ok, so there have been a few questions about freezing and/or making these delicious cinnamon rolls ahead of time. even though they don't take a huge amount of time to make, nobody wants to wake up at 5am on christmas morning to make them, amiright? i didn't have answers to all of them, so the other week i went ahead and tried a few different things in my "test kitchen" of sorts, just so i could answer a few of those questions definitively. and so i could have an excuse to eat cinnamon rolls!
question no. 1 :: can i make overnight cinnamon rolls without freezing them?
answer :: yes!!! this question is by far the most common, and i'm looking at you mother's day, thanksgiving, and christmas. in the hustle and bustle of the holidays, or even on weekends, you want to know if you can make these the night before. can you roll them, cut them, put them in the fridge overnight, and then just slide them in the oven the next morning? in the past i've always baked them right away rather than letting them sit overnight. so in my testing session i let them sit overnight (about 7-9 hours) in the fridge already rolled, cut into 1″-ish rolls, in a buttered baking dish. in the morning i baked them and they were fabulous!!
pro tips :: the one thing that is an absolute must is to let the rolls come to room temperature before putting them in the oven. it might be useful to note that they did not rise while coming to room temperature, but since they weren't cold anymore, once they hit the heat of that preheated oven they had no trouble getting nice and risen and fluffy! also, i got the rolls into the fridge the night before immediately after rolling, cutting, and putting them in the baking dish. this didn't give them a chance to rise for a second time before chilling them. you also want to cover them with a lid or aluminum foil so that they don't get tainted by any of the other foods in your fridge (onions? leftovers?) that might ruin the heavenly cinnamon roll flavor and smell!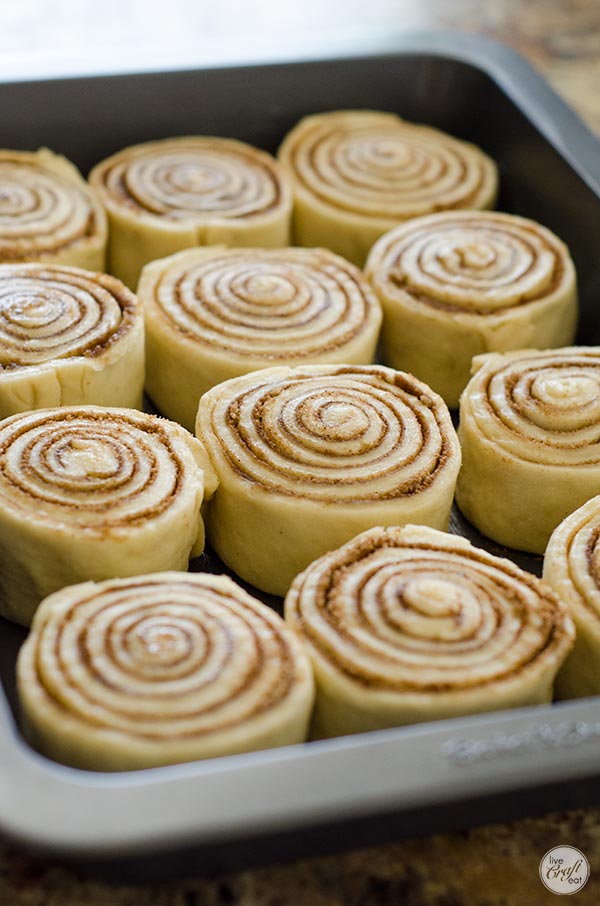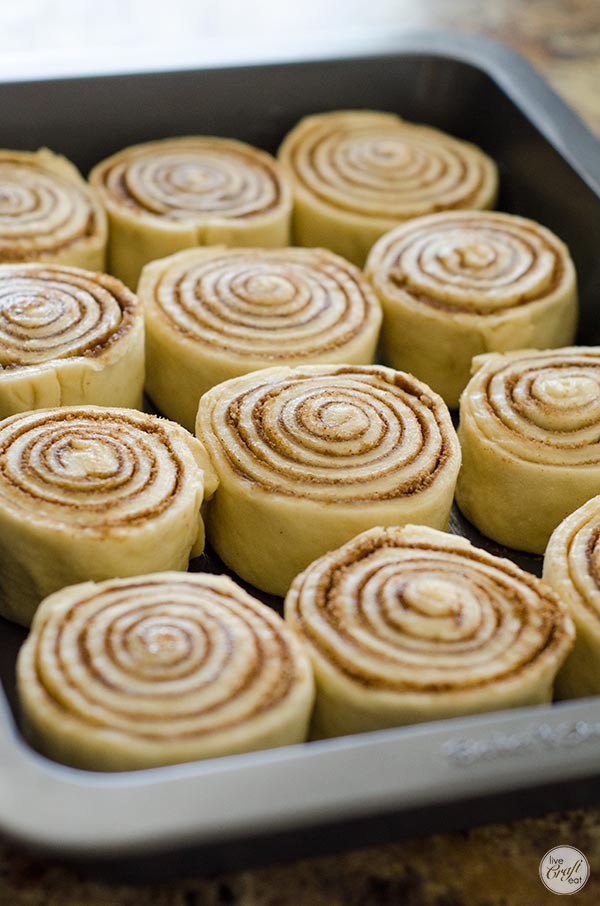 question no. 2 :: what about the freezer? can i freeze them for future use?
answer :: yes! but for how long you should keep them in the freezer, i don't know.  i do know that some foods start to lose their flavor, quality, etc once they've reached their "optimal" time in the freezer. i don't know what that optimal time is for cinnamon rolls. if you know the answer to this, please post in the comments! i think it would be safe to say that a couple of months would probably be good. but in all seriousness, who could let cinnamon rolls sit in their freezer for more than a few days??!!
when i froze mine i only froze them for 24 hours. so they were frozen, just not for an extended period. after letting them get to room temperature (it took about 1-2 hours) i threw them in the oven in the same buttered/greased pan i froze them in (i also put aluminum foil over these), and voila! deliciousness was served.
pro tip :: if you want to serve them in a nice glass baking dish instead of an aluminum pan, i recently discovered these oxo freezer-to-oven baking dishes (aff link) and think they are fabulous! though you will have to still allow the cinnamon rolls themselves to come to room temperature before baking, the pan is great for this and any other dish you want to freeze and then put straight into a preheated oven. plus, it has a lid, so you can skip the aluminum foil and make sure your cinnamon rolls are protected in the freezer with the hard lid.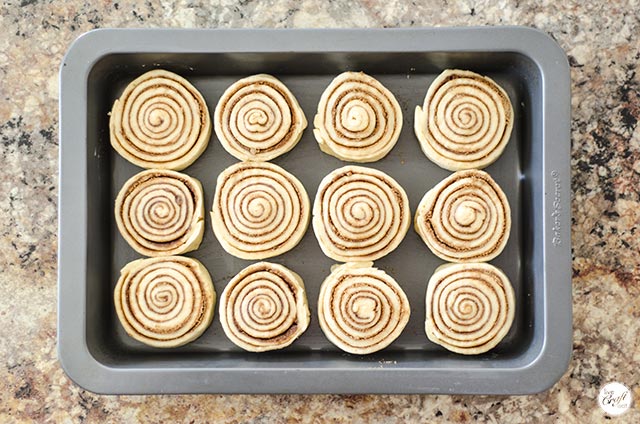 question no. 3 :: how big is your dough after rolling out?
answer :: this really depends on if you do a single batch, a double batch, or on how thin you like to roll it out. the thinner you roll it, the more rolls, or layers, you get in your cinnamon roll. i do a fairly thin layer and it ends up being approximately 24″-27″ wide by 18″ high. it looked almost like a big oval – it doesn't have to be perfectly squared off at the corners. the uneven shape gives your hungry hubby some delicious raw cinnamon rolls from the end of your roll when cutting them! 🙂
how many cinnamon rolls does this make? well, based off the measurements i gave you above, and rolling from right to left so i was left with about an 18″ rolled log, it made 14 cinnamon rolls. the two little end pieces were quickly devoured by hovering children. again, it just depends on how you roll out your dough, but the average is probably 12-15 cinnamon rolls per batch.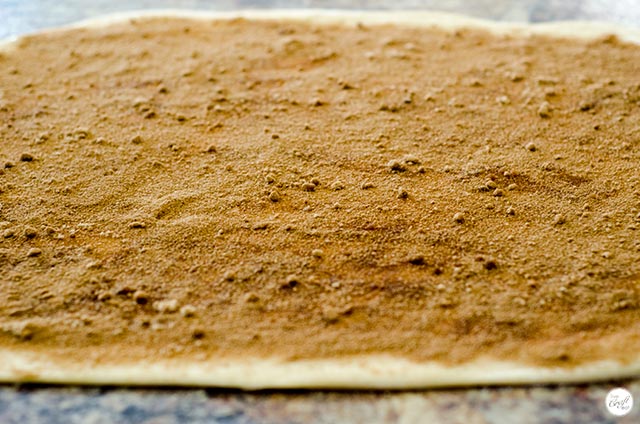 question no. 4 :: instant yeast vs. traditional yeast.
answer :: the recipe calls for traditional yeast and it's what i've always used for these rolls. but i have made regular bread lots of times and have used instant yeast for that on occasion, and you need to only let it rise for about 20-30 minutes, or until the dough has doubled in size. no matter what yeast you use, your cinnamon rolls will turn out great! so if you're in a hurry, or only have the instant yeast, feel free to use the instant yeast without fear of it not turning out!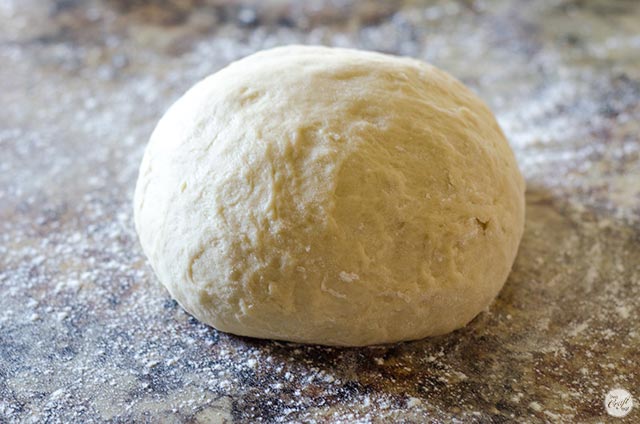 question no. 5 :: do i have to make these by hand? can i use a stand mixer?
answer :: you can do either way! my grandma-in-law always makes hers by hand. i always use a stand mixer! just remember to take it out before you've incorporated all the flour, because you'll want to knead it a few times and the flour on the countertop will absorb some of the flour you've sprinkled on your surface.
i've used both a kitchen aid stand mixer and a Bosch stand mixer (aff links) for making this dough. the kitchen aid worked well for a while, but after using a bosch, i would definitely recommend a bosch. it has twice as much power than the kitchen aid and is fabulous for making dough! we make pizza dough, cookie dough (in large quantities), bread dough, etc with it all the time and it is always up to the challenge!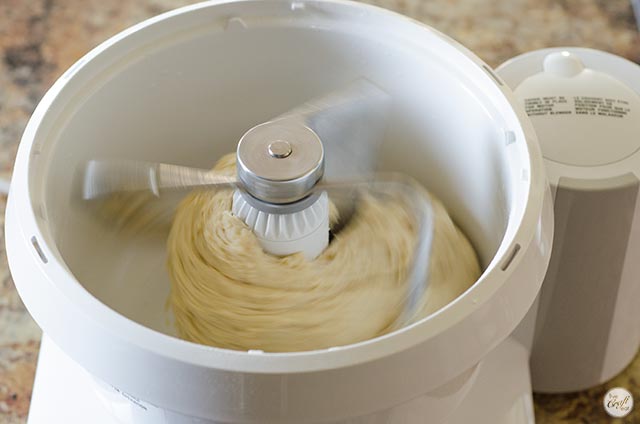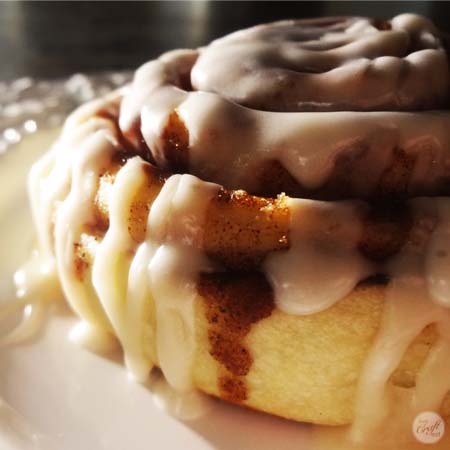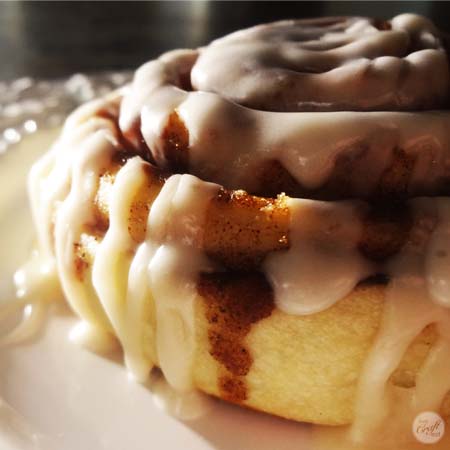 [follow the step-by-step pictures, start from the top & go left to right on the first image in this post]
Planning on trying this recipe? Please consider leaving an honest review of how your cinnamon rolls turned out. Even better, leave a comment as well and let us know how it went so future readers can continue to get awesomely delicious cinnamon rolls. You can leave a review and comment at the very bottom of this page after all the previous comments!
Print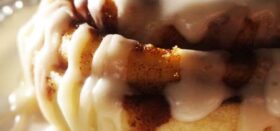 easy homemade cinnamon rolls
---
Author:

Total Time:

1 hour 5 mins

Yield:

1

2

1

x
for the dough:

4

–

5

cups all-purpose flour

2

packages dry yeast (

4.5 teaspoons

)

1 teaspoon

salt

3/4 cup

milk

1/2 cup

water

1/2 cup

melted butter

1/2 cup

sugar

1

egg
for the filling:
melted butter for spreading

1/2 cup

brown sugar

2 teaspoons

cinnamon
for the icing:

1.5 cups

powdered sugar

1 Tablespoon

butter

1/8 teaspoon

vanilla

2

–

3

Teaspoons hot water
---
Instructions
to make the dough:
mix together 1 3/4 cups flour, yeast, and salt. set aside.
in a small saucepan, heat the milk, water, butter, and sugar over med-low heat until it reaches 120-130F, stirring constantly. pour into the dry mixture and beat until smooth.
add egg and 1/2 cup flour and beat for another 2 minutes.
gradually add enough flour to make a soft dough (probably cup or two).
knead dough. cover and rest for 20 minutes.
once dough has risen, roll out into a rectangle, approx 1/4″ thick. spread melted butter over top, and sprinkle filling overtop, leaving a 1/2″ border all the way around.
to make the filling:
combine brown sugar and cinnamon. (double amounts, if necessary, to cover the area.)
roll the dough as for a jelly roll, keeping it as tight as possible. when you get to the end, pinch the dough along the top and cut into 12 rounds, using a knife or bench scraper. place rolls on a greased pan and bake at 375 for 15-20 minutes until golden brown. let cool slightly, then top with glaze.
to make glaze:
combine powdered sugar, butter, vanilla, and hot water and stir until you reach a smooth consistency.
Prep Time:

45 mins

Cook Time:

20 mins