How To Make Snickerdoodle Cookies?
If you're looking for a super quick summary here are the steps of how to make homemade snickerdoodle cookies from scratch:
Cream ½ cup butter and ¾ cup sugar.

Add 1 egg, 1 tablespoon milk, and ½ teaspoon vanilla.

Then add 1.5 cups flour, ¾ teaspoon baking powder, and ¼ teaspoon salt.

Roll dough into 1.5″ balls and roll them in cinnamon sugar (2 tablespoons sugar and 1 tablespoon cinnamon).

Bake for 12 minutes at 375F. Makes 1.5 dozen cookies.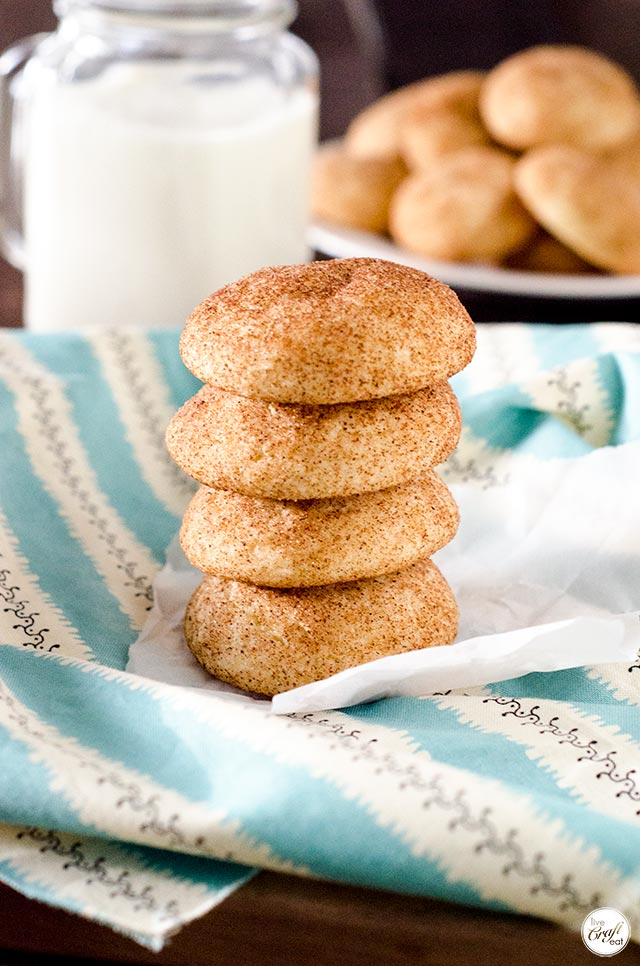 since we had the cinnamon out for our easy homemade cinnamon rolls, we decided to go ahead and make one of our favorite cookie recipes. snickerdoodles are really easy to make and don't require any complicated ingredients – in fact, you probably have everything you need to make it in your house right now. and all you need to do is make a simple dough, roll it into balls, and then roll the balls in cinnamon-sugar. every time i make them they turn out just right. and not only will they make your house smell incredible, but if your family is anything like mine, you won't even need a place to store them…they'll be gone well before you have need to do that!
so go ahead and grab some flour, sugar, baking powder, salt, butter, milk, vanilla, and one egg. this is going to make a really tasty cookie dough.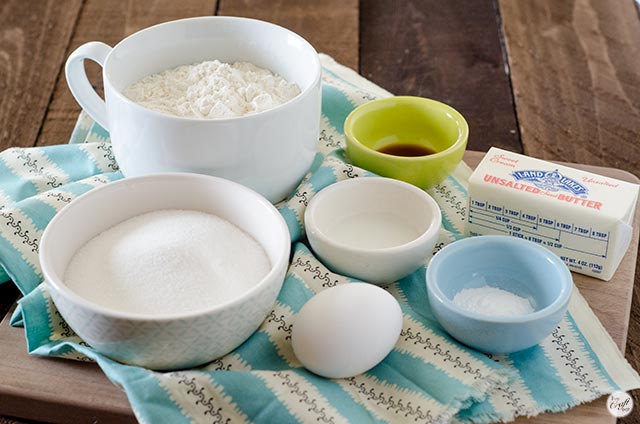 once you have the dough made, simply roll it into 1.5-2 inch balls (approximately 1.5-2 tablespoons of the dough) and set aside.
make some cinnamon sugar by mixing together the 2 tablespoons sugar and 1 tablespoon cinnamon.
now all you have to do is roll each ball of dough in the cinnamon sugar mixture. my kids love helping with this part!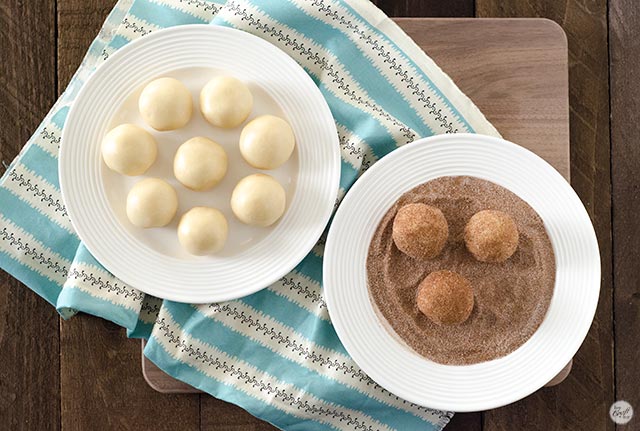 all you need to do now is place them on a parchment-lined baking sheet and bake for 12 minutes. your house is going to smell so good!!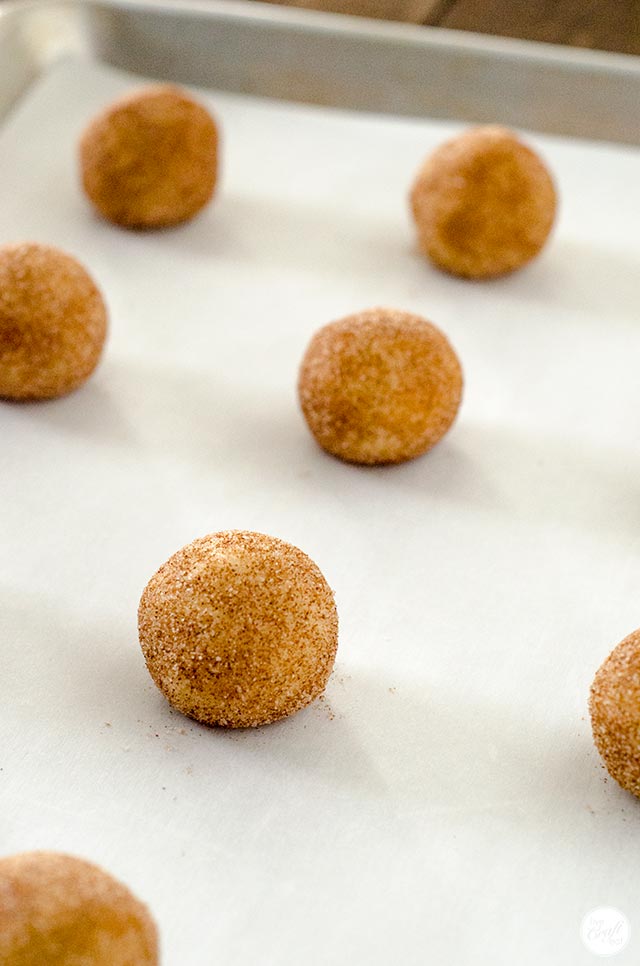 i always put 12 on a cookie sheet, but you may be able to fit in a few more depending on how much dough you used to make the balls.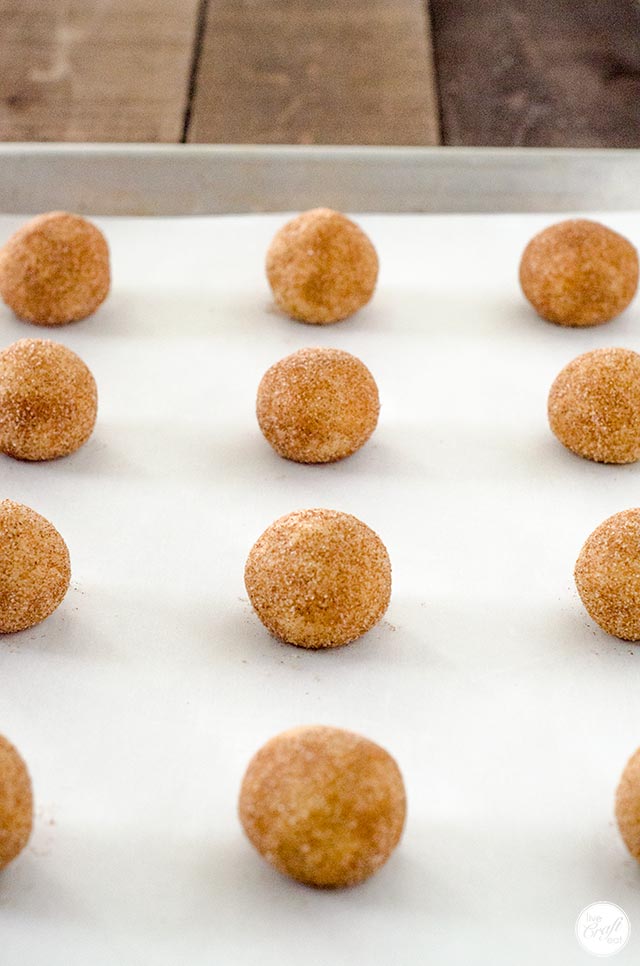 when they're done, the snickerdoodle cookies will have spread out somewhat but will still be a little bit puffy resulting in an almost cake-like texture in the middle with a little bit of a crunch from the cinnamon-sugar layer on the outside. be forewarned – these things are addictive! i dare you to just eat one. it's impossible. so you might need to make a double batch. just sayin'.
enjoy these ridiculously easy snickerdoodles – they're the best thing to bake on any given day!
Print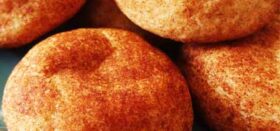 easy snickerdoodles cookies
---
1/2 cup

butter

3/4 cup

sugar

1

egg

1 Tablespoon

milk

1/2 teaspoon

vanilla

1 1/2 cup

flour

3/4 teaspoon

baking powder

1/4 teaspoon

salt
cinnamon sugar = 2 Tablespoons sugar + 1 Tablespoon cinnamon.
---
Instructions
Cream the butter and sugar. Add egg, milk, and vanilla. Then add flour, baking powder, and salt. Roll dough into 1.5″ balls and roll them in cinnamon sugar. Bake for 12 minutes at 375F.
Makes approx. 1 1/2 dozen cookies (depending how much dough you use for each ball).
and just in case you're looking for a bit of chocolate in your cookies today, try these awesome (freezable!) big-batch oatmeal chocolate chip cookies.
Other Posts You May Like: