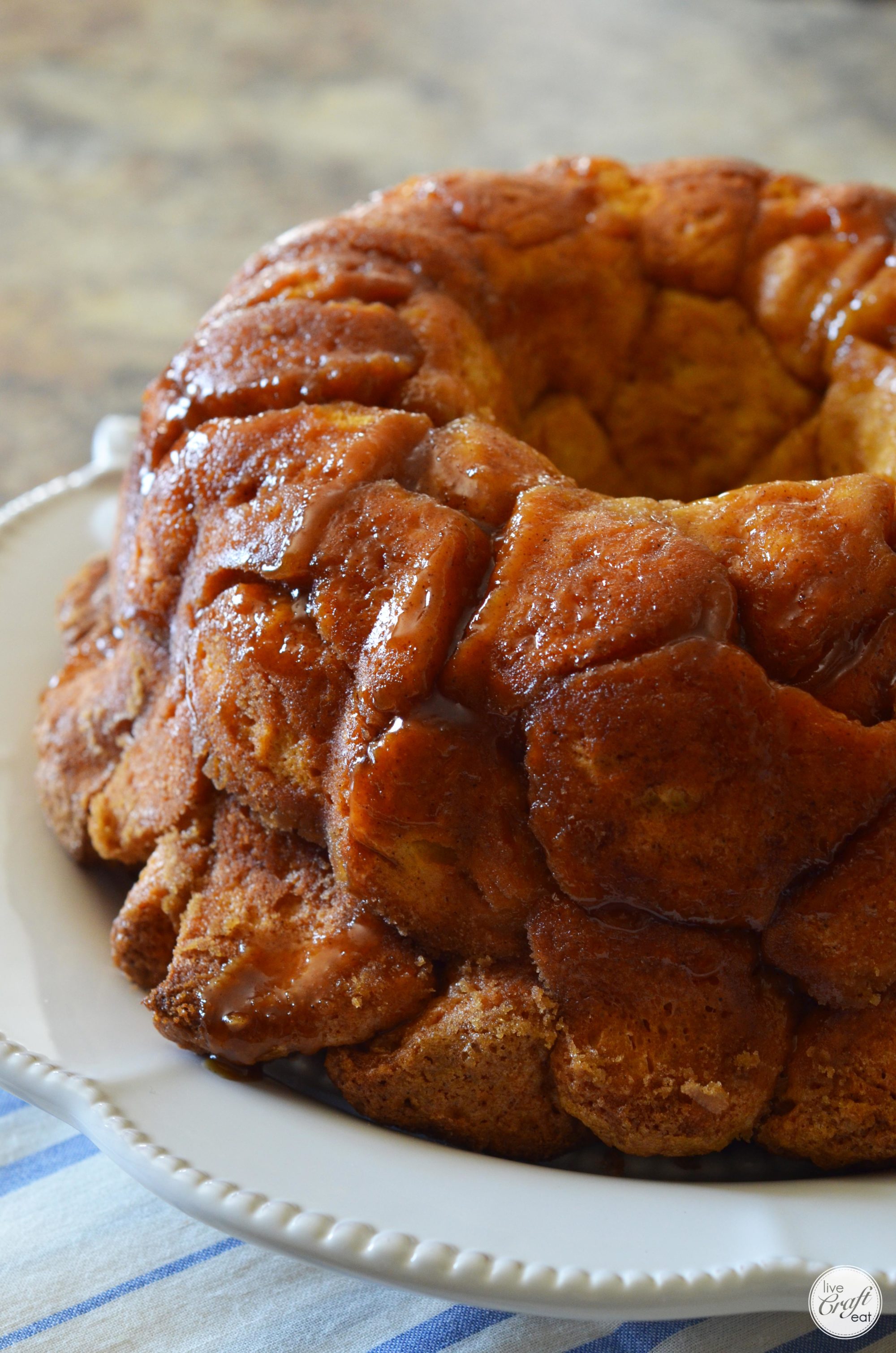 there is something about saturday mornings that make them so inherently different than the weekday hustle and bustle. maybe it's because there's no set schedule, maybe it's because we don't have to go in to work, or maybe it's because my kids – after being so busy and active during the week – take the opportunity to sleep in instead of waking up at 5am. regardless of what it is that makes them feel different, there is definitely a much more relaxed mood at our house. so i love to leisurely make a special saturday morning breakfast to kick-start our weekend. usually it's pancakes, cinnamon rolls, or sausage and red pepper scrambled eggs, but this past weekend, it was monkey bread.
i have a super easy overnight monkey bread recipe that is super popular here on the blog. and when i'm on top of things and think ahead the overnight version is a great one to make. but sometimes just the thought of a saturday morning makes me lazy and i don't take the 5 minutes it takes to put it together the night before. fortunately for people like me, there's this super easy version that takes maybe 5 -10 minutes to put together, 1/2 hour or so to bake in the oven, and then no time at all for it to be devoured. and you make it all from start to finish in the morning. all you need are these 5 simple ingredients:
refrigerated biscuits, white sugar, brown sugar, butter, and cinnamon.
if that doesn't make your house smell heavenly on a saturday (or any day) morning, i don't know what will!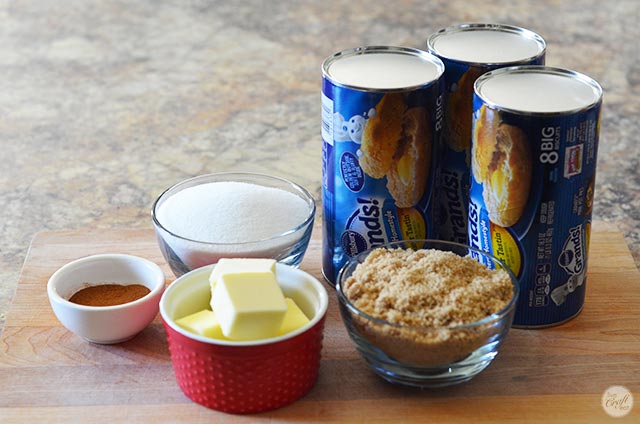 and to put it together, all you need to do it cut the biscuits into quarters (slice one way, then the other!), and then roll them around in cinnamon-sugar until they are totally covered (my kids LOVE to help with this part!)…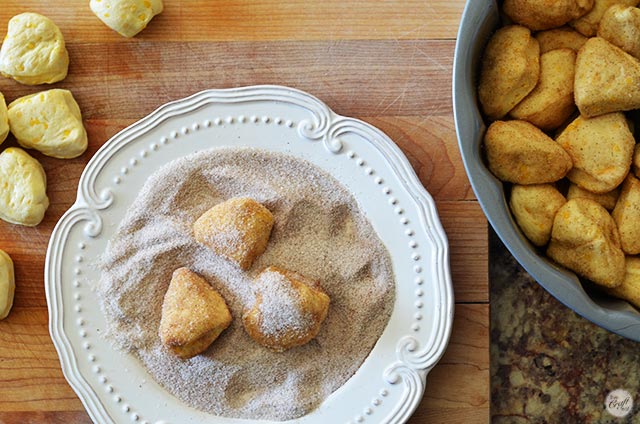 …and then put them in a greased bundt pan. (aff link – but i totally love this one…i've been using it for years, and i've even forgotten to spray the pan on occasion and it totally didn't matter!)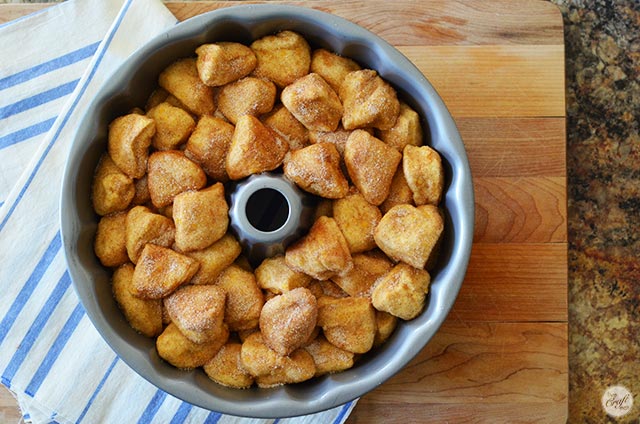 it's smelling great already! now to make it all ooey and gooey and totally mouth-watering, just melt the butter and brown sugar together and drizzle it over the top, like so: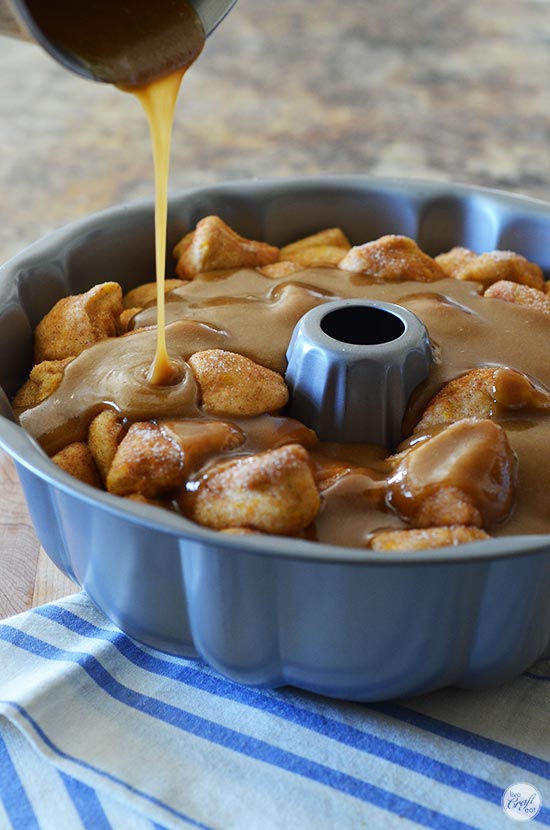 oh my goodness, i can't even handle it.
all that syrup is going to get into the nooks and crannies and bake into the dough to make this one delicious breakfast treat!
i had to hurry and take this picture before it got devoured by some bed-headed, sleepy-eyed kids of mine. the little pieces of the biscuits covered in the butter and brown sugar mixture and the cinnamon-sugar are the perfect size for little hands to pull off and enjoy. and if for some crazy reason it doesn't totally get gobbled up, it's great to have out on the counter for a little sweet bite here and there throughout the morning.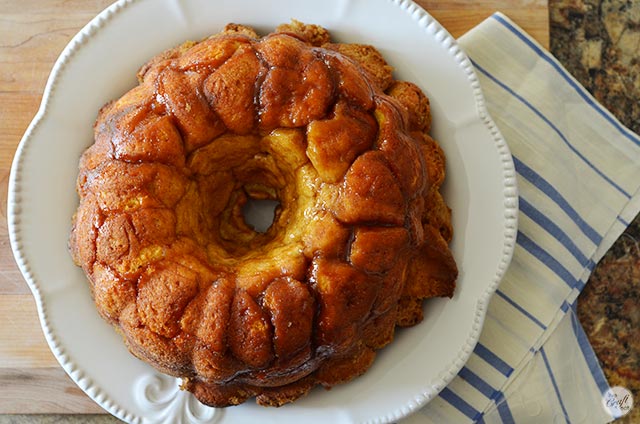 thanks heavens for cinnamon and brown sugar – they make saturday morning something to really look forward to!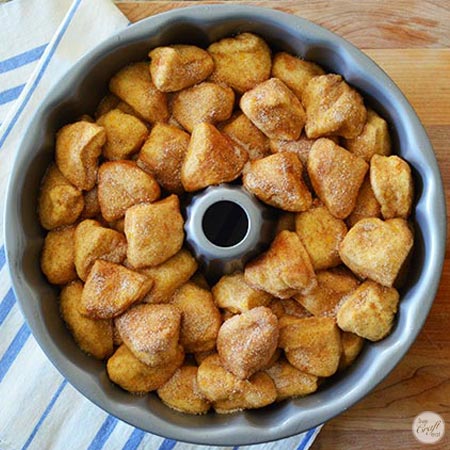 get the easy peasy 5-ingredient recipe below so you can try it out this weekend!
Print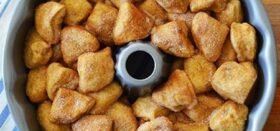 easy monkey bread
---
Author:

Total Time:

45 mins

Yield:

serves

6

-8

1

x
3

cans refrigerated biscuits (like 74 gr-alert gr_spell gr_disable_anim_appear undefined ContextualSpelling ins-del multiReplace" id="74″ data-gr-id="74″>pillsbury 76 gr-alert gr_spell gr_disable_anim_appear undefined ContextualSpelling ins-del multiReplace" id="76″ data-gr-id="76″>grands)

1 cup

sugar

1 tablespoon

cinnamon

1/2 cup

butter

1 cup

brown sugar
---
Instructions
open biscuits and cut individual biscuits into quarters. combine the sugar and the cinnamon in a bowl and roll each of the biscuit pieces in the cinnamon sugar mixture until well coated. place in a well-greased bundt pan.
in a saucepan, combine butter and brown sugar, and bring to a boil. remove from heat and pour over biscuits.
bake at 350 for 35-40 minutes.
Prep Time:

10 mins

Cook Time:

35 mins
if you love this recipe, don't forget to PIN IT so you'll never lose it!: