* this is a sponsored post. i was given the au gratin dish from le creuset under the agreement that i'd post an honest review. le creuset didn't require anything beyond an honest post. all opinions are my own. they also provided the second au gratin dish as a giveaway prize. this post also contains affiliate links and both the affiliate links and those to le creuset are no followed as per google's policies. giveaway entry instructions and rules are at the bottom of this post – but why would you skip a recipe as awesome as this!? * 
i am so excited to share this recipe with you today! not only because it is one of my favorite springtime desserts (rhubarb is a seasonal fruit and is available the beginning of spring), but because one very lucky reader will be winning a 3.1 quart le creuset au gratin dish from their heritage collection, just like the one featured in this post! i love le creuset products, and the au gratin dish (<– it's essentially the same price on amazon as it is on le creuset's website if you don't win!) is perfect for everything from casseroles, baked macaroni and cheese, potatoes au gratin, and yes, even desserts like this easy rhubarb crisp. keep reading to see how this fruit crisp comes together and to find out how you can enter to win one of these le creuset dishes for yourself, or for a mom you know for mother's day! btw, i even have this iron skillet from le creuset and absolutely love it! if you don't win, throw that skillet and au gratin dish in your amazon cart and you won't be disappointed. regardless of where you get them they are wonderful to have in your kitchen!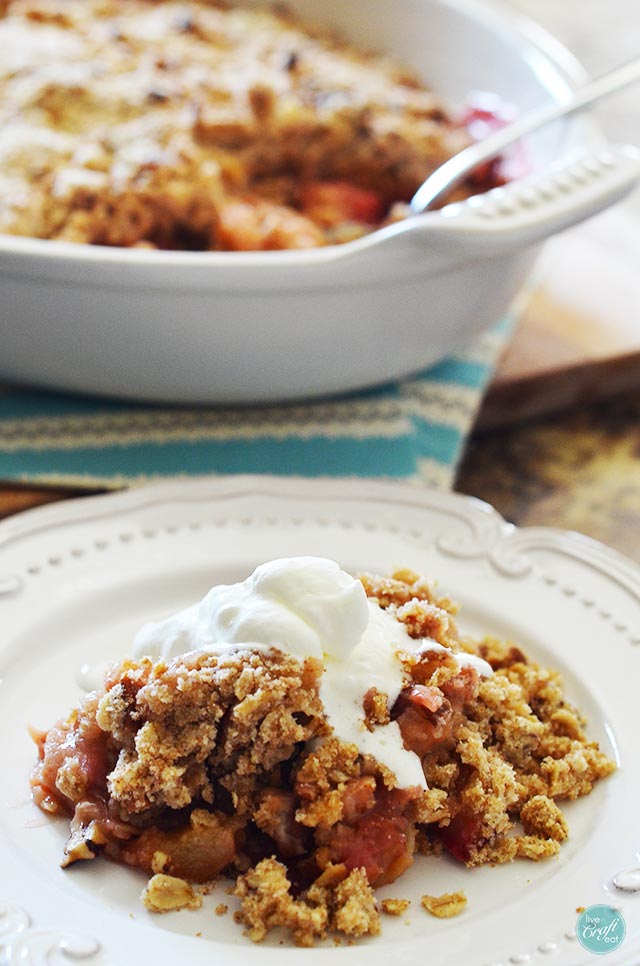 any fruit crisp consists of a sweet fruit bottom with a crumbly topping that crisps up when it bakes so you get the soft, sweet bottom and the crispy, crunchy top all in one amazing dessert. for this rhubarb crisp you'll need a bunch of rhubarb, which you can grow yourself in a lot of places, or you can buy at the store around the beginning of spring. to sweeten it up, all you'll need is some sugar, and then a little bit of flour or cornstarch to thicken it up and keep it from becoming rhubarb soup.
for the crisp topping, you'll need flour, sugar, brown sugar, old fashioned oats (not the quick-cooking kind), cinnamon, pecans (my absolute favorite part about the topping!), and butter.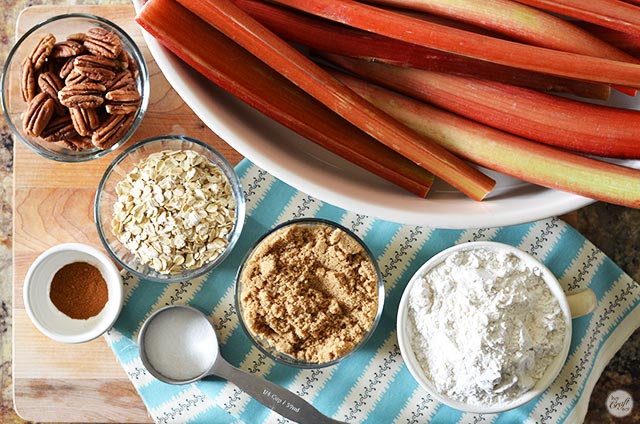 now that we've got everything together, you'll need to wash and slice the rhubarb into about 1/2″ pieces and place them in a large bowl. i love the red and green colors.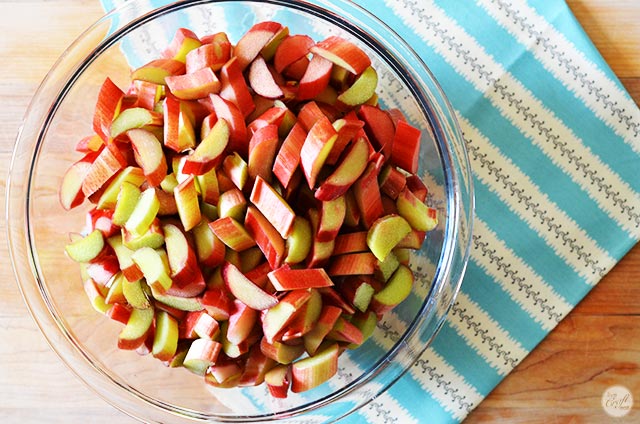 rhubarb on its own is very tart, and while you'll still be able to taste a little bit of that tartness in the final dessert, it will have a much, much sweeter taste if you add a bit of sugar. it's the perfect combination.
at this point you will also want to add a little bit of flour. as with any fruit when it is combined with sugar and then baked in the oven, the rhubarb will become very juicy and the flour helps to thicken up the juice and keeps the whole dessert from becoming too wet.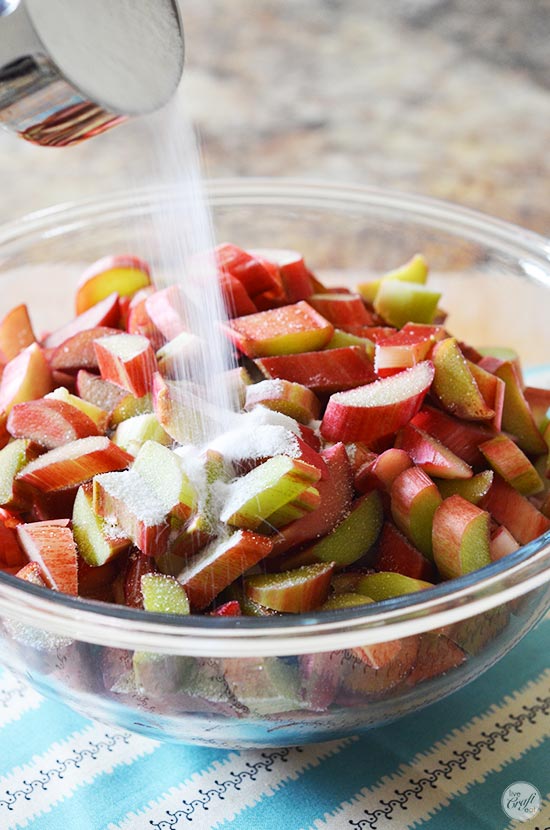 mix the rhubarb, sugar, and flour together and pour it all into the baking dish. this one is the perfect size.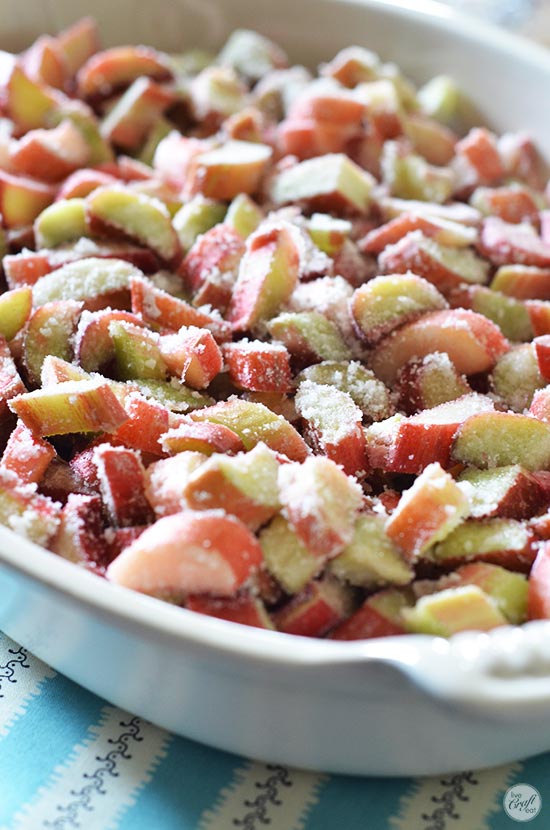 set the rhubarb aside while you make the topping for the crisp. grab a big bowl, a pastry cutter (or two knives), some cold butter cut into cubes, and the following ingredients: flour, sugar, brown sugar, oats, and cinnamon. place all the dry ingredients into the bowl and add in the butter. cut in the butter until it's about the size of peas and the whole thing has a coarse, crumbly texture.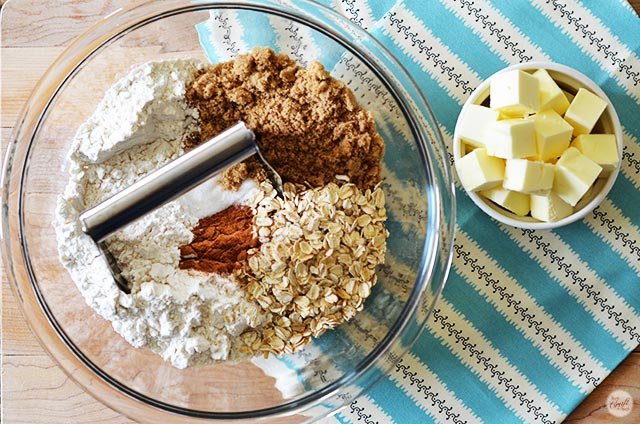 then chop the pecans and stir them into the crisp mixture.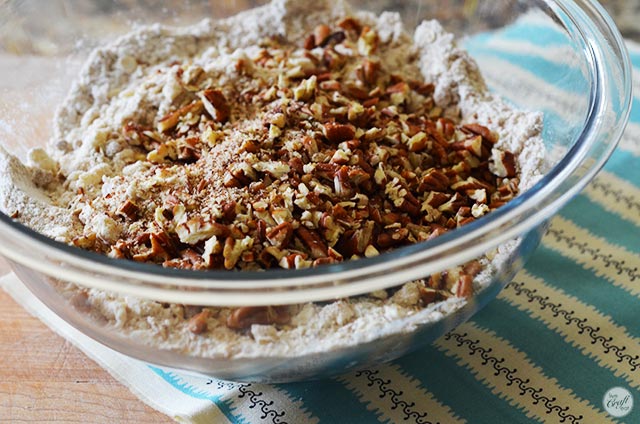 grab the rhubarb that you set aside a few minutes ago and cover the whole dish with the crumbly topping, and bake.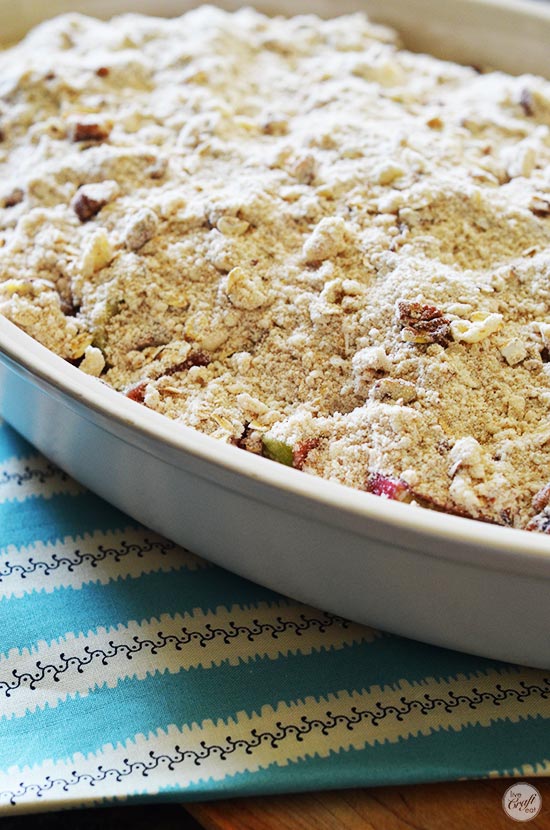 you'll know it's ready when your house smells amazing and the topping is crisp (hence the name) and browned…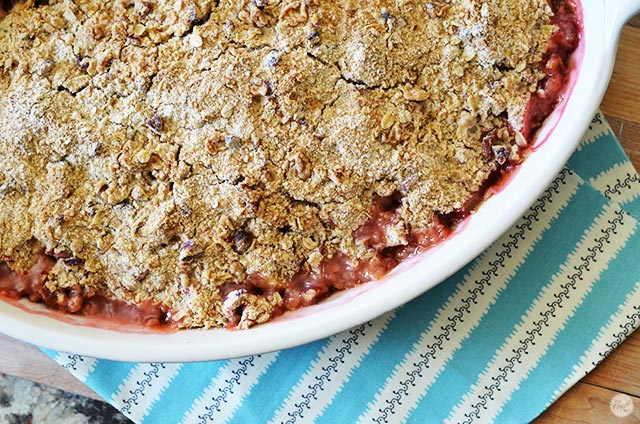 …and the rhubarb filling has totally softened and is bubbling around the edges.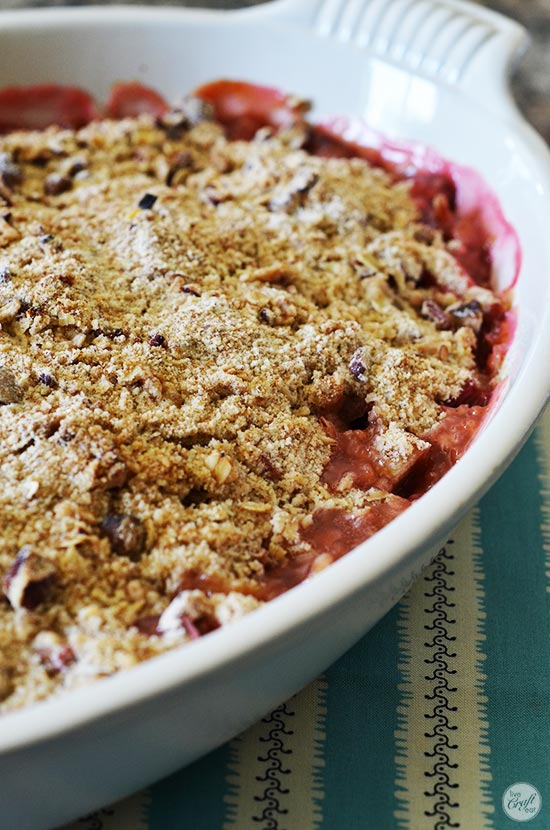 this is heaven, right here! a sweet/tart softened rhubarb base with a deliciously crumbly topping with the pecans for some extra crunch – yum!!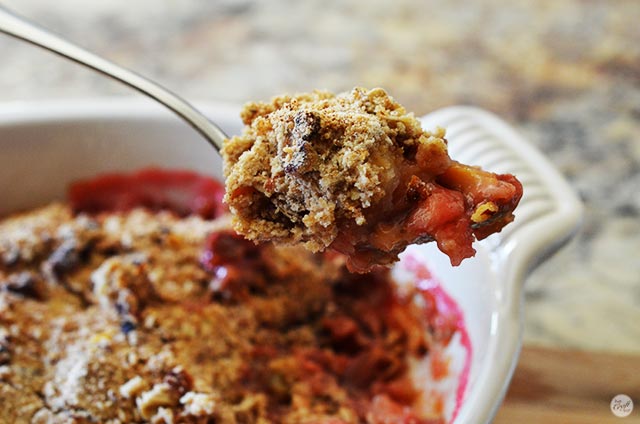 and to take it the extra mile, you can add some vanilla ice cream or some sweetened whipped cream (which i opted for this time around) and serve it right atop the warm rhubarb crisp. i love when the ice cream/whipped cream melts and cascades all over the crisp!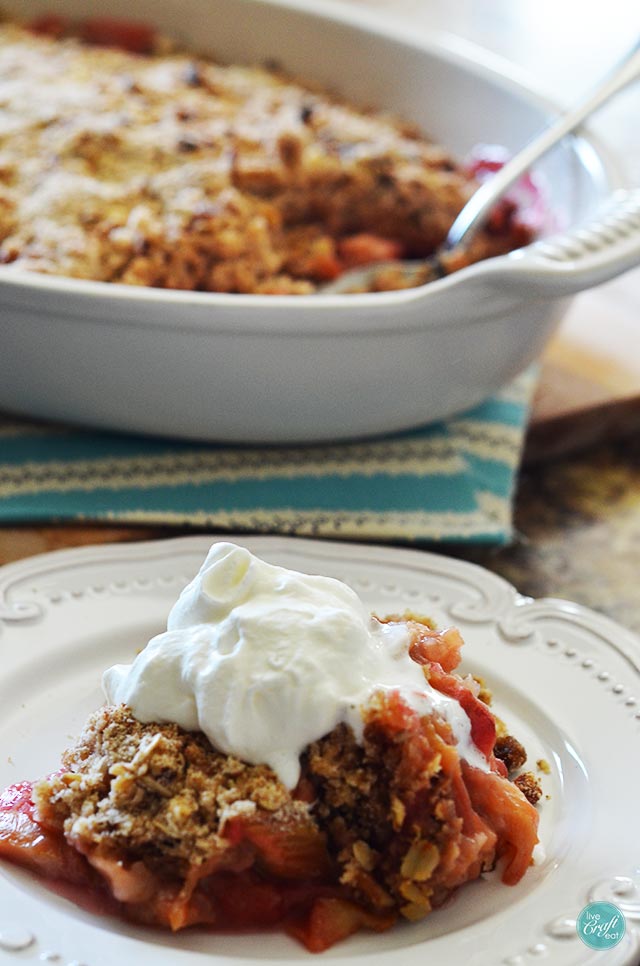 this truly is the quintessential springtime dessert and i hope you get a chance to try it soon! better yet, i hope you get a chance to try it in the le creuset heritage au gratin dish that we're giving away today! it would be the perfect thing to gift to your mother this mother's day (or for you to gift to yourself!). wouldn't you or your mom love some rhubarb crisp baked in a dish that she or you got to keep?!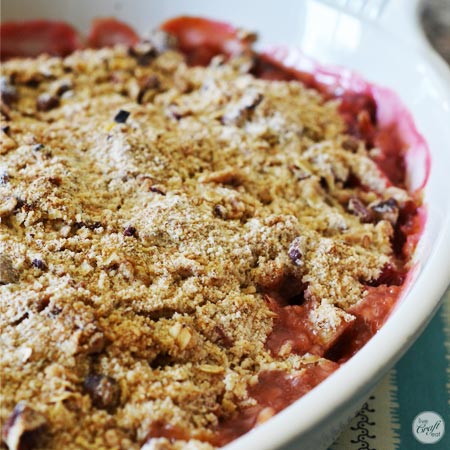 Print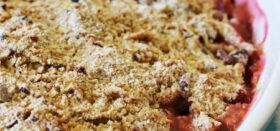 homemade rhubarb crisp
---
Author:

Total Time:

55 mins

Yield:

6

-8

1

x
for the rhubarb filling:

2

–

2 1/2

pounds rhubarb, sliced into

1/2

" pieces

2/3 cup

sugar

3 tablespoons

flour or cornstarch
for the topping:

1/2 cups

old fashioned oats (not the quick-cooking kind)

1 1/2 cup

all-purpose flour

1/8 cup

sugar

2/3 cup

brown sugar

1/2 teaspoon

cinnamon

1 1/2

sticks cold butter

1/2 cups

pecans, chopped
---
Instructions
in a large bowl, combine the sliced rhubarb, 2/3 cup of sugar, and 3 tablespoons flour. place in an ungreased 3-quart baking dish. set aside.
in another large bowl, make the crisp topping by adding the oats, flour, sugar, brown sugar and cinnamon. cut the butter into small cubes and place in the bowl. using a pastry cutter (or two butter knives), work the butter into the dry ingredients until it resembles coarse crumbs. stir in the chopped pecans.
spread the topping over the rhubarb mixture, making sure to cover completely. bake at 400 for 40-45 minutes, until the crisp topping is golden brown and the rhubarb is bubbly around the edges. serve warm from the oven, or cool to room temperature, and serve with whipped cream or vanilla ice cream.
Prep Time:

10 mins

Cook Time:

45 mins
if you like this post and want to save the recipe for later or share it with your friends, make sure you PIN IT!: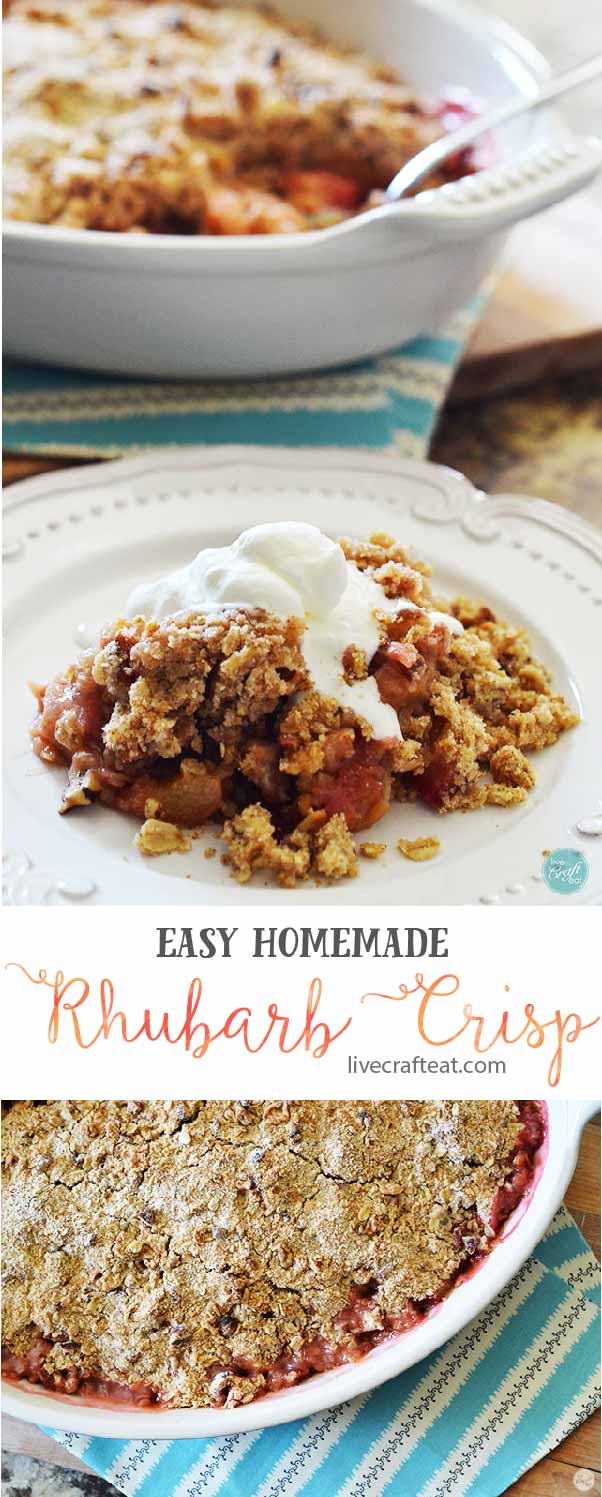 giveaway entries and rules
only u.s. residents are eligible to win. one entry per household. one lucky winner will be selected by a random number corresponding to a comment left on this post. if the winner doesn't claim their prize within 48 hours i reserve the right to select a new winner. one au gratin dish, like the one pictured in this post, will be shipped from le creuset directly to the winner. approximate value is $65. each item below will count as one entry. please comment for each thing you did in a separate comment. giveaway ends on 4/22/2016 at midnight mst. winner will be announced on 4/23/2016.
do any or all of the following and leave a separate comment for each and every thing you did:
like live craft eat on facebook (make sure your comment includes the name used on your facebook account)
follow live craft eat on instagram (comment with your instagram username)
like the instagram picture from this post on live craft eat's instagram profile (comment saying you did so)
follow live craft eat on pinterest (comment with your pinterest username)
pin any image of your choice from this post to pinterest (comment with the pinterest url)
follow live craft eat on twitter (comment with your twitter @username)
retweet this tweet: https://twitter.com/livecrafteat/status/721059573449236480 (comment saying you did so)
comment on this post what you would make in your new au gratin dish
so the maximum number of entries per person is 8, which should result in eight separate comments for any one person.
good luck!!
this contest is now closed. the winner was maggie smith. congrats!
Other Posts You May Like: