today i was feeling kinda lazy. it's raining and dark and cold. i didn't get out of my pajamas until the afternoon. i didn't feel like cleaning. i didn't feel like making anything for dinner. but i also did NOT want to feel all crazy when everyone started saying, "i'm hungry!" over and over and i didn't have anything ready. so i thought i'd better get something made before it got to that point – enter super easy chicken bbq sandwiches!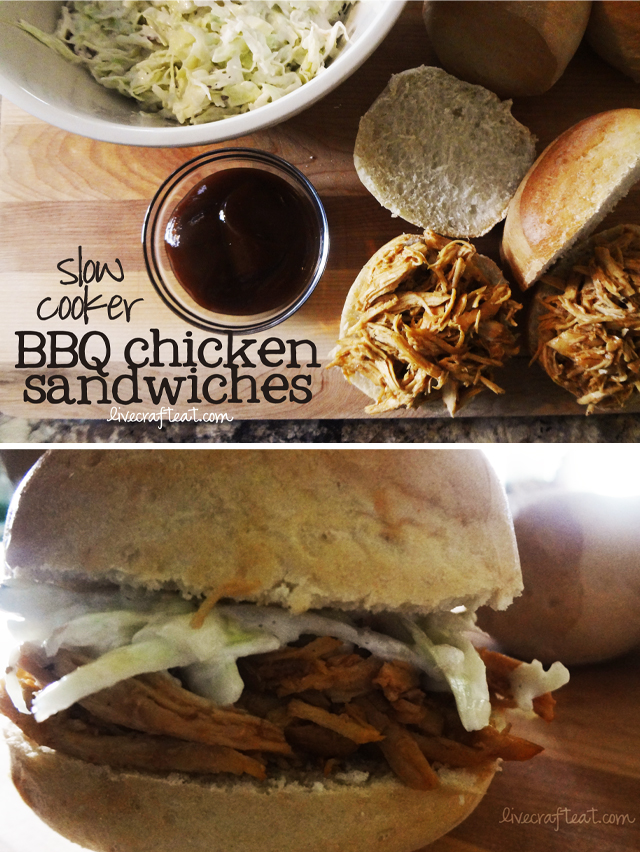 these are seriously so easy, you just won't believe it. all you need is some chicken, bbq sauce, and a slow cooker. and rolls.
chicken: when i buy my boneless skinless chicken breast on sale, i get home and immediately start trimming it the way i like it (i'm a bit particular when it comes to my meat). all the little pieces of fat and everything else that they forgot or neglected to take off at the store gets taken off by yours truly to get it ready for freezing. then when i'm ready to use it, it's as easy as defrosting it and using it for whatever i need it for. no prepping on cooking day and no worrying that i might find a little bone shard or (gasp!) a vein! if i do it when i first get home from the store i save myself from having to do it later when i probably won't feel like it. that's a huge thing for me when it comes to making an easy meal – it has to be one that has as little prep as possible.
bbq sauce: you can use whatever kind of bbq sauce you like. i like sweet baby ray's, my husband likes regular ol' kraft. i want to try a homemade bbq sauce recipe one of these days. any suggestions??
rolls: obviously you could use a bunch of different kinds of rolls – whatever kind you want, in fact! but my favorite to eat these with are the "steak rolls" from walmart!
all you need to do it take your fresh or defrosted chicken breasts and place them in the crock pot. pour in the bbq sauce and make sure the chicken is coated with it. turn on your crock pot. in a few hours you'll just need to shred the chicken, wait a bit longer so the sauce can all be absorbed, and it's as easy as that!
i personally love homemade coleslaw and i love to eat it on these bbq sandwiches. the recipe i've been using for forever and a day is one from martha. you can get her homemade coleslaw recipe here. it also is a perfect recipe for a day when you're feeling super lazy because, well, there's really nothing to it!
hope you enjoy your lazy day (and the yummy food you can still make!)!!
Print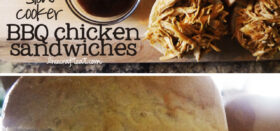 easy slow cooker bbq chicken sandwiches
---
4

chicken breasts

1

to

1.5

cups of your favorite bbq sauce
rolls
coleslaw (optional)
---
Instructions
Combine the chicken and bbq sauce in the crock pot, making sure your chicken is coated in the sauce. Cook on low for 3 hours. Shred chicken and continue cooking on low for 1/2 hour to 45 minutes more, to absorb all the sauce.
Serve in rolls, with or without coleslaw. Enjoy!
Other Posts You May Like: