my husband has always been a huge fan of german chocolate cake. when we lived in nyc and would go to magnolia bakery, that's what he would always order. (my favorite was the white chocolate macadamia cheesecake…not that you're interested in what i liked there, but man, it was heaven!)
anyway, i made my sister's german chocolate cake recipe for my husband at home a couple weekends ago and he said it reminded him of the one at magnolia! i guess that means it's a keeper! you can make it too, and pretend you're having a little piece of nyc.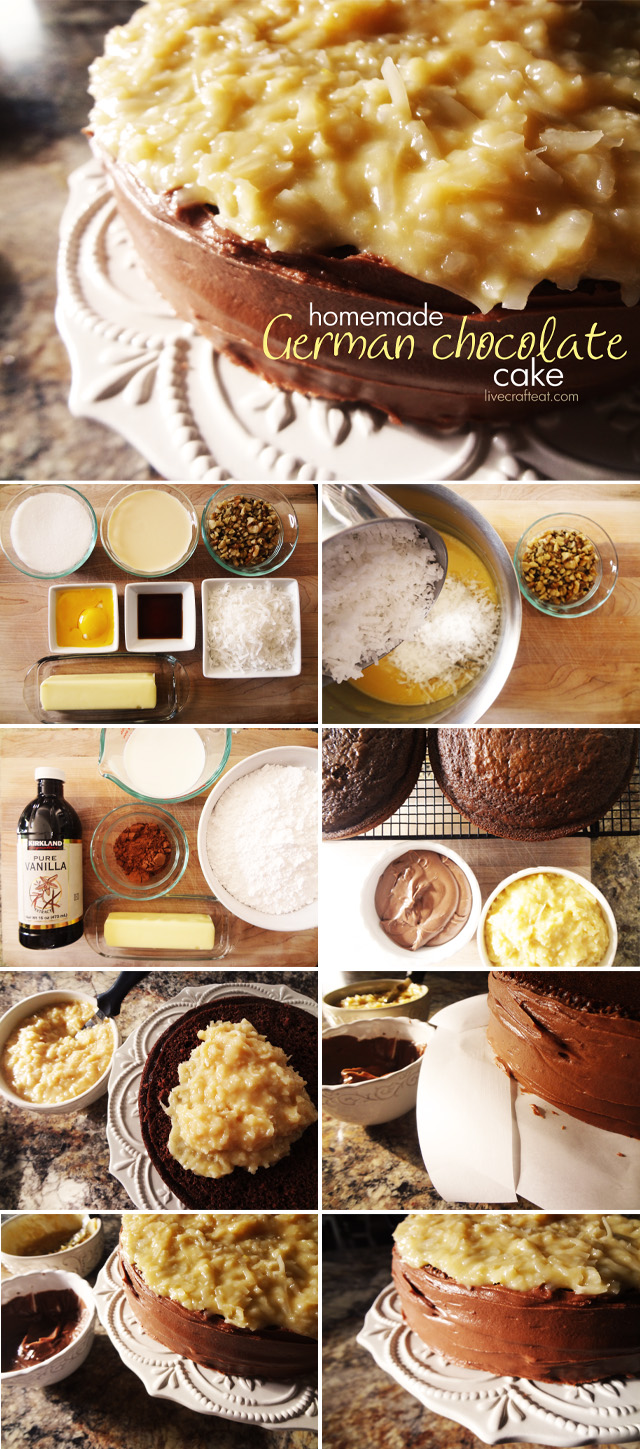 german chocolate cake
the cake:
1 box german chocolate cake mix
make according to directions on box and bake in two round cake pans.
the coconut topping:
1 can evaporated milk
1 cup sugar
3 egg yolks
1/2 cup butter
1 teaspoon vanilla
1 1/3 cup coconut (or more, if you like!)
1 cup chopped nuts (optional)
combine the evaporated milk, sugar, eggs, and vanilla in a sauce pan. cook until thick (approximately 12 minutes). remove from heat and add coconut and nuts (i didn't use any nuts). set in a large shallow pan filled with cold water and ice cubes. stir until cook. spread this topping between the layers of cake and add to the top of the cake after you've frosted the sides with chocolate frosting.
the chocolate frosting:
3 tablespoons cocoa powder, sifted
3 cups powdered sugar, sifted
1/2 stick (1/4 cup) softened butter
vanilla to taste
milk to consistency
combine all and stir until smooth. remember it's better to have the frosting a little too thick than too runny. spread around the sides of the cake.
tips:
1. once the cakes have cooled, place them in the freezer for a few minutes. you don't want them to be frozen, but i find that having them cold helps when trimming off the tops to make an even surface. also, when you're done spreading the coconut topping on the first layer, flip the second cake upside down so the smooth side (what was the bottom of the cake) is on the top. that way you don't have any rough-cut surfaces on the outside of the cake.
2. when frosting the sides of the cake, you can cut strips of parchment paper and slide them just under the cake. this way, if some of the frosting falls off your spatula it doesn't get your cake stand messy. when you're done icing, just remove them!
want some more chocolate inspiration?  check out & follow my chocolate pinterest board!
Other Posts You May Like: