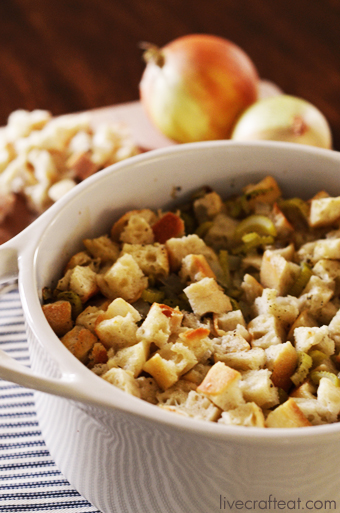 thanksgiving is right around the corner! have you put any thought yet into what your spread will look like this year? are you going to make all your tried and true recipes? your grandmother's recipes? or will you be adventurous and try something new?
a few weeks ago i tried my sister's stuffing recipe just to make sure i could make it before preparing it for a bunch of hungry people on the big day. i don't know why, but i always had this thought in my head that stuffing from scratch was complicated to make. i'm so glad i decided to try this recipe because it put that fear to rest!
i was happy to find that not only was it super easy and fast to make, but that it didn't take a really long time to bake, and it also did not require a lot of ingredients – which means that with all the money spent on the turkey and everything else on our thanksgiving table that the stuffing was one thing that i didn't have to stress over.
it all starts off with dry bread…like, really dry bread. i used baguettes and i would suggest cutting them into small pieces before letting them sit out on your counter for a couple of days. (if you wait to cut the bread until after it's dried it's near impossible to cut them! sad experience speaking here.) you can use whatever type of bread you want – i think you can even buy it already dried and cut for making stuffing. regardless of what bread you use, here's the recipe so you can see just how simple the ingredients are and how easy it is to make.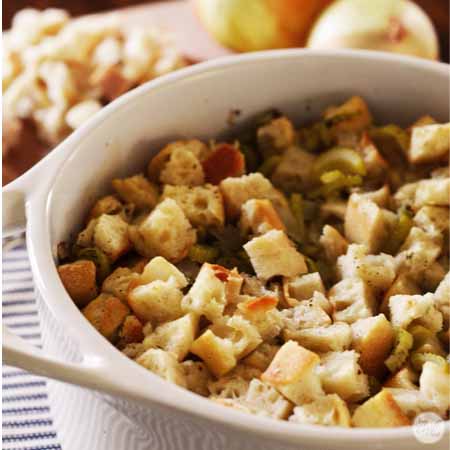 Print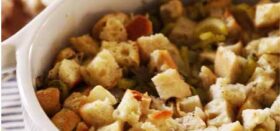 homemade turkey stuffing recipe
---
14 cups

bread, cubed, dried

2 1/2 teaspoon

salt

1 teaspoon

pepper

3 teaspoons

sage

1/2 teaspoon

thyme

2 teaspoons

baking powder

2 teaspoons

sugar

1 1/2 cups

chopped onion

1 1/2 cups

chopped celery

1 cup

hot chicken broth (+ more for moistening during baking)

1

stick (1/2 cup) butter
---
Instructions
melt the butter in 1 cup hot chicken broth. meanwhile, combine the rest of the ingredients and pour chicken broth mixture over top and mix everything together to moisten.
stuff into the cavity of the turkey or bake separately in a casserole dish, covered with a lid or foil.
if baking in a casserole dish, preheat oven to 350. make sure to cover the stuffing with a lid or aluminum foil – it's harder for it to dry out that way. bake for 20 minutes. remove from oven and check to make sure the top isn't too dry. if it is, add a little more chicken broth to moisten. stir, cover, and bake for an additional 20-30 minutes until everything is cooked through. enjoy!
don't forget to try some homemade cranberry sauce (so, so, so good!), make some scrap-fabric hearts for a thankful heart activity for your kids, make some m&m turkey favors for the thanksgiving table, and have a gratitude-themed family home evening. happy thanksgiving!
Other Posts You May Like: