while some like to call it loaded mashed potatoes or twice baked potato casserole, in our house we prefer twice baked potato pie. okay, so this really isn't a pie. not like i think of a pie, anyway. you don't bake it in a pie plate, you don't cut it into slices, and it doesn't have a crust and/or a filling. BUT it still tastes amazing whatever you call it!
this is a fabulously filling side dish to some of our favorite dinners – roasted chicken, breakfast sausage, or whatever. we've had it on occasion when people have been over and without fail they always ask for the recipe – because it's creamy, flavorful, and who doesn't love the cheese & bacon on top!?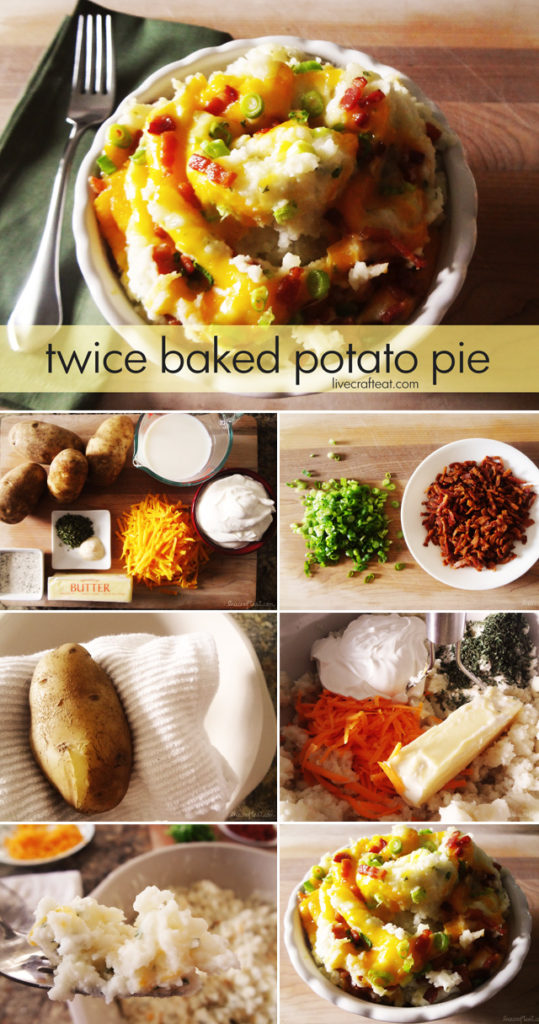 twice baked potato pie
10-12 medium potatoes, scrubbed clean (do not peel!)
1/2 cup (1 stick) butter
1 1/2 cups sour cream
1 envelope ranch dressing mix
1 teaspoon garlic salt
1 tablespoons dry parsley
3 cups grated cheddar cheese (save 1 1/2 – 2 cups for the top)
1 cup milk
bacon bits (store-bought or home-cooked), & green onions or chives, sliced
boil potatoes in skins until fork-tender, approx 20 minutes. using a kitchen towel and the edge of a fork, peel potatoes. mash with a potato masher making sure to leave some lumps.
add the butter, sour cream, ranch mix, garlic salt, parsley, some of the cheddar cheese, and milk. mix well. you should end up with a consistency that is a little thicker and chunkier than mashed potatoes.
pour potato mixture into a 9×13 pan. bake, covered with foil, at 350 for 20 minutes. uncover and add remaining cheese, 1/2 lb. bacon bits, and chopped green onion or chives. bake 10 minutes more. enjoy!
hope you make some of this soon! i can't wait until the next time i make it again!!
*looking for some more side dish recipes? check out my side dish pinterest board for more great ideas!
Other Posts You May Like: