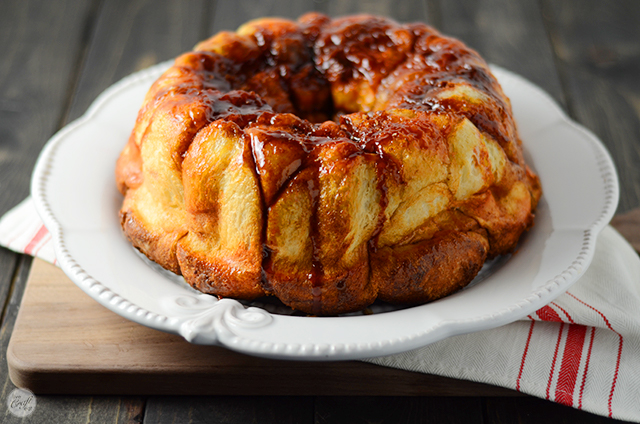 i need to share this recipe for overnight monkey bread with you all because a) it was so super easy to make, b) it made itself overnight – all i had to do was bake it in the morning, and c) my kids devoured it!!! it is so good. there is nothing like having a super yummy breakfast that you don't have to spend your time putting together early in the morning. it just makes it taste that much better, i think! and make sure you try this one if you're looking for an easy 5 ingredient monkey bread recipe that doesn't require an overnight rise. aside: you can also try this highly reviewed (pinterest users LOVE it. soooooo goood) and fool-proof homemade cinnamon roll recipe that is to die for!!
here are the simple steps:
1. gather your very few, very easy ingredients: frozen dinner rolls, a small box of cook and serve butterscotch pudding, butter, brown sugar, and cinnamon. it can't get easier than that! (psst – you don't even have to prepare the pudding!!)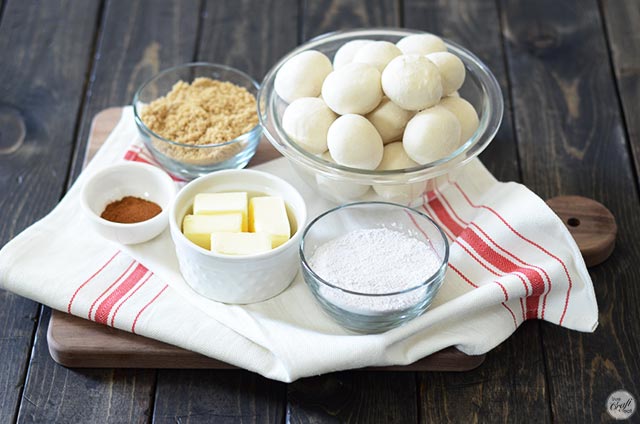 2. place frozen dinner rolls into a bundt pan (i use this pan and i love it! – aff link).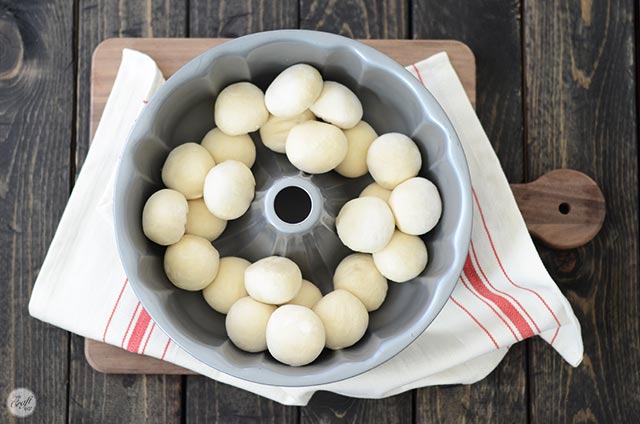 3.  sprinkle the rolls with butterscotch pudding – straight out of the box.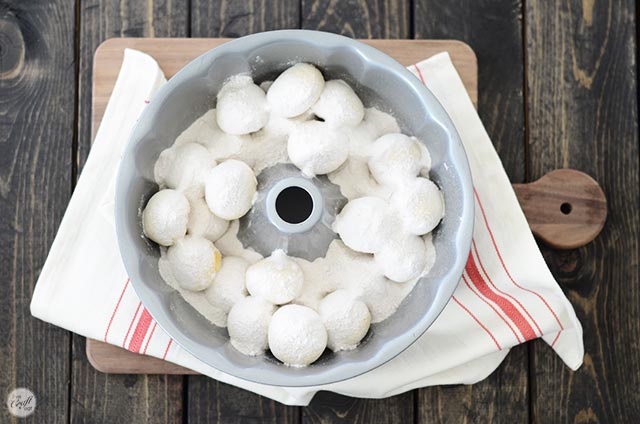 4. melt butter and pour over top.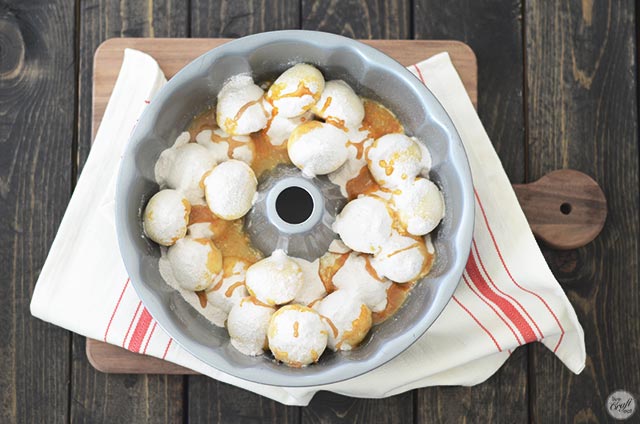 5. sprinkle with brown sugar and cinnamon (stir them together in a bowl first).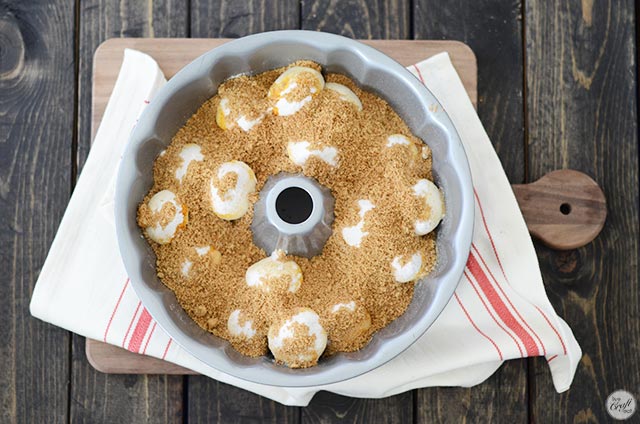 6. cover loosely with plastic wrap and let sit overnight.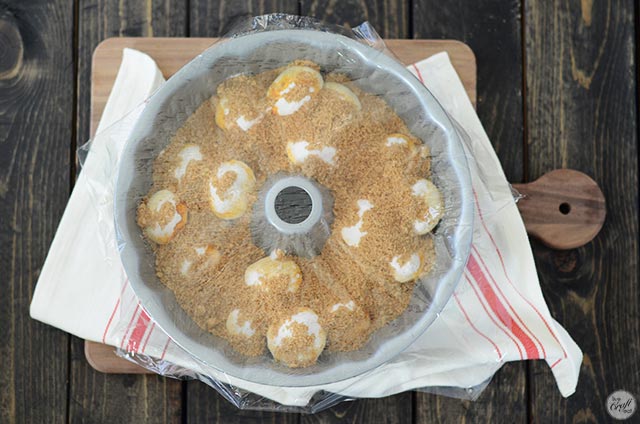 7. go to bed.
that's seriously all you have to do! when you wake up in the morning it will look all glorious and puffed up and risen like this: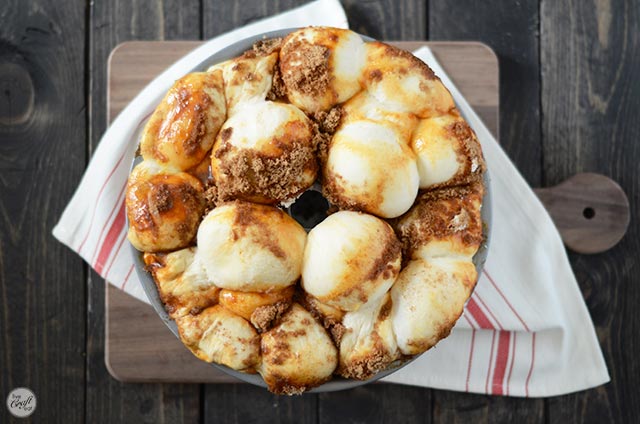 bake it in the oven for half an hour before flipping it onto a large plate. you will want to catch every last drop of the syrup it makes – i promise, it tastes really good!!
the best part about monkey bread (aside from how easy it is to put together!) is eating it – just pull apart the little pieces of dough and enjoy! there is no need to cut slices for everyone like you would with pie or cake or anything like that! it's a total finger food.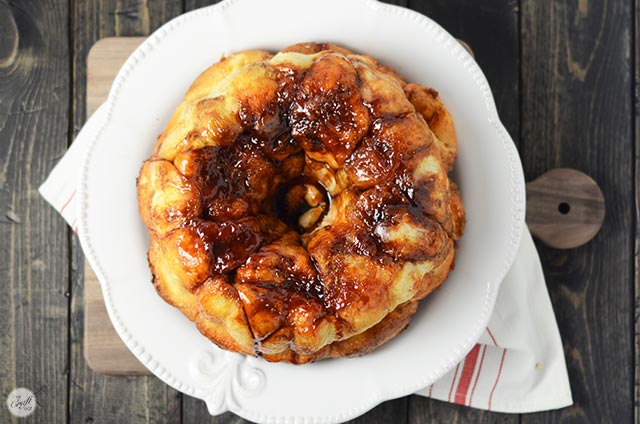 and if you want, you can even sprinkle it with chopped walnuts or pecans for a little bit of extra flavor and crunch. yum!!!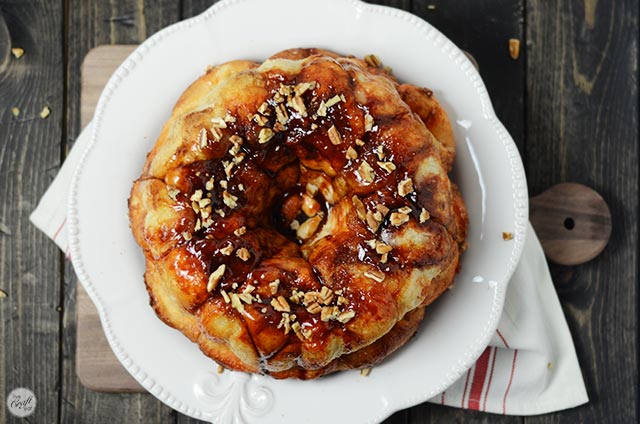 this recipe is so perfect for a busy saturday morning…or a lazy one, too! enjoy this deliciously easy monkey bread, everyone!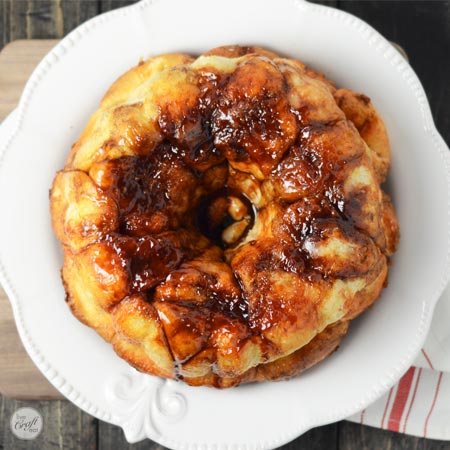 if you're feeling charitable, please consider jumping over to pinterest and repinning this monkey bread recipe in visual format! not to mention for future deliciousness. 🙂
here's the full recipe and instructions:

Ingredients
24 frozen dinner rolls
1 small box cook and serve butterscotch pudding
1 stick (1/2 cup) butter
½ cup brown sugar
1 teaspoon cinnamon
Instructions
place frozen dinner rolls into a bundt pan. sprinkle with butterscotch pudding. melt butter and pour over top. sprinkle with brown sugar and cinnamon. cover with plastic wrap and let sit overnight.
in the morning, preheat the oven to 350 and bake for 30 minutes. (put a cookie underneath to catch any drips.) remove from oven and turn over onto a plate big enough to catch all the gooey syrup that will spill out of the bundt pan.