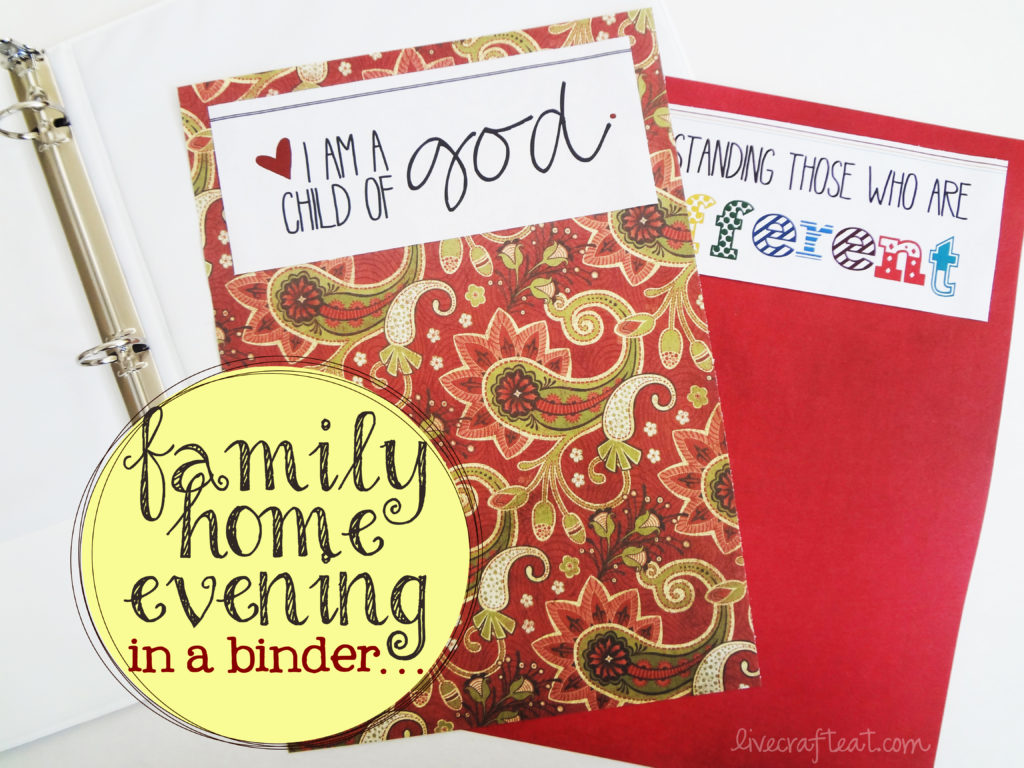 after having made and posted a few (free!) family home evening kits of my own (i am a child of god, an attitude of gratitude, and understanding those who are different), it became obvious to me that i need to put them somewhere. i had them stored in these cute, fun file folders, but my fhe resource box was seriously overflowing, so much so that the lid can't even close anymore. and so the folders were just sitting in a pile on my desk. since i have a love for binders and have quite a few of them, i figured they would be a nice and easy way of keeping my newer family home evening kits all together without taking up more floor space with another box. i love the file folders because they are so cute, but when you don't have enough space for the box to put them in, these binders are just as cute as the folders!
all you need is a binder (i like the ones that have the clear plastic going all the way around the outside. then i can put scrapbook paper in and it takes on a whole new look!) and page protectors. (amazon, wal mart, staples, even dollar stores usually have both these things for super cheap!) the rest is pretty self-explanatory – put all your papers in the page protectors and put it in the binder! and that's really all you need to do! but since i have a love of paper and labeling in general, i decided to put a title in with each one. plus, if something's going to be functional, it might as well look pretty, too! here's what i did:
i took a piece of 12″x12″ patterned paper and trimmed it on one side so it is now 12″x8.5″ – just wide enough to fit inside a page protector. then i printed and cut out labels. (you can download mine for the three family home evening kits named above, here.) if you print it out on an 8.5″x11″ piece of paper, you'll need to trim the sides so that you can make a border on the paper beneath it. tape the label onto the TOP of the piece of patterned paper, leaving a border. then fold it, leaving the same amount of space as the other three sides around the label to make an even border, going all the way around the label. (you can see my fold line in the picture below.)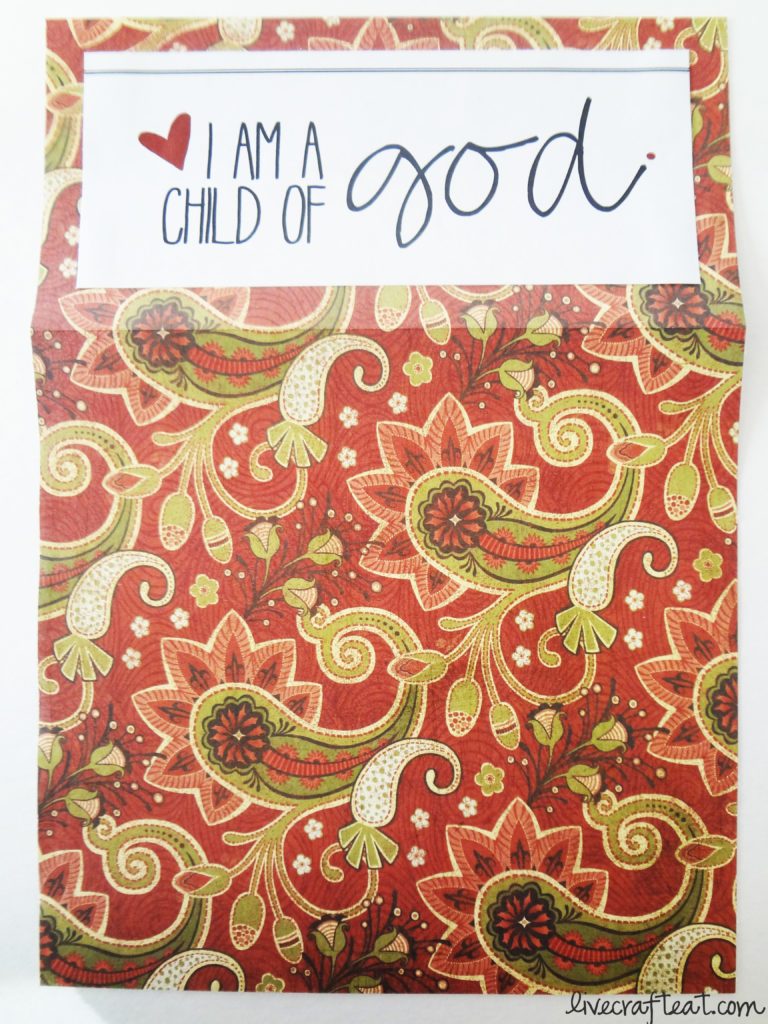 you now have the label at the bottom with the rest of the paper folded behind. you've just created a pocket to keep all of your papers in!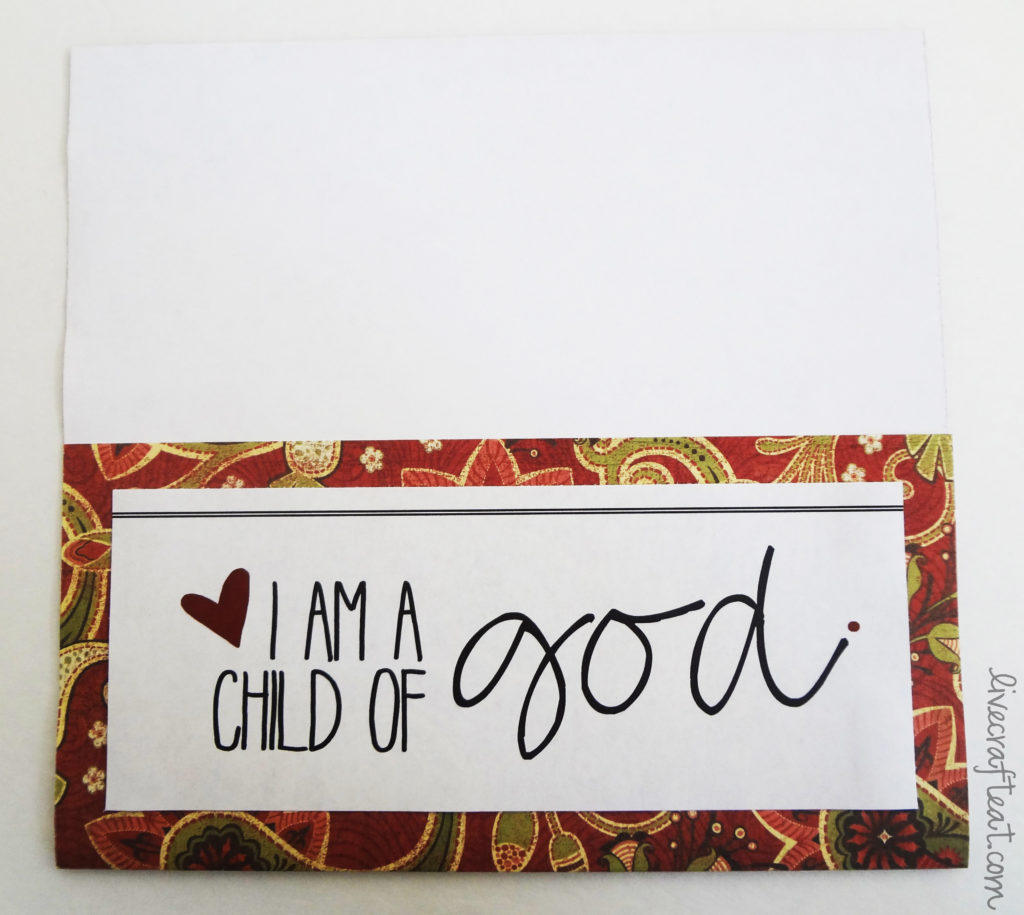 so get all your papers for your fhe kit, and fit them all inside the title pocket.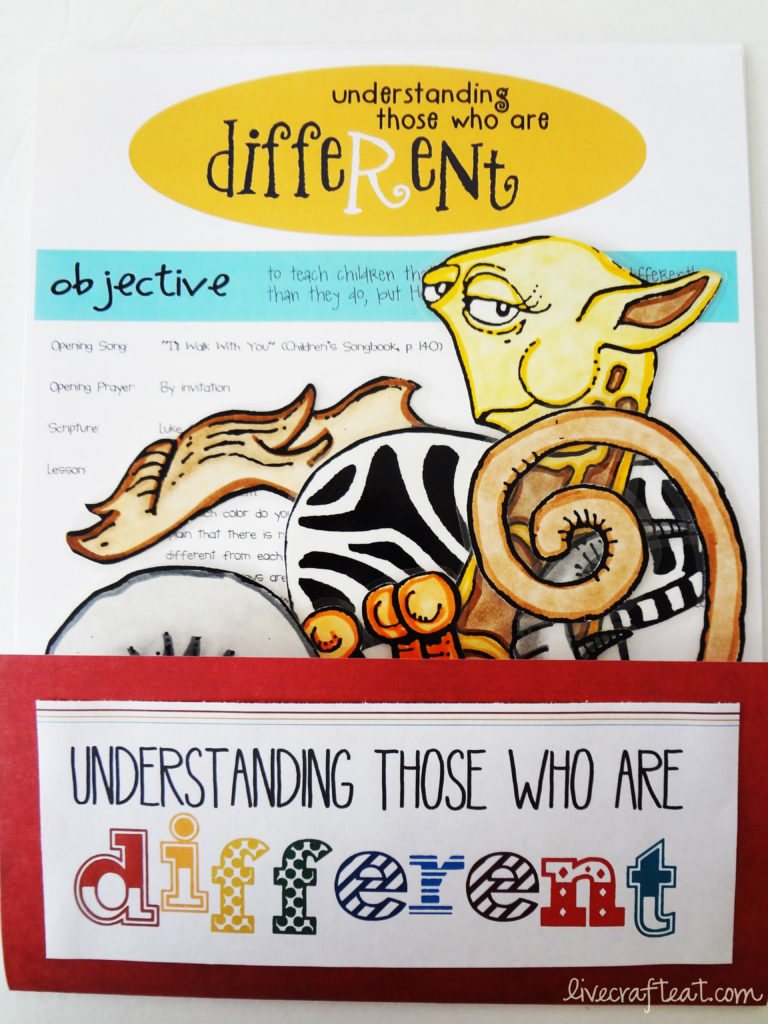 assuming everything's cut right (and you don't have too many papers), they should slide really easily into the page protectors.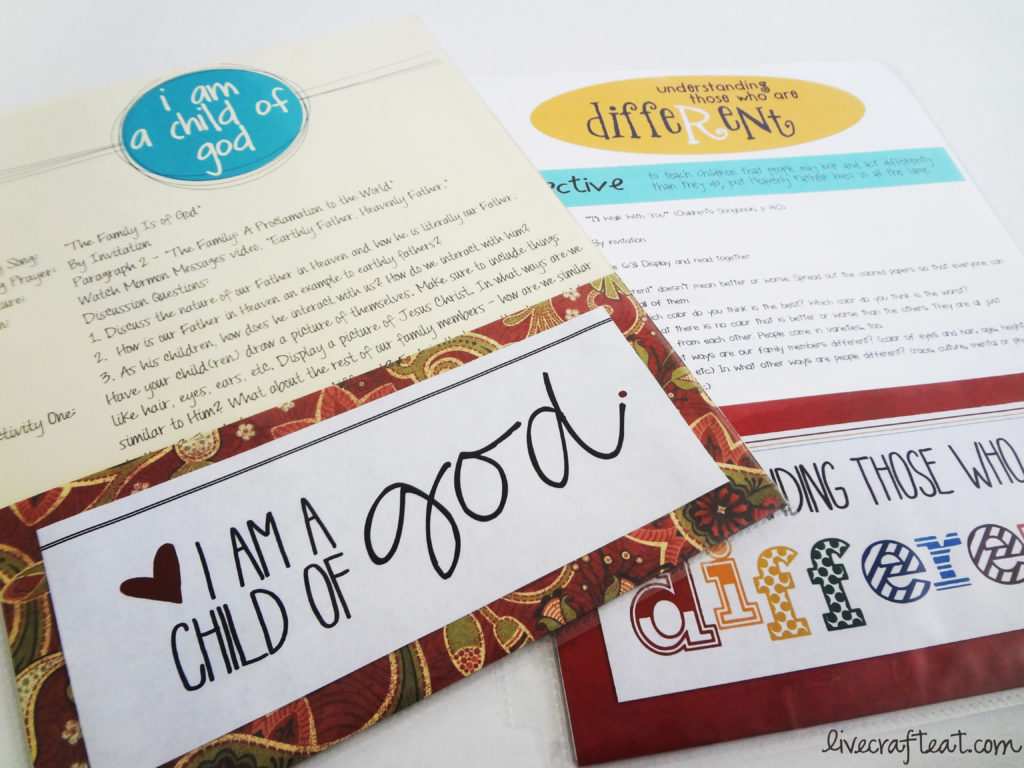 put them in your binder…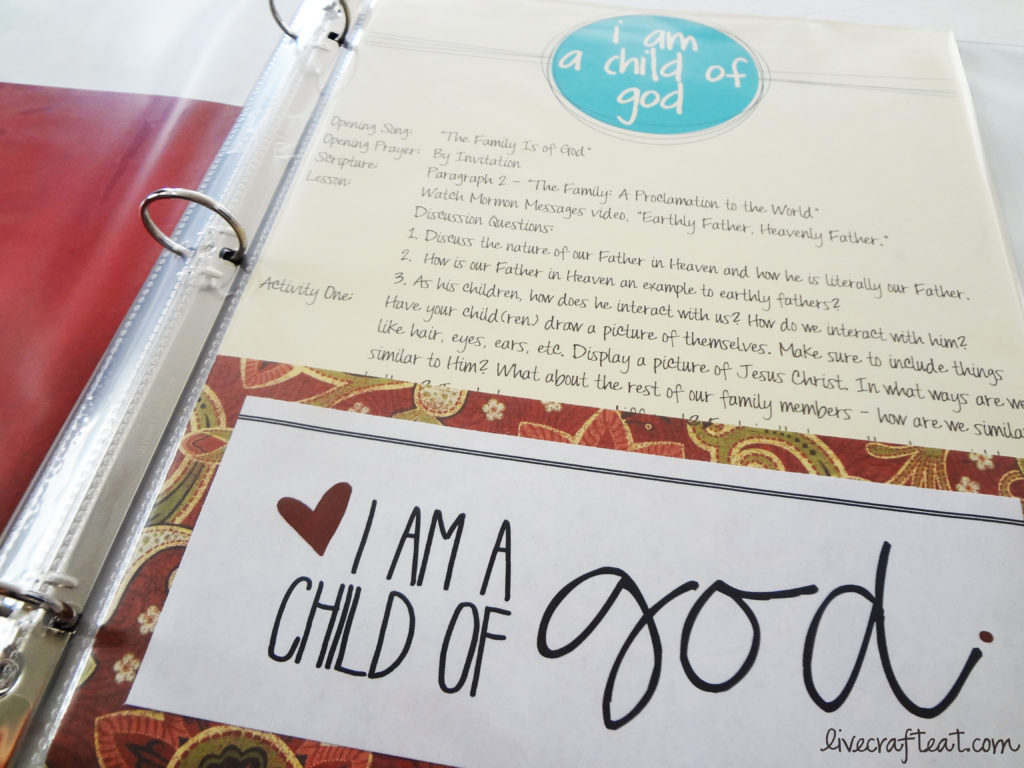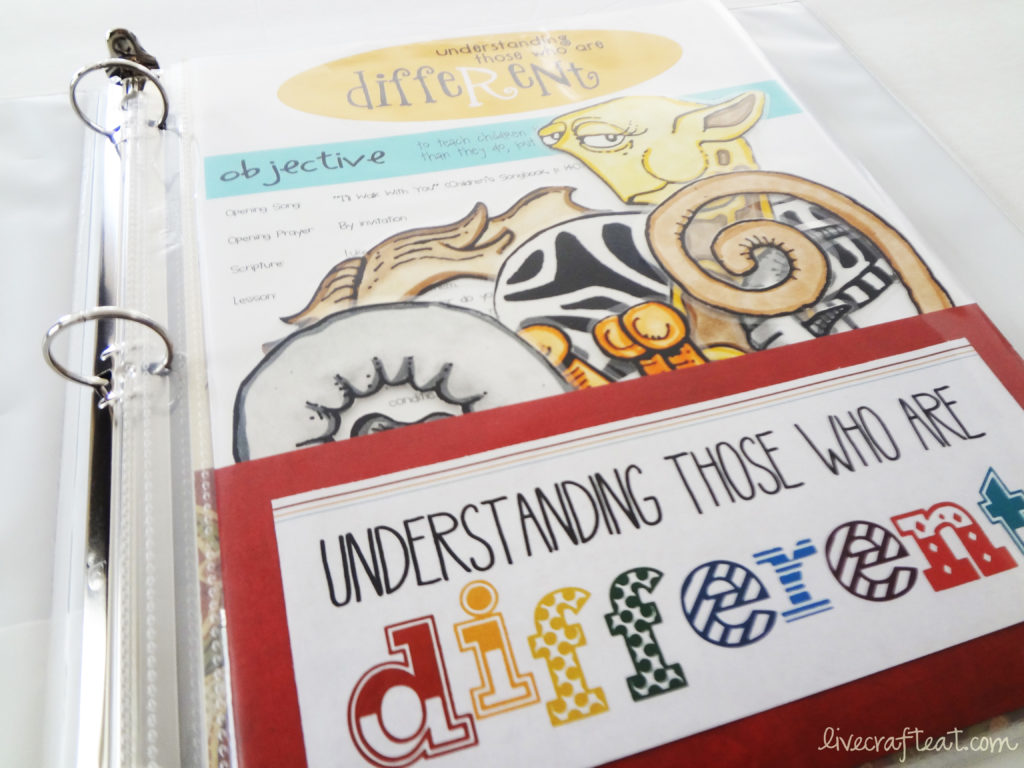 …and put it on your shelf! family home evening is ready and waiting for monday night!!