I love my kids! I really do. I also love that little bit of free time once their cute little noses are snoring in their beds rather than nuzzled up against the back of my thigh as I try and do the simplest of tasks in the kitchen. But as anyone knows with lots of little ones running wild, or even just one, the nightly bedtime process can take forreeevvvvvveerrrrr.
There is nothing fast about this.
Like, nothing.
Even when you're all but done and making your final exit from their room there is the inevitable (for the 25th time) "but mom, one more thing…". 🙂
While someday these moments will be precious memories and missed dearly, for the sake of my sanity, I've created the bedtime routine charts below that help my kids get in bed quickly. Using a bedtime chart is perfect for a number of reasons:
#1. My kids LOVE it!
#2.  It makes it very clear what needs to be done as part of the bedtime process every night. No more pleas of "I didn't know what I was supposed to do." Routines for kids are good for kids in soooo many ways!
#3. Because the instructions are clear and unchanging, it gives my kids some autonomy on a daily basis.  This allows me to get a few things done while they do the majority of the routine and then I can step in for the last step or two. Win-win!
#4. I've found the kids get a great deal of satisfaction having completed each step and most of the process by themselves. Accomplishing tasks on their own has proven to build confidence in kids.
#5. These bedtime routine charts can easily be turned into bedtime reward charts (some of the free printables below include this) by simply rewarding your children for successfully completing the routine. I like to "reward" them with a gummy bear (really a vitamin). 🙂
#6. I still get to be involved (#momwin) but also get a little bit of free time after they eventually go to sleep.
And, though I speak as a Mom, they work great with Dad taking his turn putting the kids down too! 😉
Without further ado, go ahead and check out the printable bedtime routine charts for kids from toddlers to 3 and 4-year-olds and even a bit older.
Just find the one that works best for you and click on the text link below it to get your free printable bedtime chart.
I'll be adding more and more over time so if you don't see one that works for your family right now check back often as I add more and more! Or leave a comment and maybe just maybe if these continue to work in my house I'll use some of that coveted nightly free time to take requests. 🙂 Make sure you check out these printable homework charts and first day of school printables while you're getting ready for the school year!
BEDTIME REWARDS CHARTS FOR KIDS
The bedtime reward chart for kids below allows your child to write in their own (good writing practice too!) bedtime "jobs" (use the potty, wash hands, brush teeth, pjs, prayers, etc) in the appropriate column and check off each box/star once the task is completed. Don't forget to reward your little munchkin for all their hard work at the end of the week! An extra story at bedtime, a treat from the treat jar, a day at the park…whatever makes them smile!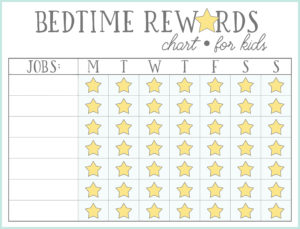 BEDTIME REWARDS CHART FOR KIDS
BEDTIME ROUTINE CHARTS FOR KIDS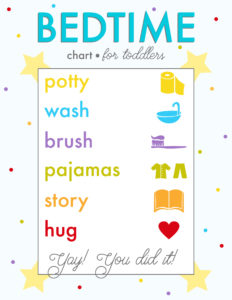 BEDTIME CHART (WITH PICTURES) FOR TODDLERS
BEDTIME CHECKLISTS FOR KIDS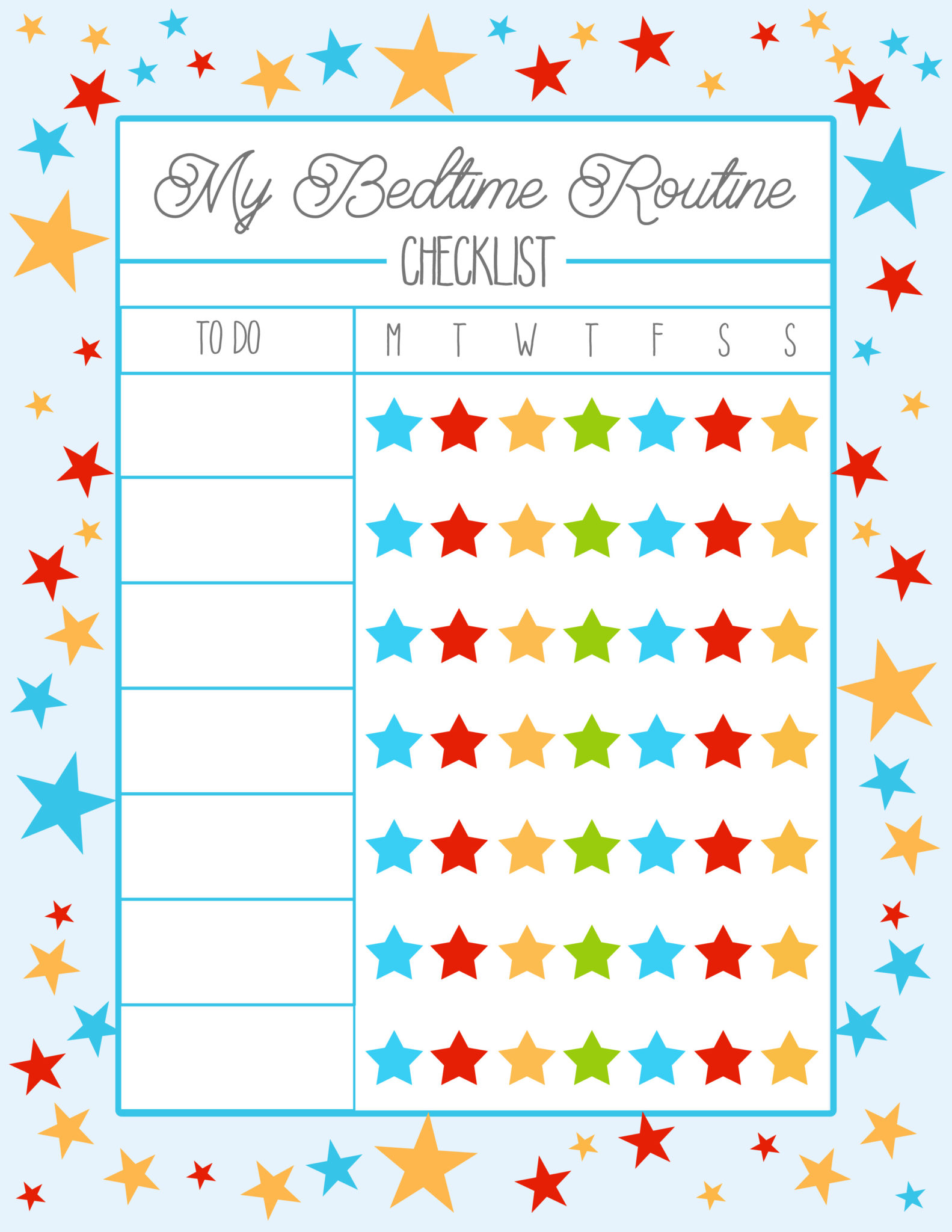 Like these printable bedtime routine checklists? I'd love a re-pin or facebook share if you're willing. But, as always, no obligation. 
 Hope your bedtime routines are both magical and fast so superhero Mom can get a little "me" time at the end of another exhausting day!