Back to school brings mixed emotions in my home. For the kids, of course, it's mostly sadness that the hazy lazy days of a hot summer have come and gone. It's back to school and "too much homework" as they always say. For myself, as a Mom of a growing brood, there are the pros: first day of school signs and pictures, cute back to school clothes, quieter and more productive days, etc. But with the start of school, there is also the realization that I only get so many fun summers with my little ones before they want to hang out with their friends more than Mom. 😪 I also know that those clothes and supplies can cost a small fortune and with school comes endless homework, extracurricular activities, and the endless stream of paperwork and dates and times to remember for each child. Yep, definitely a mixed bag!
Of all the mixed emotions there is a constant that always seems to be a source of frustration in our home: homework. When it comes to homework I'm very, very comfortably between the tiger moms and the free-rangers, who respectively are strict disciplinarians who want sky-high academic results at all times and parents content to let their kids learn by doing and being independent as possible.
I'm not saying any of the either of the above approaches are more correct than the other, to each their own and every child needs to be parented in the way that suits them best. But I'm definitely not going to lose it if my kids miss a day of homework. Neither am I going to let them just play every day. Balance in all things is my philosophy. I'd assume most Moms rest in this cozy middle area with me. 🙂
In order to find the balance between too much and too little homework, I've spent some time creating homework charts, checklists, and planners for a variety of situations. (I'll be adding more and more over time so check back if you don't see the one you want. Or leave a comment and I might be able to squeeze in some time to create new ones based off reader feedback.). You may also like these printable first day of school signs and bedtime routine charts too. #justsayin.
Like these printable homework charts and planners? I'd love a re-pin or facebook share if you're willing. But, as always, no obligation. 
I hope one of the ones below, whether you use rewards or eschew them, works for your family and each specific child no matter what parenting style you use in your home! Just click on the text links below each preview image to download your PDF and then print your preferred hw chart for your home.
WEEKLY HOMEWORK CHARTS
Below are a variety of weekly homework charts and planners. While they vary a little bit most of them allow some combination of assignments or class, days of the week, dates, due dates, daily reading tracking, and some form of completion in the form of a checkbox or otherwise. I hope these weekly homework planners make life easier this year!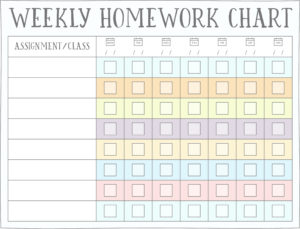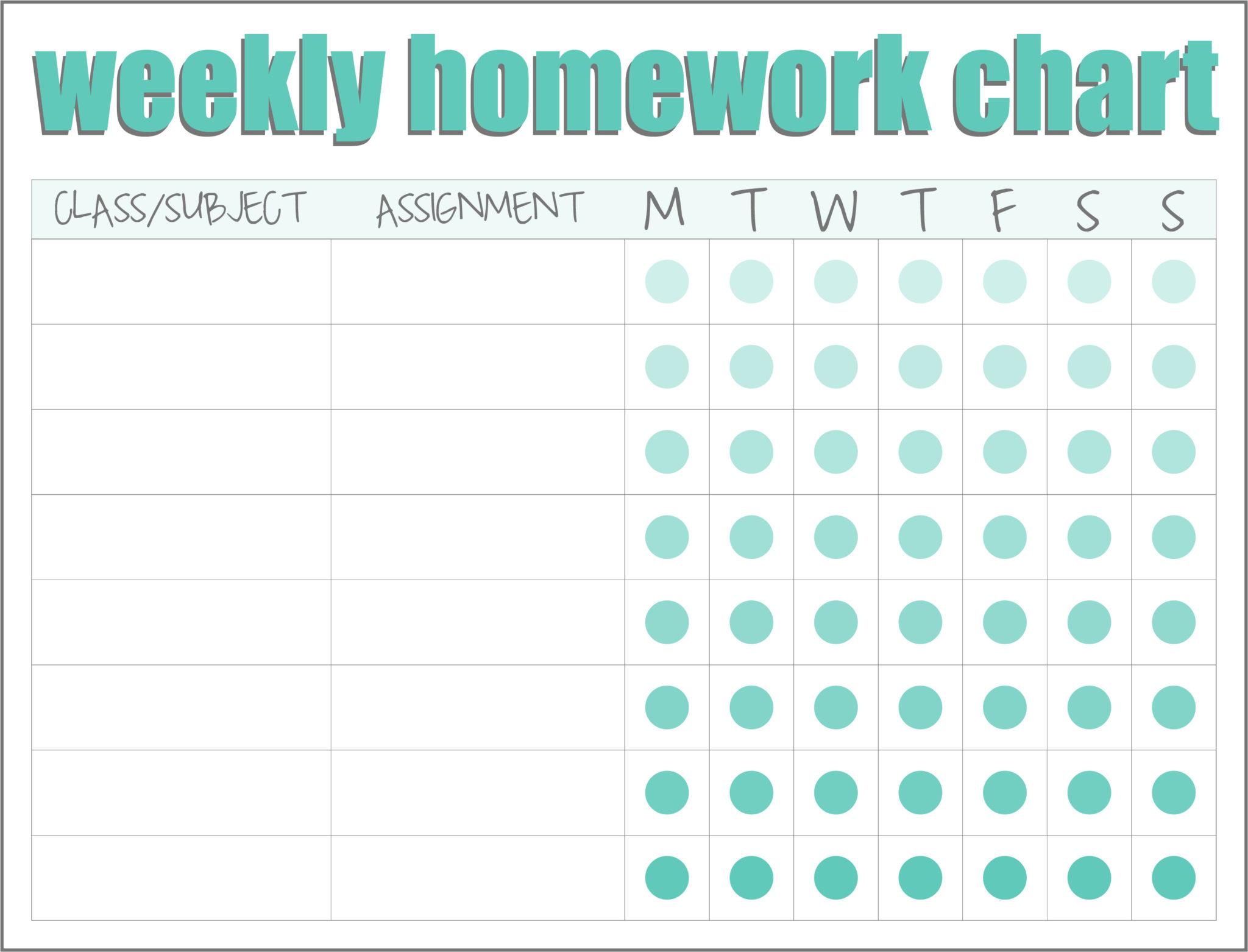 MONOCHROMATIC WEEKLY HOMEWORK CHART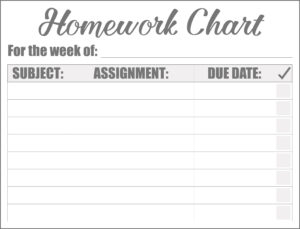 SUBJECT/ASSIGNMENT/DUE DATE/CHECKBOX HOMEWORK CHART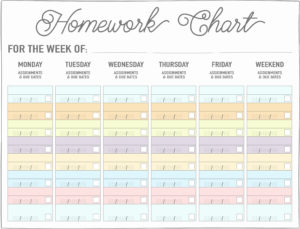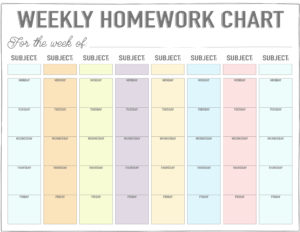 WEEKLY 8-SUBJECT HOMEWORK CHART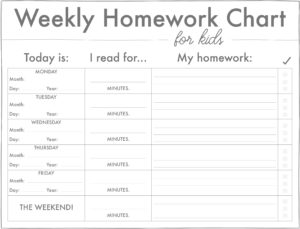 WEEKLY HOMEWORK CHART FOR KIDS
HOMEWORK REWARD CHARTS
The charts below are set up for monthly tracking BUT just because they are monthly homework charts doesn't mean you can't set rewards at the daily or weekly level. I've always found it to be more effective when I tailor the rewards to each child and subject. Sometimes they need a reward on a daily basis (really struggling to form a good habit), sometimes on a weekly basis and sometimes the reward is such that they better do their homework for an entire month if I'm holding up my end of the bargain! So, whether you use these as a homework sticker chart or simply use checkmarks or something else entirely, hopefully, you'll find a method that will work for your child! Even better if we can inspire them to love learning and the reward chart becomes a temporary aid to unlock a lifetime of learning!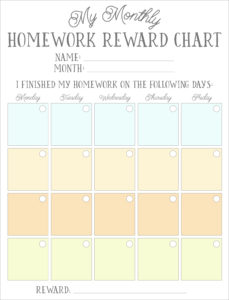 MY MONTHLY HOMEWORK REWARD CHART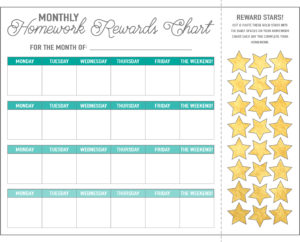 GOLD STAR HOMEWORK REWARDS CHART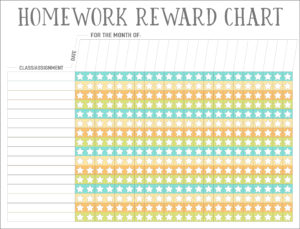 FILL-IN-THE-STARS MONTHLY HOMEWORK REWARD CHART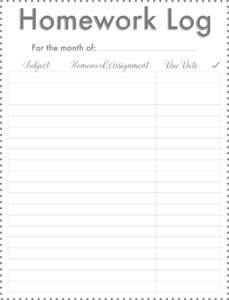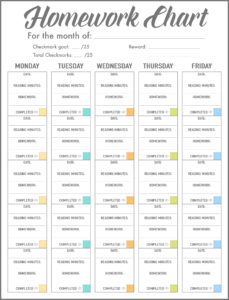 KIDS HOMEWORK AND REWARD CHART
If you're feeling generous, I'd love a re-pin (or a pin of the image below) or facebook share if you have a second. But, as always, no obligation.