February seems to have just flown by! I know it's shorter than all the other months, but only by 2 or 3 days – surely those few days can't make that much of a difference, right? Apparently, they do because I can't believe it's March already.
March is a relatively slow month for us – we're in between sports seasons, there's not much else going on, and other than St. Patrick's Day there are no major holidays (which there always seems to be almost every month!). So I'm going to take the extra time this month to do my spring cleaning and all of that not-so-fun but still necessary stuff. My calendar won't be full of sports schedules or many appointments and things like that, but I'm printing it out anyway because a) it looks really cute on my fridge, and b) I'll still have lots of to-dos to write in!
Whether you have a more laidback month like I do, or you've got a crazy busy schedule, make sure you scroll down to download this free printable March 2019 calendar! Just print it in the convenience of your own home and post it wherever you want!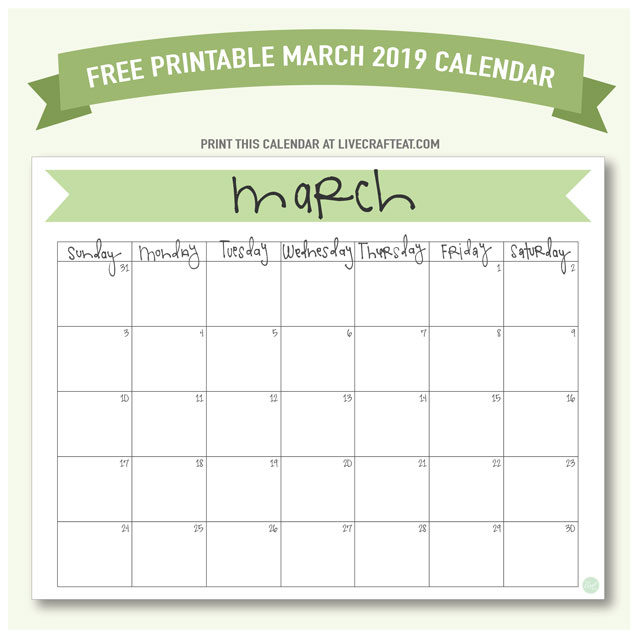 In other news, I've opened a new Etsy Shop! This one is different from Live Craft Eat Print in that instead of printables, we've got a bunch of really cute baby and toddler onesies – you can buy the ones that are already listed, or we do custom orders, too…and the customizations are FREE, because we all love things that are free! Click on the image or link below to check it out!!

. . . . . . . . . . . . . . . . . . . . . . . . . . . . . . . . . . .
I'll be posting these freebie calendars every month, but if you'd like them in advance of each month or if you want to print them all at once, feel free to visit my Etsy shop, livecrafteatprint, where you can get the whole set!
Printable 2019 Monthly Calendars