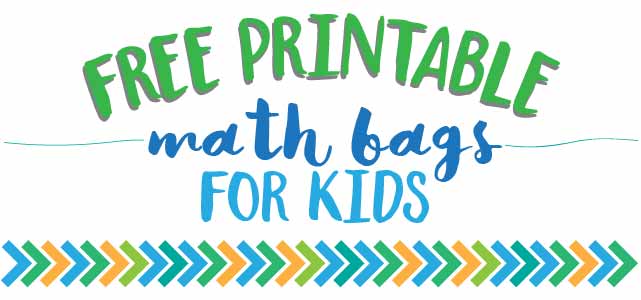 i've never been good at math. not ever. the calculator app gets used more than anything else on my phone! so it's funny to me that my young kids are able to do math in their head without a problem. they actually *like* math! and they're good at it. they get that from their dad, that's for sure. they're always asking me random math questions to which they already know the answer, but it's like they are testing me, to see if i know as much as they do. i'm glad i can help them feel smarter.
so now it's my turn to test them!
since they love math oh so much, i made them these math bags which will be great for when they're bored, in the car when we're out running errands or on a road trip, or if they happen to not have any homework one day. they're perfectly flat so they're easy to stow away in a backpack or inside a book or in a drawer.
here's how they work:
all you need are the FREE printables (available at the end of this post) printed onto cardstock, a plastic storage bag, and…well, that's it, actually! just those two things! it's really easy – everything else is in the printable!
a word about the storage bags: they need to be slider bags because they will be sliding that tab across the top of the bag to show their answer. also, i've found that these "hefty" brand slider bags in the gallon size are the *perfect* size to fit an 8.5″x11″ paper, and they don't have the "stand it" bottom that opens up like some other brands do.
once you have those two things, just slide the printable into the slider bag, and they're ready to go!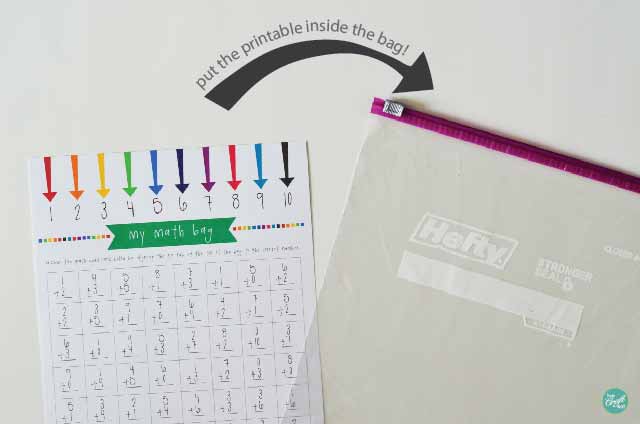 here are what the printables look like. the answers for all of the questions in the boxes are in between the numbers of 1 and 10, and so far i've only got addition and subtraction going on, but as they get a little bit older, i'll start throwing some division and multiplication in there, too. when they've mastered these ones (probably in 5 minutes), i'll increase the numbers to 1 and 20, and so on. when i get to these i'll add those printables to this post, so keep checking back!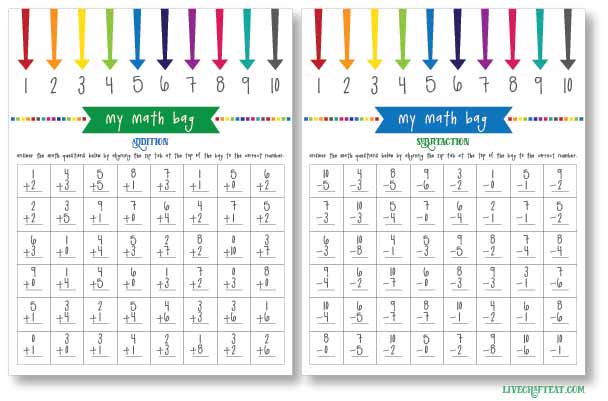 so once you've got it all set up, hand it to your kids and let them figure out the answers to each question and slide the top of the slider bag to the appropriate number. (in the picture below we're adding up the first box, 1+2=3, so we slid the slider tab to the number 3 arrow, then you move on to the next questions and so on….)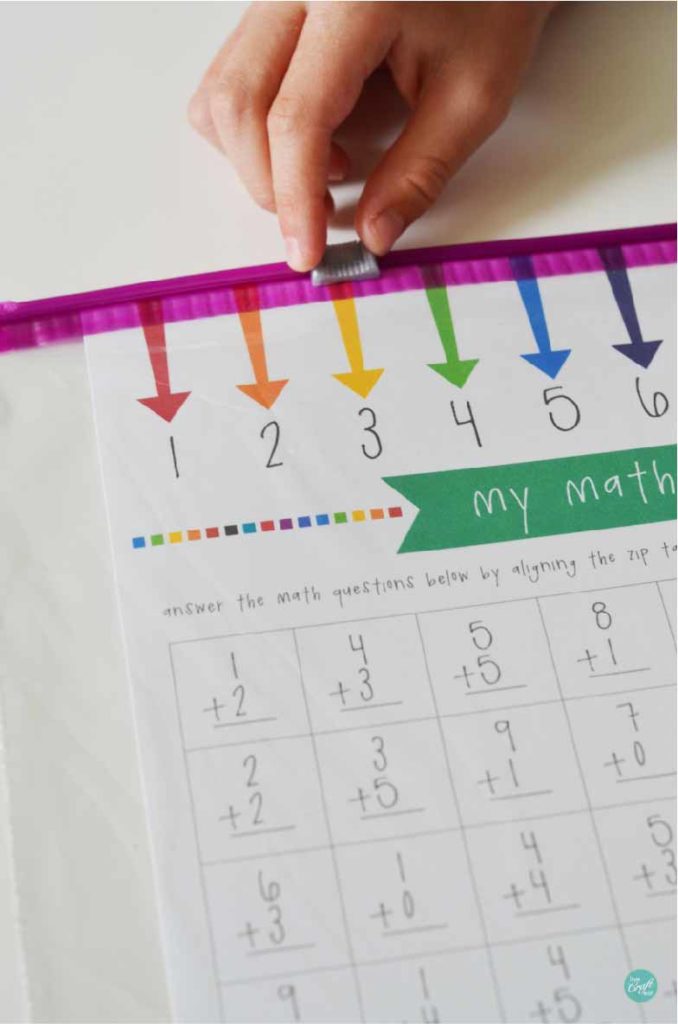 thanks for reading this far! here are the free printables! hope you enjoy!
click here to download the addition and subtraction math bag printables!
*this post contains affiliate links. if items are purchased through these links, i receive a small percentage of that purchase, but it in no way increases the price of the product for you!*