my kids are totally into playdough mats right now. they like using the cookie cutters and other playdough tools too, but they're in a stage now where they love to make their own creations with the dough. playdough mats are something that just gives them a little bit of structure to their creativity, a little bit of prompting, and something that will give them a good result. instead of making countless playdough snakes that they turn into i-don't-know-what, they are encouraged to think of how they can make other kinds of shapes to complete the picture, while still giving them some room to be unique and creative in how they go about doing it!
i'll be posting a bunch of free printable christmas playdough mats soon, but with thanksgiving coming up next week i figured i'd better hurry up and get this turkey playdough mat posted and available for everyone to use!
this is what the tom turkey playdough mat looks like when you first print it out at home: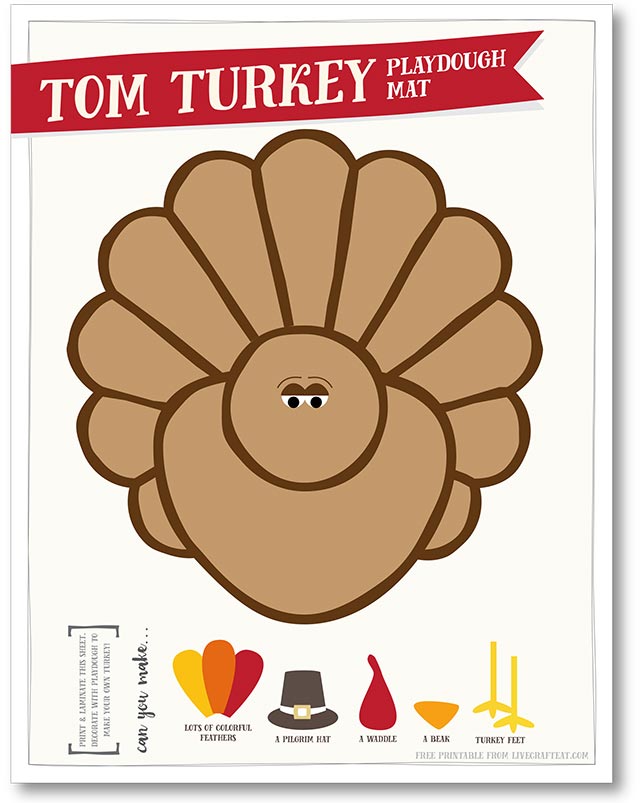 you can see that there is a basic outline/shape of a turkey. and then there are some prompts at the bottom of the page that your kids can use (if they want) to decorate or finish creating the turkey. make some feathers out of colorful playdough! finish his face with a waddle and a beak! give him some feet, and maybe a pilgrim hat! and even within those parameters, they can make them as basic or complex as they want.
if possible, you'll want to print it onto white cardstock (aff link), just to help it hold up better with all of the playdough-ing that it will endure. and if you want the playdough mat to last a good long while, and even for years to come, you'll want to do what i do and laminate it. laminating is really easy to do at home and it saves you from having to re-print everything + makes what you do print last longer. i have this Fellowes home laminator (aff link) and some extra laminating sheets (aff link) and i absolutely love them! i can get a little carried away with laminating things at times, but i promise this is one thing that you will definitely want to laminate to keep it looking great for a long time!
as for the playdough, you can use store-bought playdoh (aff link) – they come in lots of different colors and are really great, but you can make your own at home too and still make whatever colors you want. either way works, but i love homemade playdough because you get so much more for your money. all you need is flour, salt, cream of tartar (aff link), vegetable oil, and food coloring (the food coloring gel [aff link] is much more concentrated than the liquid drops and makes for really vibrant colors!). the recipe i have is super soft and pliable, and it's also a no-cook version, too, which just makes it that much easier to make.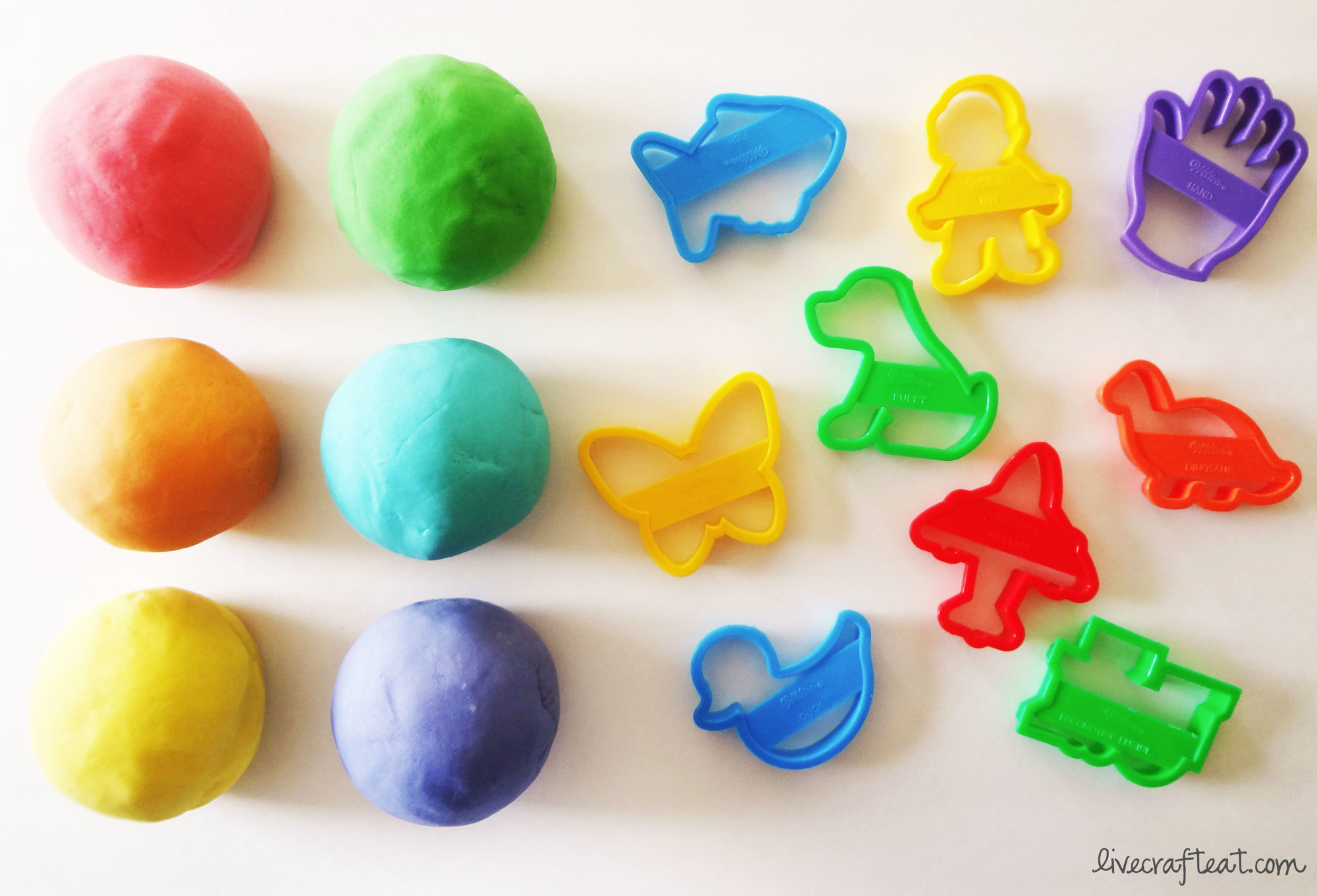 now that we've discussed how to print/prep it, and the playdough (which it the other half of this activity) let's get back to the turkey playdough mat itself!
the following image is how i picture it looking in my head when all is said and done…except, all the colored parts would be made out of playdough, obviously.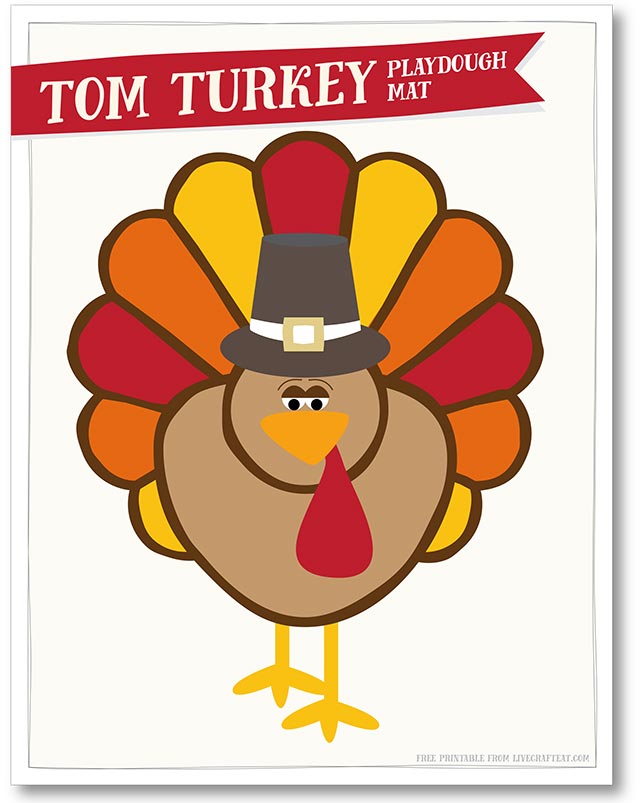 how will it likely look? my boys will probably give him ears and a mowhawk and my girls will give him pink and purple feathers and a princess crown. and that's okay!! it's for them anyway, even if they don't do it how i want, lol. and hey, if it keeps them busy and gives me more time to myself to get thanksgiving dinner ready, then more power to them! 🙂
we actually tried it out this morning (the weekend before thanksgiving) and my older kids helped my younger kids by making some of the pieces while the little ones had fun putting them in the right place. i thought it was great because they tried to make all the parts of the turkey the same as the pictures on the bottom of the mat. happy kids =  happy mama! it's a thanksgiving miracle! 🙂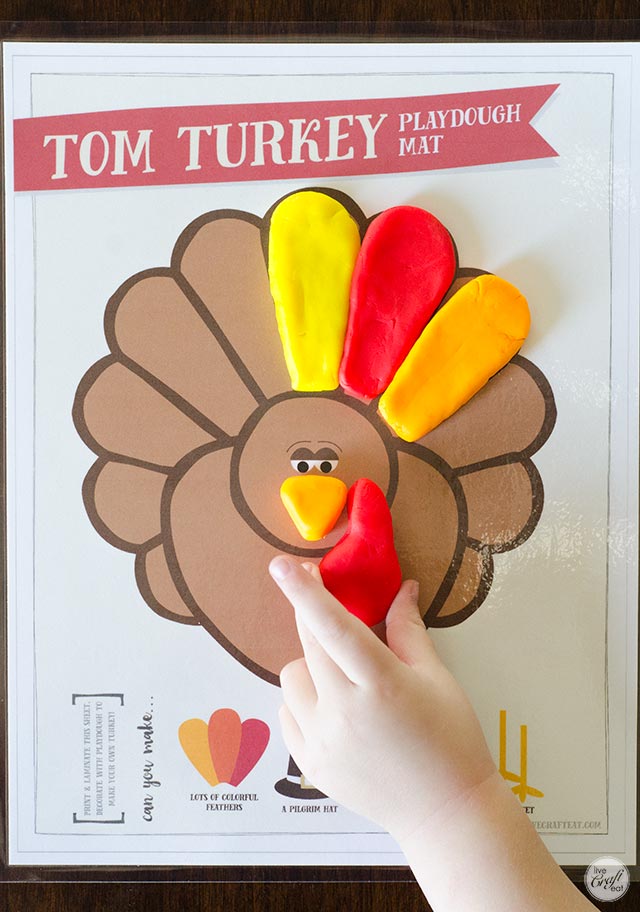 happy thanksgiving everyone!!
if you like this free printable playdough mat, please be sure to share the following image (or any image from this post!) on social media!
social shares (pinterest, facebook, etc) help me to keep this little blog of mine humming along! 🙂
thank you!