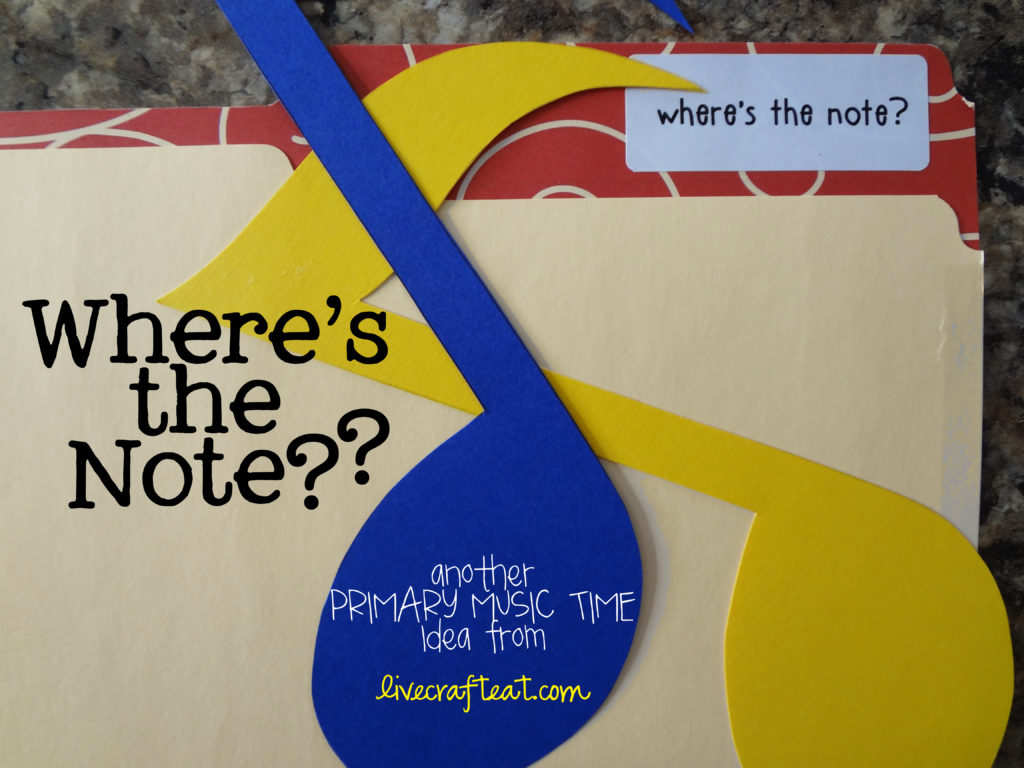 when we were preparing for our primary presentation, i brought in a paper music note for the children to play hide-and-seek with, and it proved they knew the words to all the songs as well as i thought they did. and it also proved that they knew how to sing loud!
while bubblegum ben is fabulous for getting them to sing loud for individual songs, this activity is great because a) it keeps them busy for the entire length of music time, b) they end up having to sing loud for every song, and c) they have such a fun time doing this! – so much so that they don't even realize they are practicing/learning songs!
here's how to play.
1. cut a music note out of colored cardstock and stick a couple pieces of tape to the back (i use bright paper for junior music time and dark paper for senior music time). you can use this download of my music note here, if you'd like.
2. select one child to go out in the hallway with a leader. they are going to be the one to look for the hidden note, so they're not allowed to see where it's being hidden!
3. select another child to a) pick a song [you can use the "songs" bag from the 'name that tune' game] and then b) hide the note somewhere in the room (under a chair or table, behind curtains, in between hymnbooks, etc).  the only rule i have is that the note cannot be completely hidden – it has to have at least a corner or edge visible.
4. once they've hidden the note – make sure all the children know where it is! – and everyone is sitting in their seats, have the child in the hallway come in. they have to stay by the door until the children start singing the song that was selected. the further away from the note the child is, the softer they sing. the closer the child gets to finding the note, the louder they sing!
i love this game because there's honestly not a lot of prep involved…pick your songs, write them on slips of paper, and cut out a note! our primary children really love this game and they have a blast playing it! i hope your primary children do, too!
p.s. you don't have to use a paper music note – you can use anything you want! a plastic egg for easter, an ornament for christmas, etc. whatever small-ish object you want to use would work great! the music note is just a nice all-purpose item to have in your primary bag or cupboard – ready whenever you need it!
Other Posts You May Like: